Slow Cooker Bolognese Sauce
This EASY flavorful bolognese sauce recipe is made quickly in a slow cooker or crockpot with minimal ingredients! Pin and save this recipe for later.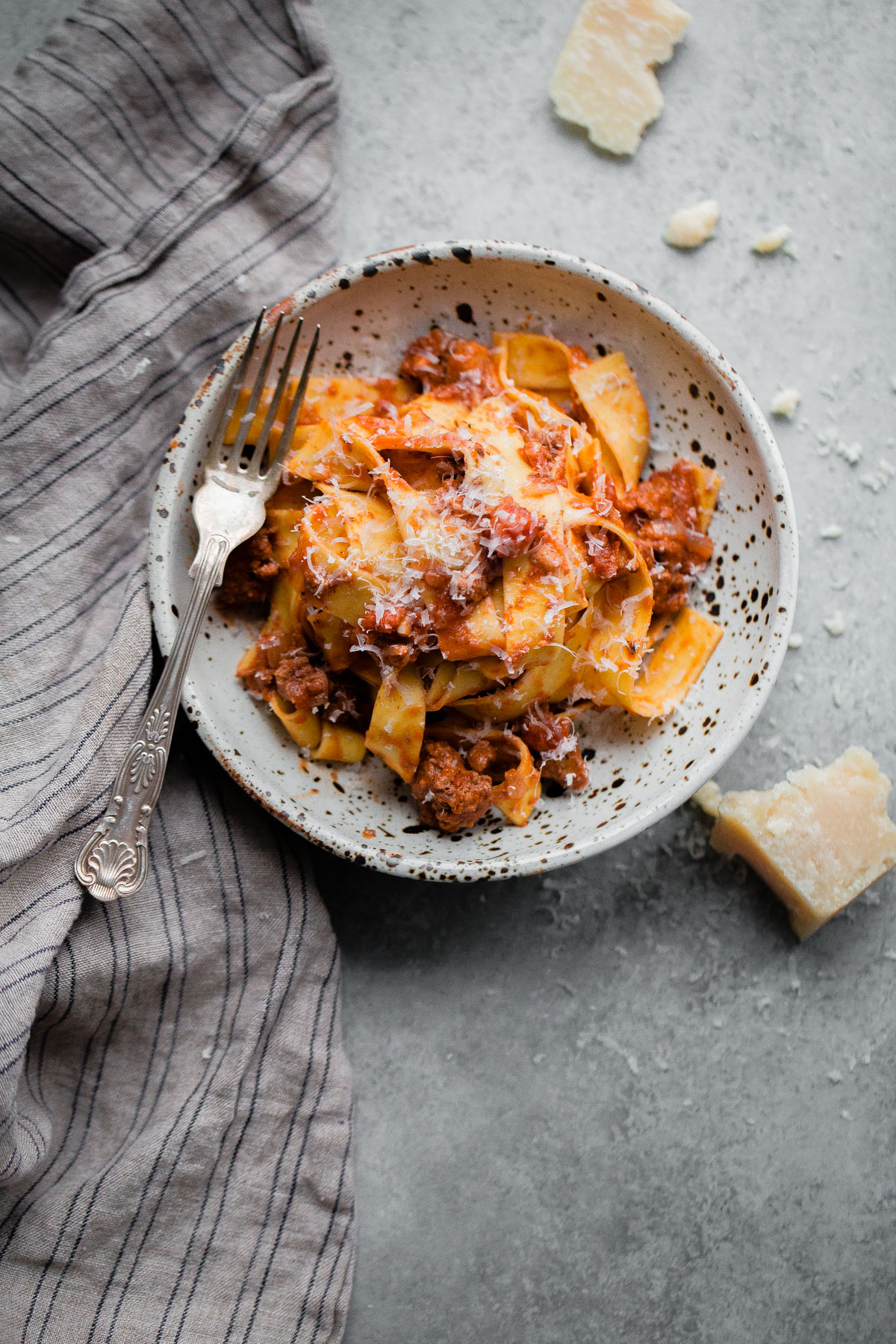 Bringing you the easiest and coziest bolognese sauce recipe to you today! I've been waiting for the weather to cool down enough for me to share this dish with you. The day has finally arrived.
This bolognese sauce has become one of our favorite dinners over the past year. It can be prepared in a slow cooker or crockpot, requires minimal ingredients, and is a wonderful dinner recipe to have in your back pocket for serving friends and family during the busy holiday season. Comfort food at its finest.
Many of you requested more slow cooker recipes in this year's reader survey. While I haven't broken out my own slow cooker as often as I should this past year,  I always love the convenience factor that it lends to our weekly routine. It makes dinner time so much easier.
Since the prep work takes place hours prior, it almost feels as if dinner has cooked itself by the time we sit down to eat.


The Basic Steps
You'll need to set aside 15 to 20 minutes of cook time the evening before or morning of. However, you'll be able to arrive home to a thick and hearty bolognese sauce ready to be served and tossed with pasta. Alternatively, you could just as easily add this bolognese sauce to your weekend meal prep, store the sauce in the refrigerator, and heat it up slowly later in the week.
It is worth noting that this weeknight-friendly bolognese recipe strays quite a bit from a traditional Italian bolognese (hopefully my Italian ancestors will forgive me), which generally uses a combination of ground veal, beef, and pork. However, the flavor is still fantastic.


Breakdown of Ingredients
This slow cooker bolognese sauce uses a simple and easy-to-grab combination of ground beef and bacon for heft and flavor, alongside sautéed onion, garlic, Italian seasonings, and crushed tomatoes. The bacon (good-quality pancetta would be a equally, if not better, substitute) adds a touch of smokiness, as well as saltiness. Don't skip it.
Like traditional bolognese sauce, this recipe also uses milk and parmigiano-reggiano cheese. Both will produce a richer sauce with great umami flavor.
Some people argue that milk allows the meat to remain more tender, but this article debunks that theory.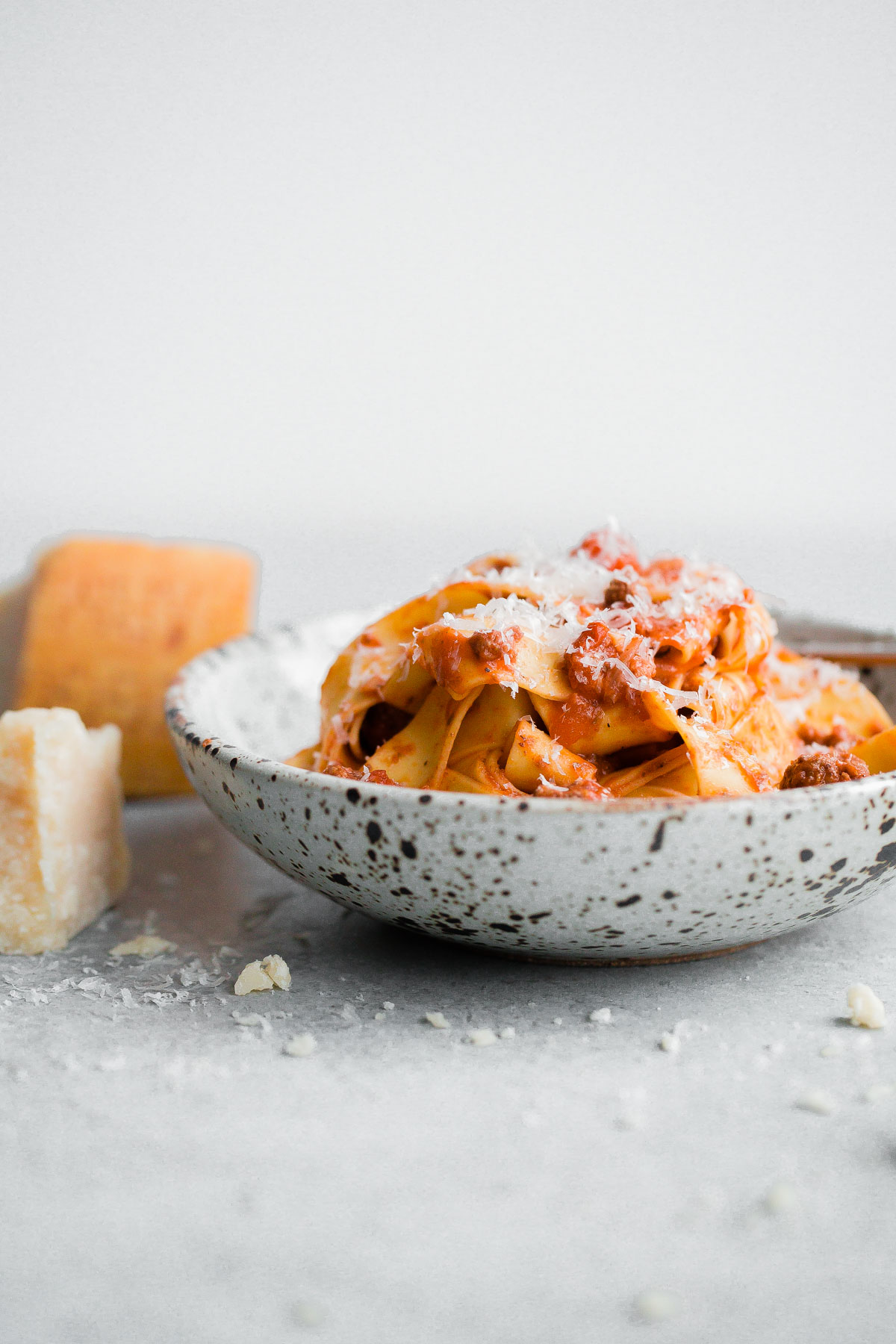 Tips for Success
I've provided instructions on how to prepare this recipe in a slow cooker that comes with or without a stove-top safe insert below. I own this 4-quart All-Clad Slow Cooker and highly recommend it [affiliate link]. 
Even if you have a stove-top safe insert, I highly recommend browning the beef in a seperate large cast-iron or heavy-bottomed skillet. This step requires a bit more clean up, but slow cooker inserts are non-stick, relatively small in surface area, and do not lend themselves well to browning meat properly.
Browning the ground beef properly will lead to a richer, more flavorful bolognese sauce.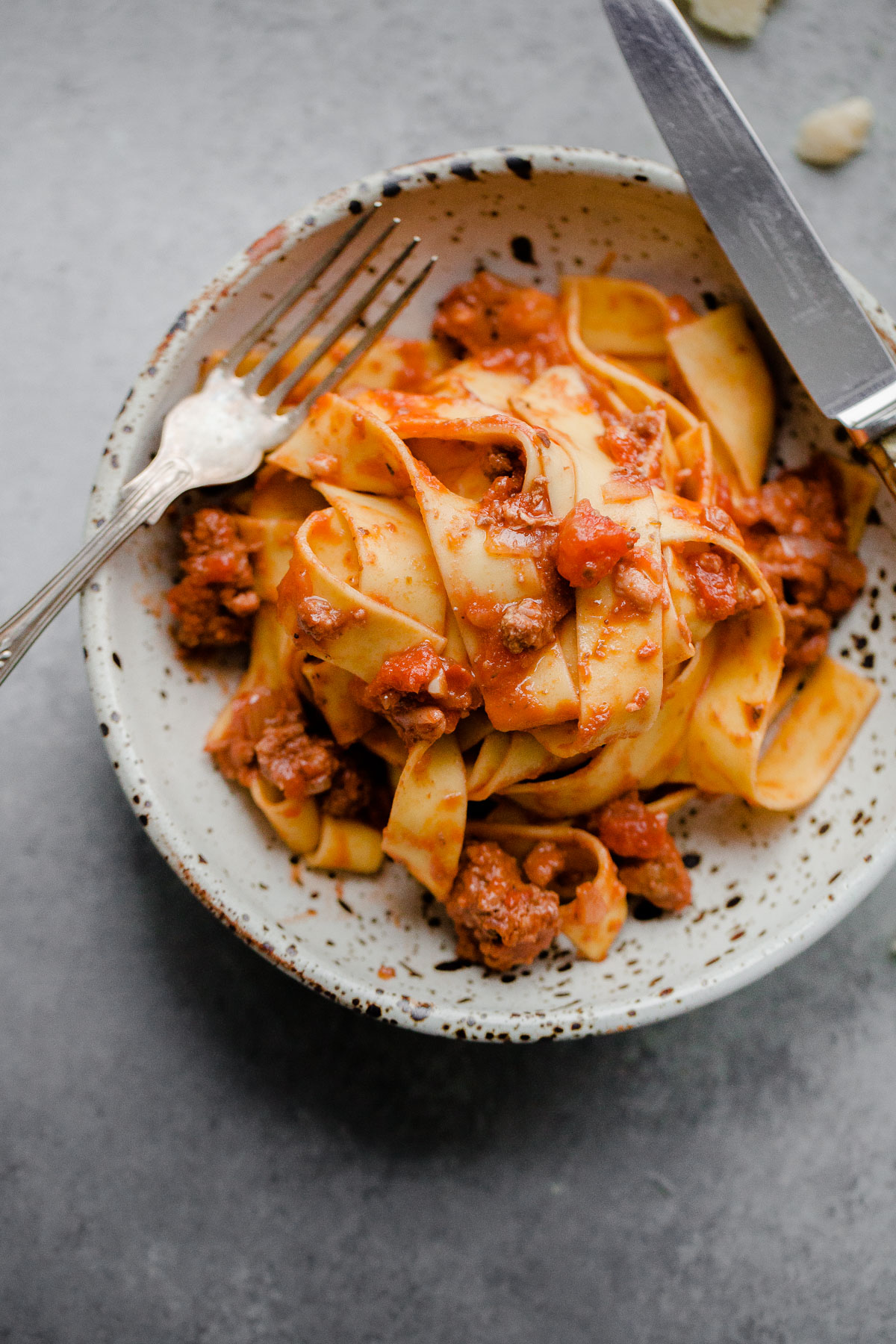 If you're feeling ambitious, this bolognese sauce would taste fantastic tossed with homemade pappardelle pasta.
However, any long wide pasta, such as fresh or dried papperdelle or tagliatelle will work equally as well. Short pasta shapes, such as rigatoni or penne, are also ideal for hearty and thick meat sauces too. Enjoy!