Roasted Butternut Squash Soup
Caramelized winter squash, creamy leeks, and fresh sage come together in this vibrant and naturally creamy Roasted Butternut Squash soup.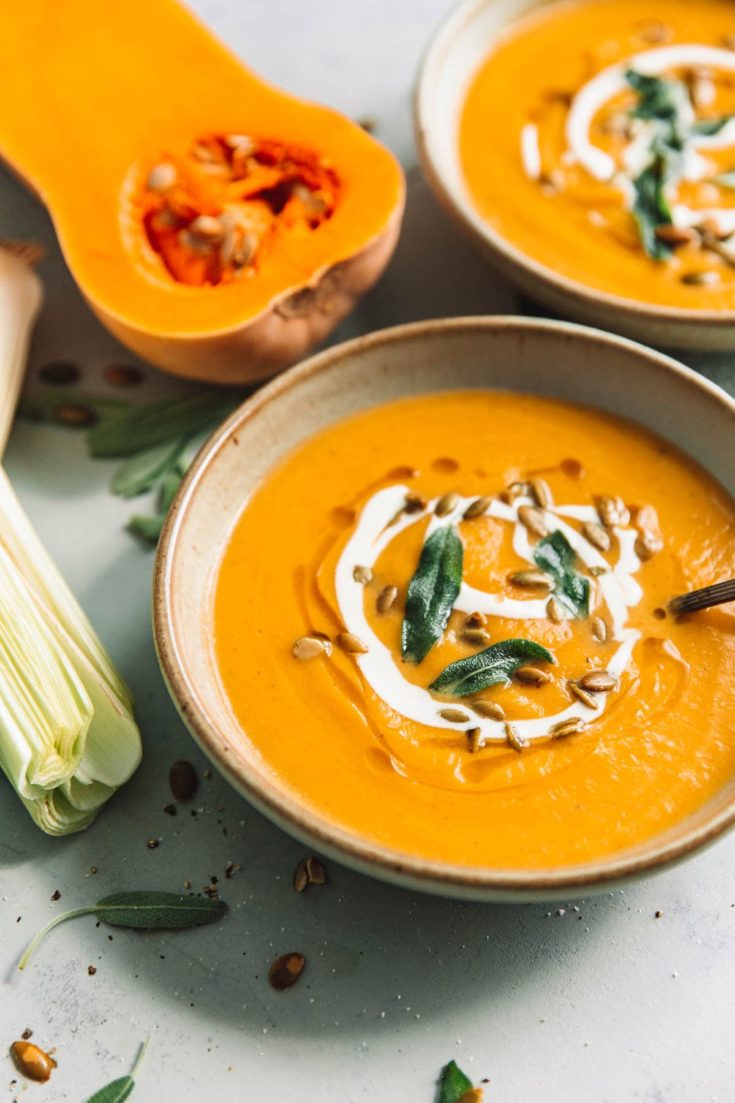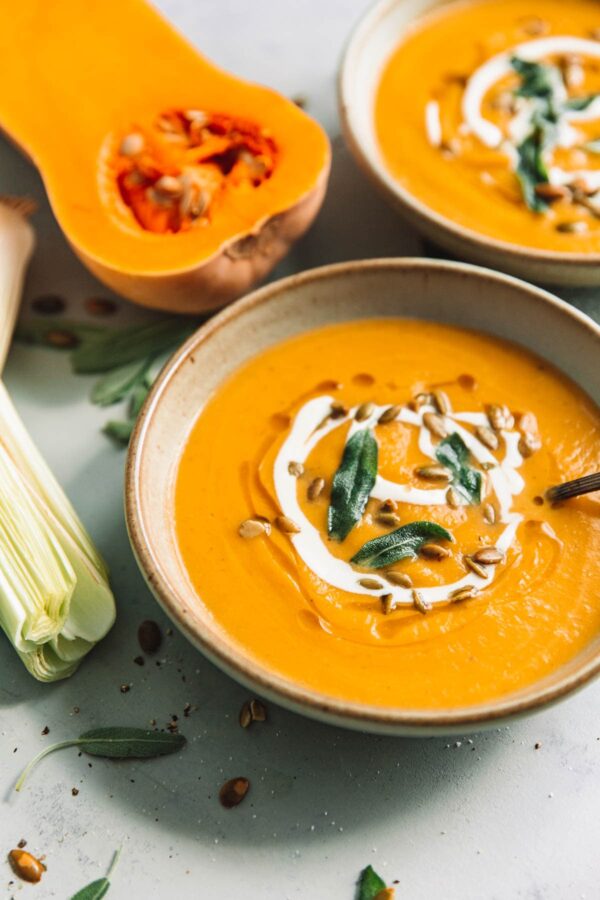 During the fall and winter seasons, I'm always looking to add new soup recipes to our dinner rotation.
While we often turn to our favorite staples, such as Chicken Tortilla Soup, Red Lentil Soup, and Slow Cooker Vegetable Soup, I love taking full advantage of seasonal produce during these months.
Inspired by the appearance of winter squash at my local farmer's market, I turned to a trusty favorite, butternut squash, to prepare today's creation: Roasted Butternut Squash Soup.
Infused with other aromatics, including leek, garlic, and fresh sage, this naturally creamy butternut squash soup is elegant and flavorful, but very simple to prepare.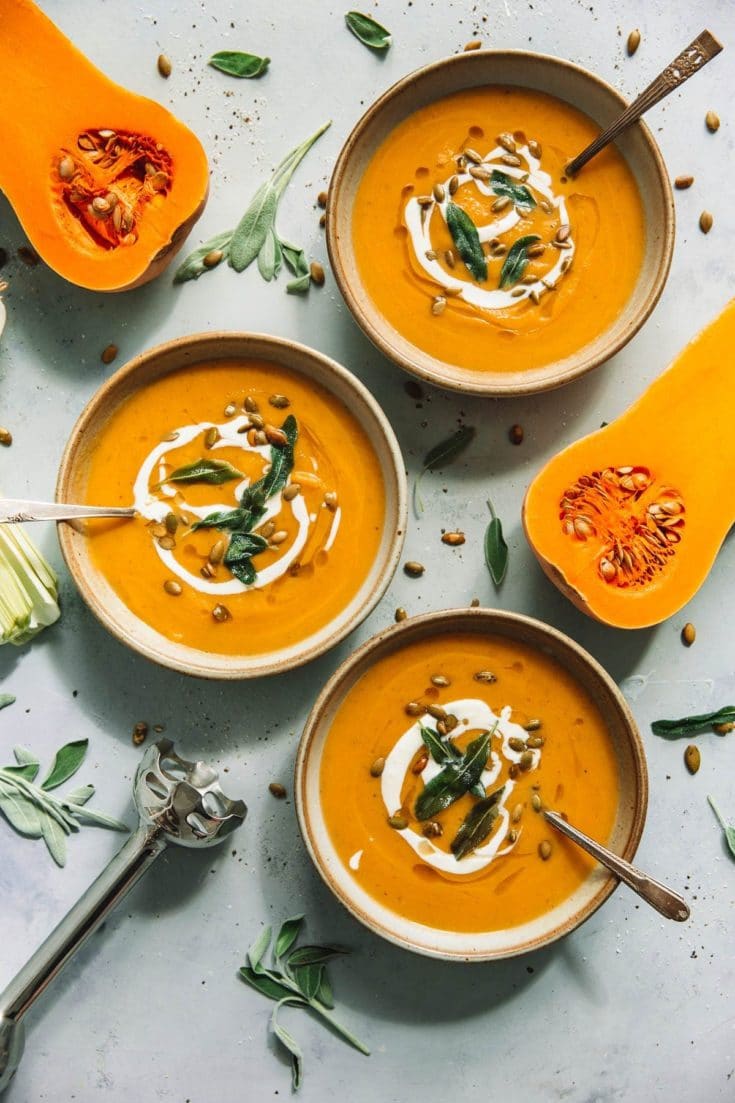 How to Make Roasted Butternut Squash Soup:
For added flavor, we'll be roasting the butternut squash before adding it to our soup base.
Roasting helps caramelize and concentrate the natural sugars in butternut squash and adds greater depth of flavor to the soup.
To do this, simply cut the butternut squash in half lengthwise, brush the halves with olive oil, and roast the halves cut-side down on a standard half sheet pan (affiliate link).
Once the squash has finished roasting, simply scoop and scrape out the flesh – use as directed in the recipe – and discard the tough skin.


There are a few additional ingredients that make this soup extra special. Here's what you'll need:
---
Roasted Butternut Squash Soup Ingredients:
Butternut Squash – a great all-purpose winter squash variety that is naturally sweet and creates a naturally creamy soup. I always look for butternut squash with long necks and small globe ends, as they have less seeds.
Unsalted Butter + Olive Oil – I love using sautéing aromatics in a combination of butter and oil. Butter adds creaminess and great flavor (without having to resort to heavy cream) and a touch of oil protects the butter from browning too quickly.
Leeks – my favorite aromatic for vegetable based soups! They have a more nuanced, sweeter flavor than traditional yellow onions and, in my opinion, are an ideal choice for soups that require only a handful of ingredients. Be sure to use the white or light green parts only (discard or use the tougher ends for stocks) and wash them extremely well before using.
Garlic – for some added flavor!
Fresh Sage – sage is one of my favorite herbs to use, nothing replicates the flavor and aroma that it offers! Finely chopped sage leaves are sautéed with the leek and garlic mixture. I also recommend making fried sage leaves for garnishing – it takes this soup to the next level!
Chicken Broth – low-sodium chicken broth is my preferred choice, but feel free to substitute it with a flavorful vegetable stock or broth if you want to make this soup vegetarian.
---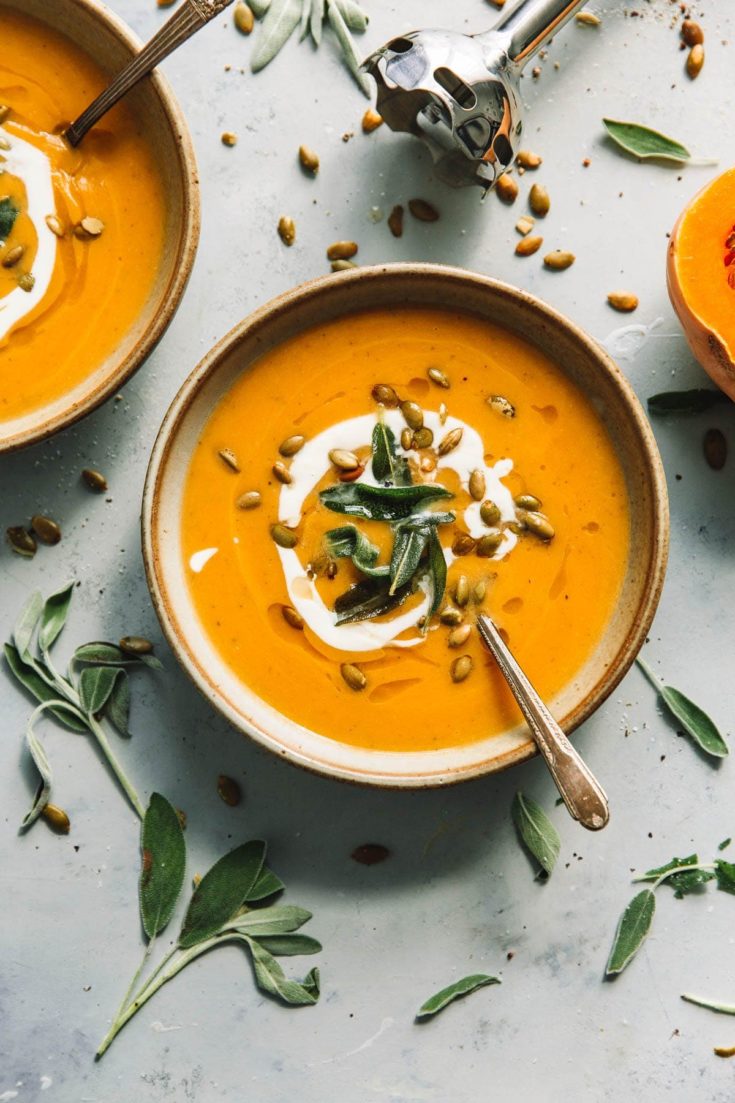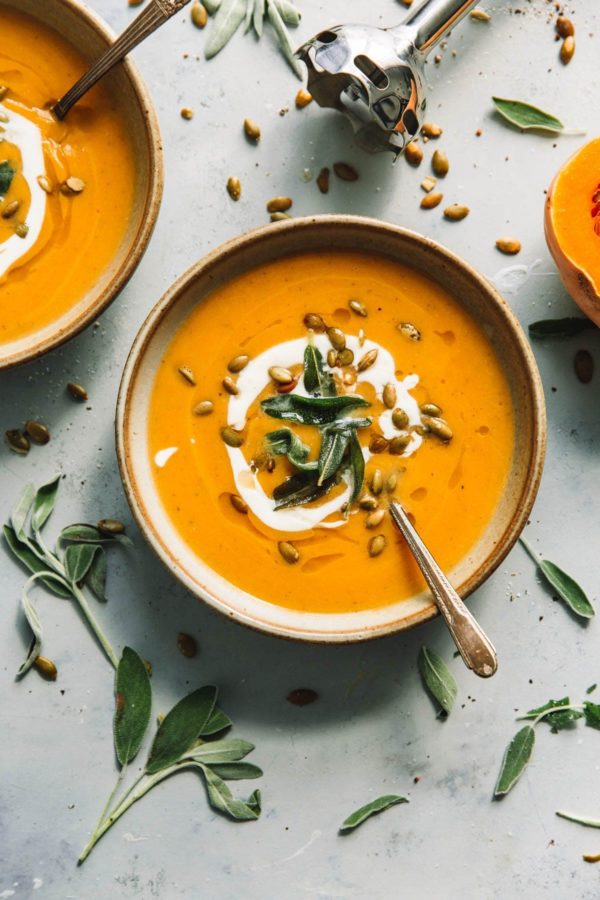 To bring out the natural creaminess of the butternut squash, you'll want to blend this soup with a high-powered immersion blender or transfer it (in batches if necessary) to a blender.
The more you blend, the creamier it will be! Like other pureed soups, it also freezes, defrosts, and reheats well.
How to Serve This Roasted Butternut Squash Soup:
While this soup can absolutely stand on its own, I love to add a few garnishes to take it over the top. These add great texture and flavor, but are not necessary by any means.
Creme Fraiche – adds a touch of richness and tartness that compliments the natural sweetness of this soup. I like to thin it slightly for drizzling. Mix a large dollop of creme fraiche with a teaspoon of cold water and mix thoroughly.
Fried Sage Leaves – a great way to use any leftover herbs from this recipe, fried sage leaves are easy to make and taste fantastic. See the recipe notes below for full instructions.
Roasted Pumpkin Seeds – roasted pumpkin seeds add great texture and are an amazing source of protein, magnesium, and zinc.
---
This soup would be a wonderful addition to your Thanksgiving or holiday menu. It also makes for a wonderful weeknight dinner served with a side of crusty bread.
For more inspiration, be sure to check out my other butternut squash recipes or soup recipes. And if you make this dish, I'd love it if you left a star rating or feedback below.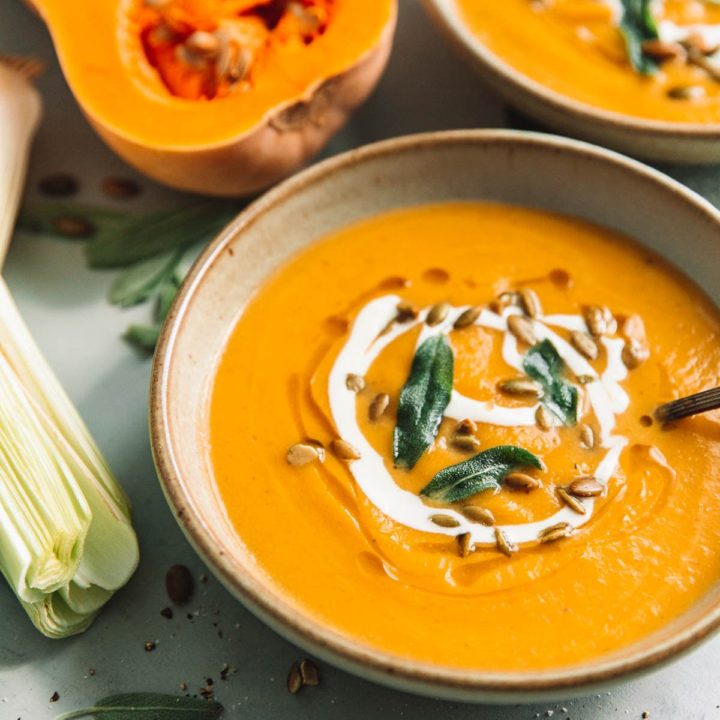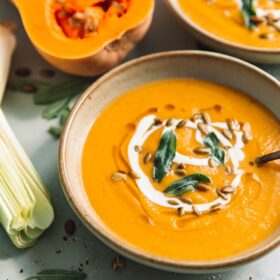 Roasted Butternut Squash Soup
Caramelized winter squash, creamy leeks, and fresh sage come together in this beautiful and naturally creamy Roasted Butternut Squash soup. For added flavor, texture, and elegance, top each serving with creme fraiche, roasted pumpkin seeds, and fried sage leaves!
Ingredients
2 lb whole butternut squash
extra virgin olive oil
freshly grond black pepper
2 tablespoons (30 g) unsalted butter
1 tablespoon (15 mL) extra virgin olive oil
1 large leek, white and light green parts only diced (roughly 2 cups)
2 cloves garlic chopped
2 teaspoons finely chopped fresh sage leaves
1 quart (4 cups) low-sodium chicken broth
Optional Garnishes:
fried sage leaves
creme fraiche drizzle see notes below
roasted pumpkin seeds
Instructions
Preheat the oven to 425°F (220°C). Trim the ends of the squash - so that it can stand flat on your cutting board - and carefully slice lengthwise in half. Scoop out and discard the seeds and membranes. Brush the cut sides with extra virgin olive oil, season with salt and pepper, and place cut-side down on a half sheet pan. Roast for 45 to 55 minutes, or until very tender and caramelized. Let cool slightly, then scoop out the flesh (discarding the skin). Set aside for later.

Meanwhile, combine the butter and olive oil in a large soup pot and place over low heat. Once lightly bubbling, add the leeks and a generous pinch of salt and pepper. Cook, stirring occasionally, until the leeks are very soft, about 10 to 12 minutes. Add a splash of water if necessary so that the leeks do not gain color.

Add the garlic and sage to the pot and cook for an additional minute, stirring frequently, or until fragrant. Add the reserved roasted butternut squash and chicken broth, and bring to a simmer. Simmer for 10 to 15 minutes, or until the flavors have melded together. Remove from the heat.

Using an immersion blender (or transfer the soup to a high-powered blender, then transfer back to the pot), blend the soup directly in the pot until very smooth and creamy. Season to taste with salt and pepper.

Serve and garnish with fried sage leaves, creme fraiche, and roasted pumpkin seeds (see notes below for more detail).
Tips for Success:
To fry sage leaves, heat a thin layer of olive oil in a small skillet over medium heat until hot. Add a few sage leaves at a time, cooking until they are crisp. Using a slotted spoon, transfer the fried leaves to a paper-towel lined plate and season lightly with salt. Allow to cool completely.
For a creme fraiche drizzle, thin a dollop of creme fraiche with a teaspoon of cold water. Stir to combine, then drizzle with a soup.
Feel free to use store-bought roasted pumpkin seeds for this recipe! They add great texturea and any leftovers make for a great snack.
Serving: 1serving, Calories: 323kcal, Carbohydrates: 31g, Protein: 10g, Fat: 21g, Saturated Fat: 8g, Polyunsaturated Fat: 12g, Cholesterol: 24mg, Sodium: 261mg, Fiber: 8g, Sugar: 6g
This post contains affiliate links, which means that I make a small commission off items you purchase at no additional cost to you. Please read my
privacy policy
for more information.