Crack Broccoli (Best Roasted Broccoli Recipe)
Roasted broccoli tossed with sliced toasted almonds, red pepper flakes, garlic, lemon juice, and aged pecorino cheese. Aka. 'crack broccoli'. You won't be able to stop eating it.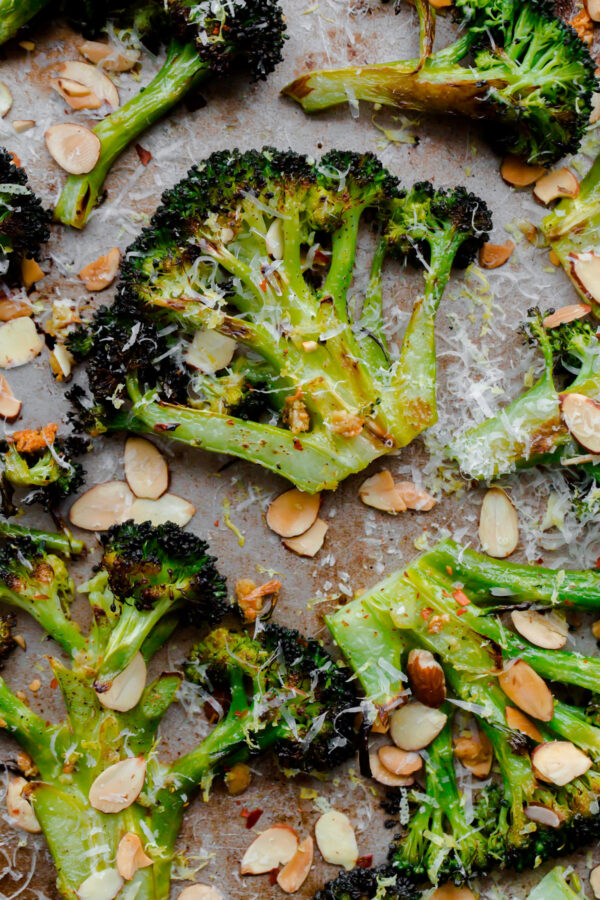 You guys. This roasted broccoli recipe. It is absurdly addictive! Brace yourselves. I can easily consume a pound or two of broccoli in one sitting when it is prepared this way. Quite alarming, but true.
You all know how much I love my vegetables. I can't go without them, but this is quite possibly the most tasty vegetable side dish on this blog.
These charred green beans and these fingerling potatoes come in at a close second. Oh, and these roasted sprouts and squash. Gah, don't make me choose!
If it helps, Connor is equally as obsessed with this broccoli (it is one of his favorite things that I make) and it has gotten rave reviews from lots of family members and friends.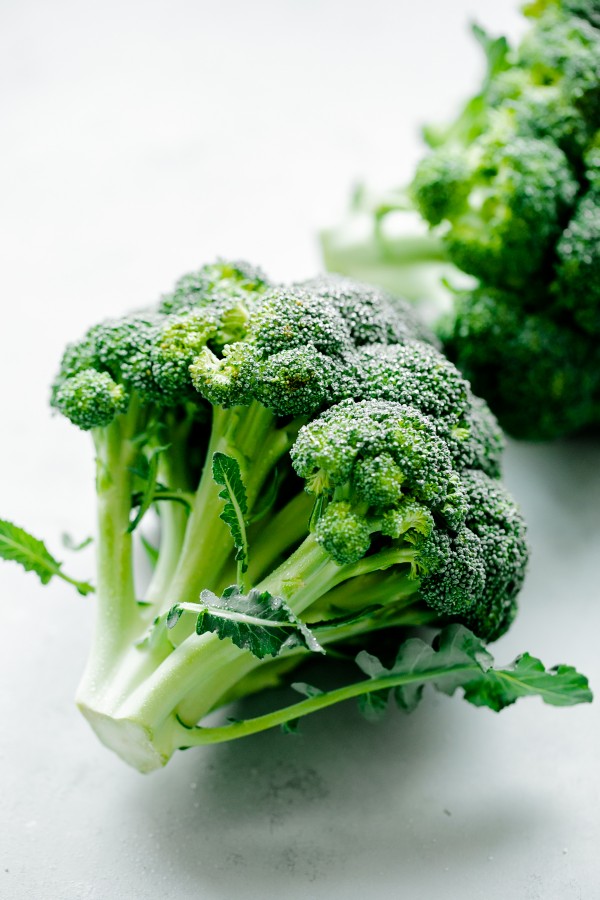 If you've never roasted broccoli, you are missing out on the tastiest way to prepare it!
If you've hated broccoli up to this point (confession: I never experienced this phase of life), give this recipe and method a try. I have an inkling that you'll become a broccoli convert quite quickly.
It goes without saying that many vegetables taste better once caramelized and roasted in the oven. This isn't ground breaking news, but broccoli is one of my all-time favorites.
Even more so than asparagus, carrots, and the other usual favorites. The broccoli florets get crispy and caramelized, and the normally flavorless stalks transform into addictive bites of heaven. I mean, really, you could stop right there.
Once the roasted broccoli is mixed with toasted sliced almonds, lemon juice, garlic, red pepper flakes, and aged pecorino cheese – ugh, so good. 
We jokingly refer to it as crack broccoli for a reason.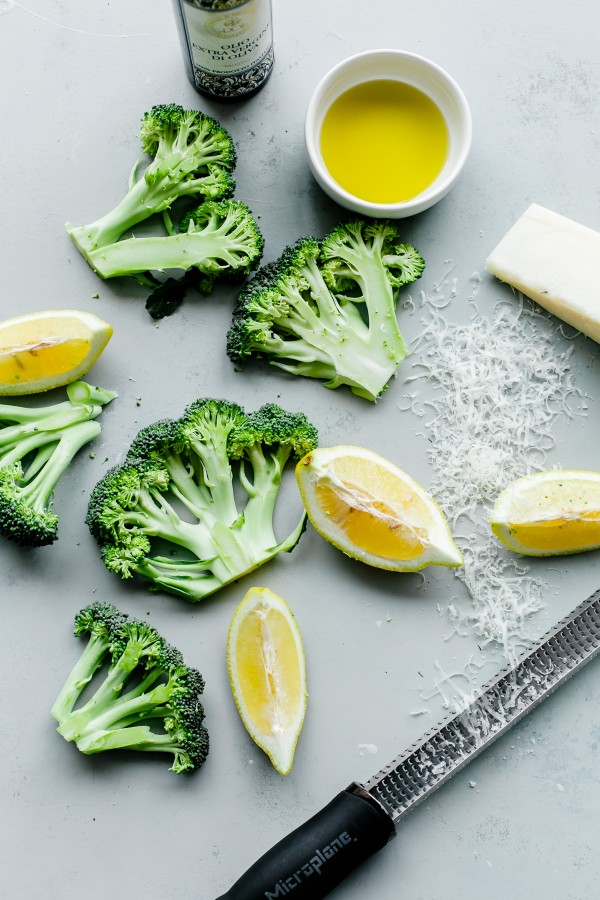 So, here's the deal. I actually posted a version of this roasted broccoli recipe a long time ago, but I've adjusted and improved the recipe and felt it deserved new life!
New and improved recipe, new pictures, all good things. Most often, I like to move forward and share new recipes, but sometimes the old ones need some love and attention, you know?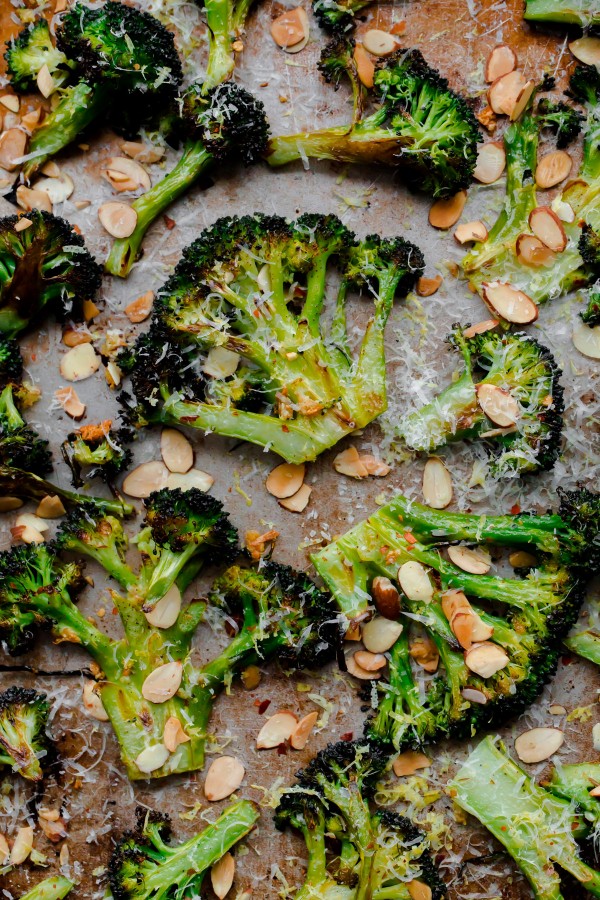 My new favorite way to prepare this dish is to slice the broccoli into 'steaks'.
It gives the dish a better presentation, and the flat sides of the broccoli steaks allow the pieces to more evenly caramelize on the sheet pan.
To make things easier, the raw sliced almonds are added to the sheet pan halfway through cooking. This makes things really easy, and eliminates the need to toast them separately in a skillet.
Tips for Crack Broccoli Success: 
If you're having difficulty slicing the broccoli into 'steaks'- medium florets will also work.
Just make sure your broccoli pieces are consistent in size (if the pieces vary in size, they will cook unevenly) and they are spread into an even, thin layer.
Ideally when roasting, you want the vegetables not to touch each other on the sheet pan. Crowding will result in uneven cooking, less caramelization, and longer cook times.
Many home ovens have not been calibrated recently and can be off by as much as 50 degrees in temperature! I highly recommend investing in a cheap oven thermometer (affiliate link).
If your oven runs hot, I recommend reducing the oven temperature by at least 10-15 degrees and vice versa. The high roasting temperature, included below, produces extra crispy florets and extra caremelization (aka. flavor!).
It goes without being said that this recipe serves 3 to 4 people (in 'normal' world), but don't be surprised if you find yourself consuming all of it in one sitting! SO ADDICTIVE.
Products Used for this recipe:
(may include affiliate links)