Thai Coconut Soup with Sweet Potato and Kale
A delicious, fragrant, vegan Thai coconut soup prepared with sweet potato and kale. An easier, weeknight friendly, and vegetarian rendition on Tom Kha Gai.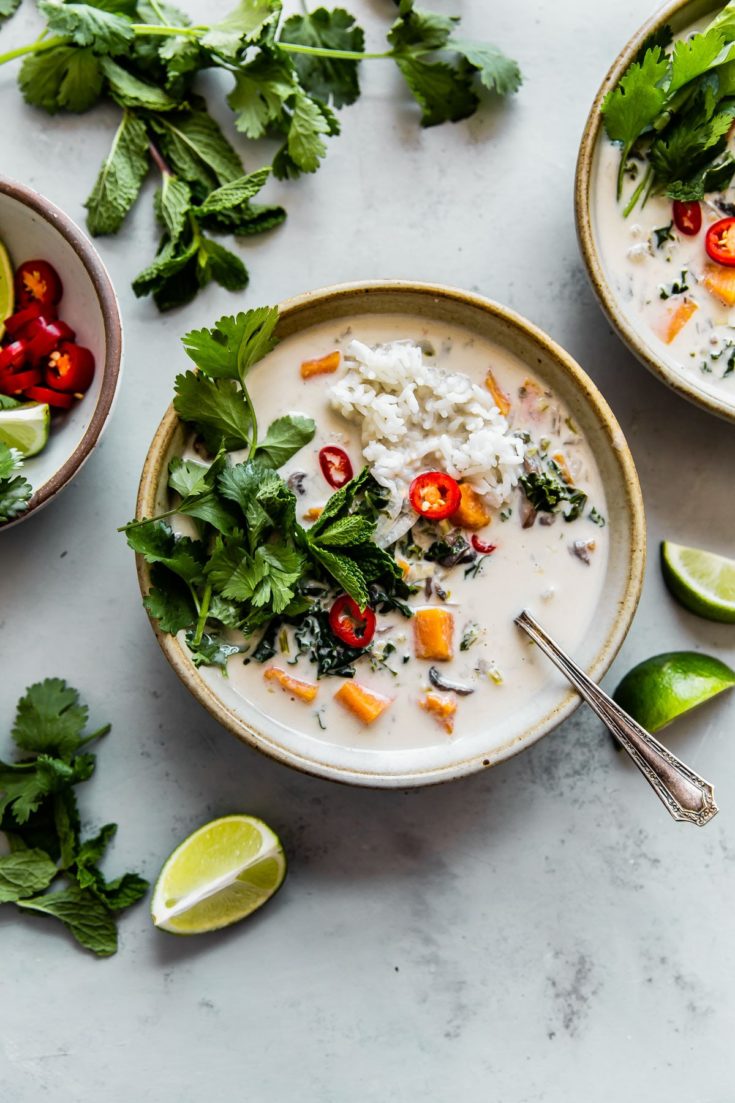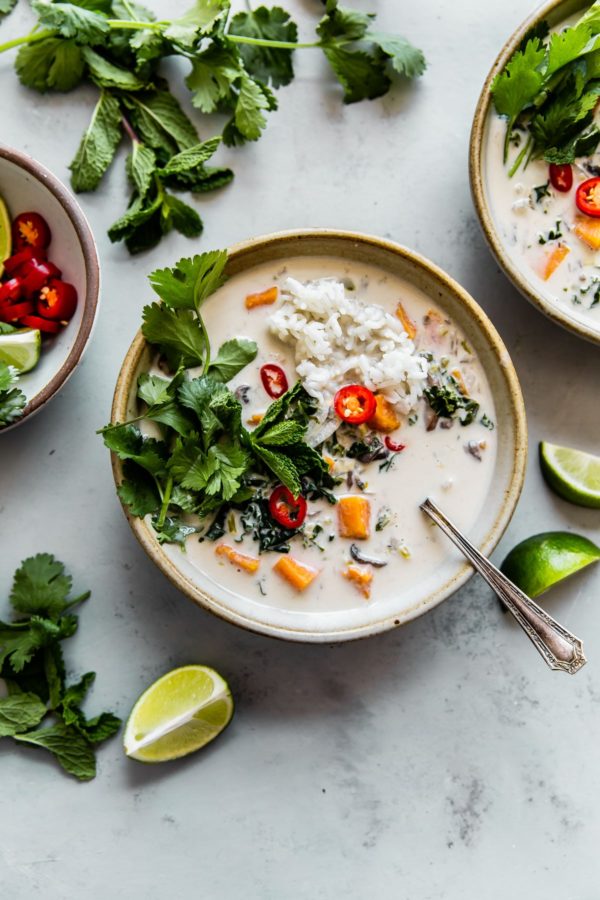 My first experience trying great Tom Kha Gai soup was during the first few weeks of culinary school.
Although it was a classic French school, one of our chef instructors, Chef Somchet, was from Thailand and the school had a tradition of dedicating one full day to learning traditional Thai dishes.
At the end of our lesson, she doled out piping hot bowls of the famous Thai coconut soup. The fragrance was intoxicating. I could have eaten approximately twenty more servings, and it quickly became one of my favorite Thai dishes.
So you can imagine my excitement when I stumbled upon an everyday inspired (and vegetarian) rendition of Tom Kha Gai in my friends Jack and Jeanine's beautiful new cookbook Love and Lemons Everyday.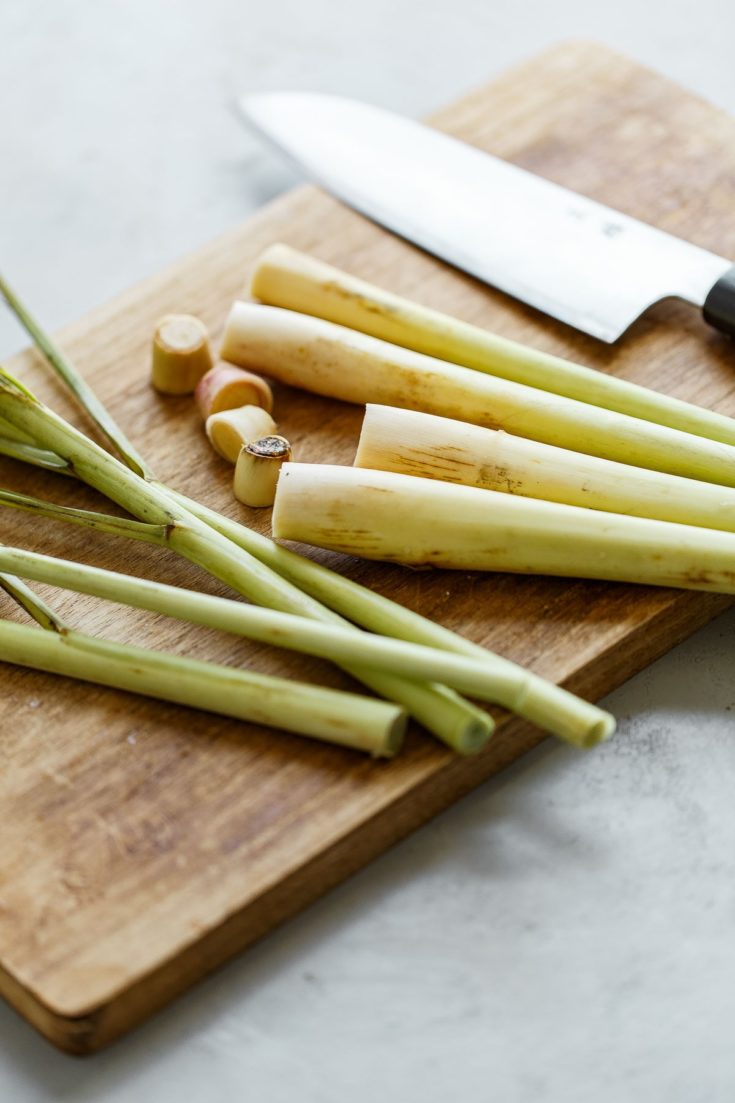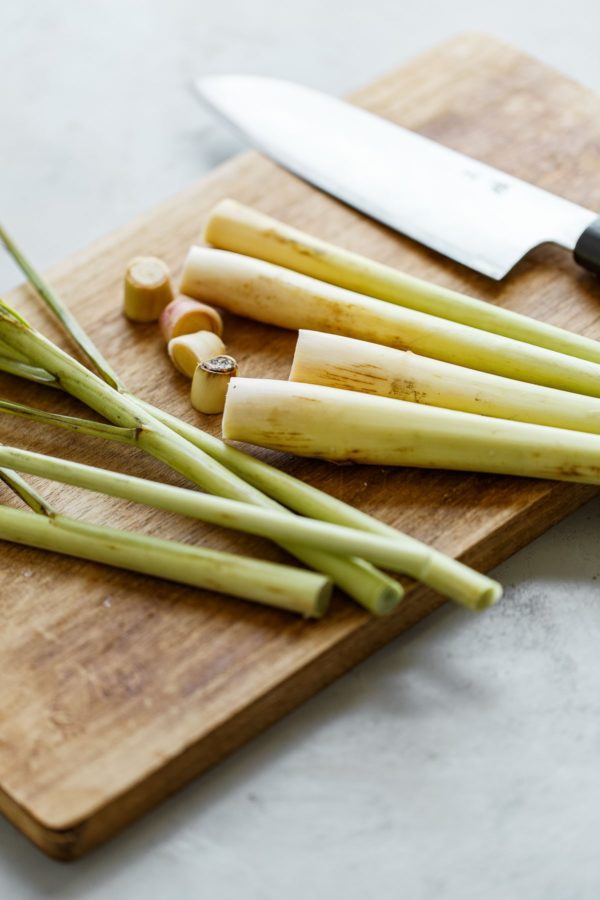 What is Tom Kha Gai?
Tom Kha Gai (which also goes by the name tom kha kai) literally translates to chicken galangal soup. Like many Asian dishes, it is best prepared at the last minute for best flavor.
Traditional Tom Kha Gai is made with galangal (which is similar in some ways to ginger, but has a more citrusy, earthy flavor), lemongrass, kaffir lime leaves, mushrooms, coconut milk, fish sauce, thai chili peppers, lime juice, cilantro, and several other ingredients.
It is an incredible representation of Asian cuisine. A perfect harmony and balance of flavor: heat, sweet, sour, acid, and salt.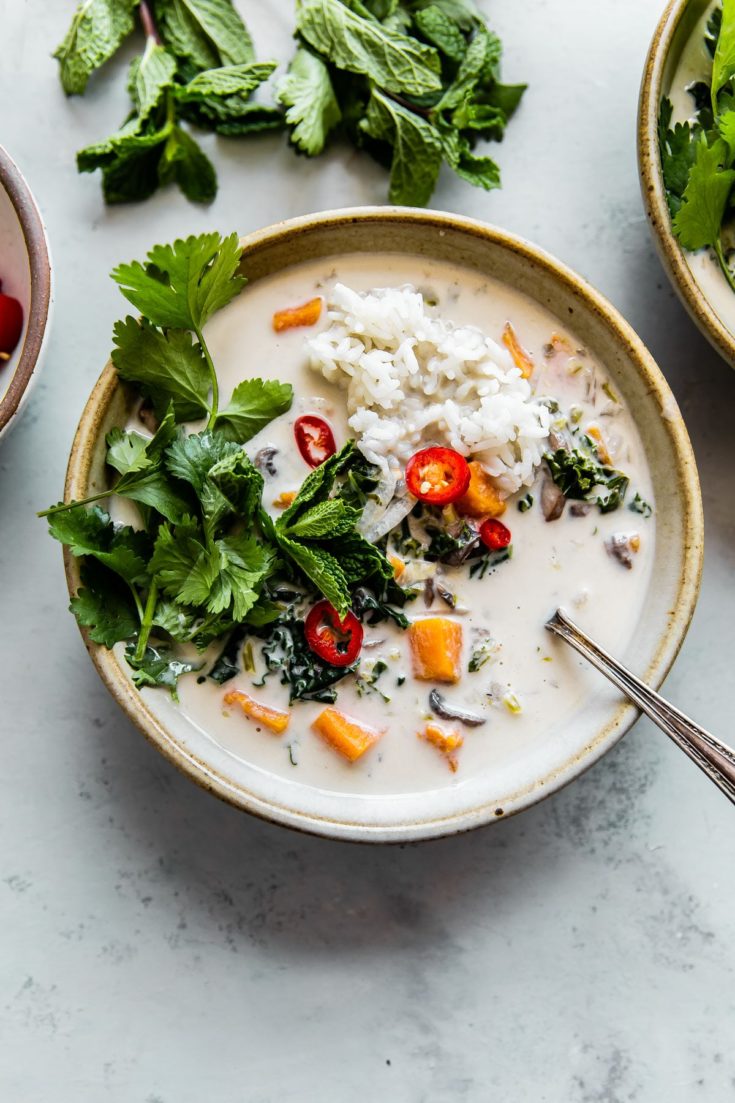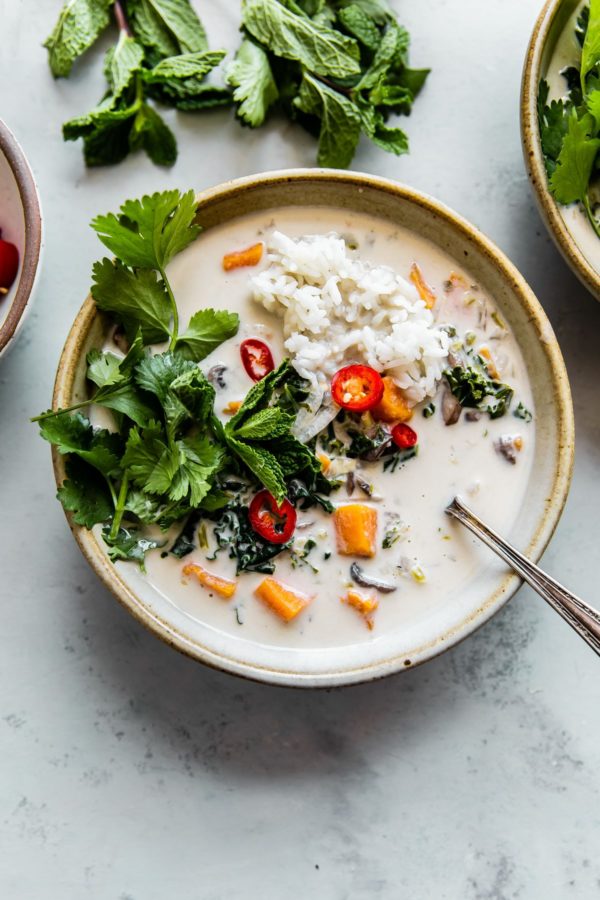 Love and Lemons Everyday Cookbook:
If you're not familiar with their blog Love and Lemons (though I'm sure many of you are!), Jack Mathews and Jeanine Donofrio are pros at sharing fresh, flavorful, seasonally inspired vegetarian recipes!
You might remember this miso spinach soup recipe from a few years back…
I've always loved their approach to cooking and have been looking forward to the launch of their second cookbook, Love and Lemons Everyday (affiliate link), ever since Jeanine shared the news with me.


This latest cookbook is just as beautiful as their first! Gorgeously designed, Love and Lemons Everyday (affiliate link) is filled with more than 100 plant-forward recipes spanning from breakfast to dessert.
All of the recipes are vegetarian (which include vegan alternatives; many also happen to be gluten free). The book is packed with additional sections and infographics, including a stunning spread with homemade dressings, variations on breakfast scrambles, etc.
Each recipe is accompanied by a gorgeous photograph as well. I highly recommend picking up a copy! It would also make a fantastic Mother's Day gift too.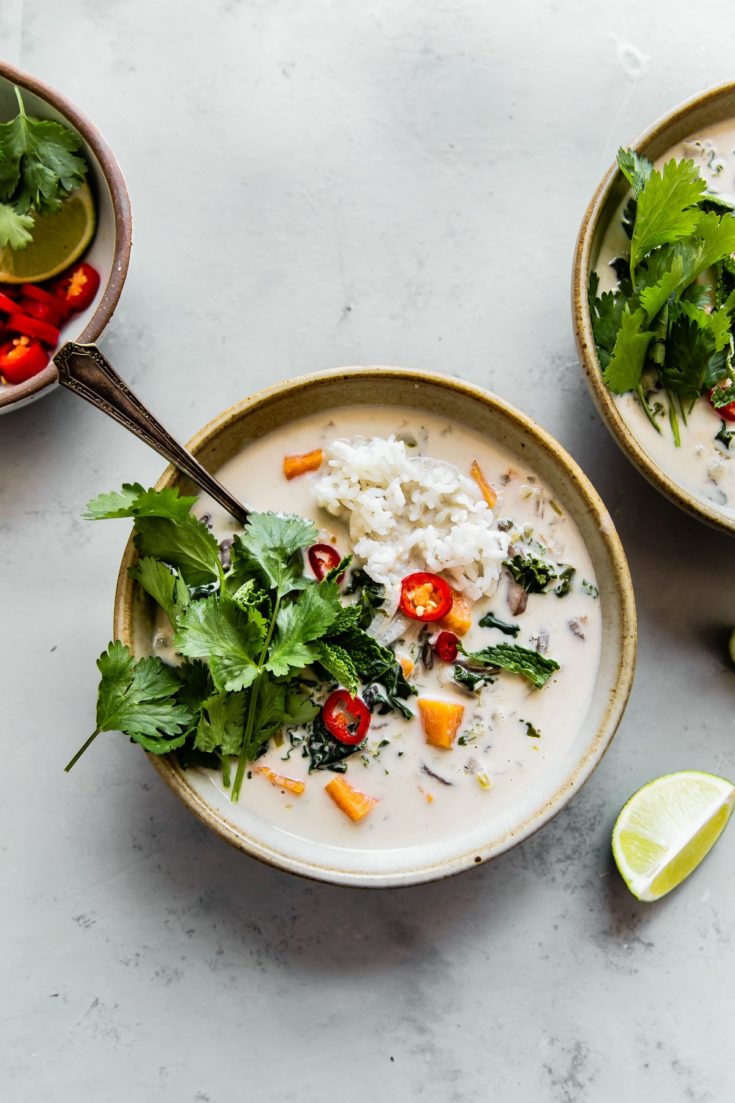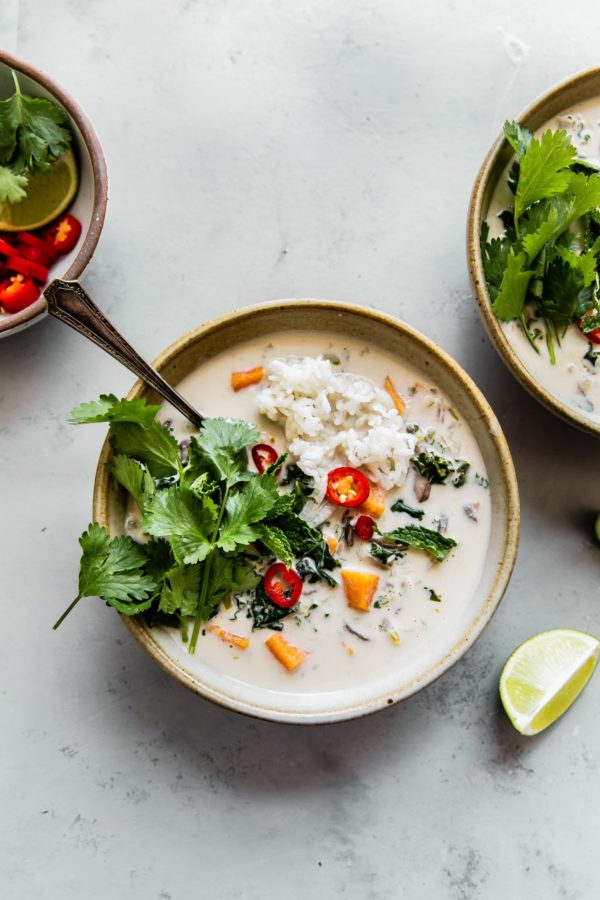 How to Make Vegan Thai Coconut Soup:
To celebrate the launch of the cookbook, I'm sharing their beautiful, flavorful twist on Tom Kha Gai soup with you!
While traditional Thai coconut soup is spectacular in its own way, it is very hard to reproduce in a home kitchen, as many of the traditional ingredients can be extremely challenging to source, particularly in the United States.
I love Jeanine's twist, which is equally as fragrant and flavorful, but much easier and practical to prepare on a regular basis. This Thai coconut soup recipe uses some traditional ingredients, such as coconut milk, lime, cilantro, and lemongrass, and substitutes others with easy to find alternatives to achieve a similar flavor profile.
Her version includes cremini mushrooms, sweet potato and chopped kale, which are not traditional, but add lovely heft and heartiness to the fragrant broth base.
This Thai coconut soup is spicy, and flavorful, with creaminess from full fat coconut milk and just the right amount of acid from freshly squeezed lime juice and zest.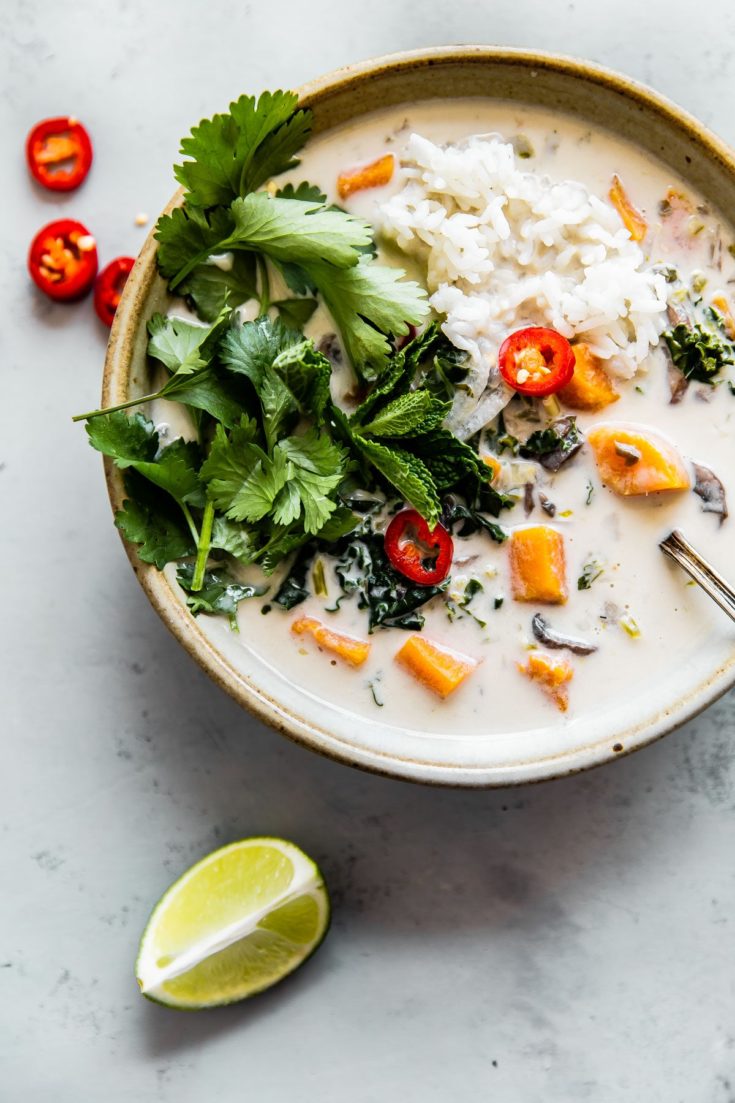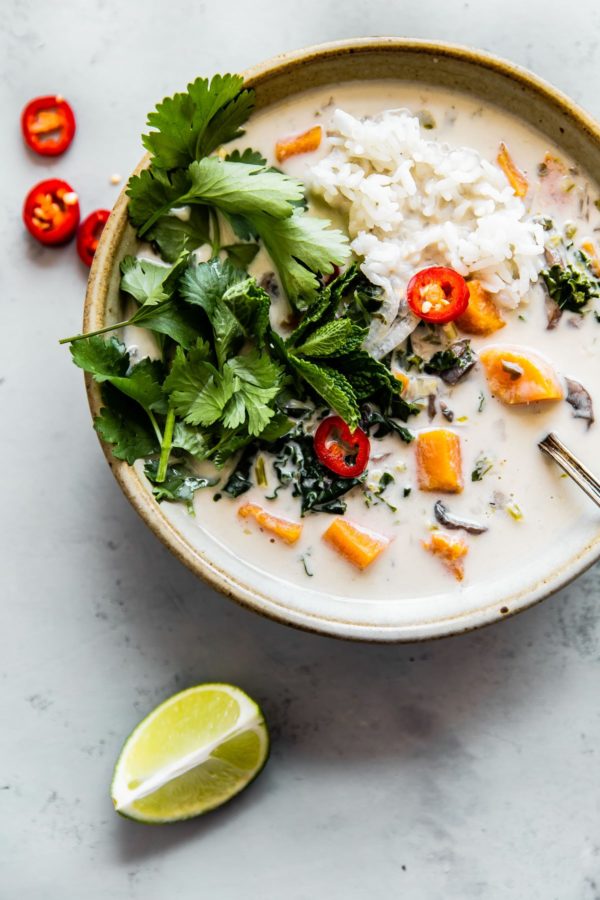 How to Serve Thai Coconut Soup:
This soup uses two cans of full-fat coconut milk diluted with a touch of water. It is a creamy, relatively thick broth. If you prefer a looser broth, you can feel free to add more water – as noted in the recipe – to lighten it up.
Jeanine recommends serving this vegan Tom Kha Gai with a spoonful of cooked basmati rice, lime wedges, fresh mint leaves, cilantro, and sliced chili peppers (Thai are great, but a serrano or red finger chili pepper will work just as well in a pinch!).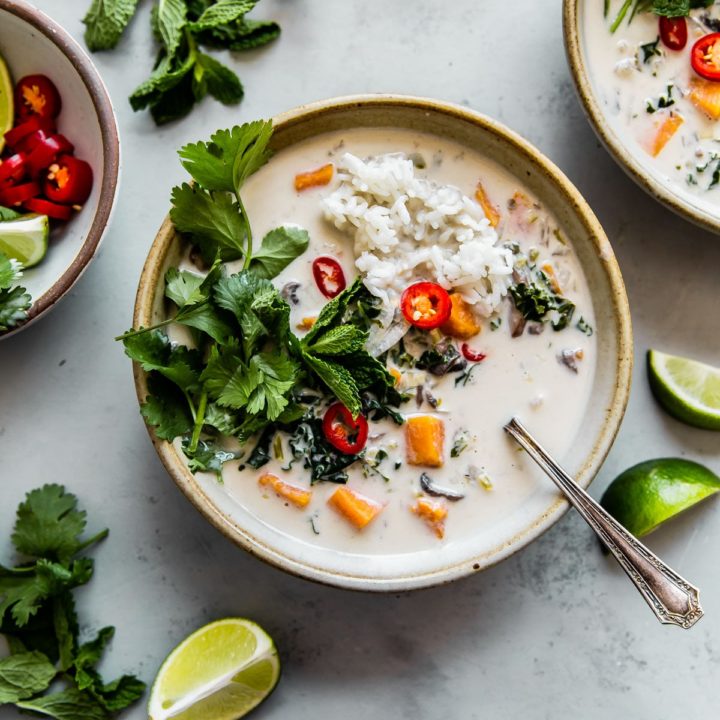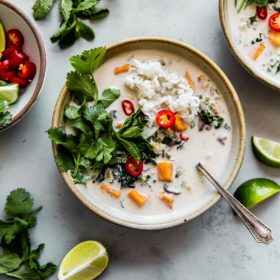 Vegetarian Thai Coconut Soup with Sweet Potato and Kale
A delicious, fragrant, vegan Thai coconut soup prepared with sweet potato and kale. An easy, everyday friendly Tom Kha Gai from the Love and Lemons Everyday cookbook! Serve with fresh herbs, lime wedges, and sliced chiles.
Ingredients
2 stalks lemongrass
1 teaspoon raw virgin coconut oil
½ medium yellow onion thinly sliced
12 ounces cremini baby bella mushrooms, stemmed and sliced
1 teaspoon Diamond Crystal kosher salt
2 (14-ounce) cans full-fat coconut milk Aroy-D brand is my favorite brand and Whole Foods 365 Organic is good too
1½ cups (360 mL) water or up to 3 cups (720 mL) for a lighter broth
1 tablespoon minced fresh ginger
2 garlic cloves minced
1 large sweet potato chopped
1 jalapeno pepper stemmed and diced
1 small bunch cilantro (about ½ cup) stems diced and leaves chopped
zest and juice of 2 limes
tamari or soy sauce, for seasoning (optional)
4 cups loosely packed kale chopped
2 cups cooked jasmine rice
½ cup fresh mint leaves
sliced red chile peppers, serrano peppers, or sriracha sauce
Instructions
Prepare the lemongrass by cutting off the root end and the tough upper stem of the stalks. Smash the stalks with a rolling pin (*a tenderizer or the side of a wide chef's knife also works!) to loosen the layers. Pull off the thick outer layers and dice the inner, tender parts. This should yield about ¼ cup chopped lemongrass. Set aside.

Heat the oil in a large pot over medium heat. Add the onion, mushrooms, and ½ teaspoon kosher salt and cook, stirring occasionally, for 8 minutes, or until softened.

Stir in the lemongrass, coconut milk, 1½ cups water, ginger, garlic, sweet potato, jalapeño, and cilantro stems. If you prefer a lighter broth, add up to 1½ cups more water. Simmer over low heat for 20 minutes, or until the sweet potatoes are fork-tender.

Add the lime zest and juice. Taste, then add an additional ½ teaspoon of salt, if desired, and tamari (or soy sauce), if using. Add the chopped kale and simmer just until wilted, 1 to 2 minutes. Stir in the cilantro leaves just before serving.

Serve with the rice, fresh mint, cilantro, and chile peppers, if using, and tamari (or soy sauce) on the side.
Reprinted from Love & Lemons Every Day by arrangement with Avery, a member of Penguin Group (USA) LLC, A Penguin Random House Company. Copyright © 2019, Jeanine Donofrio and Jack Mathews.
Serving: 1serving, Calories: 328kcal, Carbohydrates: 45g, Protein: 7g, Fat: 16g, Saturated Fat: 13g, Polyunsaturated Fat: 1g, Sodium: 676mg, Fiber: 5g, Sugar: 10g
This post contains affiliate links, which means that I make a small commission off items you purchase at no additional cost to you. Please read my
privacy policy
for more information.