Roasted Raspberry Cupcakes
Flavored with roasted raspberries, these fluffy raspberry cupcakes are topped with a pink raspberry buttercream naturally tinted with roasted raspberry puree!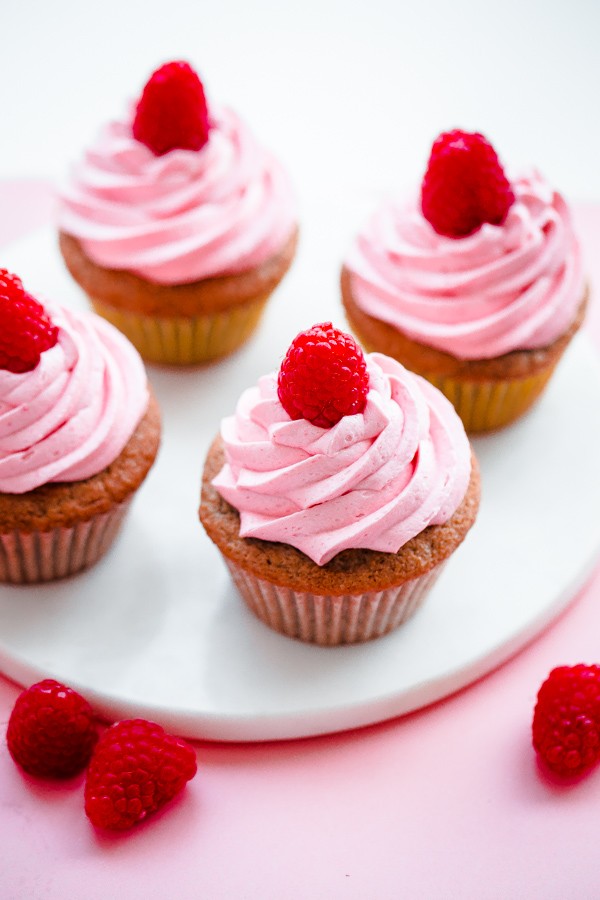 Cooking and baking holds and represents so many memories for me. Whether slicing runner beans with my grandmother in England, making true Southern biscuits with my godfather, or helping my mom with her annual Buche de Noel cake during the holidays, food has always played an incredibly meaningful role in my life.
As crazy as it may sound, cupcakes have played an equally as meaningful role. Where would my life be without these perfectly-proportioned little cakes topped with frosting?
If you've been following this blog for some time, you know that right after graduating from college, I got a job working as a baker for a DC food truck (whose owner, Sandra–one of my good friends–now owns one of the cutest bakeries and cafes in the DC area!).
I was constantly covered in powdered sugar and cocoa and occasionally got my fingers stuck in pastry tips, but it was a huge turning point in my life.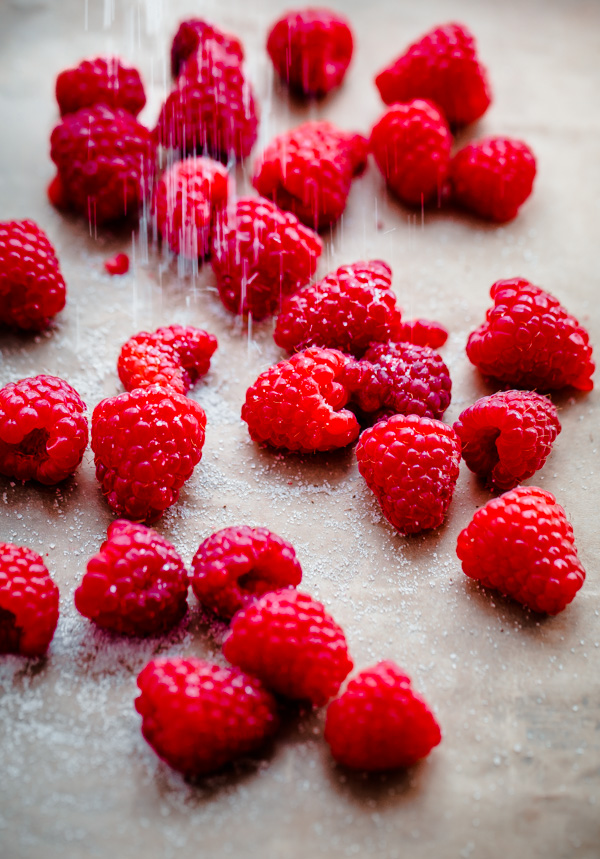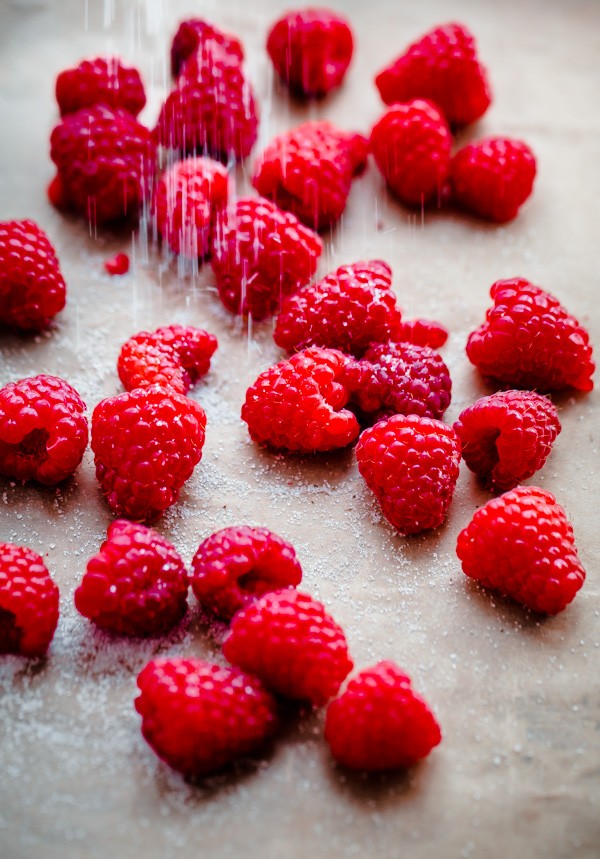 It was during this time working for the bakery that I made the crazy decision to drop all of my plans, apply to culinary school, and keep chugging away at this website.
So, as you can imagine, cupcakes–and all baked goods–have been fairly pivotal in my life. When I got my hands on the beautiful newly released cookbook, Grandbaby Cakes, by the lovely Jocelyn of Grandbaby Cakes blog–I immediately gravitated towards these roasted raspberry cupcakes.
Cupcakes? Good. Raspberries? Great! Roasted raspberry cupcakes? Totally sold.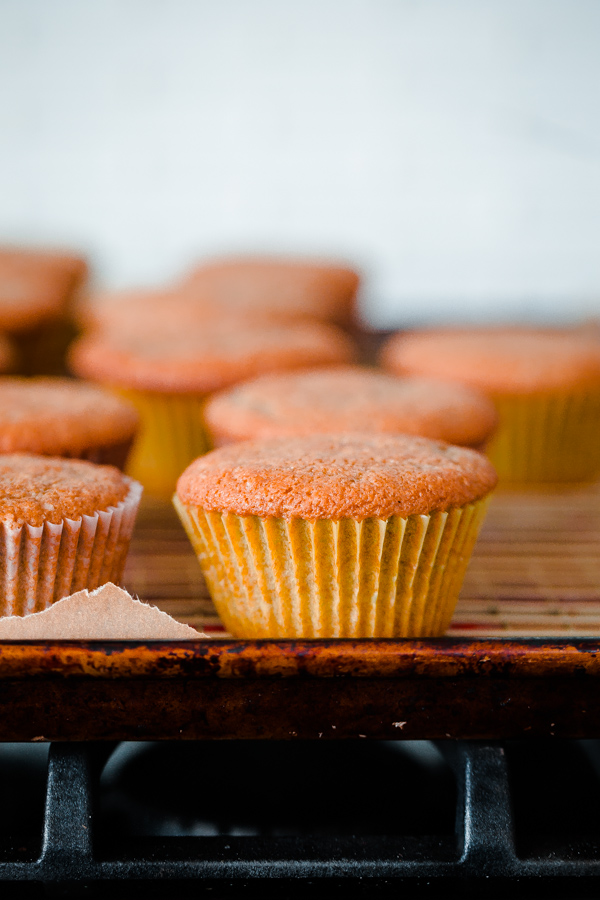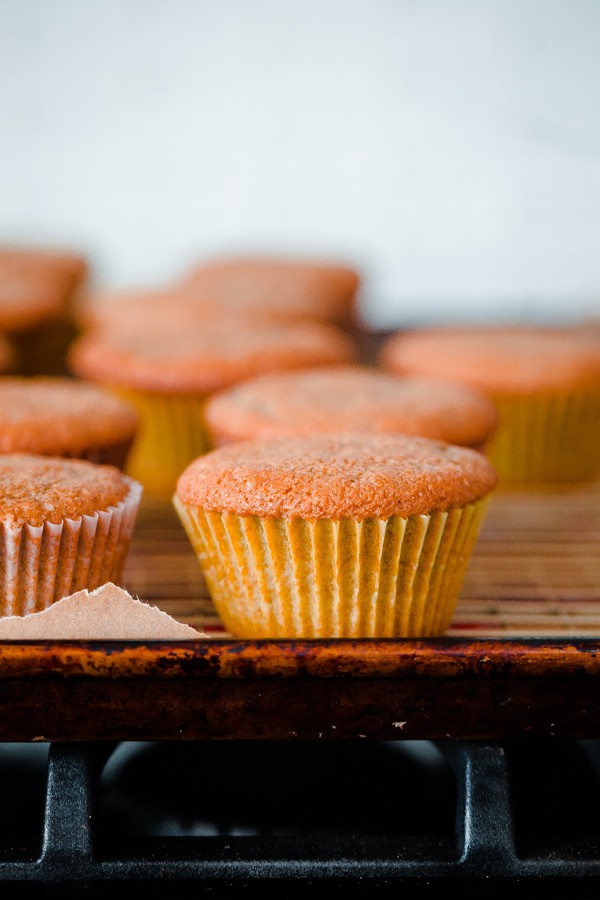 One of the best parts about moving to Chicago has been that I have had the chance to get to know and connect with Jocelyn (a fellow Chicagoan!) in person! She's hilarious, driven, incredibly passionate, and is all about family.
Her cookbook, Grandbaby Cakes, inspired by her grandmother, captures her passion and love for her family perfectly.
My favorite cookbooks are the ones that read like a good book and make you feel like you are right there cooking alongside the author or, at least, getting to know them on a more personal level, whether through the words, recipes, or stories. This cookbook does exactly that and so much more.
The cookbook is filled with 50 creative cake recipes! Everything from pound cakes, layer cakes, sheet cakes, baby cakes (including these roasted raspberry cupcakes!), celebration cakes, and cakes for the holidays and seasons. Modern meets vintage charm in cake-form.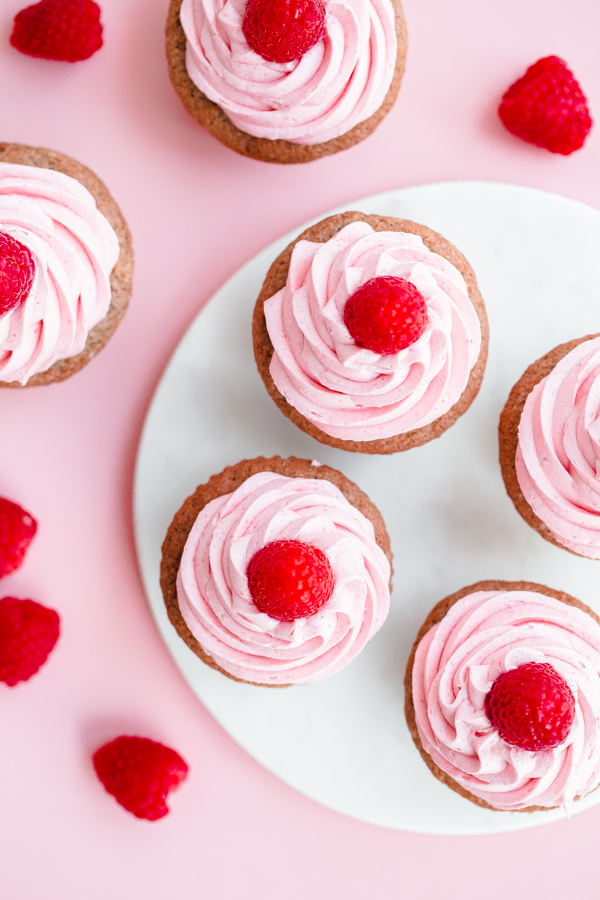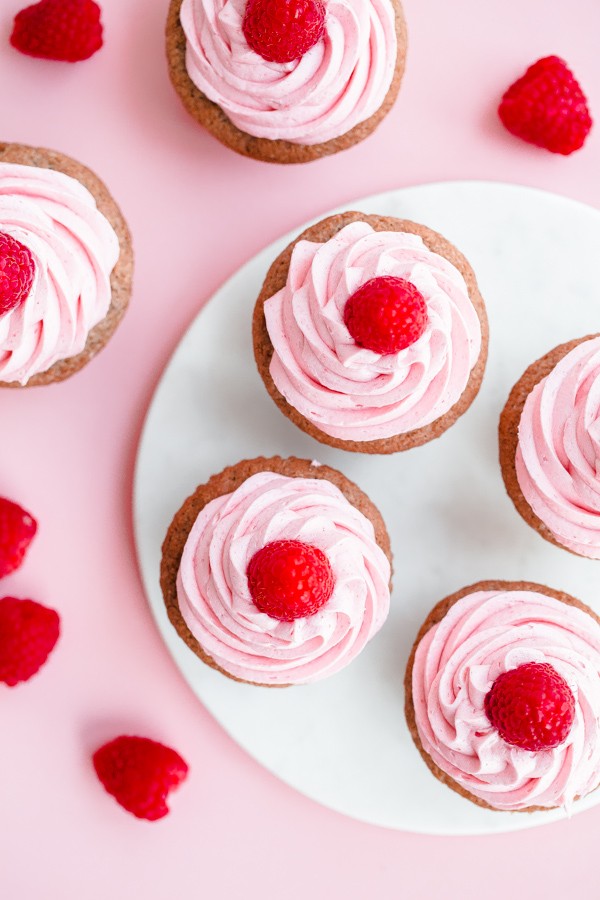 What makes Grandbaby Cakes extra special (apart from super creative and fun recipes, such as a Dreamsicle Punch Bowl Cake to Buttered Run and Candied Sweet Potato Crumb Cake) is that nearly every recipe is accompanied by a family photograph, story, and beautifully styled image.
Every recipe is classified into three categories to let you know just how much time, effort, and skill level is needed to create the cake. Therefore, the book is geared to both beginner and more experienced bakers, which I absolutely love.
You can find a baked good for almost every occasion.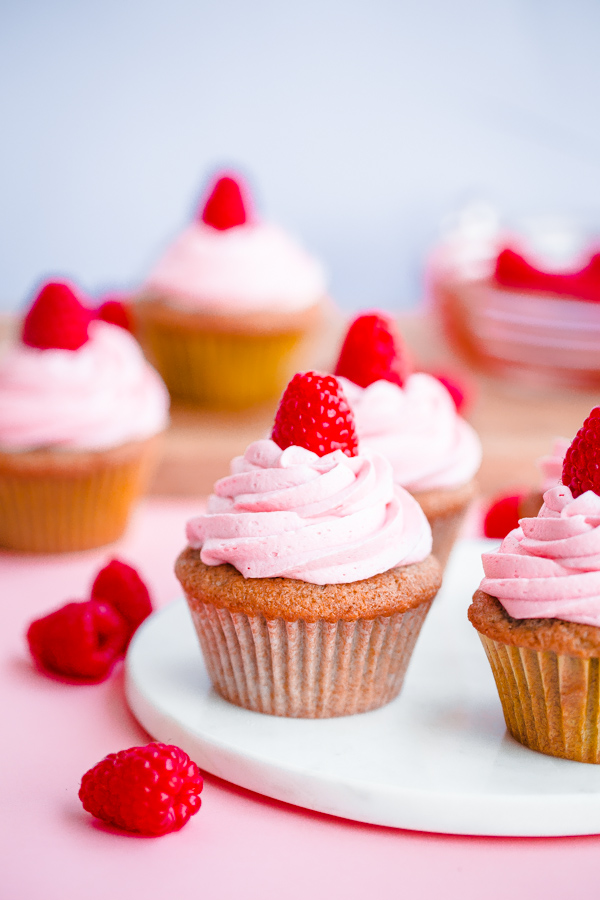 These roasted raspberry cupcakes fit right into the middle! They take just a touch more time (as the cupcake batter and frosting incorporates freshly roasted raspberries), but are still simple to prepare.
As someone who loves raspberries – I was a big fan of these cupcakes! Also, that buttercream is naturally pink from roasted raspberry puree. The prettiest bubblegum pink color ever!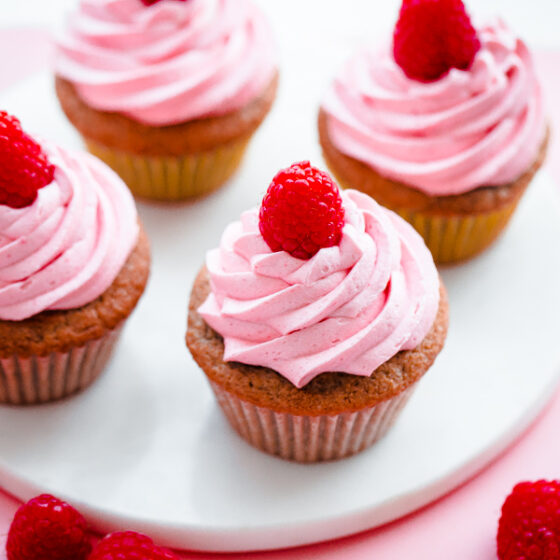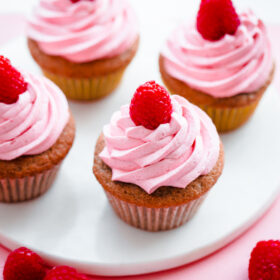 Roasted Raspberry Cupcakes
Flavored with roasted raspberries, these fluffy raspberry cupcakes are topped with a pink raspberry buttercream naturally tinted with roasted raspberry puree!
Ingredients
Roasted Raspberries:
3 cups fresh raspberries divided
1 teaspoon (4 g) granulated sugar
Cupcakes:
1¾ cups (350 g) granulated sugar
¾ cup (6 oz; 90 g) unsalted butter room temperature
3 large eggs room temperature
3 cups (360 g) unbleached all-purpose flour
1 teaspoon baking powder
1 teaspoon baking soda
½ teaspoon kosher salt
¾ cup sour cream room temperature
½ cup (120 mL) vegetable oil
1 teaspoon pure vanilla extract
1 teaspoon pure raspberry extract
3-4 drops red food coloring optional
Raspberry Buttercream:
3½ cups (420 g) powdered sugar sifted
1 cup (8 oz; 230 g) unsalted butter room temperature
½ teaspoon pure raspberry extract
pinch kosher salt
fresh raspberries for decorating
Instructions
For the Roasted Raspberries:
Preheat your oven to 450°F (230°C) with a rack in the center position. Line a half sheet pan with parchment paper.

On one end of the prepared baking sheet, place 2 cups of raspberries in a single layer – this will be for your cupcake batter. On the other end of the baking sheet, place the remaining 1 cup raspberries – this will be for your buttercream. Make sure the 2 sections are well seperated. Sprinkle both sections with the granulated sugar

Bake for 20 minutes, until the juices are just beginning to release. Remove the raspberries from the oven and set aside to cool.
For the Cupcakes:
Reduce your oven temperature to 350°F (176°C) - if you have a separate oven thermometer, make sure to check it before baking the cupcakes, to ensure the temperature is correct. Because the berries were just roasted at a very high temperature, you don't want to burn or over bake your cupcakes! Line two 12-cup muffin pans with 20 to 24 cupcake liners.

In the bowl of a stand mixer fitted with a whisk attachment, combine the granulated sugar and butter. Cream together on medium-high speed for about 6 minutes, until very pale yellow and fluffy.

While the batter mixture is beating, add the 2 cup section of of roasted raspberries to a food processor and puree. Pour the mixture through a fine-mesh strainer to remove the seeds. Repeat with the remaining 1 cup section of roasted raspberries, keeping the 2 raspberry purees separate.

Add the eggs one at a time to the butter and sugar mixture in the stand mixer bowl, combining well after each addition and scraping down the sides and bottom of the bowl as needed. Reduce your mixer speed to low and mix in the first (2 cup; it won't actually measure to be this amount) portion of raspberry puree, a small amount at a time.

In a medium bowl, whisk together the flour, baking powder, baking soda, and salt. Slowly add ½ of the flour mixture to your stand mixer. Mix on the lowest speed until combined.

In a small bowl, whisk together the sour cream and oil. Add to your stand mixer bowl.

Add the remaining flour mixture to your stand mixer bowl and mix on low speed until well incorporated. Be careful not to overbeat. Add the vanilla and raspberry extracts and food coloring, if using. Scrape down the sides and bottom of the bowl and mix the batter until just combined. Be careful not to overmix.

Using an ice cream scoop (with trigger release) or a spoon, scoop the batter into the cupcake liners until each is ¾ full. Be careful not to overfill. Bake for 17 to 21 minutes, or until a toothpick inserted into the center of a cupcake comes out mostly clean but still moist.

Let the cupcakes cool in the pans for 5 minutes, then transfer to a wire rack. Let cool to room temperature. Lightly cover the cupcakes with foil or plastic wrap so they do not dry out.
For the Buttercream:
Clean your stand mixer bowl and whisk attachment. Add the confectioners' sugar and butter and mix on very low speed, increasing the speed to medium-high once the sugar is fully incorporated. Continue to mix until light and fluffy.

Add the remaining portion of raspberry puree, raspberry extract, and salt and beat until the mixture is cotton-candy pink and the puree is fully incorporated.

Once the cupcakes have cooled completely, frost them with the buttercream (I used a large star tip). Garnish with raspberries (optional) and serve.
Recipe reprinted with permission from
Grandbaby Cakes
by Jocelyn Delk Adams, Agate Surrey, 2015.
Serving: 1serving, Calories: 247kcal, Carbohydrates: 21g, Protein: 3g, Fat: 17g, Saturated Fat: 8g, Polyunsaturated Fat: 8g, Cholesterol: 55mg, Sodium: 135mg, Fiber: 1g, Sugar: 7g
This post contains affiliate links, which means that I make a small commission off items you purchase at no additional cost to you. Please read my
privacy policy
for more information.