Roasted Carrot Lentil Salad with Tahini Dressing
Healthy and hearty lentil salad filled with roasted carrots, radishes, sliced red onion, and tossed with a lemon-tahini dressing. Naturally vegan and gluten-free!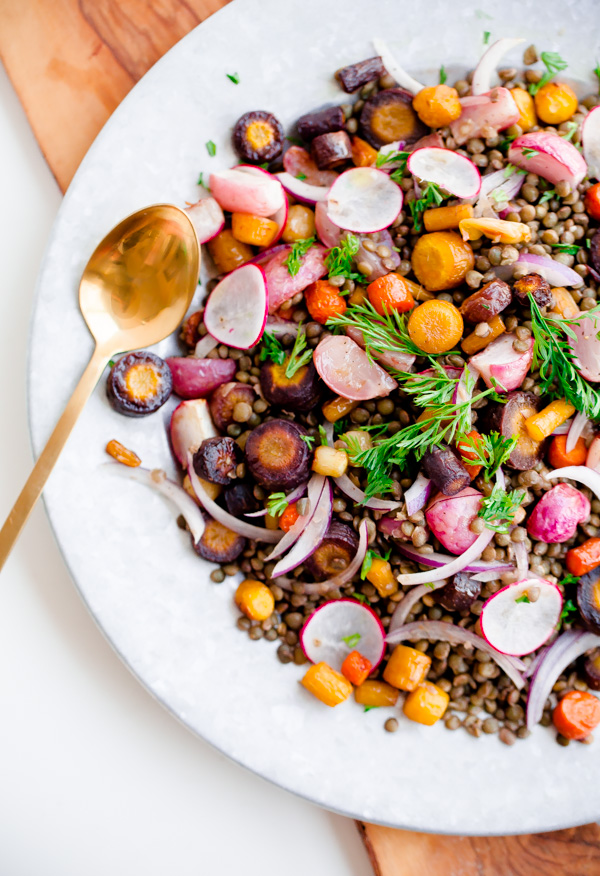 Oh, this roasted carrot lentil salad. The recipe and photographs (all three million of them) have been patiently sitting on my computer for some time. I felt that it was high time that I shared a hearty, super nutritious salad with all of you.
Also, my oldest sister recently commented on the fact that I've been sharing a lot of waffles lately. Touché.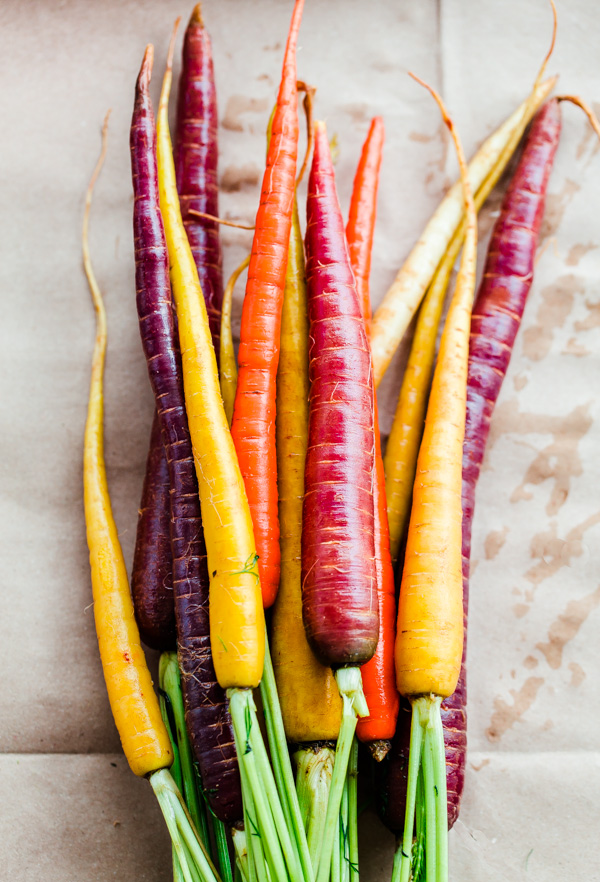 Today's lentil salad can work as a main course (accompanied with a few slices of hearty, crusty bread), side dish, and makes great leftovers. It can be served at room temperature or cold straight from the fridge. If you're not serving the salad right away, I recommend thinking ahead, preparing this dish on a Sunday morning or afternoon, and saving it for the rest of the week.
There is nothing more satisfying than opening up your fridge at the end of a long work day and realizing that you already have lunch or dinner figured out for the next day…or two!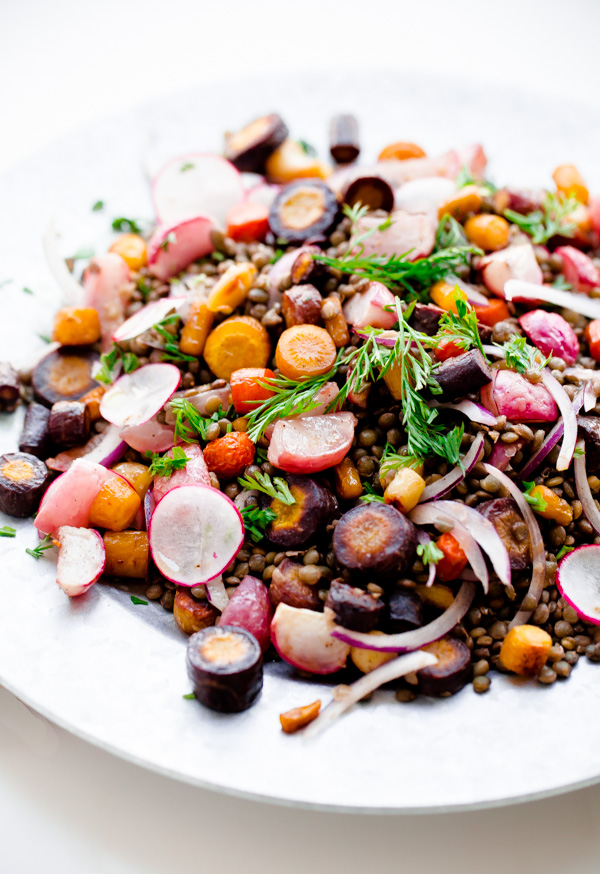 There are so many things happening in this salad that I can't even figure out where to begin! Let's start with the roasted rainbow carrots. I mean, really, is there anything prettier? Grab a bunch of super fresh produce, hand me a camera, and I could literally occupy myself for hours.
My local grocery store in Chicago, Mariano's, happens to sell bunches of rainbow carrots at a very affordable price. Similarly to how I feel about fingerling potatoes, when it comes to my carrots, the more colors the merrier. Plus, rainbow carrots actually contain loads of extra nutrients as well. In my mind, it is a win-win situation.
Obviously, regular carrots will work just fine for this recipe. However, I do recommend steering yourself towards the super fresh carrots (preferably ones with green leafy stems still attached) for this recipe, because they are generally fresher and you'll be using the leafy carrot top stems for garnishing the salad!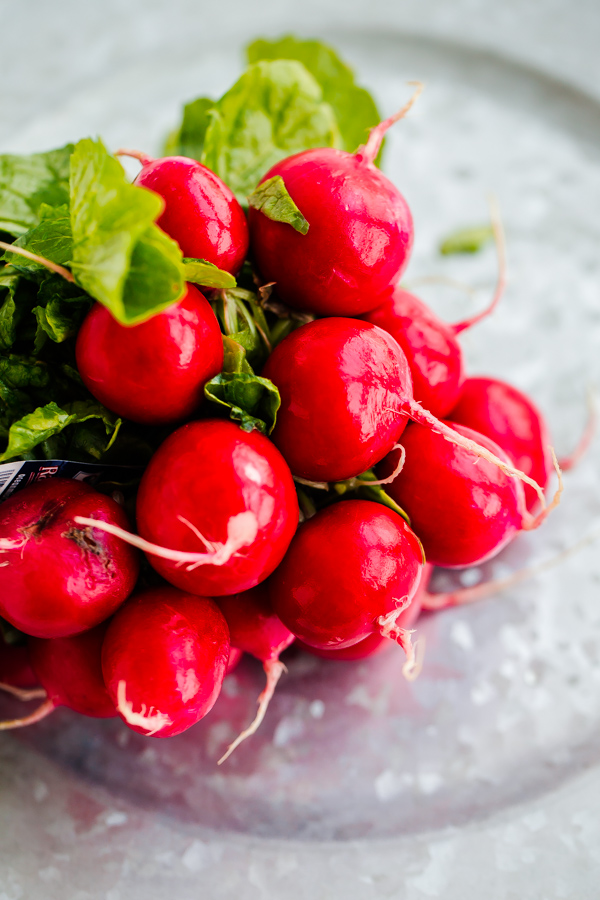 In addition to the roasted carrots, this salad also contains roasted (and raw) radishes as well! If you've ever tasted a raw radish, you know that they can be peppery and a bit spicy! When roasted, radishes are transformed into sweet, juicy bites of caramelized heaven. If you're not a fan, feel free to leave them out.
Truthfully, this salad would taste great with a wide range of roasted vegetables. Get creative and twist it up!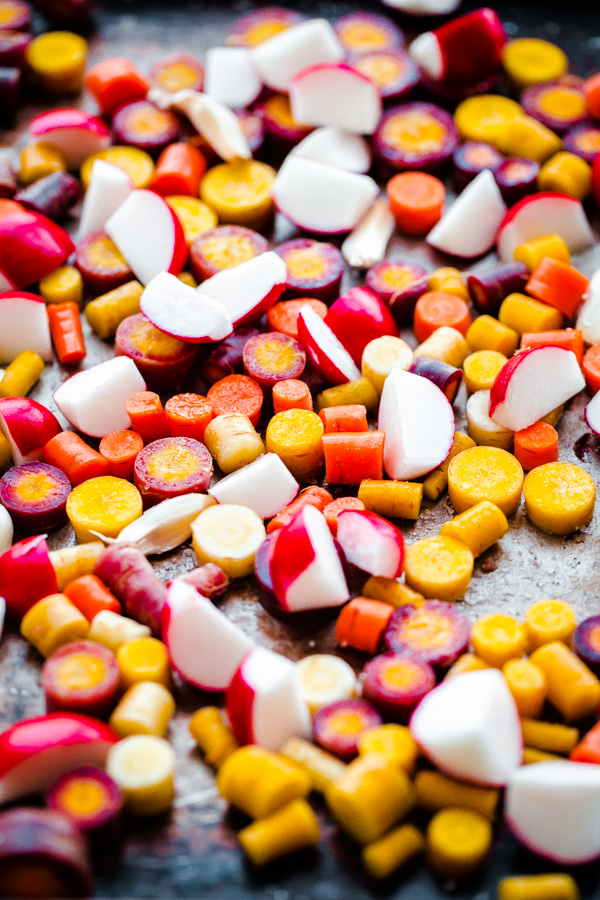 The most important part of this salad are the lentils. If you've ever found yourself in front of the bulk bin section of the grocery store, you know that dried lentils come in a large variety of shapes, sizes, and colors. It can be overwhelming at times.
For this recipe, you'll want to find French green lentils (referred to as Le Puy lentils). These are my go-to lentils for soups and salads, as they hold their shape extremely well once cooked.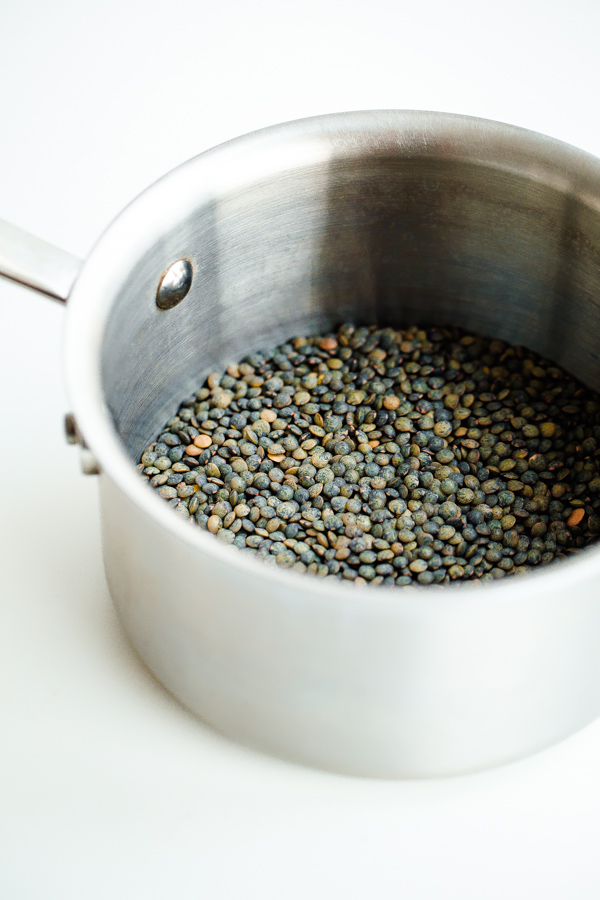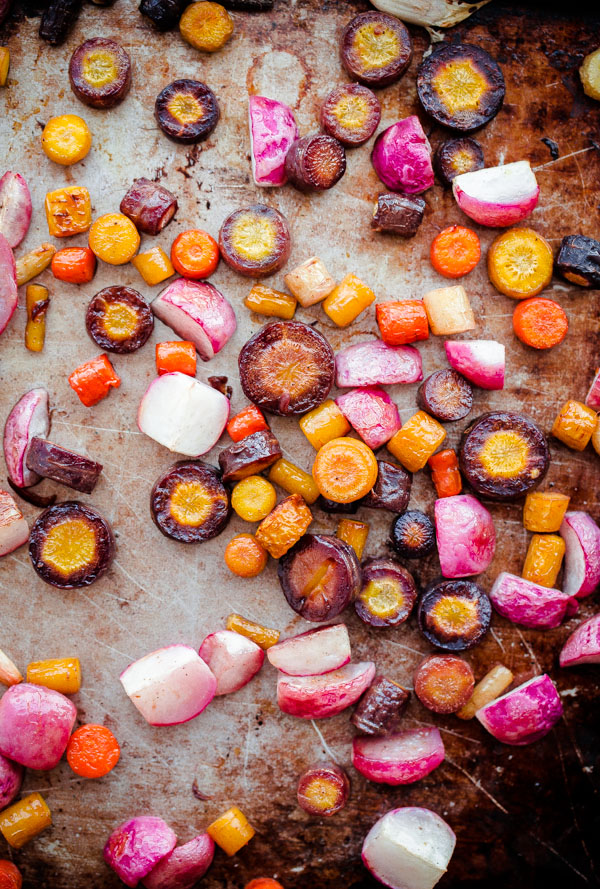 Next comes the tahini dressing! It couldn't be easier to make and is a simple combination of tahini paste (ground sesame seeds), lemon juice, salt, and pepper, and thinned with warm water.
Truthfully, this dressing tastes great on everything. Literally, everything. I could eat it straight from the bowl. It is that addictive.
On that note, make a double batch and keep the leftovers in the fridge!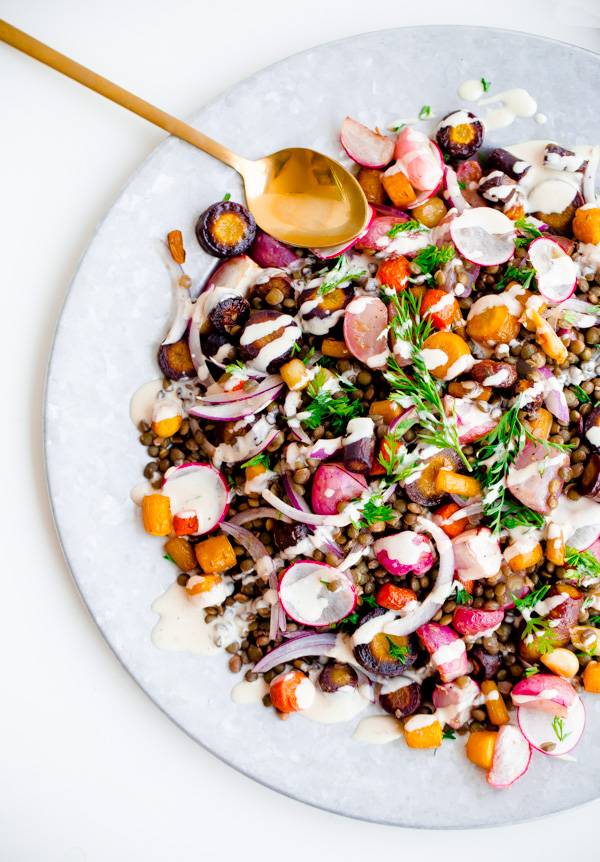 Other Favorite Fall Salads: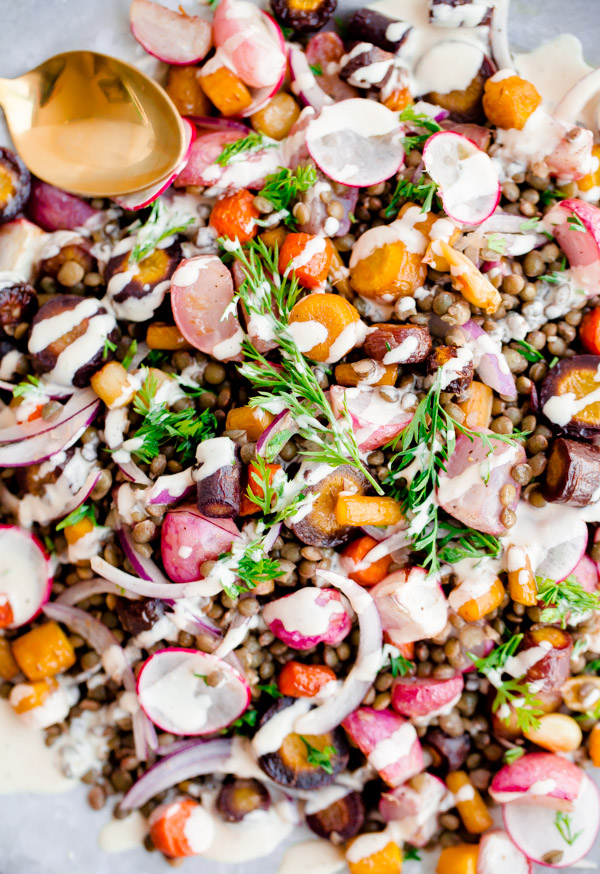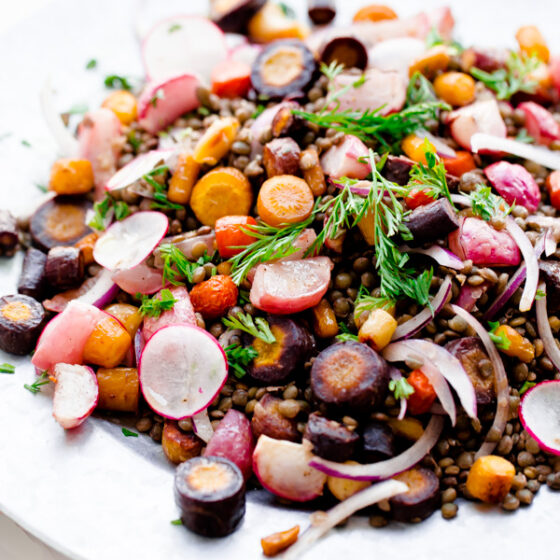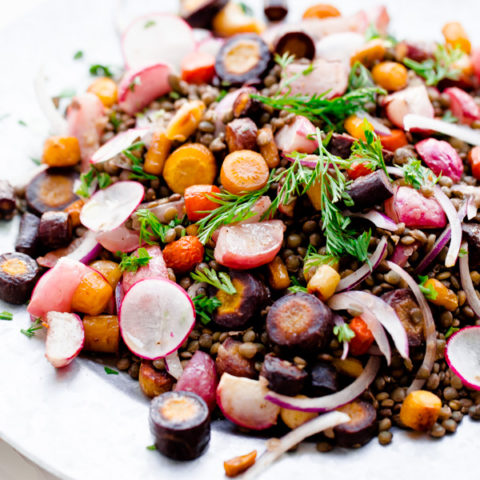 Roasted Carrot Lentil Salad with Radishes and Tahini Dressing
Yield: 4-5 Servings
Healthy and hearty roasted vegetable lentil salad filled with roasted carrots, radishes, sliced red onion, and tossed with a lemon-tahini dressing. Naturally vegan and gluten-free!
Prep Time: 15 minutes
Cook Time: 40 minutes
Total Time: 55 minutes
Ingredients
1 cup dried French green Le Puy lentils, sorted
3 cups water
1 small yellow onion, cut into quarters
2 cloves of garlic, smashed, divided
1 dried bay leaf
3/4 teaspoon kosher sea salt
1 tablespoon extra virgin olive oil
2 bunches of rainbow carrots (8-10 medium carrots), scrubbed well and trimmed (leafy stem tops cleaned well and reserved for garnish)
7-8 red radishes, stems trimmed and scrubbed well, divided
5-6 garlic cloves, skin-on
2 tablespoons extra virgin olive oil
1 teaspoon kosher sea salt
1/4 teaspoon freshly ground black pepper
1/4 of a red onion, very thinly sliced
Tahini Dressing:
1/4 cup tahini paste
3 tablespoons freshly squeezed lemon juice
1/2 teaspoon kosher sea salt
1/4 teaspoon freshly ground black pepper
3 – 4 tablespoons warm water (depending on thickness of tahini paste)
Instructions
Soak and cook the lentils: Place the dried lentils in a medium saucepan. Cover with cold water and allow the lentils to soak for one hour. Drain the lentils and return to the same saucepan. Add 3 cups of water, the quartered onion, smashed garlic, bay leaf, and 3/4 teaspoon salt. Bring the lentils to a boil, reduce the heat to simmer, and cook the lentils for 25 to 30 minutes, or until tender. Drain in a fine-meshed sieve and discard the onion, garlic, and bay leaf. Place in a large serving bowl to cool. Toss with a tablespoon of olive oil.
Roast the vegetables: Meanwhile, preheat the oven to 425 degrees Fahrenheit. Slice the carrots into 1/2-inch rounds (the skinny ends of the carrots can be left in larger chunks, try to keep the carrots as consistently sized as possible) and cut the radishes into quarters (reserving one radish for garnishing. Place the carrots and radishes on a large sheet pan, along with the garlic cloves (leave the skin on), and toss with the 2 tablespoons of olive oil, 1 teaspoon salt, and 1/4 teaspoon freshly ground black pepper.
Roast for 20-30 minutes, tossing the vegetables every 10 minutes or so, or until the carrots and radishes are caramelized and tender. Remove the roasted garlic cloves from their skin (discard the skin, but keep the cloves) and allow the vegetables to cool to room temperature. Add the roasted vegetables and garlic to the cooked lentils, along with the sliced red onion, and toss gently to combine. Season to taste with salt and pepper.
Prepare the dressing: In a small bowl, whisk together the tahini paste, lemon juice, salt, and pepper. It should be thick. Add 3 to 4 tablespoons of hot water (depending on your brand of tahini paste, you might need more or less to achieve the right consistency) and whisk gently until smooth. The dressing should be the consistency of a thick salad dressing, but should still easily drizzle from a spoon.
Using a mandolin, cut the remaining radish into very thin slices. Roughly chop some of the reserved leafy stem tops of the carrots (roughly 1/4 cup or so). Garnish the salad with the sliced radish and chopped carrot stem tops. Drizzle the salad with the tahini dressing and serve at room temperature (this salad makes great leftovers and can be served cold from the fridge).
Notes
The dressing absolutely brings this entire salad together, so don't be tempted to skip it!
Recommended Products
As an Amazon Associate and member of other affiliate programs, I earn from qualifying purchases.
Nutrition Information:
Yield: 5
Serving Size: 1
Amount Per Serving:
Calories: 231
Total Fat: 16g
Saturated Fat: 2g
Trans Fat: 0g
Unsaturated Fat: 13g
Cholesterol: 0mg
Sodium: 1077mg
Carbohydrates: 17g
Fiber: 5g
Sugar: 2g
Protein: 7g