Salsa Verde Chicken Tacos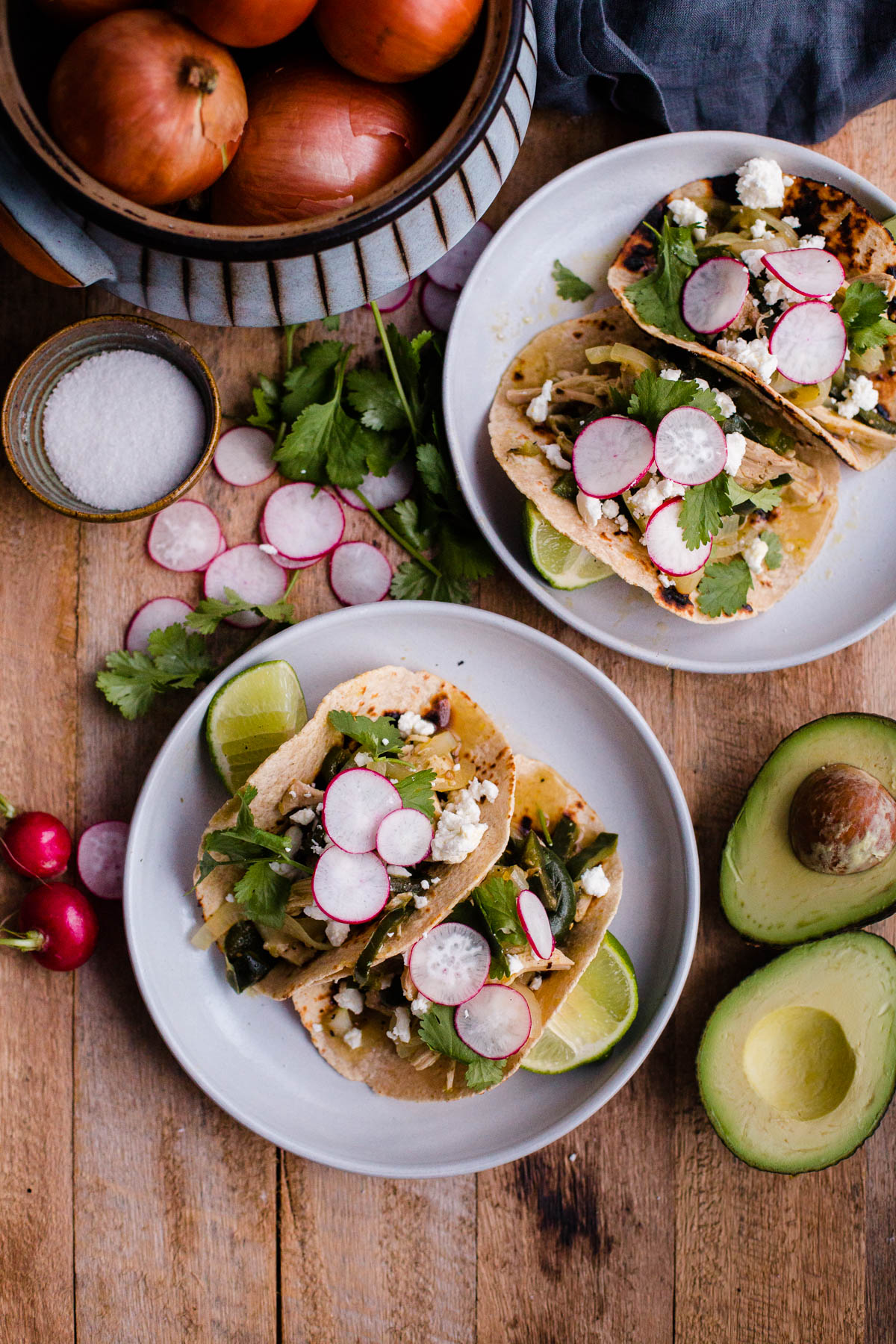 Say hello to my new favorite chicken tacos! Actually, this meal has quickly joined our list of go-to dinner options, because it is incredibly easy to make, requires only a handful of ingredients, and makes great leftovers.
The inspiration for this recipe came from our road trip to Saugatuck, Michigan this past fall. Saugatuck is a beautiful town located within steps of Lake Michigan, and it happens to have one of the cutest main streets I've ever seen. It is also home to an American Spoon storefront (an incredible Michigan-based fruit preserve and condiment company!), where I spent far too much money loading up jars and jars of various jams and preserves. Whoops.
While I was in the store, I casually grabbed one of their recipe pamphlets at the register and stuffed it into my shopping bag. I get recipe inspiration from the most random sources, and figured they might have some good ideas for that jar of pumpkin seed salsa that was now in my possession. Fast forward two hours later in the car on our drive home to Chicago, Connor and I were busy brainstorming what we should make for dinner that night.
As I casually flipped through the same recipe booklet, I happened to stumble across a recipe for chicken tacos with salsa verde. Mission accomplished.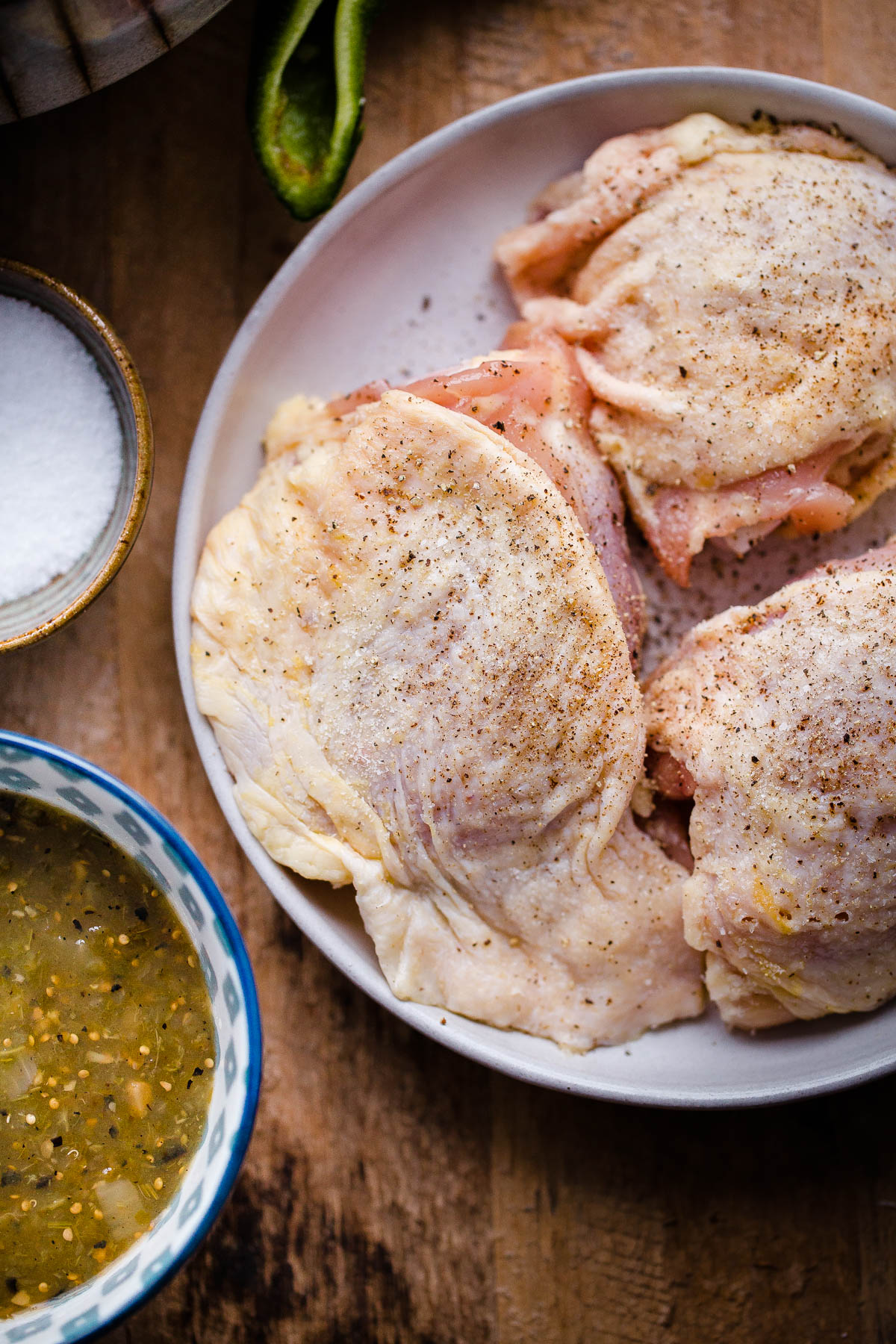 Since then, we've made our own slightly-adapted version of their salsa verde chicken tacos more times than I can count. I've adapted the quantities, simplified the cooking process slightly, and switched up the toppings to make these a bit more interesting. This taco filling holds up very well in the fridge, so this recipe can also be prepped ahead and reheated for an easy dinner option.
The main premise behind these tacos is pretty damn simple. We're going to lightly sear some bone-in chicken thighs (with the skin on) and braise them for about 35 to 40 minutes in a chicken stock and salsa verde broth until fork tender. Don't be tempted to reduce the time as dark meat needs to cook some time before it will become tender. The good news? This cooking step is almost completely hands-off. Later, we'll add some sliced onion and poblano pepper to the pan and bring the whole thing together. The entire process is very straight-forward and yields deliciously tender, extra juicy salsa verde chicken tacos that are healthy and filling with the perfect amount of heat.
The shortcut for this recipe is to use store-bought salsa verde for the cooking liquid. Often times it goes by the name of roasted tomatillo salsa and not a day goes by when I don't have an extra jar of this stuff in my pantry. I use and recommend Rick Bayless's Frontera brand for this, but Trader Joe's sells a comparable option and any high-quality jarred salsa should work just fine.
If you're feeling ambitious, you can certainly make tomatillo salsa from scratch and use that too.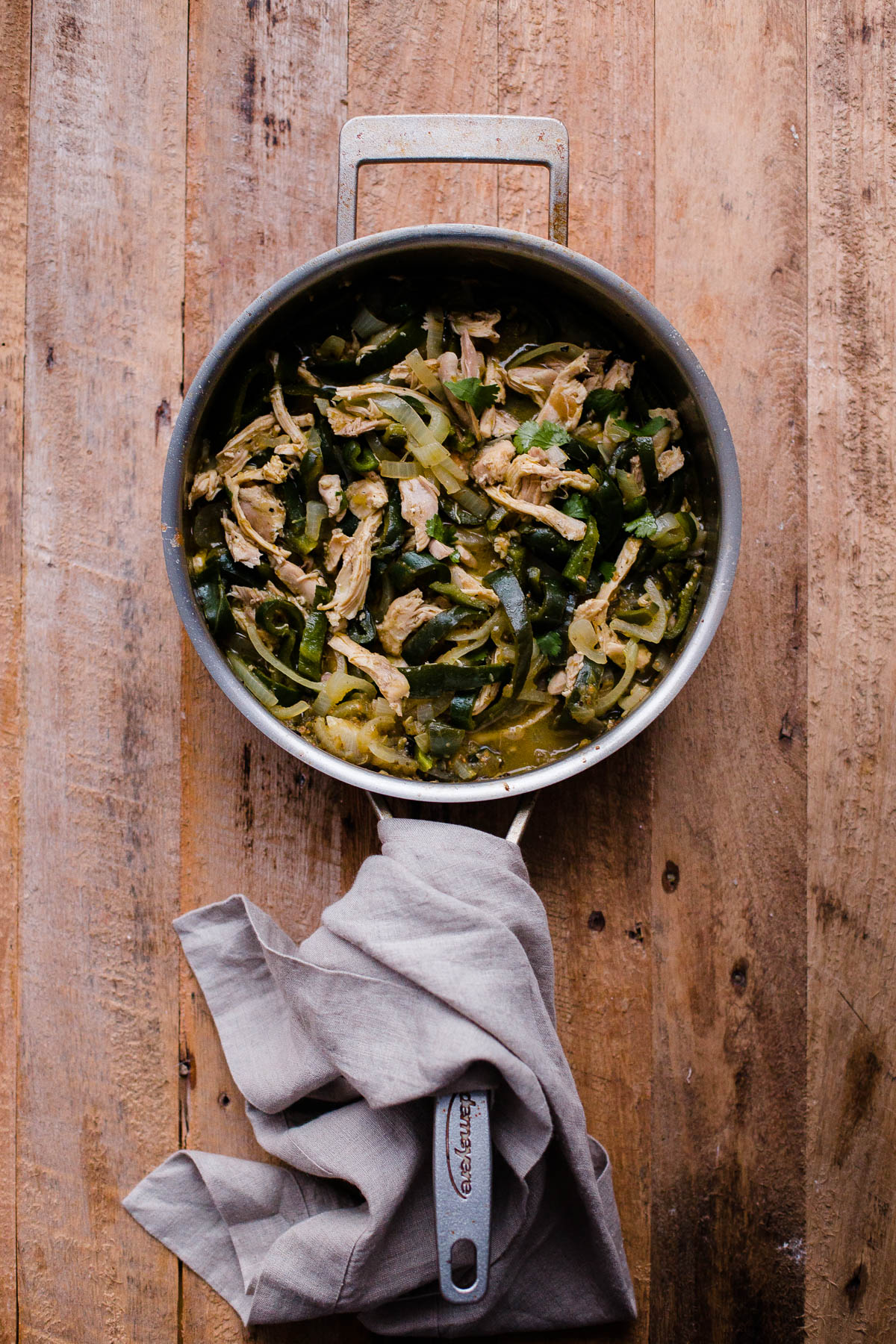 Instead of topping these tacos with queso fresco (as the original recipe suggested), I actually love to top them with crumbled feta cheese. For starters, feta is significantly easier to find at any grocery store and it happens to work really well, if not better, as a substitute. It is a bit more salty and briny, which I love!
If I happen to have ripe avocados lying around, I also like to top them off with avocado chunks as well, but these tacos can stand on their own without avocado as well (did I really just say that?). The sliced radishes offer great texture.
One last worth of advice: char those tortillas! It adds a depth of flavor and texture to any homemade taco situation that can't be beat.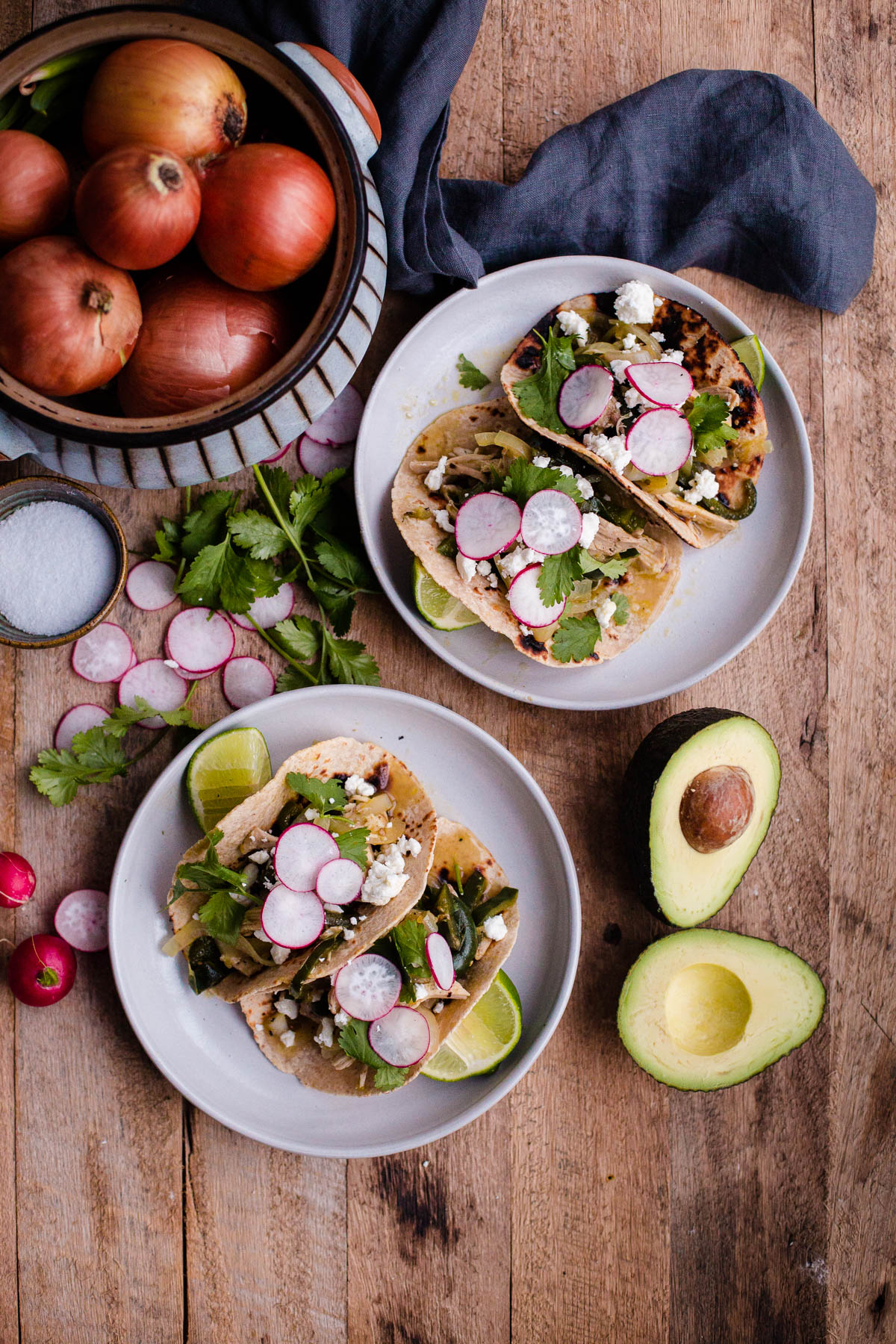 If you're not a meat eater, check out these vegetarian breakfast tacos as an alternative option. Another long-time favorite!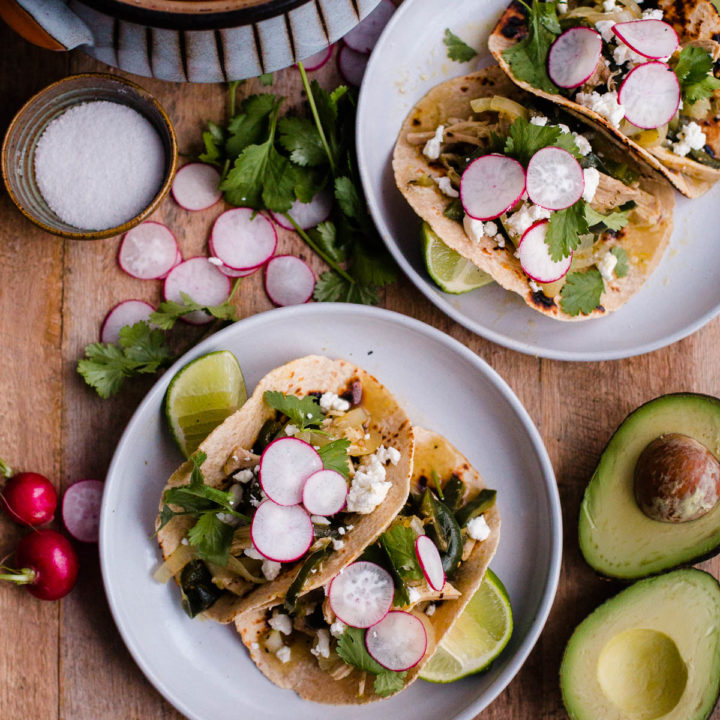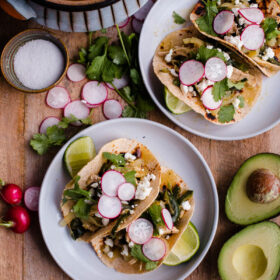 Salsa Verde Chicken Tacos
These easy Salsa Verde Chicken tacos are incredibly easy to make, require only a handful of ingredients, and make great leftovers. Seared bone-in chicken thighs are braised in a chicken stock and salsa verde broth, and combined with sautéed poblano peppers and onions. Top with crumbled queso fresco, grated cheddar, or even feta cheese.
Ingredients
Salsa Verde Chicken:
1 tablespoon extra virgin olive oil or grapeseed or canola oil
1½ lbs (4 to 5) bone-in chicken thighs with skin
kosher salt
freshly ground black pepper
2 cups (480 mL) low-sodium chicken stock
1 cup (240 mL) medium-heat store-bought or homemade roasted tomatillo salsa/salsa verde
1 large yellow or white onion cut into ¼-inch slices
2 poblano peppers sliced lengthwise, de-seeded, and cut into ¼-inch strips
small handful of torn cilantro leaves
8 small soft corn tortillas or corn-wheat combination or flour tortillas
Toppings
4-5 ounces crumbled feta cheese
3-4 baby radishes trimmed and thinly sliced
ripe avocado chunks
fresh cilantro leaves
hot sauce optional
Instructions
Prepare the salsa verde chicken: Pat the chicken thighs dry with a paper towel and season on both sides with salt and pepper. Heat the oil in a large (preferably straight-sided) skillet over medium-high heat. Sear the chicken thighs (in batches, if necessary) skin-side down for 4 to 5 minutes, or until golden brown. Flip the thighs and carefully pour the chicken broth and salsa into the pan. Bring the liquid to a low simmer and braise the chicken for 35 to 40 minutes or until fork tender.

Using tongs, remove the thighs to a large plate or bowl. Bring the liquid in the pan to a low boil. Add the sliced onion and poblano pepper to the pan and cook, stirring every few minutes, for about 8 to 10 minutes, or until the vegetables have softened and the liquid has reduced by half. Using forks, shred the chicken thighs into small pieces, discarding any bones and skin. Reduce the heat to low and add the shredded chicken back into the pan with the vegetables, stirring the mixture together until just combined. Season to taste with salt and pepper, and add the torn cilantro leaves. Keep warm over low heat while you prepare the tortillas and toppings.

Char and warm the tortillas: Line a large plate or bowl with a clean kitchen linen. Turn your gas burner over medium heat. You could use two burners at once to speed this process up, or do them one at a time. Place one tortilla directly over the flame and heat for 15 to 25 seconds per side, flipping them with tongs, or until lightly charred on both sides. Transfer the warm, charred tortillas to the kitchen linen as you work and cover to keep warm.

Assemble: Spoon the chicken mixture into the warm tortillas. Top with a generous sprinkle of feta cheese and several sliced radishes. Finish with cilantro and a dash or two of hot sauce, if using. Serve immediately.
Tips for Success:
The salsa verde chicken filling can be prepared in advance and stored in an airtight container in the refrigerator for up to 2-3 days. Reheat the filling over low heat in a large skillet, stirring frequently, before serving.
I uses Frontera brand or 365 brand roasted tomatillo salsa for this recipe, but any high-quality or homemade roasted tomatillo salsa or salsa verde will work.
Inspired and slightly adapted from American Spoon.
Serving: 1serving, Calories: 594kcal, Carbohydrates: 49g, Protein: 33g, Fat: 33g, Saturated Fat: 14g, Polyunsaturated Fat: 17g, Cholesterol: 136mg, Sodium: 1018mg, Fiber: 8g, Sugar: 9g
This post contains affiliate links, which means that I make a small commission off items you purchase at no additional cost to you. Please read my
privacy policy
for more information.