Vegetarian Breakfast Tacos
Cheesy soft scrambled eggs in charred corn tortillas, topped with scallions, black beans, cabbage, avocado, and salsa. Serve as a delicious easy vegetarian main course for breakfast, lunch, or dinner!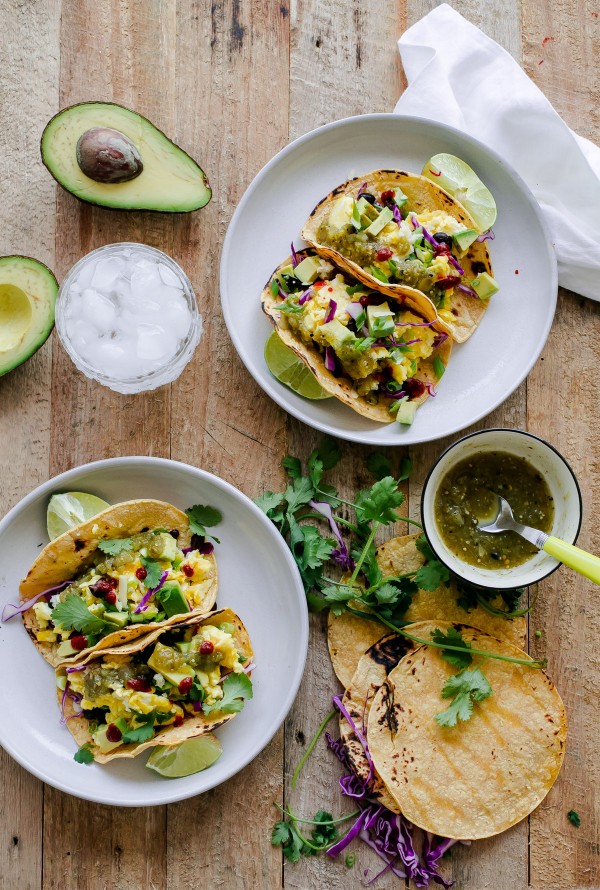 Breakfast tacos! I'm so thankful for the first person that came up with this concept, because I mean, is there anything better? No one will give you a strange look if you eat tacos for breakfast. It's a thing. In fact, many restaurants encourage it.
People will judge you if you eat pasta for breakfast. Trust me. Been there, done that.
Tacos though? Breakfast, lunch, snack, dinner, late night snack. Tacos are fair game all day. [Again, thank you taco gods.] Today's tacos are my absolute favorite breakfast tacos. They also happen to be vegetarian. Connor and I make them for breakfast, lunch, and dinner all the time, because they are delicious and come together extremely quickly.
They are surprisingly healthy and filling too!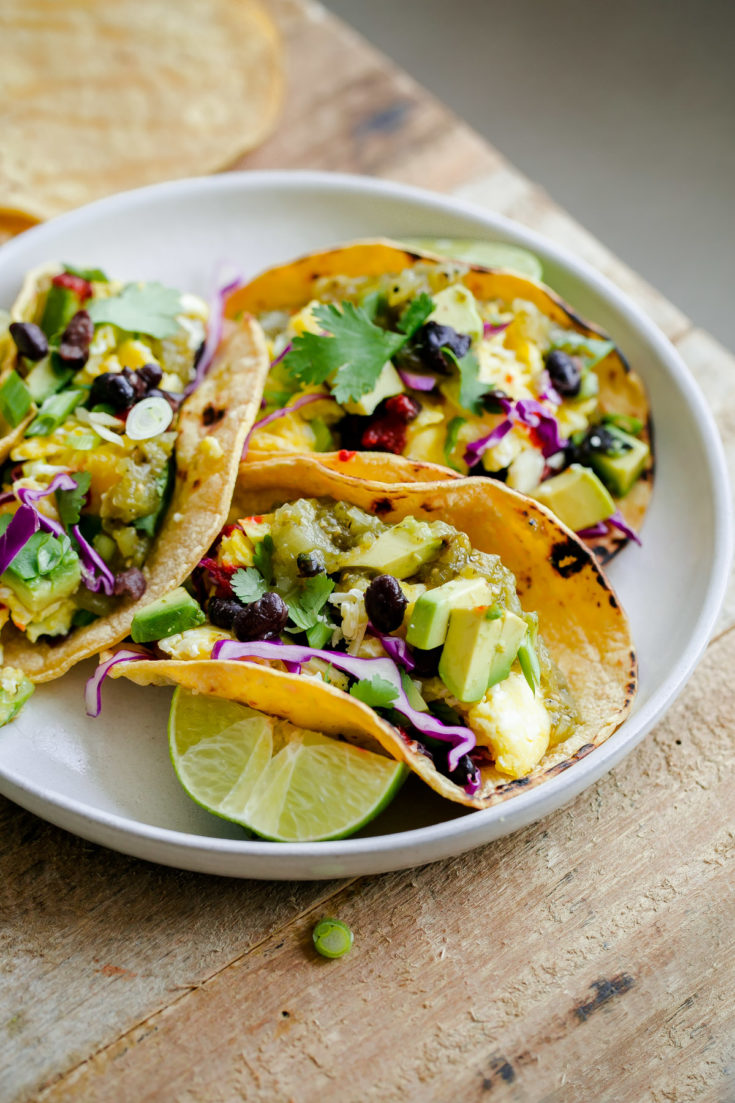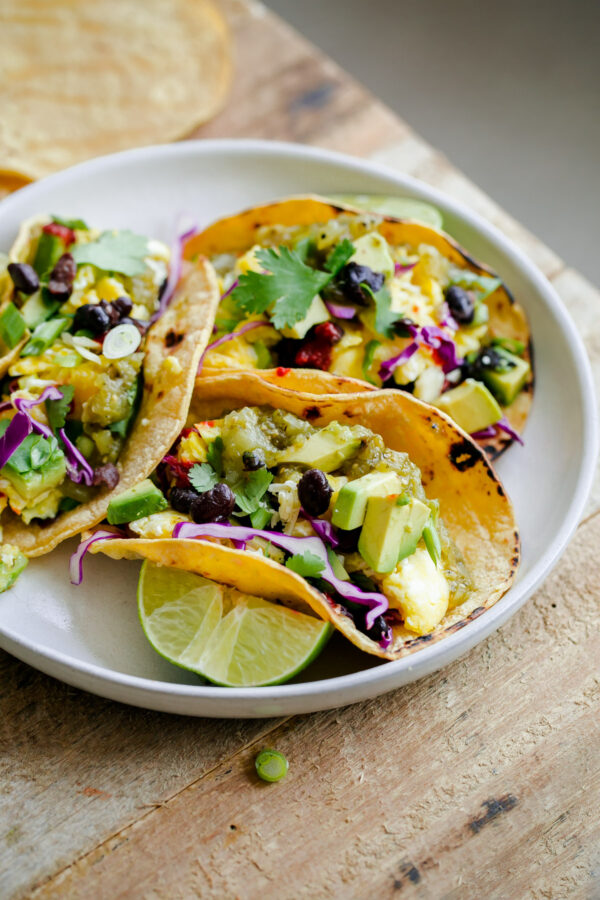 While I have love tacos of any kind for breakfast, these are legitimately breakfast tacos. Messy and cheesy soft scrambled eggs in charred corn tortillas.
When it comes to tacos, I'm firmly in the corn tortilla camp. Flour tortillas just don't do it for me (with the exception of quesadillas, which are a completely different food category). I prefer delicate, thin corn tortillas that allow the fillings to shine. Too often, flour tortillas turn into a doughy, stick-to-the-top-of-your-mouth mess. No, no, no. Hi, my name is Laura and I'm slightly high-maintenance.
Most corn tortillas also only clock in at around 50 calories per tortilla, which also allows you to eat more tacos. More tacos = better.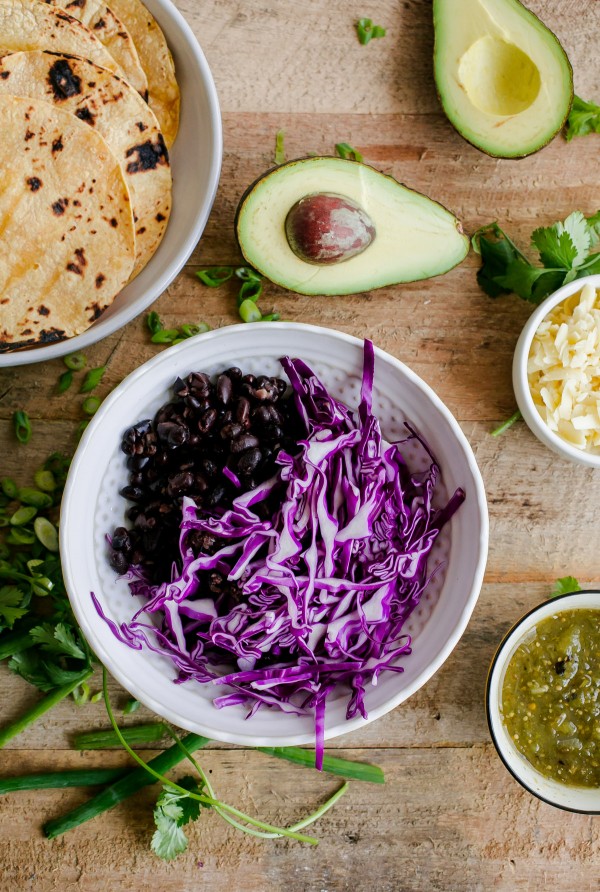 How to Char Corn Tortillas:
The biggest trick to corn tortillas is to warm them properly. Cold corn tortillas and warm, charred corn tortillas are night and day.
I like to char them individually on my gas stovetop, directly over the flame, for about 15 to 25 seconds per side, and then immediately transfer them to a kitchen towel to stay warm for serving.
Next up are the toppings! Tacos are all about the toppings. Really. It is where all of that wonderful texture and flavor comes into the picture. Every bite tastes just a bit different than the next!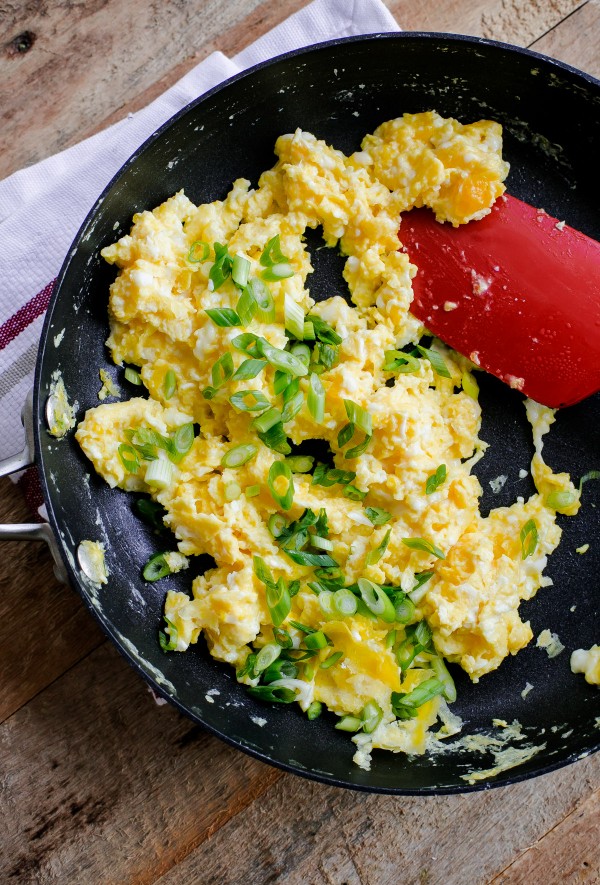 Vegetarian Breakfast Taco Ingredients:
Here are my main requirements for breakfast tacos:
messy, scrambled eggs (this is my made-up term for eggs that are scrambled in the pan – I love that you get bites with a little more yolk and white). cooked over low, even heat.
freshly grated, sharp white cheddar cheese! instead of simply topping the tacos with grated cheese, I actually add grated cheese right into the eggs as they finish cooking. cheesy scrambled eggs = improved cheese distribution.
finely sliced scallions! added to both the eggs, as well as sprinkled on top. you could totally use finely chopped red onion too, but I prefer the more delicate flavor of scallions for this .
ripe, creamy avocado chunks. no explanation required.
drained, rinsed canned black beans + finely sliced red cabbage = optional, but a little spoonful adds extra texture, fiber, and protein. if I'm making these for breakfast, I don't always add this, but if I'm making these tacos for dinner, it helps make them extra hearty. generally, I like to count on about one egg per taco, but you could add more beans and use fewer eggs, if that interests you.
jarred tomatillo salsa/salsa verde (Rick Bayless makes a great one, and Trader Joe's version is also great!) + jalapeno hot sauce (Trader Joe's brand!). homemade pico de gallo during the summer is also great.
fresh cilantro! [if it's your thing. i love it.]
That's it.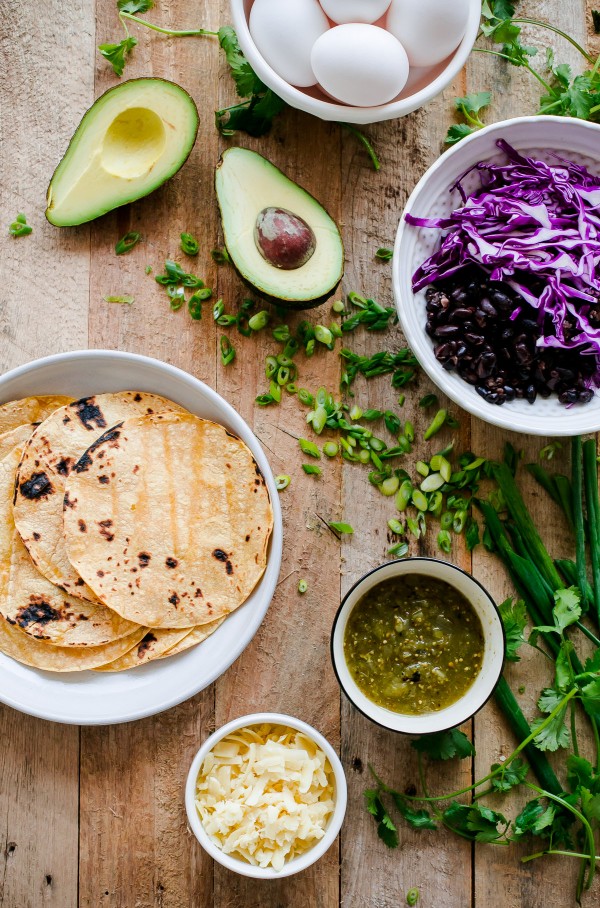 Why You'll Love This Recipe:
These breakfast tacos can be made in about 20 – 30 minutes tops. They are a great last-minute dinner, because you can pretty much have the ingredients on hand at all times. Plus, this recipe can be divided to serve just two people or tripled to serve a crowd.
I personally love to make these breakfast tacos for family and friends. They are vegetarian (and also happen to be gluten-free!), so they are a great option for family members with dietary restrictions.
You can also leave out the cheese to make them dairy-free. Most people generally aren't expecting breakfast tacos when they come over, and they are infinitely more fun than traditional scrambled eggs and hash browns.
If you are serving a crowd, you could totally set out all of the toppings in little bowls, and allow everyone to assemble them. Breakfast taco bar! Fun!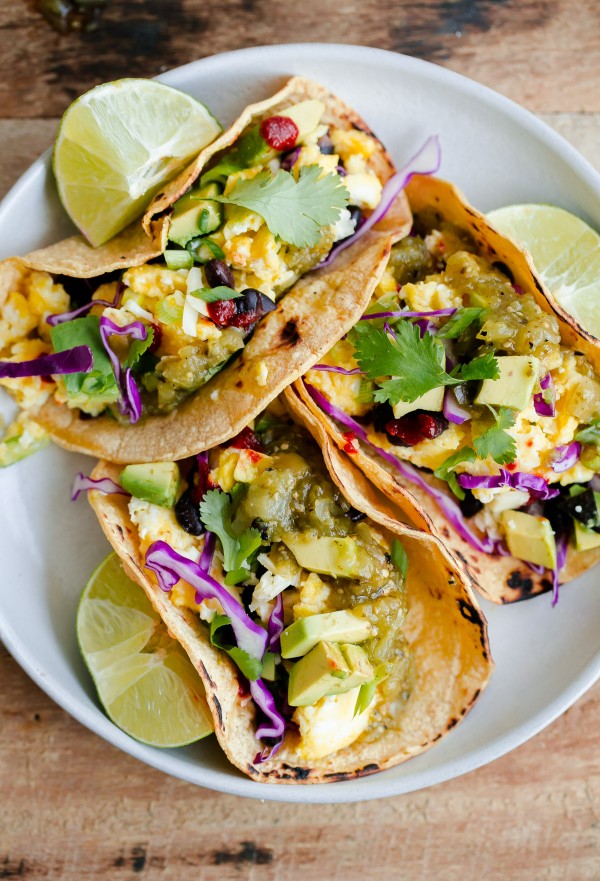 Breakfast tacos for life.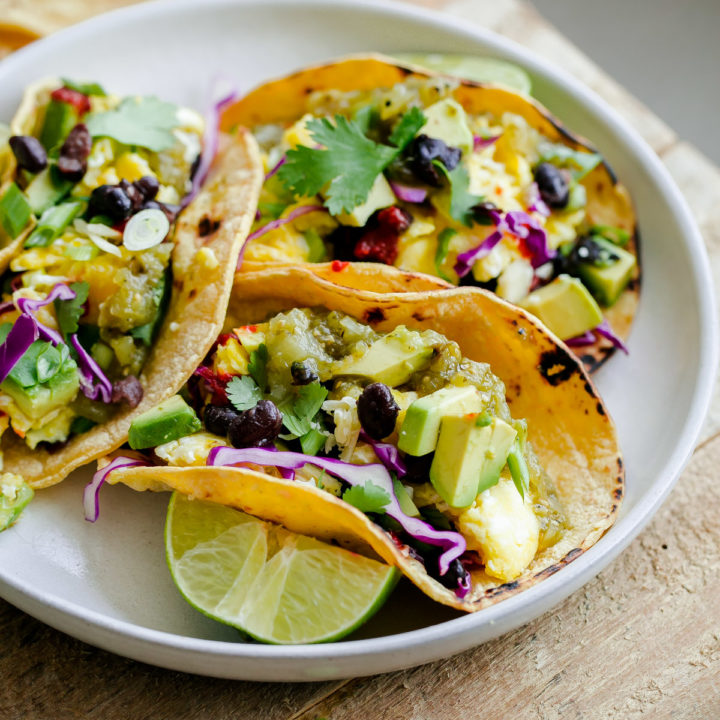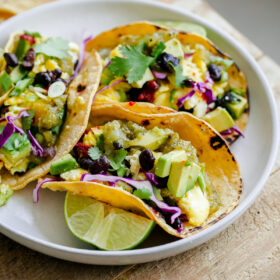 Vegetarian Breakfast Tacos
While I have love tacos of any kind for breakfast, these are legitimately breakfast tacos. Messy and cheesy soft scrambled eggs in charred corn tortillas, topped with scallions, black beans, cabbage, avocado, and salsa. Serve as a delicious easy vegetarian main course for breakfast, lunch, or dinner!
Ingredients
8 small soft corn tortillas
2 teaspoons extra virgin olive oil
8 large eggs *see note
3 ounces sharp white cheddar cheese freshly grated
freshly ground black pepper
4-5 scallions trimmed and finely sliced
¾ cup rinsed and drained canned black beans
finely sliced red cabbage roughly 3/4 cup
1 ripe avocado pitted, and diced
jarred roasted tomatillo salsa or salsa verde
jalapeno hot sauce optional, but recommended
fresh cilantro leaves for garnishing
Instructions
This dish comes together quickly, so it is important to prepare and set out all your tacos toppings before you start cooking.

Char and warm the tortillas: Line a large plate or bowl with a clean kitchen linen. Turn your gas burner over medium heat. You could use two burners at once to speed this process up, or do them one at a time. Place one corn tortilla directly over the flame one at a time and heat for 15 to 25 seconds per side, flipping them with tongs, or until lightly charred. Transfer the warm tortillas to the kitchen linen as you work, and cover them to keep them warm for serving.

Crack the eggs into a medium bowl (*I choose not to scramble them and make more of a messy scramble). Heat a large non-stick skillet with the olive oil over medium-low heat. Pour the eggs into the skillet. Season with salt and pepper. Break the yolks using a heatproof spatula to create a 'messy' scramble. Continue to cook over low heat, stirring occasionally. Once the eggs are mostly set, and are close to being finished (*do not overcook the eggs), add the grated cheddar cheese and stir together to melt. Add half the sliced scallions and immediately remove the eggs from the heat.

Assemble: Spoon about a tablespoon of black beans into each warm corn tortilla. Top with a spoonful of messy, cheese scrambled eggs. Top with sliced red cabbage, diced avocado, scallions, and a generous spoonful of tomatillo salsa. Finish with a few dashes of jalapeño hot sauce and fresh cilantro, if using. Serve immediately.
Tips for Success:
I generally prepare about one egg per taco (2 eggs/serving), especially if I'm not preparing these tacos with black beans. If you are using black beans, you can absolutely get away with using 6 to 7 eggs total, if you prefer to use less eggs.
If you don't have a gas stovetop, warm the tortillas in the oven or microwave according to the package instructions.
Serving: 1serving, Calories: 487kcal, Carbohydrates: 41g, Protein: 26g, Fat: 26g, Saturated Fat: 8g, Polyunsaturated Fat: 15g, Cholesterol: 393mg, Sodium: 788mg, Fiber: 11g, Sugar: 3g
This post contains affiliate links, which means that I make a small commission off items you purchase at no additional cost to you. Please read my
privacy policy
for more information.