Fairly positive I'm the only person sharing a hot soup recipe smack dab in the middle of August. Let's roll with it, ok?
I first made this simple carrot soup (very loosely inspired by this garam masala carrot soup) a few weeks ago when I was visiting my oldest sister in California. With a four month old baby keeping her and my brother-in-law busy, I figured it would be the perfect thing for them to heat up for quick lunches (or an even easier dinner) the following week.
I can't quite explain it, but it's always a treat for me to cook in someone else's kitchen. The restriction in using whatever I have on hand in that moment actually makes me more creative. Recipe testing is part and parcel of this job, but I love the freedom of improvisational cooking. Throwing together an assortment of ingredients, tasting, adjusting, and tasting some more.
It took me nearly two decades to gain that type of confidence in the kitchen and honestly, regardless of my cooking experience, it always amazes me a little bit when I get it right.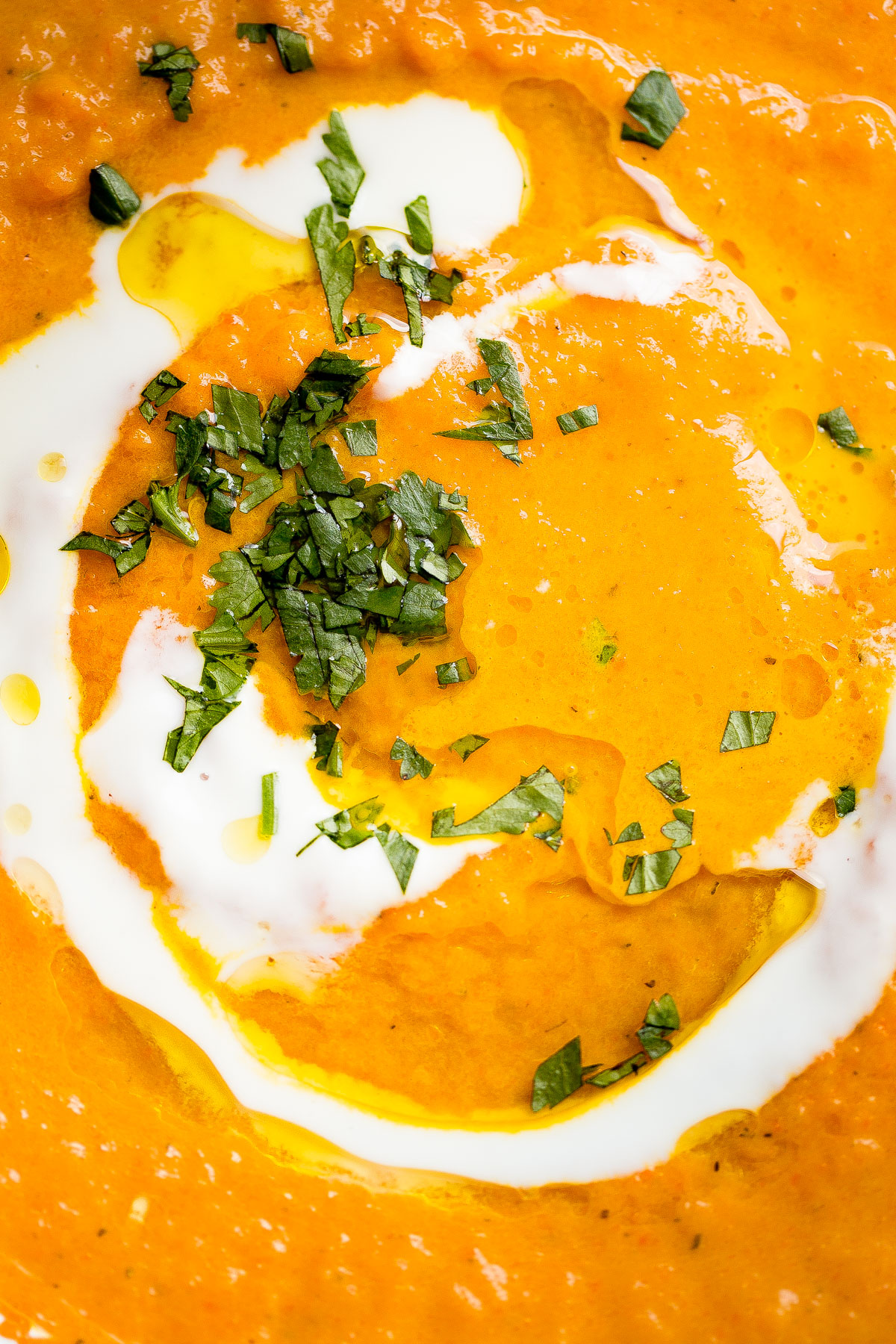 First and foremost, improvisational cooking allows me to focus on the task at hand: creating balanced food that simply tastes good.
As luck would have it, that on-a-whim carrot soup turned out so tasty that I mentally noted the ingredient quantities to remake and share it with you later. Unlike this vegan garam masala carrot soup, today's simple carrot soup has a very classic flavor profile made up primarily of carrots, leeks, and thyme.
I was originally going to hold off on sharing this recipe until the fall, but after eyeing all varieties of carrots at the farmer's market in the past week or two, I decided I couldn't wait any longer. Plus, if you're anything like me, soup is appropriate any day of the year!
Whenever I have soup in the fridge, I've found that eating healthier throughout the day is a little bit easier. Not only are homemade soups filling, but they allow me to get in lots of vegetables servings throughout the day. While this one does contain a splash of heavy cream, this soup is no different.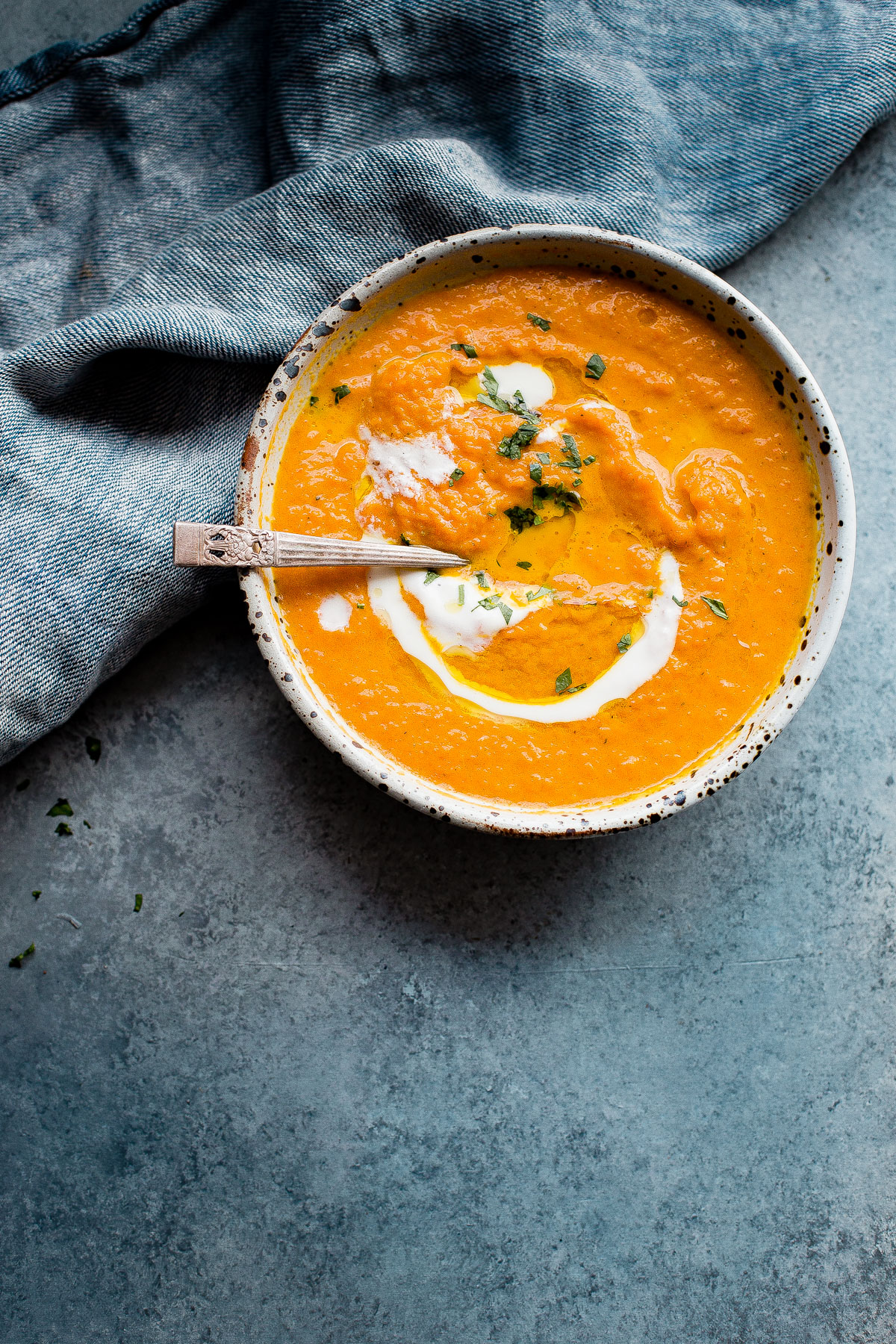 As I've mentioned in the past, simple soups are all about tasting and adjusting. This is especially important if you're using just a handful of ingredients as this recipe does.
If a soup tastes flat, it most likely needs one of two things: salt or a splash of acid. Most likely both.
For this recipe, acid comes in the form of red wine vinegar, which enhances the natural, sweet flavor of the carrots. You won't even taste it. Leeks offer a more subtle allium flavor than traditional yellow onions and are my preferred base for traditional soups. Thyme adds a lovely, delicate herbal note. Lastly, the splash of cream helps balance all of the flavors and makes this soup even more delicious. Don't skip it!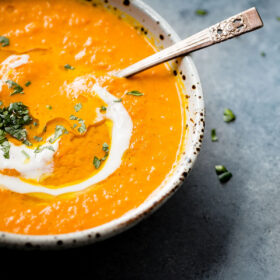 Simple Carrot Soup
Ingredients:
1 tablespoon extra virgin olive oil
1 tablespoon unsalted butter
2 medium leeks, white and light green parts only, thinly sliced
1 teaspoon dried thyme (or 2 fresh thyme sprigs, finely chopped)
1 garlic clove, roughly chopped
1 and 1/2 lbs carrots, trimmed, peeled, and chopped
4 cups (1 quart) low-sodium chicken stock, plus 1/2 cup water
1/4 cup heavy cream
1 tablespoon red wine vinegar
kosher salt
freshly ground black pepper
plain yogurt and extra virgin olive oil, for garnishing
chopped flat leaf parsley or chopped fresh thyme leaves, for garnishing (optional)
Directions:
Heat the olive oil and butter in a large pot over medium-low heat. Add the sliced leeks, sprinkle with kosher salt, and sauté (without allowing them to gain color) for 8 to 10 minutes, stirring occasionally, until the leeks are soft and beginning to turn translucent. Add the dried thyme and garlic and sauté for 1 to 2 additional minutes, stirring frequently, until fragrant.
Add the carrots, a pinch or two of salt, and stir the mixture together. Pour in the chicken broth and water, and bring to a boil. Lower the heat and simmer for 20 to 30 minutes, or until the carrots are very soft and tender.
Transfer the soup to a blender (or alternatively, you can use an immersion blender), and puree until mostly smooth. I prefer to keep this soup slightly more textured, but feel free to blend it as smoothly as you wish.
Pour the soup back into the pot, heat over low, stir in the heavy cream until incorporated. Add the red wine vinegar. Season to taste with salt and pepper. If the soup is too thick, add a touch of hot water and season again as needed. Serve hot and garnish with a drizzle of plain yogurt, drizzle with extra virgin olive oil, and herbs as desired.
All images and text ©
.