Day 88: Radicchio salad, Ballottine, & La Jalousie
I still can't believe that our last normal day of production was this past Thursday!  It is hard to believe that this entire journey is almost over.  On the one hand, it feels just like yesterday when we were all struggling to make French Onion soup on our first day in the kitchen.  However, it also feels like forever ago as well.  Funny how that it always works that way! 
Next week (our last official week at school!), we will all be working together as a class to help prepare a large banquet for the previous class's graduation ceremony next Friday.  Thursday's production started off with a really interesting salad—La Salade De Trevise Aux Crevettes–made with radicchio and sautéed shrimp.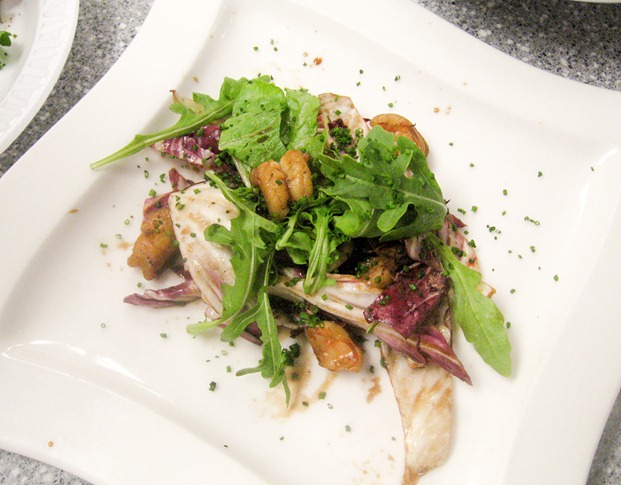 The salad was put together right at service, because it is supposed to have a mixture of hot and cold temperature (the cold raddichio, topped with the warm shrimp and vinaigrette), and also because raddichio oxidizes extremely quickly once you cut it.
To make this, we sautéed the shrimp with some really interesting flavors, including worcestershire sauce, soy sauce, olive oil, and a bit of balsamic vinegar.   The raddichio adds a nice bitterness, while the Worcestershire sauce, soy sauce, and vinegar add some salty, sweet, and acidic elements as well!  It was good and very different.
Our main course of the day—La Ballottine de Volaille—was another really interesting dish to put together, because it involved learning how to debone an entire chicken!  And by debone, I mean remove the carcass but keep the entire skin intact (except the back bone—which we sewed up), so that we could then stuff it with pate mixture and braise it in the oven.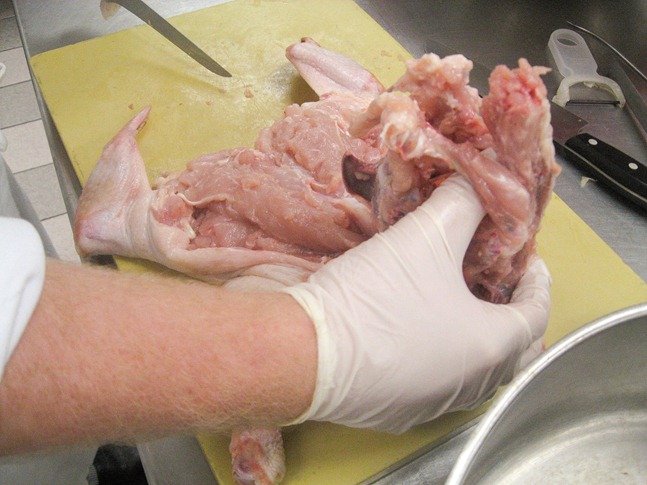 Literally, the only bones that we left in were the drumsticks.  We then carefully stuffed it, shaped and trussed it, like any regular whole chicken.  See?  You can barely tell!
It was a tricky process, so it would definitely take a lot of practice in order to start doing it really well (or efficiently), but it something I've always wanted to learn how to do.  Our instructor, Chef Patrice, does this with a turkey for Thanksgiving.  It definitely makes carving a heck of a lot easier, that's for sure.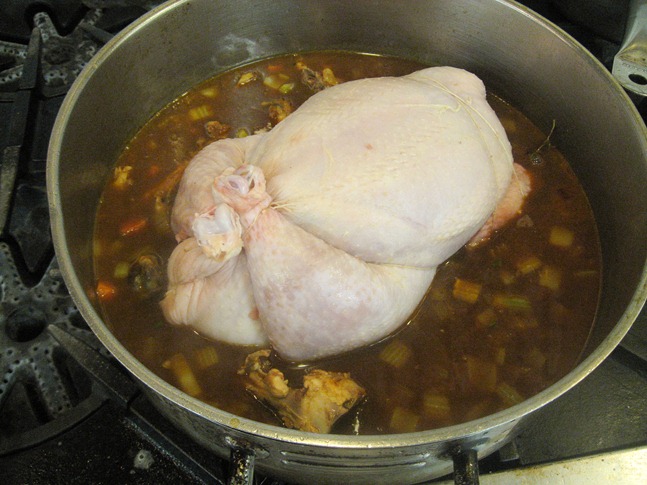 We served this with simple snow peas, sautéed with a bit of butter, and some mushroom risotto, flavored with lots of parmesan cheese and black truffle oil. Though we have made risottos in the past, on this day, we learned how to cook it partially, then spread it out on a sheet tray, before finishing it during service or at the last minute for an order.  A bunch of people in my class have learned and done this method for Market Basket challenges, but he wanted to demonstrate the process once again, which was very helpful. 
It was very delicious!  Truffles (and parmesan) make everything better.  We also made a jus out of the braising liquid.  Yum!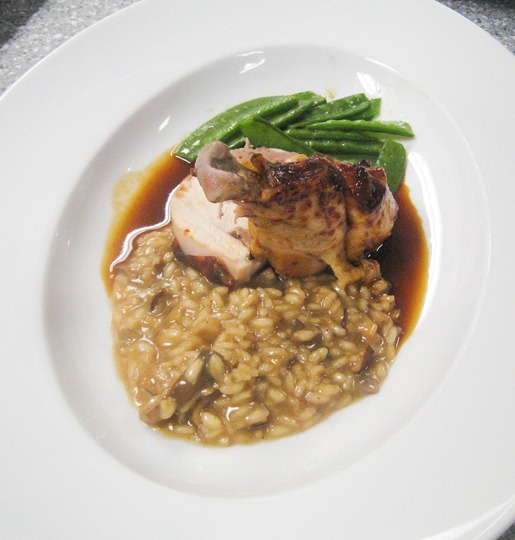 Lastly, we served a puff pastry dessert filled with poached pear and a small amount of frangipane (almond flour filling), alongside crème anglaise.  These are called La Jalousie—which means shutters in French—and resemble the top pattern of the puff dough.  To make these, we folded the top layer of puff pastry in half and made little slits with our pairing knives.  Or we had the option of a using a special lattice roller, which was extremely effective and made more of a diamond-cross pattern. 
It was a very nice dessert and fun to put together.  After baking, we brushed them with apricot glaze and added some pearl sugar on the sides for decoration.  Even though puff pastry is not at all easy (especially to perfect!), I'm still amazed that I could now feel comfortable making it at home and using it in a variety of ways.  And it freezes really well too!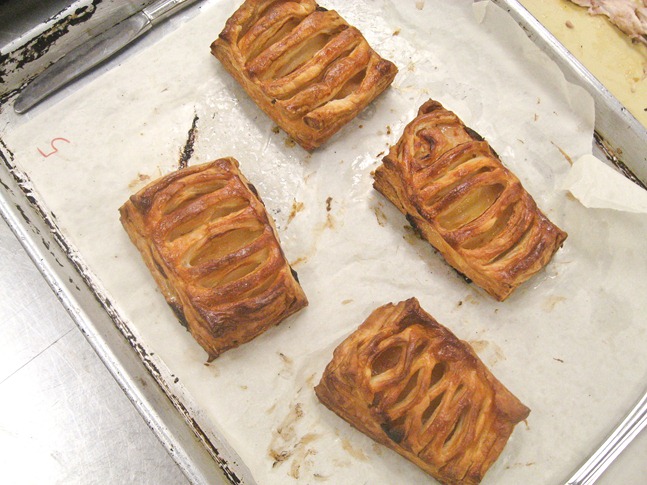 We ended the day with a long theory exam (which was a bit trickier than previous ones) and headed home.  The following day, we had our sixth (and last!) practical exam.  I am always nervous heading into practical exams, but I think overall it went pretty well.  Mostly, I am just glad to have them behind me and be able to enjoy our last week at school without the pressure of an exam looming over us.
Only four more days left of school!  Can't believe it…
This post contains affiliate links, which means that I make a small commission off items you purchase at no additional cost to you. Please read my
privacy policy
for more information.