Slow Cooker Cannellini Bean Soup with Fresh Rosemary
This hearty Slow Cooker Cannellini Bean Soup with Fresh Rosemary is packed with flavor, healthy protein and fiber, and only contains a handful of ingredients!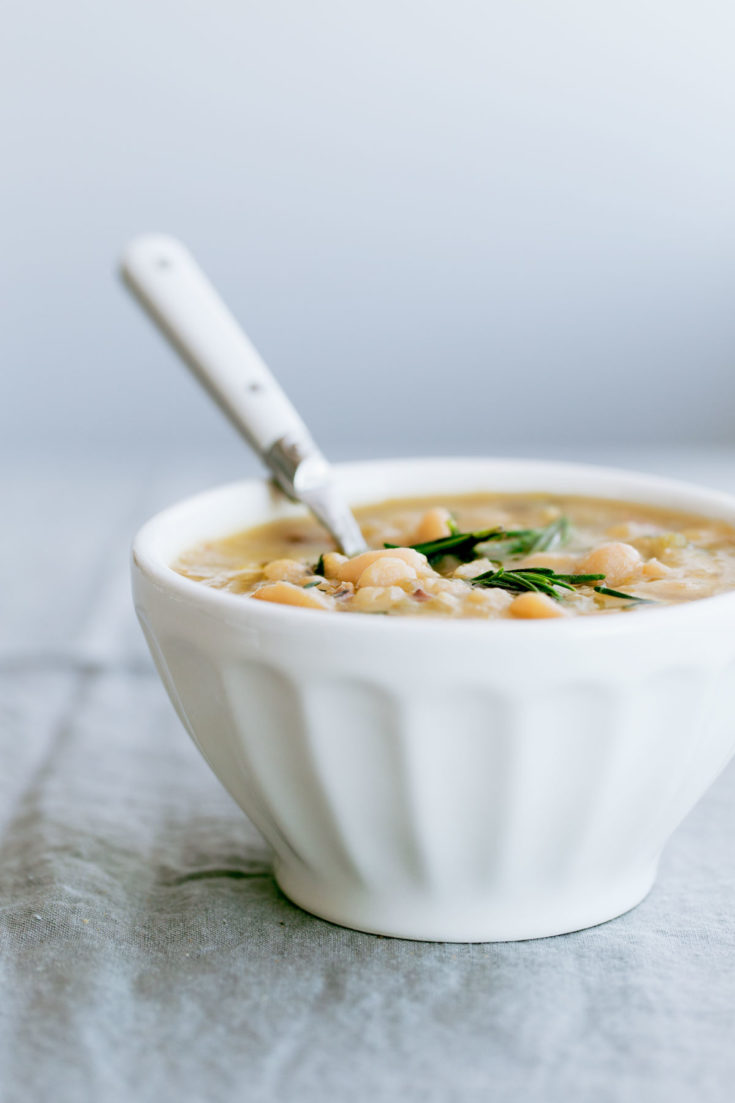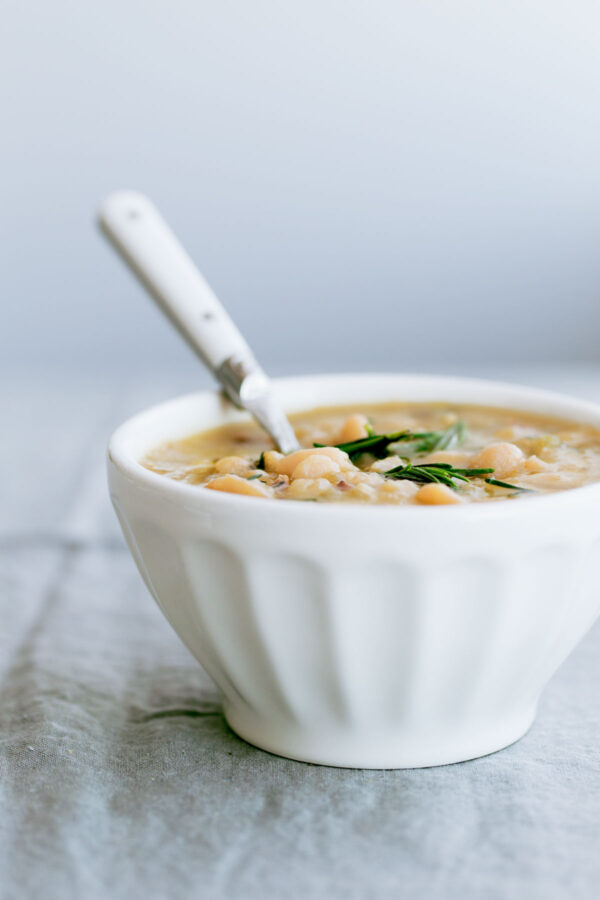 Today's recipe is in partnership with Bob's Red Mill.
Almost three years ago, I was sitting in a beautiful cobblestone square in Naples, Italy eating one of the most comforting soups that I'd ever had.
It was a classic Italian cannellini bean soup. The soup itself was deceivingly simple, flavored with bits of crispy pancetta and a glug of spicy olive oil, and packed with creamy, tender cannellini beans.
It was one of those meals that you don't forget quickly – the setting notwithstanding – but a wonderful reminder to keep things simple in the kitchen whenever possible. Great quality ingredients don't need and shouldn't be covered up with fancy garnishes or extraneous flavors.
Three years later, it was also the inspiration behind today's slow cooker cannellini bean soup, which I'm very excited to share with you today.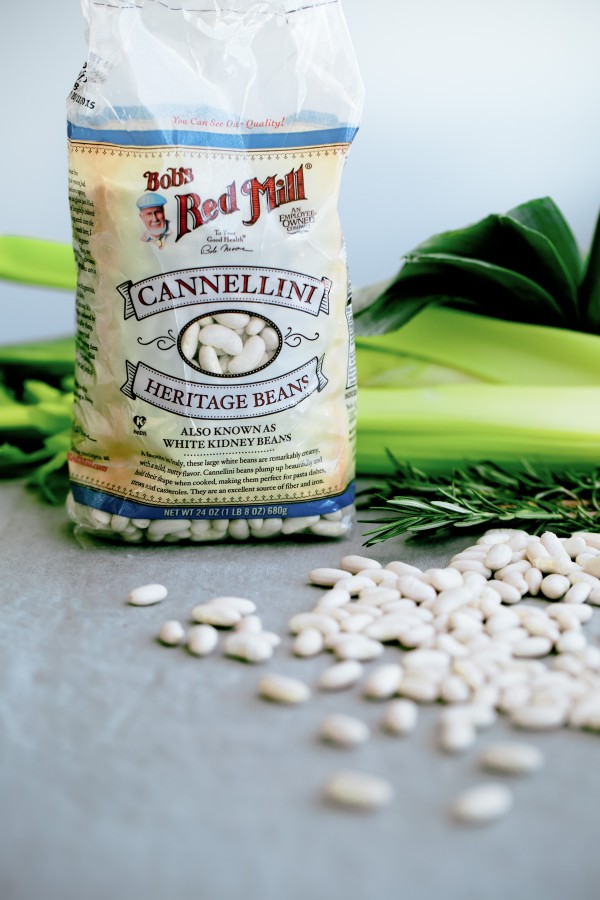 The slow cooker cannellini bean soup only has a handful of ingredients – I love it!
While it would be delicious in vegetarian form, this soup does contain a bit of bacon (a slightly easier substitute to Italian pancetta, but feel free to use that too!) to give the soup a touch of smokiness. The fresh rosemary contributes a ton of flavor to this soup as well, so don't be tempted to skip it.
Diced leek and celery are quickly sautéed in the rendered bacon fat (the bacon is going in there too – just two strips!) and combined with dried bay leaves, a hefty sprig of fresh rosemary, an entire pound of Bob's Red Mill heritage cannellini beans, and chicken broth. Yes, that's it!
I've been using Bob's Red Mill products for years and years – and am so proud to be working with them this year on lots of fun, new recipes for you guys!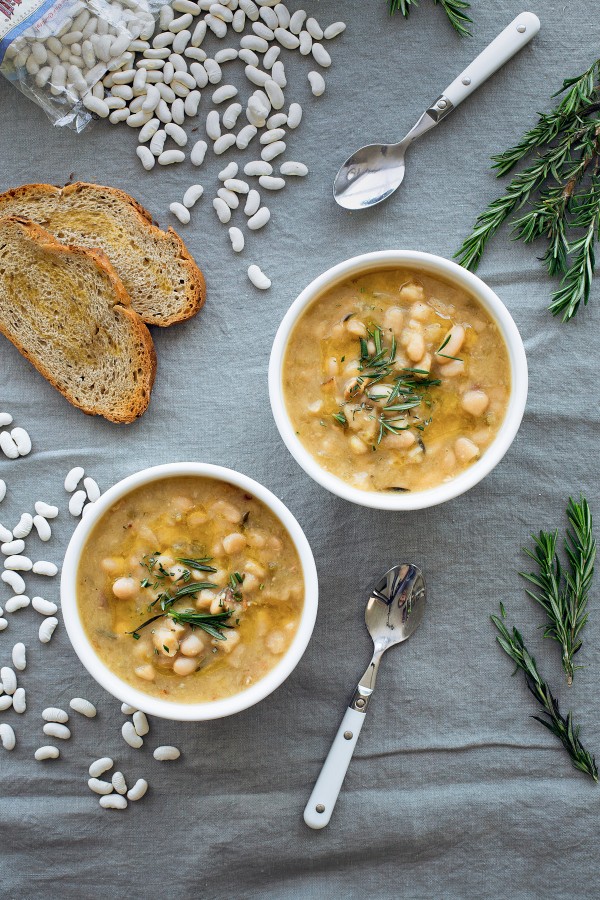 One of my kitchen goals this year is to cook with more dried beans and lentils. After all, 2016 is the year of legumes, right?
Dried beans take a bit more time and preparation, but are one of the most affordable, flavorful, and delicious sources of protein, fiber, and nutrients that you can get your hands on!
It is my opinion that they don't get the credit and love that they deserve in the kitchen – and I'm hoping that I can showcase them in more recipes this year.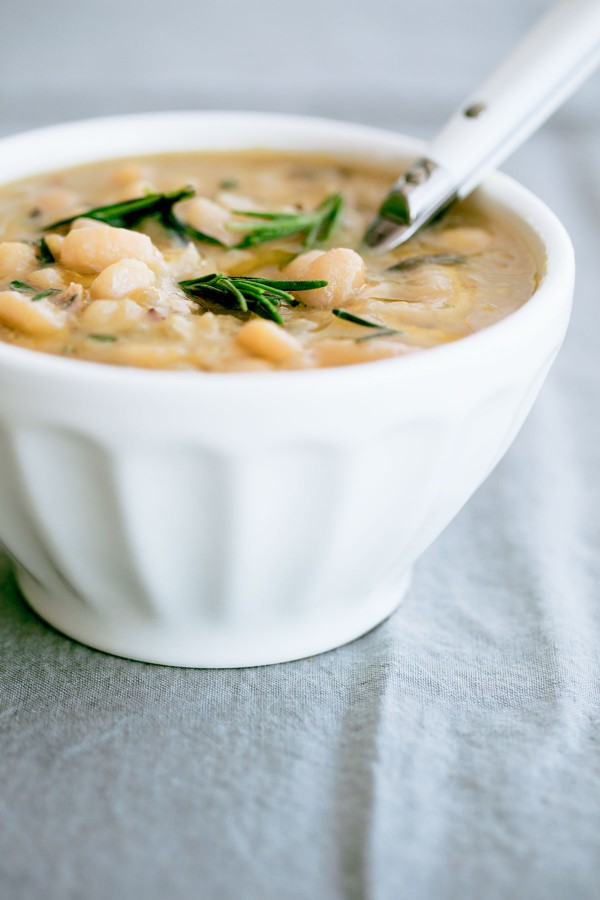 One of the most nutritious parts of dried beans is the liquid that they cook in (avoid throwing it out whenever possible!). Most of the nutrients from dried beans are transferred to the cooking liquid itself – and in this soup you get it all!
This means that you can do the prep for this recipe (just 20-25 minutes worth!) in the morning, throw everything in the slow cooker, and come home from work with dinner waiting for you on your kitchen countertop.
Once the soup is ready, I like to puree a large ladleful of it in a food processor and then add this back into the rest of the soup soup. It adds a bit of creaminess to the broth – but you keep all the lovely texture of the cooked cannellini beans!
Now, that's something to celebrate!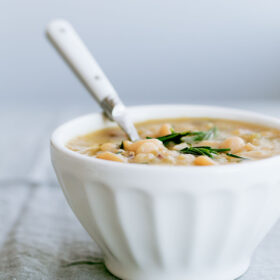 Slow Cooker Cannellini Bean Soup with Fresh Rosemary
This easy slow cooker cannellini bean soup (white bean soup) is made with dried cannellini beans, fresh rosemary, and other easy to find ingredients! It comes together quickly in your slow cooker or crockpot, and is healthy, filling, and delicious!
Ingredients
1 lb (16 oz) Bob's Red Mill Heritage Cannellini Beans rinsed and picked over
2 ounces (about 2 strips) bacon finely diced
2 large leeks, white and light green parts only sliced lengthwise and thinly sliced crosswise
2 large celery stalks diced (roughly 1 cup)
2 dried bay leaves
1 large hefty sprig of fresh rosemary plus more for garnishing
1½ quarts (48 oz; 6 cups) low-sodium chicken broth
kosher salt
freshly ground black pepper
extra virgin olive oil for drizzling
Instructions
For food safety reasons, you will need to boil the dried cannellini beans for 10 minutes before prepping the soup. Place the dried beans in a colander and rinse well. Transfer to a medium saucepan and cover with several inches of water. Place over high heat and bring to a boil. Cook the beans, stirring once or twice, for at least 10 minutes. This boil time helps to deactivate the naturally occurring toxin, Phytohaemagglutini, that can occur in some variety of dried beans. Drain the beans in a colander and proceed with the rest of the recipe.

If you own a stovetop-safe slow cooker insert (alternatively, you can do this in a normal saucepan or skillet and transfer it to the slow cooker): Heat the insert over medium heat. Add the diced bacon and cook, stirring frequently, until the bacon is crispy and most of the fat has rendered. Using a slotted spoon, transfer the bacon, leaving the rendered fat behind, to a small bowl.

Add the sliced leeks to the pot and reduce the heat to medium-low. Sauté the leeks, stirring occasionally, until they are just beginning to soften, about 3 to 4 minutes. Add the diced celery, dried bay leaves, and fresh rosemary sprig, and sauté for an additional 5 to 6 minutes, stirring occasionally.

Transfer the insert to the slow cooker base. Add the cooked bacon, boiled and drained cannellini beans, and chicken broth. Stir together. Cook on high heat for 5 to 6 hours, or until the cannellini beans are cooked, tender, and very fragrant. Remove the dried bay leaves and any tough rosemary stalks, if present.

Transfer one large ladleful of soup (roughly 1 cup) to a small food processor blender and puree until mostly smooth. Transfer the pureed soup back into the slow cooker with the remaining soup and stir. Serve hot with a glug of high-quality extra virgin olive oil and a sprinkling of fresh chopped rosemary.
Tips for Success:
If you're having difficulty slicing the bacon, try placing it in the freezer for 10 to 15 minutes! Frozen or very cold bacon will make for easier slicing and dicing.
Serving: 1serving, Calories: 297kcal, Carbohydrates: 39g, Protein: 21g, Fat: 8g, Saturated Fat: 2g, Polyunsaturated Fat: 6g, Cholesterol: 6mg, Sodium: 380mg, Fiber: 8g, Sugar: 3g
This post is sponsored by Bob's Red Mill. Thank you so much for supporting brands that I love and use in my kitchen!
This post contains affiliate links, which means that I make a small commission off items you purchase at no additional cost to you. Please read my
privacy policy
for more information.