Mediterranean Quinoa Salad Stuffed Acorn Squash
Stuffed Acorn Squash make for an easy and hearty vegetarian main course! Roasted acorn squash halves are filled with a simple mediterranean quinoa salad packed with arugula, chickpeas, scallions, tomatoes, and tangy feta. Pin this recipe.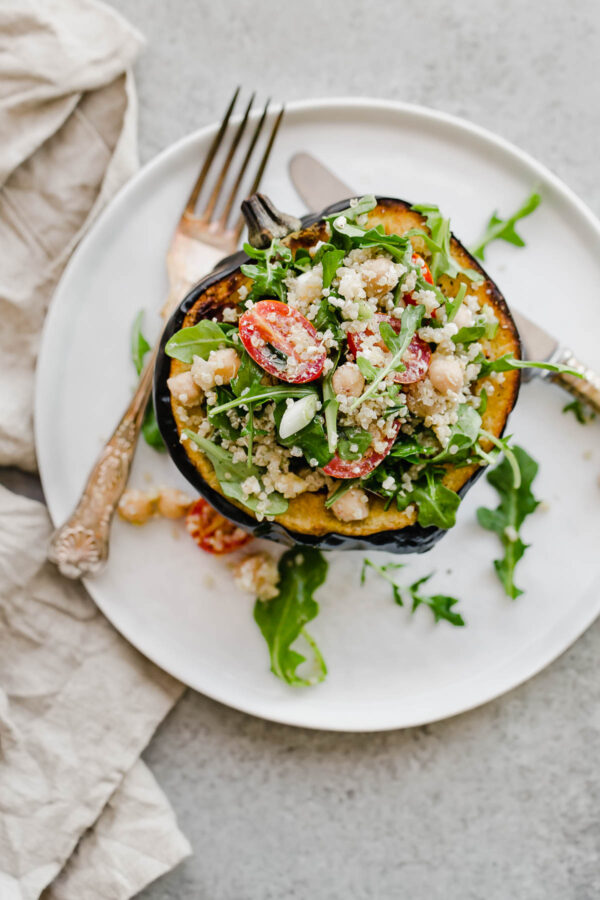 Stuffed Acorn Squash
I've wanted to bring you this stuffed acorn squash recipe for some time now! This hearty vegetarian main course comes together fairly quickly (the bulk of the recipe time involves roasting the acorn squash) and is a wonderful springboard for all sorts of ideas and variations.
Using acorn squash halves as 'bowls' isn't exactly new or groundbreaking, but it is fun and makes things extra easy in the kitchen. These stuffed acorn squash are filled with a delicious Mediterranean quinoa salad.
The bright and zesty Mediterranean quinoa salad, which is a simply mixture of canned chickpeas, tomatoes, scallions, cooked quinoa, feta, and arugula, is balanced by the sweetness of the roasted acorn squash. The dressing is a simple mixture of lemon zest, lemon juice, extra virgin olive oil, and my favorite all-purpose spice: za'atar.
I've talked about my love for za'atar more times than I can count, but it is so versatile and gives every dish that pop of flavor that makes you pause and reach for more. I highly recommend stocking your kitchen with a jar of it. You can find za'atar in the Middle Eastern or Mediterranean aisle of some main stream grocery stores, specialty stores, or online.
You'll find yourself reaching for it time and time again!


How to Pick and Store Winter Squash:
–> When shopping for winter squash, always choose a winter squash that feels heavy for its size. Look for hard, deep colored flesh with as few blemishes as possible. In this case, looks do matter. Tender rind = immature squash and thus, lackluster taste.  If you can puncture the skin with your fingernail, put it back. Variations in color (with the exception of spaghetti squash) have little to no impact on flavor though.
–> Avoid storing winter squash near apples, avocados, and other ethylene producing fruits!  This will speed up the ripening process.
How to Roast Acorn Squash:
–> Use a large chef's knife to slice the acorn squash in half lengthwise. Since it is extremely tough, I always set my knife slightly off center to avoid the stem. Scoop and discard the seeds and fleshy bits.
–> I like to trim a small slice off the rounded side of the squash halves to ensure that they lay flat on the baking sheet. This will keep them steady.
–> Distribute the acorn squash halves cut-side up on the baking sheet. Brush with olive oil and sprinkle generously with salt and pepper. Roast at 450 degrees F for 45 to 50 minutes. The skin will naturally begin to separate slightly from the flesh as it roasts, allowing them to be stuffed and practical as edible 'bowls'.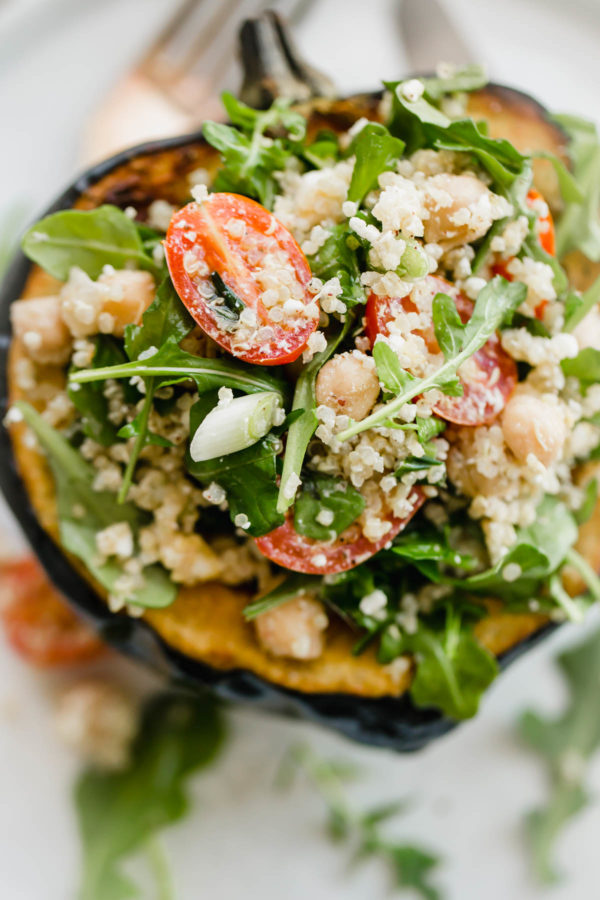 Tips for Success: Mediterranean Quinoa Salad
This recipe calls for cooked and cooled quinoa. I make a large batch of it on the weekends and use the leftovers for meal prep throughout the week. If you do not have cooked quinoa on hand, please refer to the cooking instructions in the recipe notes.
As the acorn squash halves are roasting, prepare the base of the quinoa salad: chickpeas, tomatoes, scallions, lemon zest, lemon juice, olive oil, za'atar, salt, pepper. Allowing this mixture to marinate for 20 to 30 minutes will improve the overall flavor and seasoning.
This salad tastes just as delicious on its own and makes for a wonderful make-ahead quinoa salad. It can be stored in a container in the refrigerator for 1 to 2 days. The arugula will wilt, but hold surprisingly well.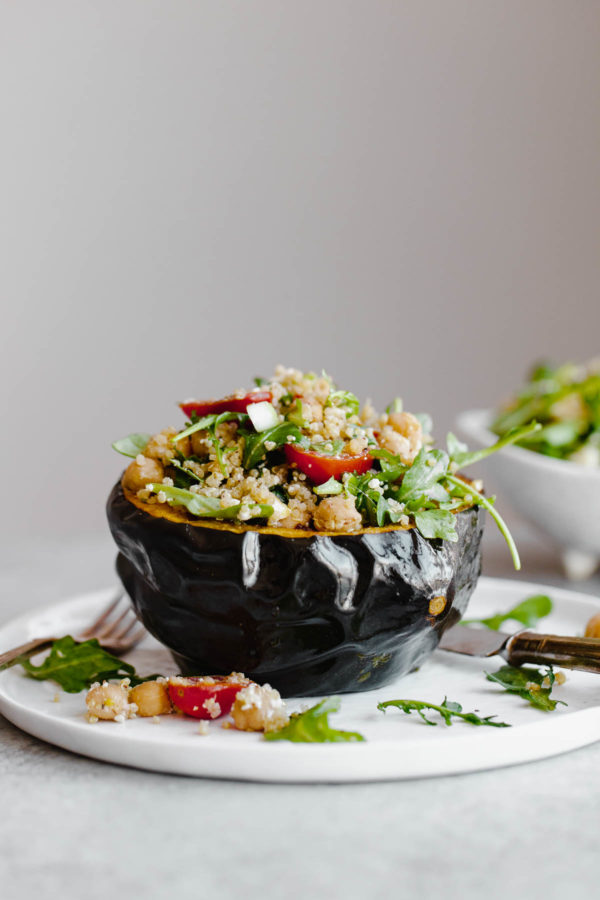 If you love a good sauce, these stuffed acorn squash pair perfectly with a generous drizzle of my favorite easy tahini sauce.
More Winter Squash Recipes You'll Love: