Vanilla Almond Steel Cut Oatmeal
I'm not a big oatmeal fanatic, like many other bloggers, but I've quickly been converted this past week. I don't know if it's the convenience of the rice cooker or what, but I've eaten it for breakfast at least four times recently. I attribute it, in part, to steel-cut oatmeal.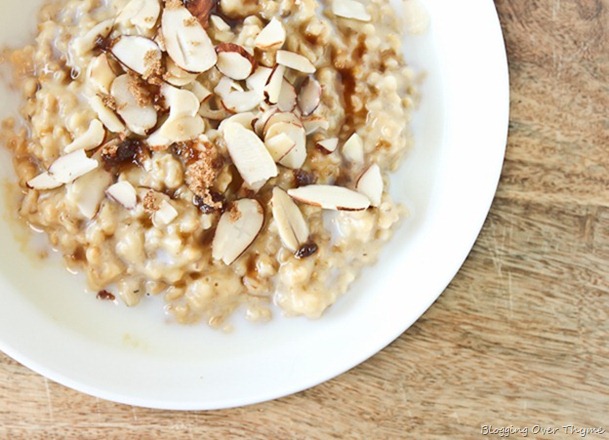 Previously, I had only made oatmeal with old-fashioned oats, which are good, but don't really compare, in my opinion, to the steel-cut variety.
Old-fashioned, rolled oats have already had the bran removed and are then rolled flat. Steel-cut oats are essentially the unprocessed oat kernels, which have been cut into two or three pieces using a steel disc. Hence, the name steel-cut. It's all making sense now…
As a result, steel-cut oats are nuttier and chewy, offering a lot more texture than traditional oatmeal. It's hard to describe, but they almost pop in your mouth and for some reason, they keep me full longer than traditional oats. Not a bad thing in my book.
Here's my favorite recipe (so far…) for steel-cut oatmeal. It's simple, but delicious. The hint of vanilla, crunch of almonds, and slight sweetness of brown sugar and maple syrup add just the right amount of flavor. Cooking the oats in soy milk adds an a extra dose of protein and creaminess, which I love.
Enjoy!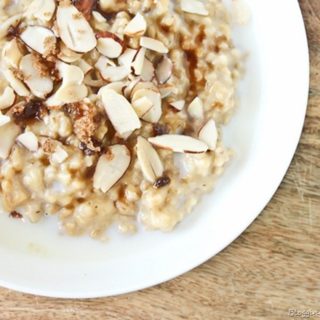 Vanilla Almond Steel Cut Oatmeal
Yield: 2-4 Servings
Prep Time: 10 minutes
Cook Time: 30 minutes
Total Time: 40 minutes
Ingredients
1 cup steel-cut oats
2 cups unsweetened, original soy milk (I prefer Eden Organic original soy)
1 cup water (add an extra 1/2 cup if using rice cooker)
2 teaspoons vanilla extract
1/2 teaspoon salt
raw sliced almonds
brown sugar
maple syrup
Instructions
For Making in on Stovetop:
Add oatmeal, soymilk, water, vanilla extract, and salt into medium saucepan.
Bring to a boil, stirring occasionally. Reduce to medium-low heat, allowing oatmeal to simmer (with lid on) for 20-30 minutes (depending on desired consistency).
Remove from heat and serve. Top with sliced raw almonds, sprinkle of brown sugar, and drizzle of maple syrup. If desired, add a splash of cold milk on top.
Refrigerate leftovers and reheat in microwave.
For Making in Rice Cooker:
Night Before: Add oatmeal, soymilk, water, vanilla extract, and salt to rice cooker bowl. Set timer for following morning using porridge setting.
Serve, add toppings, and enjoy. Refrigerate leftovers and reheat in microwave.
Nutrition Information:
Yield: 4
Serving Size: 1
Amount Per Serving:
Calories: 382
Total Fat: 16g
Saturated Fat: 2g
Trans Fat: 0g
Unsaturated Fat: 12g
Cholesterol: 0mg
Sodium: 330mg
Carbohydrates: 46g
Fiber: 7g
Sugar: 8g
Protein: 14g