Springtime Asparagus Soup
A creamy pureed asparagus soup prepared with leeks and finished with sautéed asparagus tips and a light drizzle of heavy cream.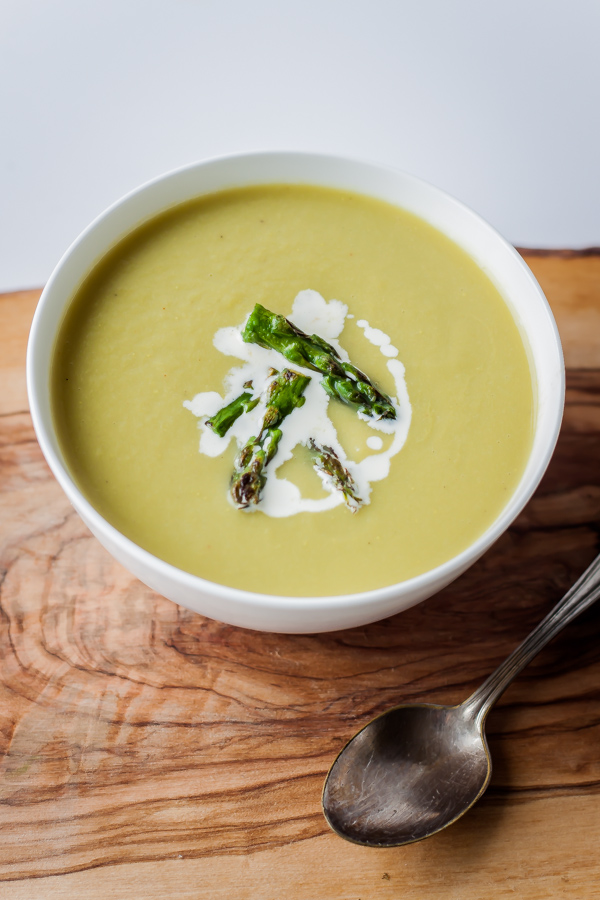 I promised myself that I wouldn't talk about the weather again, but I do find it quite ironic that I'm posting this springtime asparagus soup on a day when it's snowing outside. It is March. These things aren't supposed to happen anymore.
Then again, one of my favorite things to eat on a cold day is hot soup! So maybe this dish is actually the best of both worlds. Hot and creamy soup filled with the best spring vegetables. Crisp green asparagus and sweet leeks.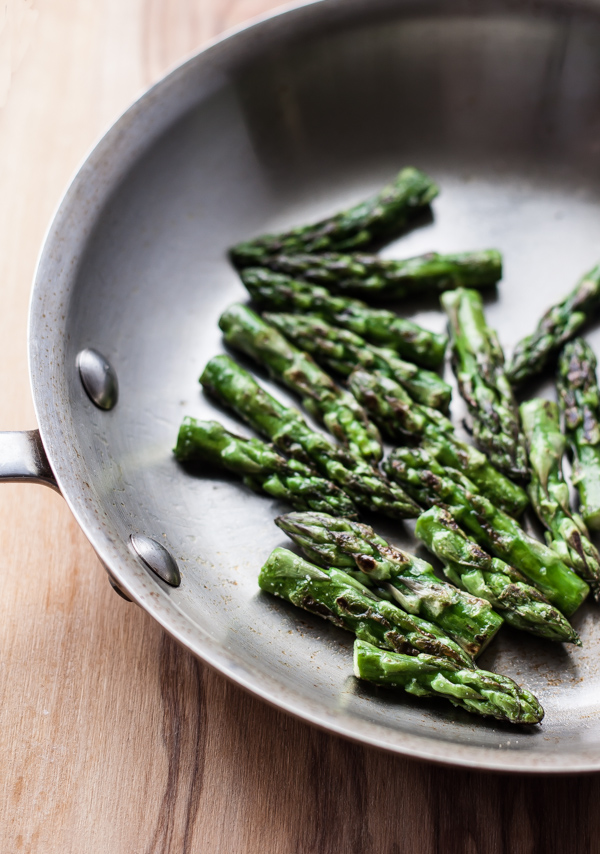 I've been on a big soup kick lately. We made my favorite Mexican tortilla soup for the fifth time (in like three months) this past weekend, which is a new record for me. And this asparagus soup will be my next victim. I'll make it over and over again as long as asparagus is in season.
There is something about pureed soups that I just love so, so much. This one is so creamy! And delicious and lovely.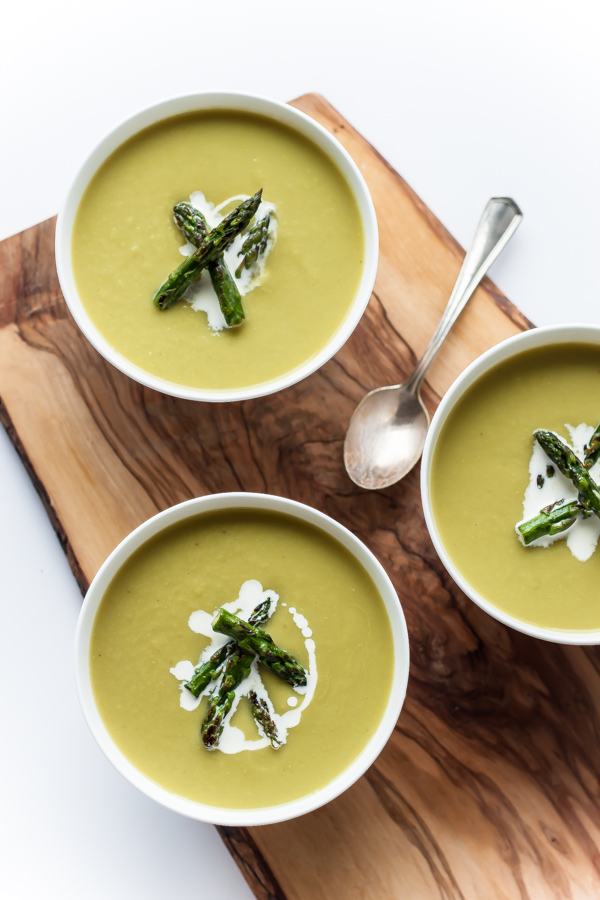 This easy asparagus soup is incredibly flavorful and creamy, and also happens to be really easy to prepare. It contains only a handful of ingredients.
To add more flavor, the leeks are reduced in white wine. Just before finishing, we'll add a pinch of cayenne pepper and fresh lime juice. Neither ingredient is noticeable, in fact you probably won't even be able to taste them in the final dish, but they add an extra level of balance and dimension to the soup.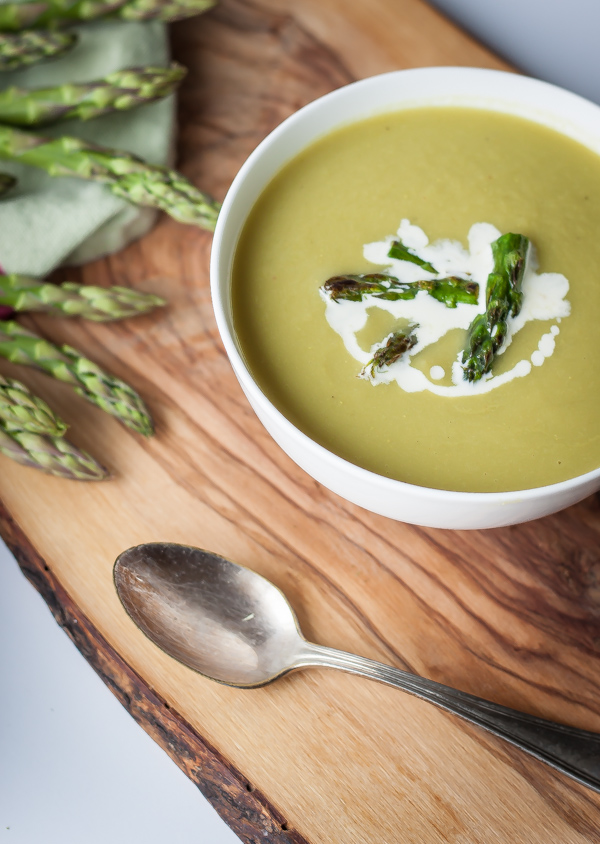 To finish the soup off and add extra texture, I reserved the asparagus tips and sauteed them over high heat, just before serving. They get all crispy and caramelized, but they still retain some bite.
The next step involves drizzling each bowl with a little bit of heavy cream! It is optional, but definitely recommended.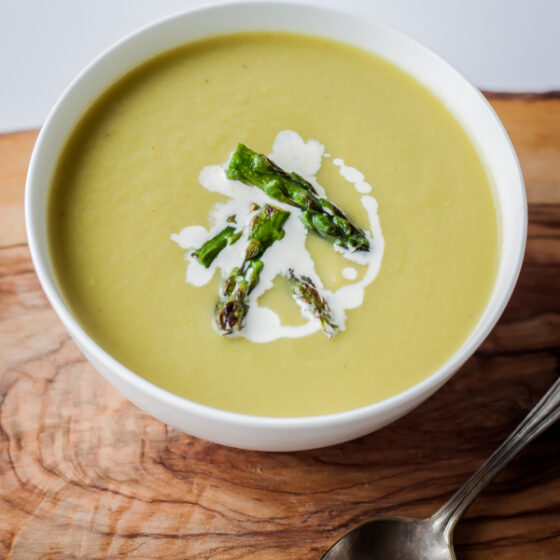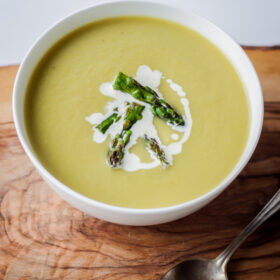 Springtime Asparagus Soup
A creamy asparagus leek soup finished with a touch of heavy cream. Not only is this soup incredibly flavorful and creamy, but it also happens to be really easy to prepare. For added flavor, the leeks are reduced with white wine and just before serving, we'll add a pinch of ground cayenne pepper and lime juice for balance. These ingredients aren't detectable, but add great dimension.
Ingredients
Soup:
2 tablespoons (30 mL) extra virgin olive oil
2 large leeks, white and light green parts only finely sliced
½ cup (120 mL) dry white wine
1½ lb asparagus stalks reserve the asparagus tips and cut into 1-inch pieces
4 cups (1 quart) low-sodium chicken stock
kosher salt
freshly ground black pepper
pinch ground cayenne pepper
2 teaspoons fresh lime juice
Sauteed Asparagus Garnish:
1 teaspoon extra virgin olive oil
reserved asparagus tips
heavy cream for drizzling
Instructions
Prepare the Soup: Heat the olive oil over medium heat in a large soup pot. Add the leeks and saute, stirring frequently, until soft and translucent, about 7 to 8 minutes. Do not allow the leeks to brown. Add the white wine and simmer the wine until it is almost entirely evaporated.

Add the chopped asparagus (reserving the tips for later) and chicken stock, and bring to a boil. Reduce heat to a low and simmer for 15 to 20 minutes or until the asparagus are very tender.

Transfer the soup to a high-powered blender, such as a Vitamix, and puree until very smooth. Return the soup to pot and return to heat. Season with salt and pepper to taste.  Finish with cayenne pepper and lime juice. Keep over low heat while preparing the sauteed asparagus tips (see below).

Prepare the Sauteed Asparagus Topping: Heat the oil over medium-high heat in a small saute pan. Add the asparagus tips and saute for 2 to 3 minutes, or until caramelized and just fork tender. Season with salt and pepper.

Serve the soup and garnish with the sauteed asparagus tips and a small drizzle of heavy cream.
Serving: 1serving, Calories: 200kcal, Carbohydrates: 15g, Protein: 9g, Fat: 11g, Saturated Fat: 3g, Polyunsaturated Fat: 8g, Cholesterol: 8mg, Sodium: 882mg, Fiber: 5g, Sugar: 5g
This post contains affiliate links, which means that I make a small commission off items you purchase at no additional cost to you. Please read my
privacy policy
for more information.