Thai Noodle Salad with Glazed Salmon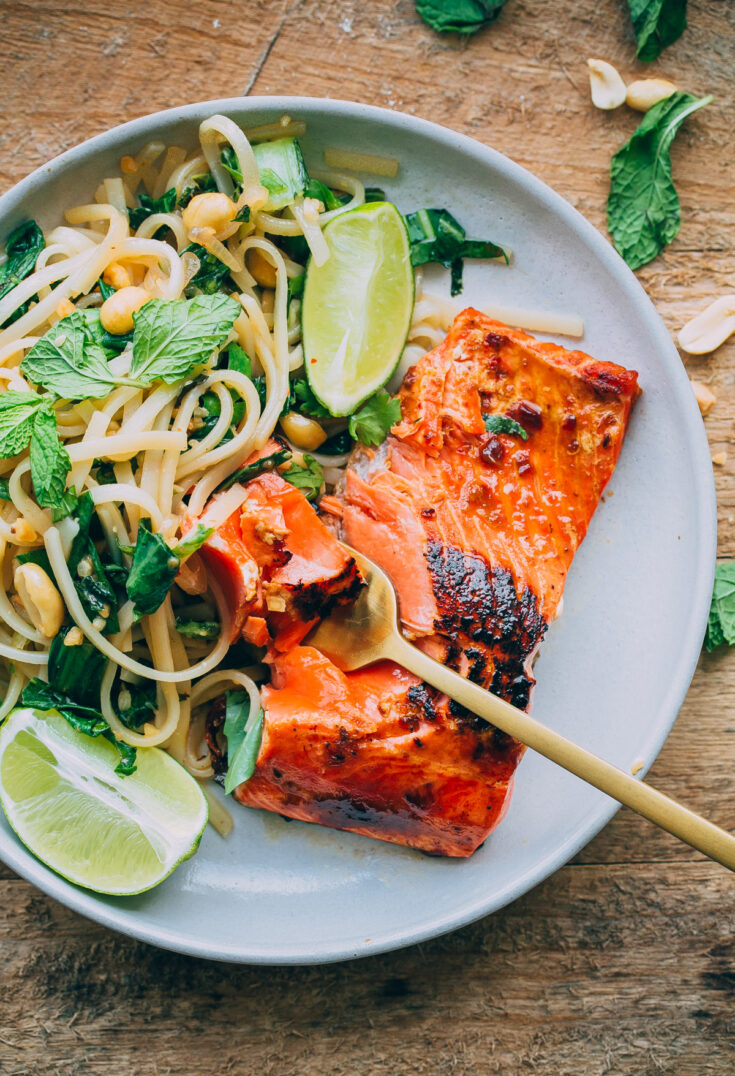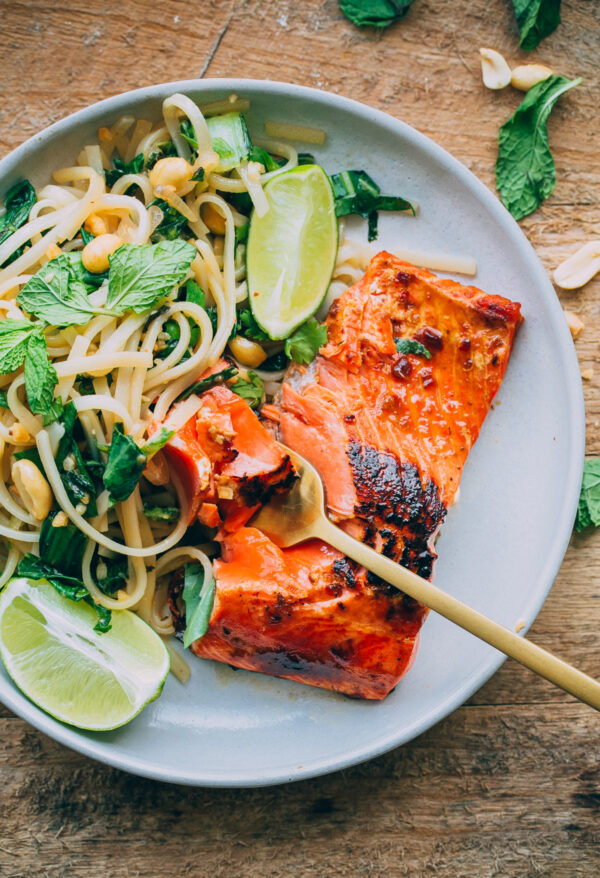 Remember when I shared this seared sockeye salmon with green chile adobo sauce (one of my most favorite recipes to date)? Well, I'm back to share an equally tasty, completely different salmon recipe.
As I mentioned in that post, I'm thrilled to be partnering with Copper River salmon this year to talk all things sustainable, wild Alaskan salmon. It is a topic that I feel incredibly passionate about, and one that I'm honored to be able to share on this platform.
Exactly one month from today, I'll be starting the long journey to Cordova, Alaska to meet small fisherman families represented by Copper River, explore the wilderness of Alaska, and harvest wild sockeye salmon straight from the source. I can hardly wait.
I have a strong inkling it will be one of those life-changing trips and I cannot wait to share the experience with you! In the meantime, let's chat all things Thai noodle salad and glazed salmon.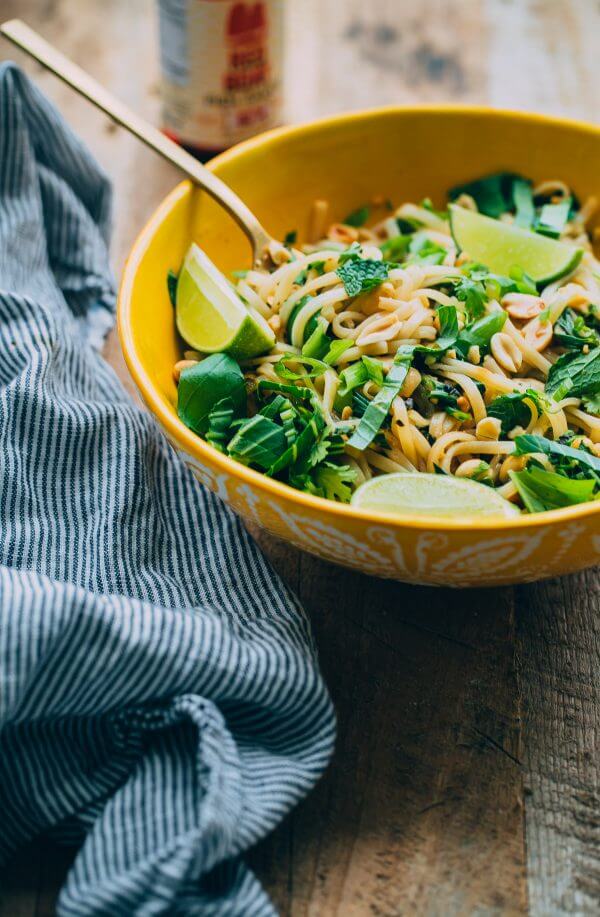 Salmon's rich and robust flavor profile stands up so well to Asian flavors and ingredients, and I couldn't help but go in that direction with today's recipe.
This recipe was prepared with Prince William Sound sockeye salmon, which is harvested during the months of June and July from glacial fed waters. It is stunningly deep red in color (see picture below!), has a firm texture, and offers high levels of healthy omega-3 oils.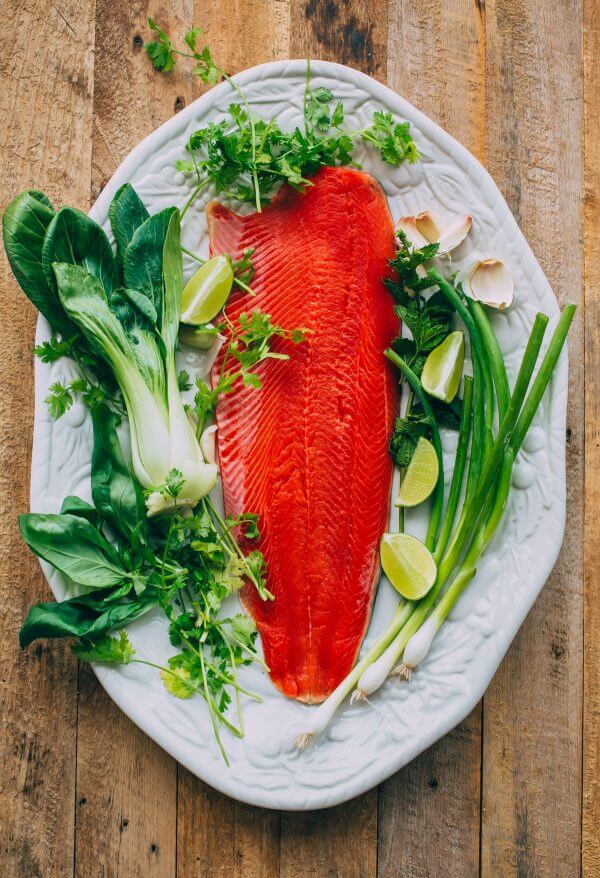 The salmon is brushed with a simple glaze comprising of roasted red chili paste. This paste, which is made from fried garlic, shallots, chilies, dried shrimp, and many other ingredients, is traditionally known as nahm prik pow.
You'd be able to find a more authentic version in any Asian super market or specialty store, but in a pinch, this Thai kitchen brand works well (and is what I used to create and test this recipe – so be mindful if using a different brand, as they may vary in intensity and strength!)
It is not a flavor that can be easily or equally duplicated by a substitute, so I don't recommend leaving it out or substituting it with anything else! Despite the name, it is actually relatively mild in heat, so don't be intimidated by the quantities shown in the recipe.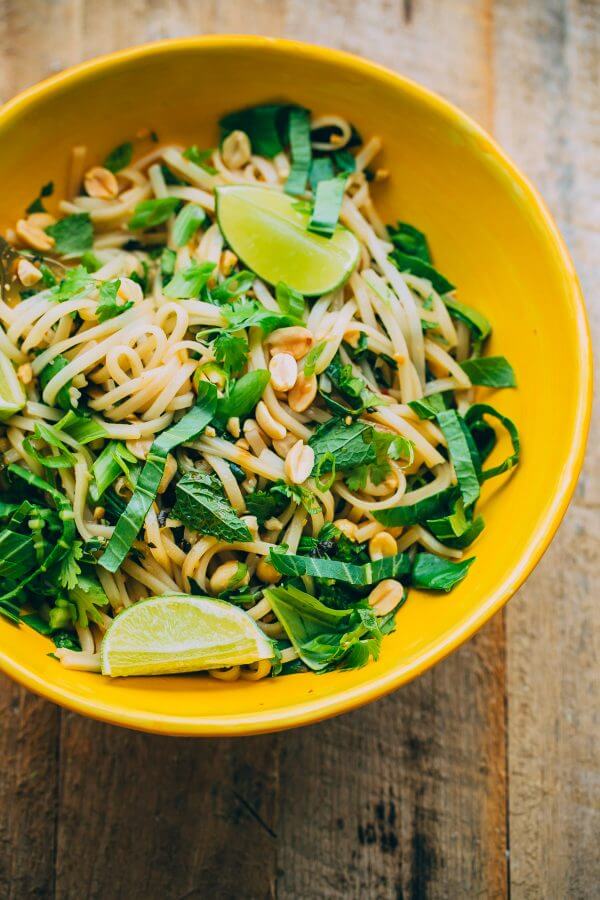 When diluted, it makes for a wonderful, EASY glaze for salmon fillets, as it's slightly sweet flavor (palm sugar is a traditional ingredient of it) makes for great caramelization when pan-seared.
I chose to pair the glazed salmon with a Thai noodle salad made with dry rice noodles. The salad is flavored with all my favorite trifectas of Thai cooking: fish sauce (a must!), freshly squeezed lime juice, cilantro, basil (Thai is best), mint leaves, scallions, and chopped peanuts.
Many of the same ingredients that flavor my all-time favorite Thai dish, green papaya salad, but I digress.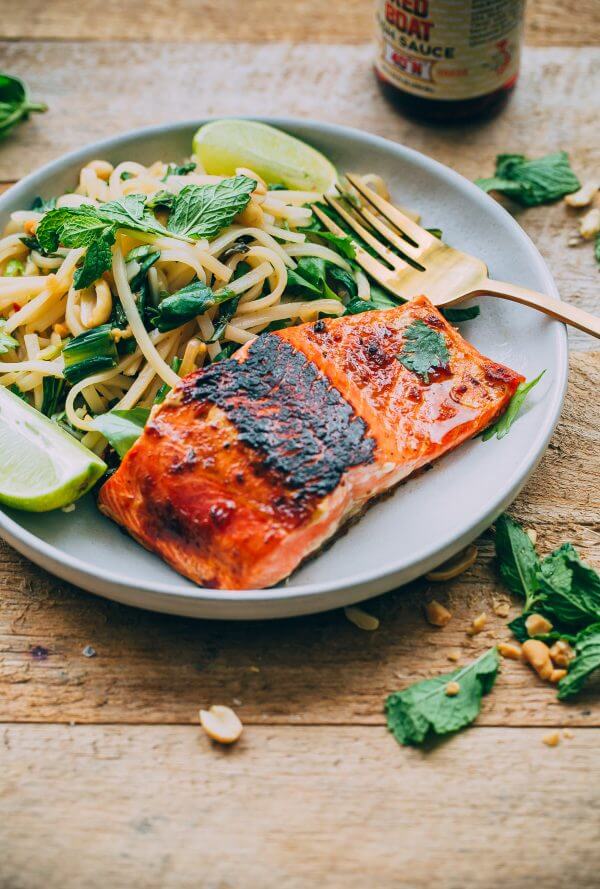 My biggest tip: don't be scared of fish sauce! It is salty and funky, and I love it. The more, the better in my humble opinion.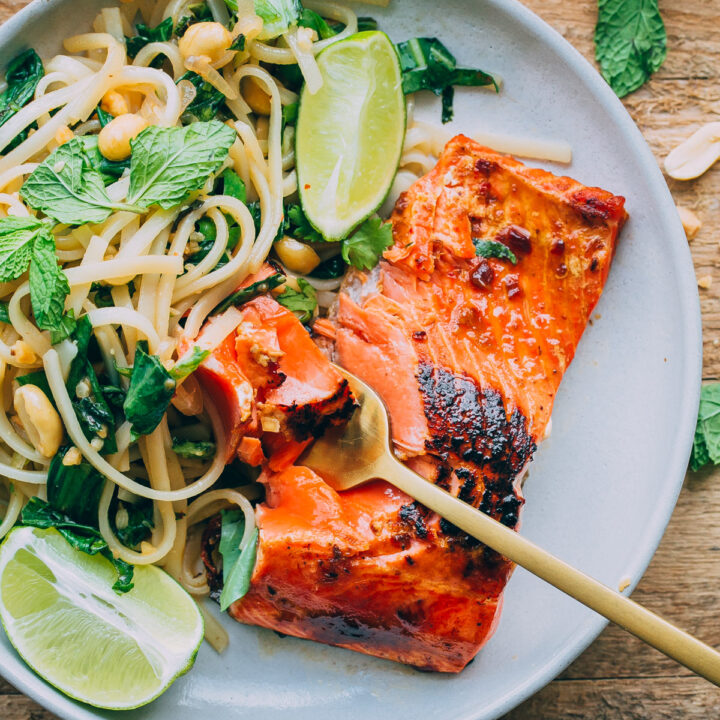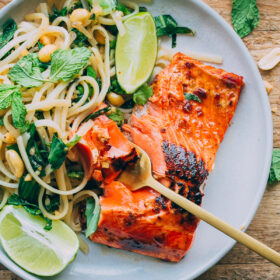 Thai Noodle Salad with Glazed Salmon
Salmon is brushed with a simple glaze made from red chili paste and paired with a simple noodle salad.
Ingredients
Thai Noodle Salad:
8 ounces stir-fry rice noodles
1½ tablespoons roasted red chili paste
1 tablespoon fish sauce plus more for serving
½ teaspoon granulated sugar
1 tablespoon grapeseed or other neutral oil
1 large shallot thinly sliced
4 large garlic cloves minced
1 cup chopped baby bok choy leaves roughly 2 heads
2 tablespoons (30 mL) freshly squeezed lime juice plus wedges for serving
3 scallions, green parts only thinly sliced
large handful fresh cilantro leaves roughly chopped
large handful fresh basil leaves, preferably Thai torn
small handful fresh mint leaves torn
⅓ cup chopped dry roasted, unsalted peanuts
Glazed Salmon:
1 tablespoon roasted red chili paste
1 teaspoon grapeseed or other neutral oil plus more for cooking
4 (4-5 ounce) wild Alaskan sockeye salmon fillets, skin-on
kosher salt
freshly ground black pepper
Instructions
Prepare the noodles: Bring a large pot of water to a boil. Add the noodles, stir, and cook until just al dente. Drain well, rinse under cold water until cool, and set aside.

In a small bowl, whisk together the chili paste, fish sauce, sugar, and two tablespoons cold water. Set aside. In a large non-stick skillet or wok, heat the oil over medium-high heat. Sauté the shallots for 1 to 2 minutes, stirring frequently. Add the garlic and sauté for another 30 seconds or so, or until fragrant. Add the bok choy leaves to the pan, and stir until just beginning to wilt. Add the cooled noodles, and the chili paste mixture. Avoid stirring; allow the noodles to caramelize slightly in the pan before stirring gently. Add one tablespoon of lime juice. Transfer the noodles to a large serving platter or bowl, gently stir in the remaining lime juice, scallions, cilantro leaves, basil, mint, and peanuts. Season to taste, adding more fish sauce and lime juice as desired. Set aside to cool slightly while you prepare the salmon.

Prepare the salmon: In a small bowl, whisk together the red chili paste, oil, and 1 teaspoon cold water until mostly smooth. Brush the tops of the salmon fillets liberally with the paste mixture. Season lightly with salt and pepper.

Heat roughly one tablespoon neutral cooking oil over medium-high heat in a large (12-inch) non-stick skillet. Add the salmon fillets, skin-side down, and cook for 3 to 4 minutes (time will vary depending on the thickness of your salmon fillets – my filets were about 1-inch thick). Flip the fillets and continue cooking until the flesh is slightly opaque in the center and the the salmon is caramelized, about 1 to 2 minutes. Distribute the Thai noodle salad, top with a piece of glazed salmon, and serve. Garnish with lime wedges for squeezing.
Tips for Success:
An instant thermometer inserted in center of fillets should read between 120ºF – 130ºF. Sockeye salmon dries out more easily than other varieties of wild salmon, and is best served medium-rare.
Serving: 1serving, Calories: 473kcal, Carbohydrates: 37g, Protein: 22g, Fat: 27g, Saturated Fat: 4g, Polyunsaturated Fat: 21g, Cholesterol: 47mg, Sodium: 845mg, Fiber: 4g, Sugar: 3g
Copper River provided me with the wild Prince William Sound sockeye salmon used in this recipe. I'm proud to partner with them in 2016 and help spread awareness for wild, sustainably-caught salmon!
This post contains affiliate links, which means that I make a small commission off items you purchase at no additional cost to you. Please read my
privacy policy
for more information.