The Sunday Thymes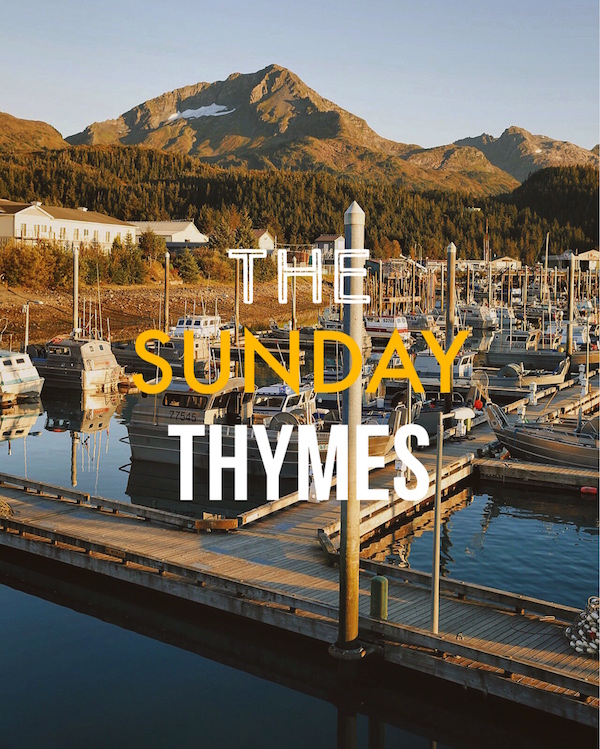 Hi, hi! I wanted to pop in quickly this morning to give you a little life update. It has been way too long! September has been a blur of travel and visits from family.
This afternoon I'm heading to Iceland with my sister and brother-in-law for seven days, followed by a quick few days in England to visit my grandmother. I haven't had an opportunity to visit her in over five years (nuts and so long overdue), so I'm really looking forward to it. Unfortunately, she is in the hospital right now, so any happy thoughts sent her way would be most appreciated! If all goes as planned – aka, I can figure out how to replace my SIM card in my phone – I'll be sharing little snippets of my trip on Snapchat and Instagram.
This week I'll be sharing part two of my trip to Cordova, Alaska, as well as a new recipe, so look out for those soon! I'm currently digging myself out of a huge (ugh, seriously, the worst ever!) creative and motivational rut at the moment. I'm the biggest over-thinker on the planet and am working on it. Thank you so much for being patient with my chaotic and sparse blogging schedule lately. I don't take it for granted!
Here's a few things I'm loving right now:
These faux bagel and lox donuts. So playful!
Proud of my friend, Jessica, who is working on her second cookbook. I literally have no idea how she does it all, but I need some of that.
Big Magic by Elizabeth Gilbert. I've mentioned this book a few times before, but I feel like I could devote an entire blog post to it. So many amazing quotes, lessons, and 'ah-ha' moments.
These pants! Oh my god, my sister recommended them to me for our trip and they might be the comfiest pants in the world. Nauseatingly expensive, but worth it. I'll be living in them all winter long.
I also treated myself to this long sleeve shirt, and love it. Loose, soft, and thicker than the average top. It also has thumb holes and fold over cuffs –> faves.
On that note, this flipbelt thing has saved my life all summer. It allows me leave my purse at home, but still bring my enormous iPhone, keys, and credit card on long dog walks with Marley.
My sister gifted me one of these fancy Swell bottles for my birthday in July, and I love it so much! I'm notorious for reheating up my coffee/tea, and it totally eliminates the need to do that. Plus, it keeps water cold for hours and hours and hours! I'm not even a water bottle person.
These roasted pesto potatoes! I want to try it with my favorite walnut-sage pesto during the winter.
These incredibly cool liquid chalk pens, which are great for labeling kitchen containers. I've been using mine for mason jars (they can be used on any non-porous surface) and only wish I had more things to label in my kitchen.
Ok, that's all for now! Tell me what you're loving. I'm nosy.
This post contains affiliate links, which means that I make a small commission off items you purchase at no additional cost to you. Please read my
privacy policy
for more information.