Whole Wheat Pasta with Walnut-Sage Pesto and Roasted Delicata Squash
Whole wheat pasta is tossed with homemade walnut-sage pesto and topped with roasted delicata squash! This vegetarian dish comes together quickly, but is elegant enough to be served for special occasions.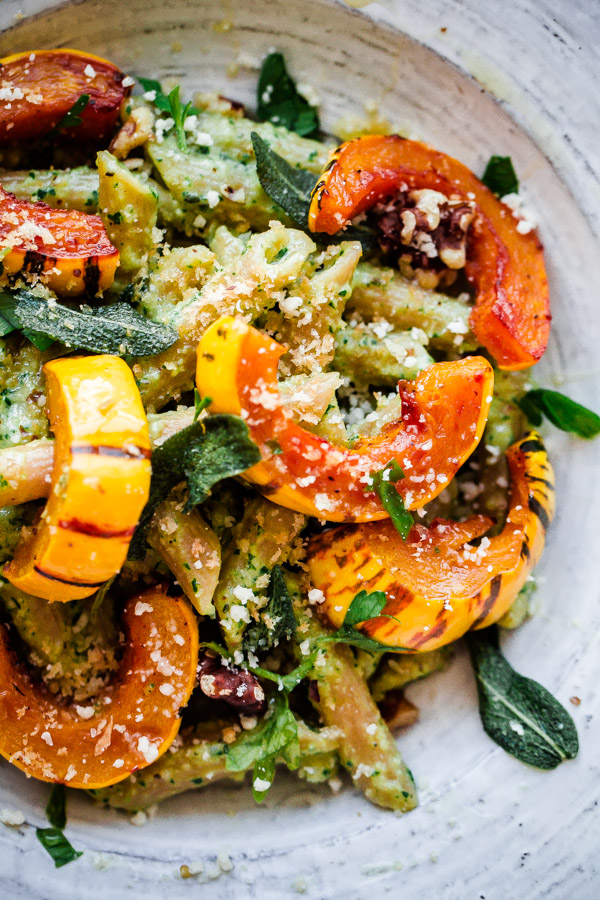 Say hello to your new favorite fall pasta!
Due to popular demand, I'm bringing back the Weeknight Wednesday series (after mentioning it briefly when I shared this weeknight broiled salmon recipe!) and sharing another deceivingly simple pasta dish that is packed with my favorite fall flavors.
Whole wheat pasta (any shape or size!) is tossed with walnut-sage pesto and topped with crispy sage leaves and roasted delicata squash. If you've haven't tried delicata squash (they are the small, oblong yellow-and-green ones!), they are one of the most weeknight friendly winter squash varieties as they require minimal fuss and zero peeling. The skin is actually thin and edible.
Aka, it does not induce the 'oh my god, I'm going to cut my finger off chopping this' anxiety induced by other winter squash varieties.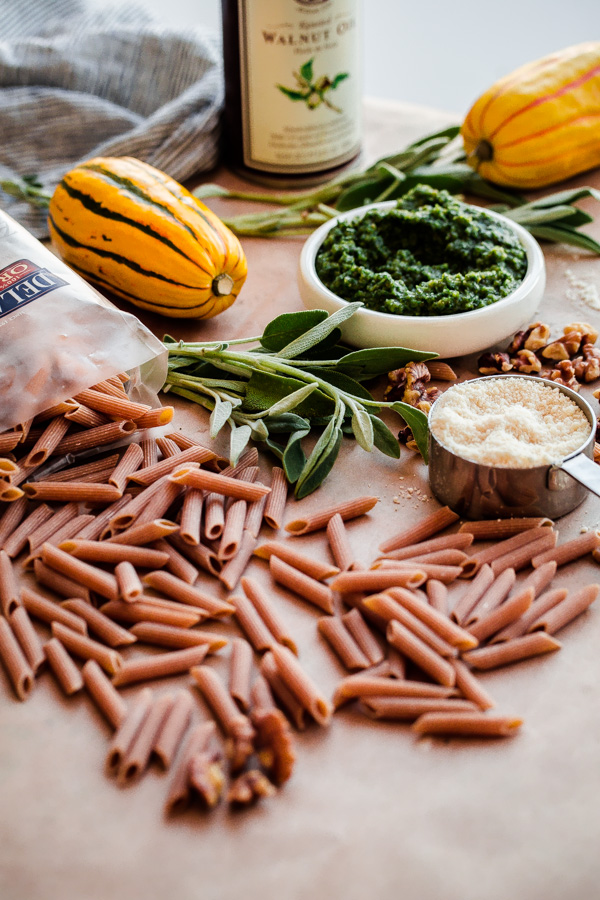 The dish appears more time intensive than it actually is! If you multi-task, you can put this entire dinner on the table in less than 45 minutes! It's healthy, high in natural fiber (thanks to the whole wheat pasta!), healthy fats (walnuts!), and very hearty.
It also happens to be vegetarian. Personally, I think it would make an excellent vegetarian main course option for the upcoming holidays.
Truthfully, I was just as much a fan of eating this dish as I was looking at it. The contrast of the beautifully green walnut-sage pesto with the caramelized delicata squash was beautiful. Top it with crispy sage leaves and a sprinkling of parmigiano-reggiano cheese and I'm in heaven.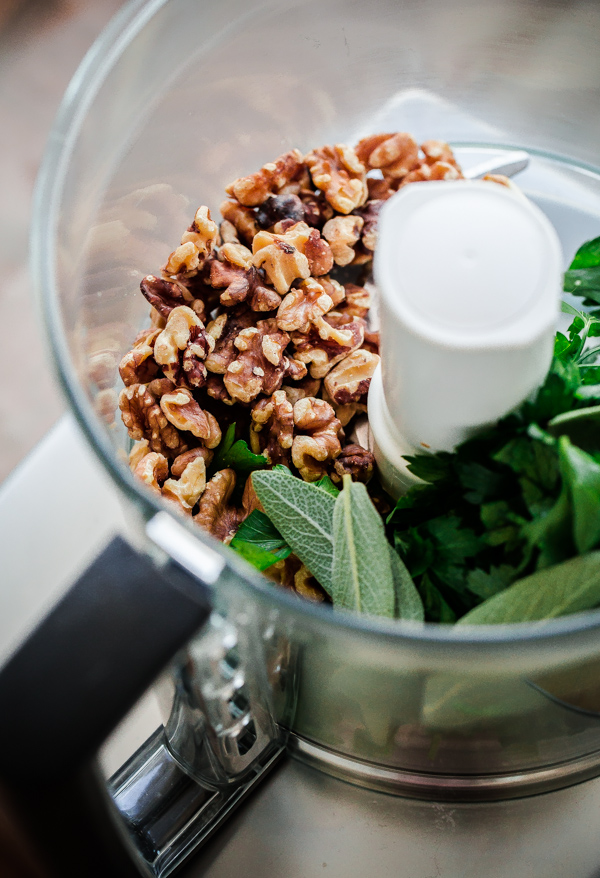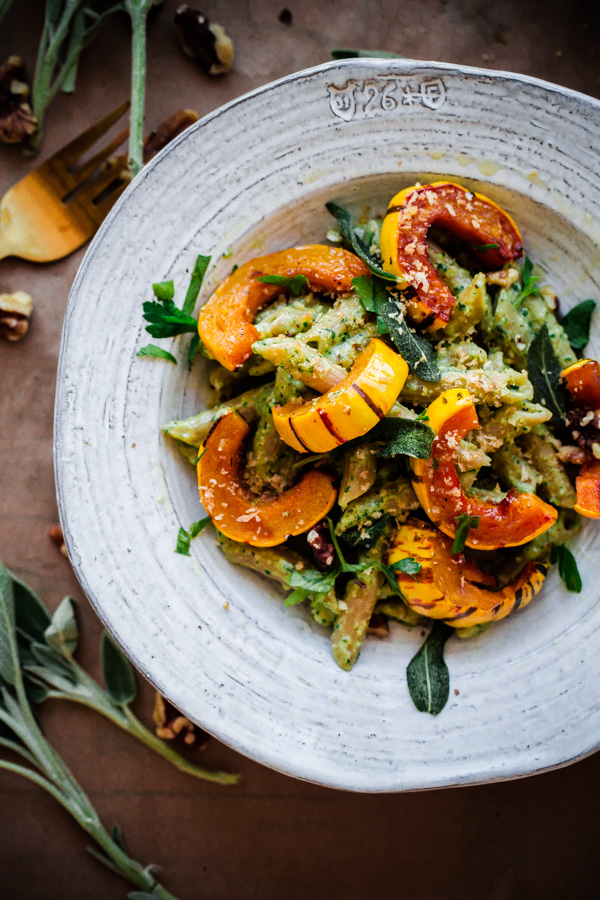 The homemade walnut-sage pesto was my favorite part of this dish and requires only a handful of ingredients: flat-leaf parsley leaves, fresh sage, lots of walnuts, fresh garlic, and..wait for it…roasted walnut oil (in lieu of traditional olive oil)!
Walnut oil is made by, as you can guess, pressing walnuts for their natural oil. Thankfully you can buy roasted walnut oil (this brand is my personal favorite) at most grocery stores these days. It requires a bit of an investment up front, but when stored properly, it can last for long time.
This type of oil shouldn't be used for cooking, but is amazing when added to homemade salad dressings or, in this case, adding tons of walnut flavor to this cozy fall pasta.
You could even slather this pesto on toast for a fall appetizer too –> yes, please do that!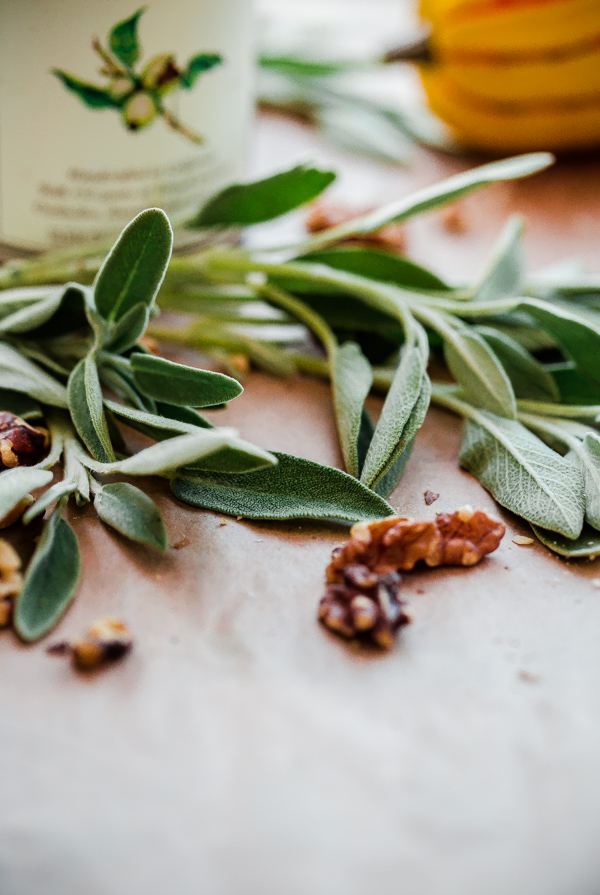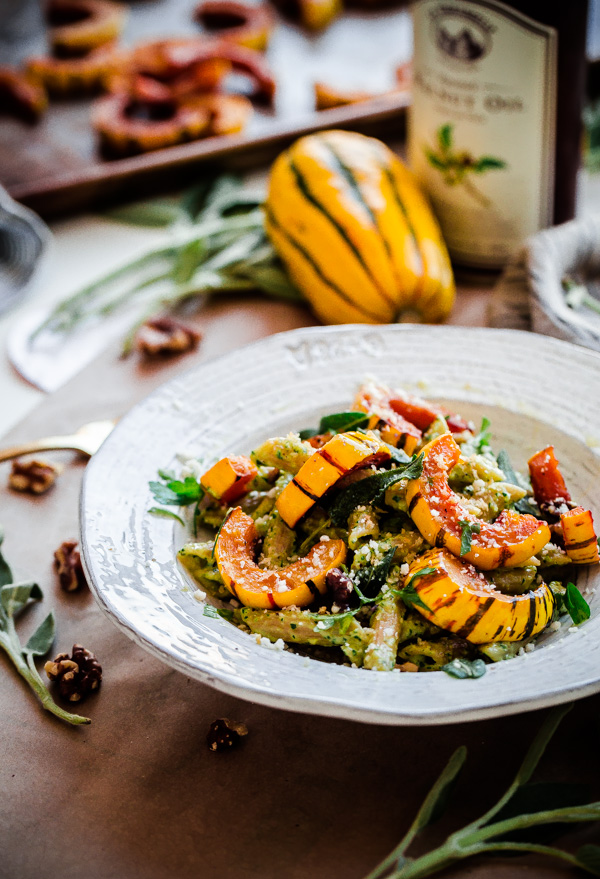 I'm the first to admit that I've been a bit of a pesto snob in the past (100% basil, all the way), but I'm so happy to have finally discovered a fall and winter friendly pesto that can satisfy all of my usual pesto cravings.
If you're wondering where the parmigiano-reggiano cheese fits into this, don't worry! I would never leave out my favorite cheese of all time…especially in homemade pesto. That's just not right.
Whenever I make pesto, I prefer to prepare the pesto without the cheese (this is best practice if you want to prepare the pesto ahead of time or if you are freezing an extra batch too!) and just add the freshly grated cheese as I'm tossing the pasta with the sauce.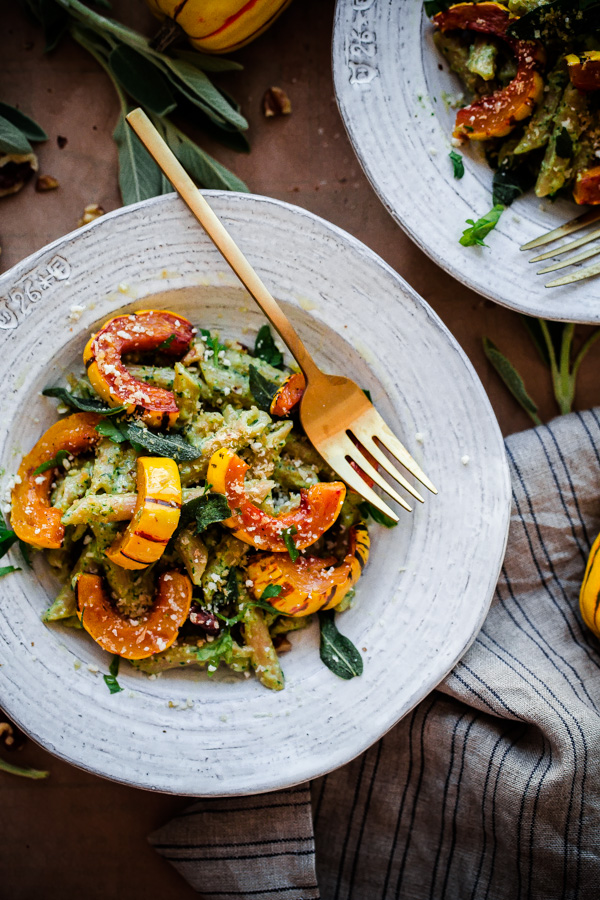 I recommend going the extra mile and crisping up some fresh sage leaves as a garnish for this!
It requires heating up a small amount of olive oil in a frying pan and shallow frying the sage leaves in batches – but it is very simple to do and adds a lot of flavor. People will fight over them.
Nothing beats fresh sage at this time of year!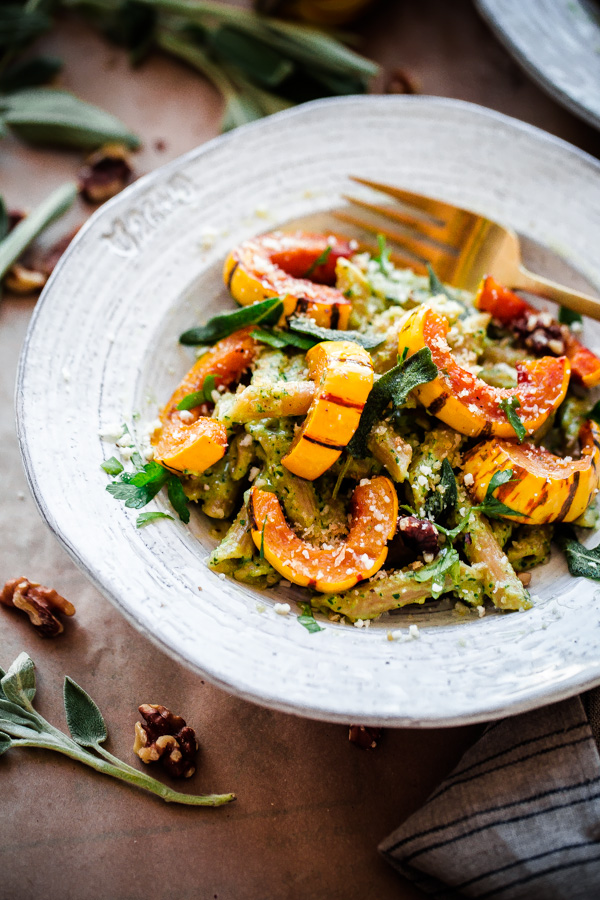 This pasta makes great leftovers (pesto pasta is my favorite leftover ever!).
You can even skip the delicata squash and serve the pasta with a side of your favorite roasted vegetables instead. Really, it's totally up to you! Make it your own.
If you're looking for other fall pasta inspiration, be sure to try this pasta with pork sausage, shaved Brussels sprouts, and sage – it is another incredibly time-friendly pasta recipe for this time of year!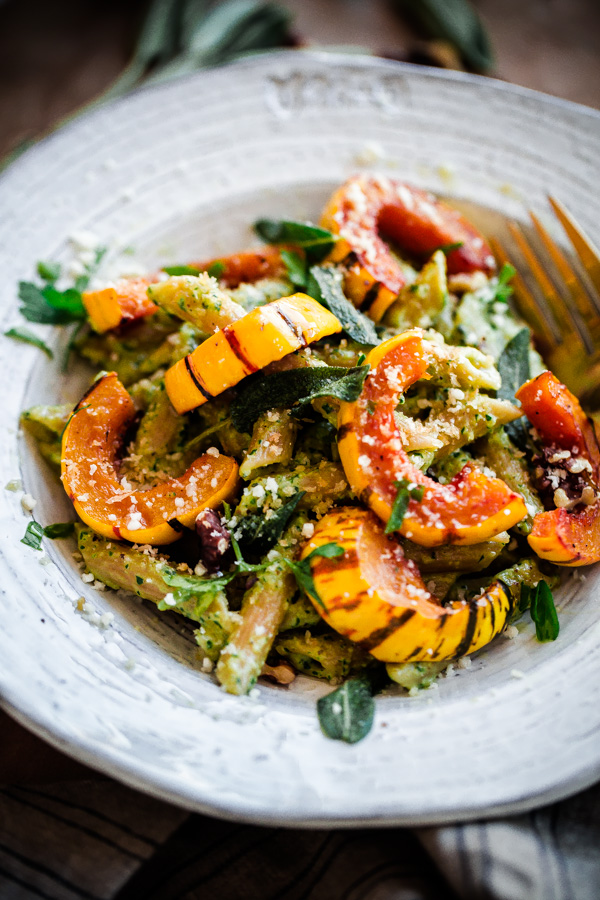 Products Used for this recipe:
(may include affiliate links)