Tuna Pasta with Capers and Parsley (with video!)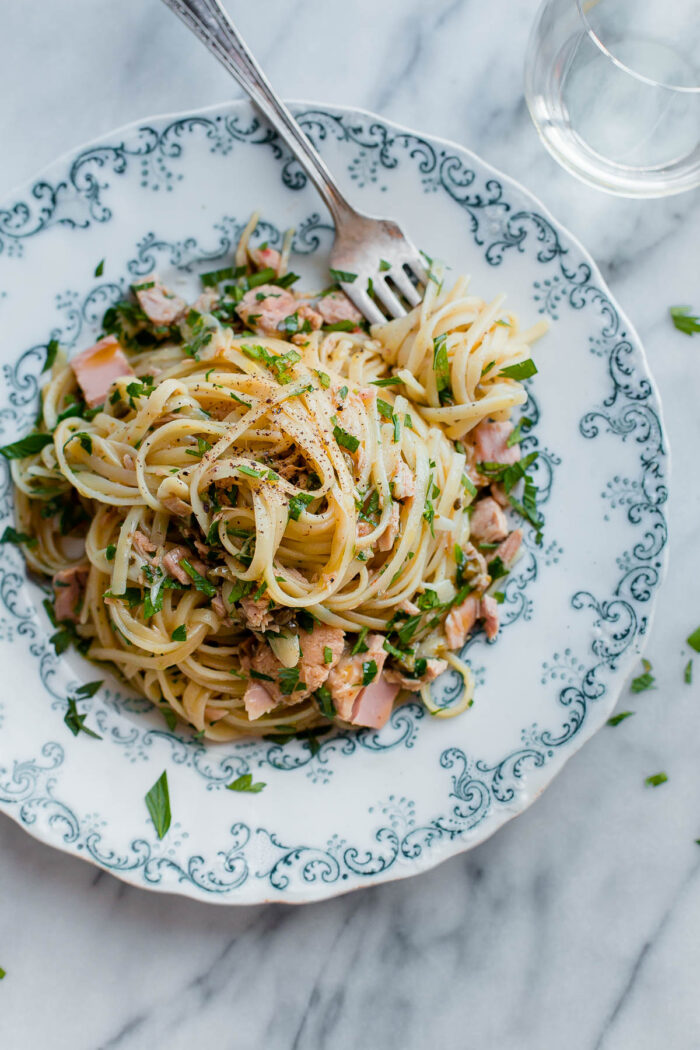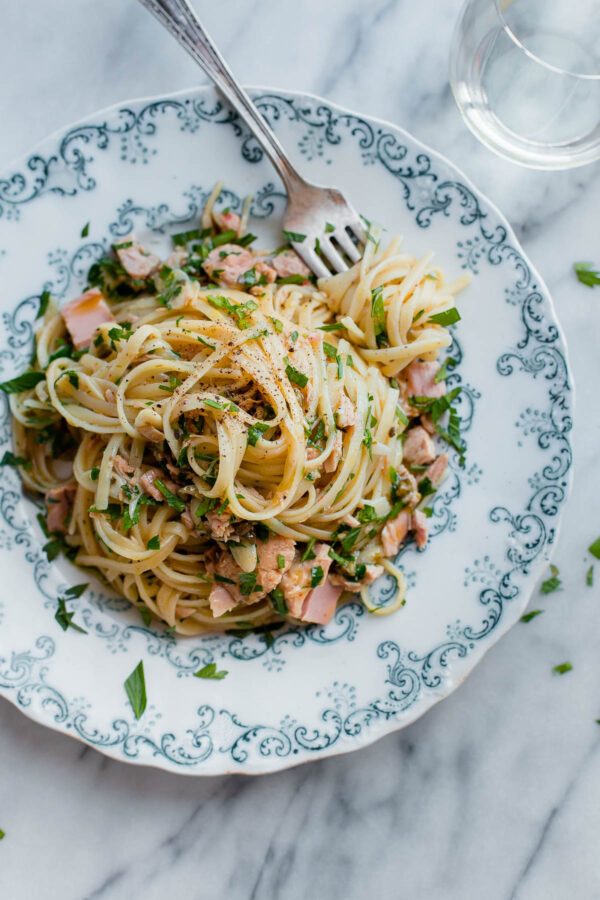 This post is brought to you by Bella Portofino.
Today's tuna pasta hails from my early childhood days. I've always loved it, but my appreciation for this simple weeknight dinner has skyrocketed over the years. When life gets busy, this is the type of meal that I turn back to over and over again. It has been a favorite in my family for a long time.
It should come as no surprise that pasta is near and dear to my Italian-ish heart. I've shared many pasta recipes over the years, but this tuna pasta recipe might just be my easiest yet. Not only does it require very few ingredients, it can be prepared in the same amount of time it takes to boil a package of dried linguine.
I mean, what's not to like, right?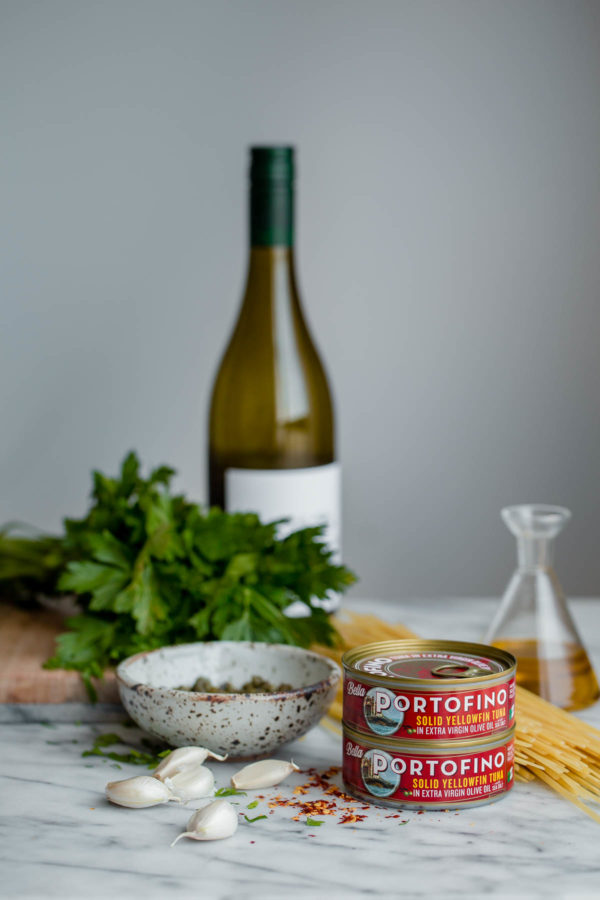 Growing up, my friends were always extremely skeptical about tuna pasta. Sadly, at no fault of its own, tuna pasta has gotten a little bit of a bad rap in this country.
Eventually, once they had a chance to taste my mom's fresh Italian version (at my repeated urging!), they quickly changed their tune. Again, it's worth repeating. This tuna pasta couldn't stray further from the American tuna casseroles of yesteryear!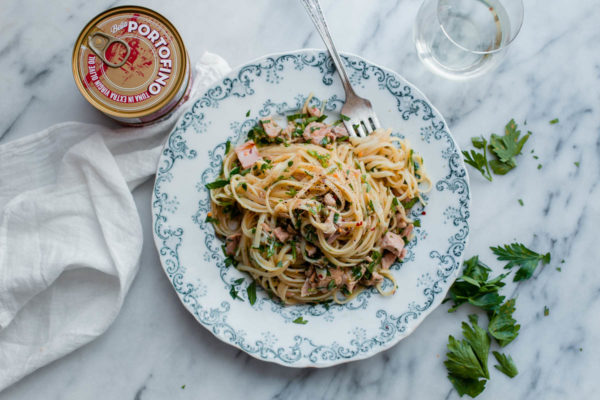 Over the past few months, I've been teaming up with Bella Portofino Tuna to bring you new twists on old world flavors! This tuna pasta is my own modern interpretation of my mom's recipe.
To add a punch of flavor, my version includes a touch more garlic (life rule: the more, the merrier!), dry white wine, nonpareil capers, and red pepper flakes.
I have a little bit of a thing for briny capers. They complement and help balance the extra virgin olive oil packed Yellowfin tuna. Don't skip them. The red pepper flakes add just a touch of heat and another dimension of flavor to this dish. Last, but not least, parsley! Lots and lots of flat leaf parsley. Similarly to lemon juice, it adds a brightness – and color – to each bite.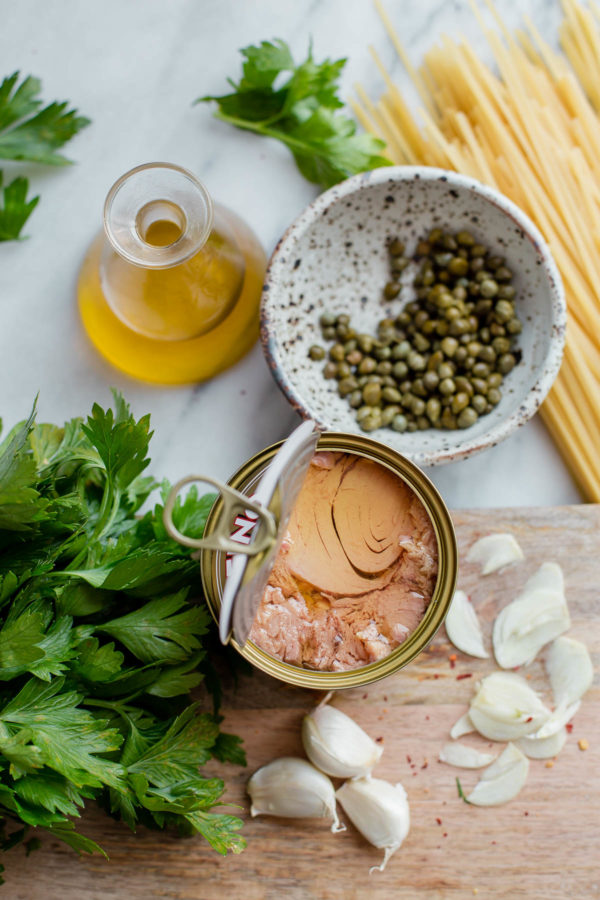 As I've mentioned in the past, canned tuna ('tonno'-style tuna) is very common in classic Italian cuisine. If you've been delegating it to the occasional sandwich, I highly encourage you to try it in other preparations.
I always keep a few cans of extra virgin olive oil packed tuna in my pantry, because it enables me to make meals at the drop of a hat. For pasta preparations, I prefer to use Yellowfin, because it has a smooth, mellow flavor and tender texture. Since the tuna, as well as the extra virgin olive oil it is packed in, are the flavor backbones of this dish, it's important to use the best of the best!
Unlike other brands of tuna, Bella Portofino tuna delivers on taste and quality. Their canned tuna is made with real, simple ingredients: wild-caught, dolphin-safe hand-selected tuna fillets, extra virgin olive oil, and sea salt.
Simple, real food.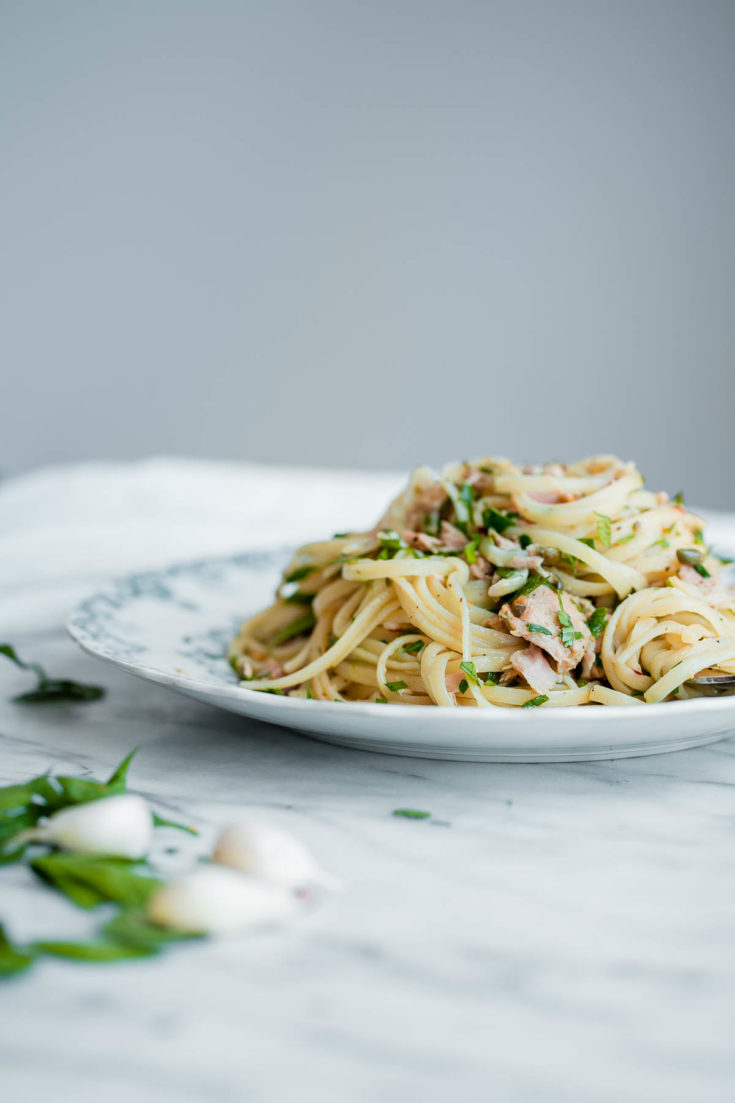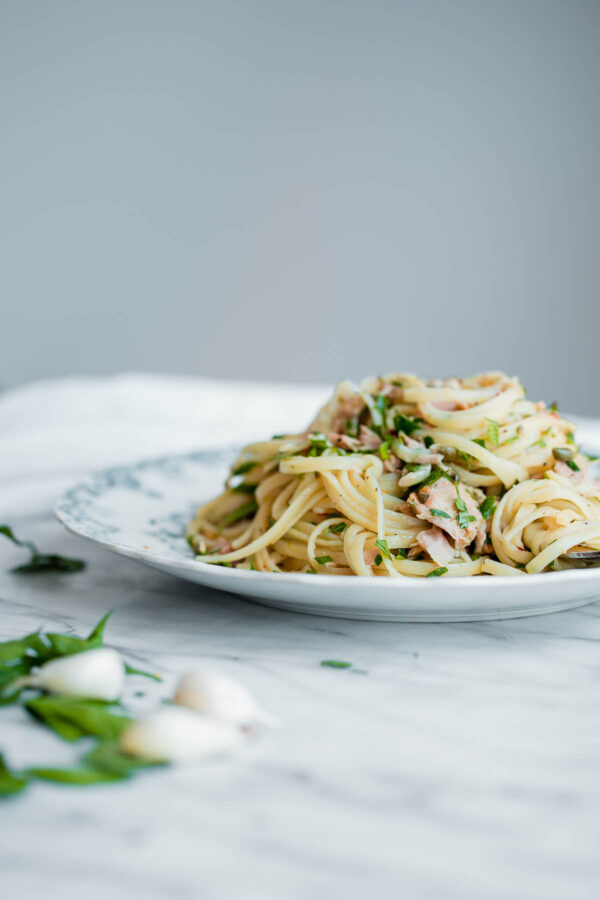 P.S. If you're looking for other tuna pasta recipes, I also love to pair it with roasted tomatoes (this roasted tomato pasta, minus the cheese!). You can mix this pasta up with various ingredients throughout the year!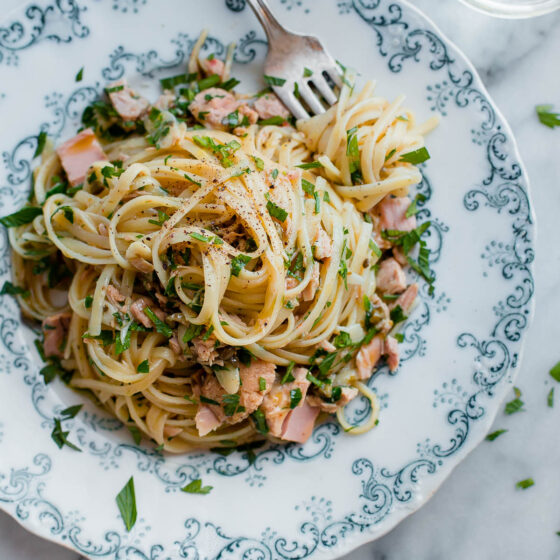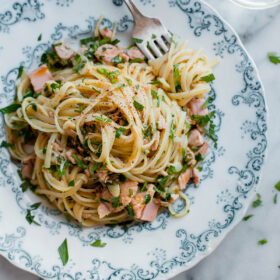 Tuna Pasta with Capers and Parsley
This easy Italian tuna pasta comes together in less time than it takes to boil the pasta! You'll only need a handful of pantry items to make this tuna pasta recipe: high-quality extra virgin olive oil packed tuna fish, white wine, red pepper flakes, capers, garlic, and fresh Italian parsley. Fresh, flavorful, and elegant!
Ingredients
2 tablespoons extra virgin olive oil
5 large garlic cloves thinly sliced
¼ teaspoon dried red pepper flakes
3 tablespoons drained non-pareil capers roughly chopped
½ cup dry white wine such as Pinot Grigio
2 (4½-oz each) cans Bella Portofino Solid Yellowfin Tuna in Extra Virgin Olive Oil
kosher salt to taste
freshly ground black pepper to taste
1 lb dried linguini pasta
½ cup packed Italian flat leaf parsley leaves, finely chopped plus more for garnishing
Instructions
Bring a large pot of salted water to a boil.

Meanwhile, preheat a large skillet (12-inches in diameter) over medium heat. Add the olive oil, garlic, and red pepper flakes. Sauté, stirring frequently, for 2 to 3 minutes or until the garlic is fragrant and lightly golden. Add the capers and sauté for an additional 30 seconds. Add the white wine, increasing the heat to a simmer until reduced by half.

Meanwhile, add the pasta to the boiling water, stirring occasionally, and boil until the noodles are shy of al dente (the pasta should have a slight bite, as they will finish cooking in the sauce).

As the pasta cooks, add the tuna, with the packed olive oil, to the sauté pan. Break up any large tuna chunks with a spoon or fork. Reduce the heat to low and keep warm. Season to taste with salt and pepper.

Drain the pasta, reserving 1 cup of the pasta cooking water. Transfer the pasta into the skillet. Add the chopped parsley and roughly ½ cup of the reserved pasta cooking water. With the pan over low heat, gently toss the pasta with tongs until the sauce has thickened and coats the noodles evenly. Add additional pasta water as necessary. Serve immediately and garnish with additional chopped parsley.
Serving: 1serving, Calories: 650kcal, Carbohydrates: 85g, Protein: 32g, Fat: 20g, Saturated Fat: 3.5g, Cholesterol: 35mg, Sodium: 580mg, Fiber: 1g, Sugar: 4g
This post was created in partnership with Bella Portofino and I received compensation for my participation. Opinions are my own. Thank you for your support!
This post contains affiliate links, which means that I make a small commission off items you purchase at no additional cost to you. Please read my
privacy policy
for more information.