Turmeric Almond Milk
Turmeric almond milk – a lightly sweetened milk drink infused with turmeric, saffron and cardamom!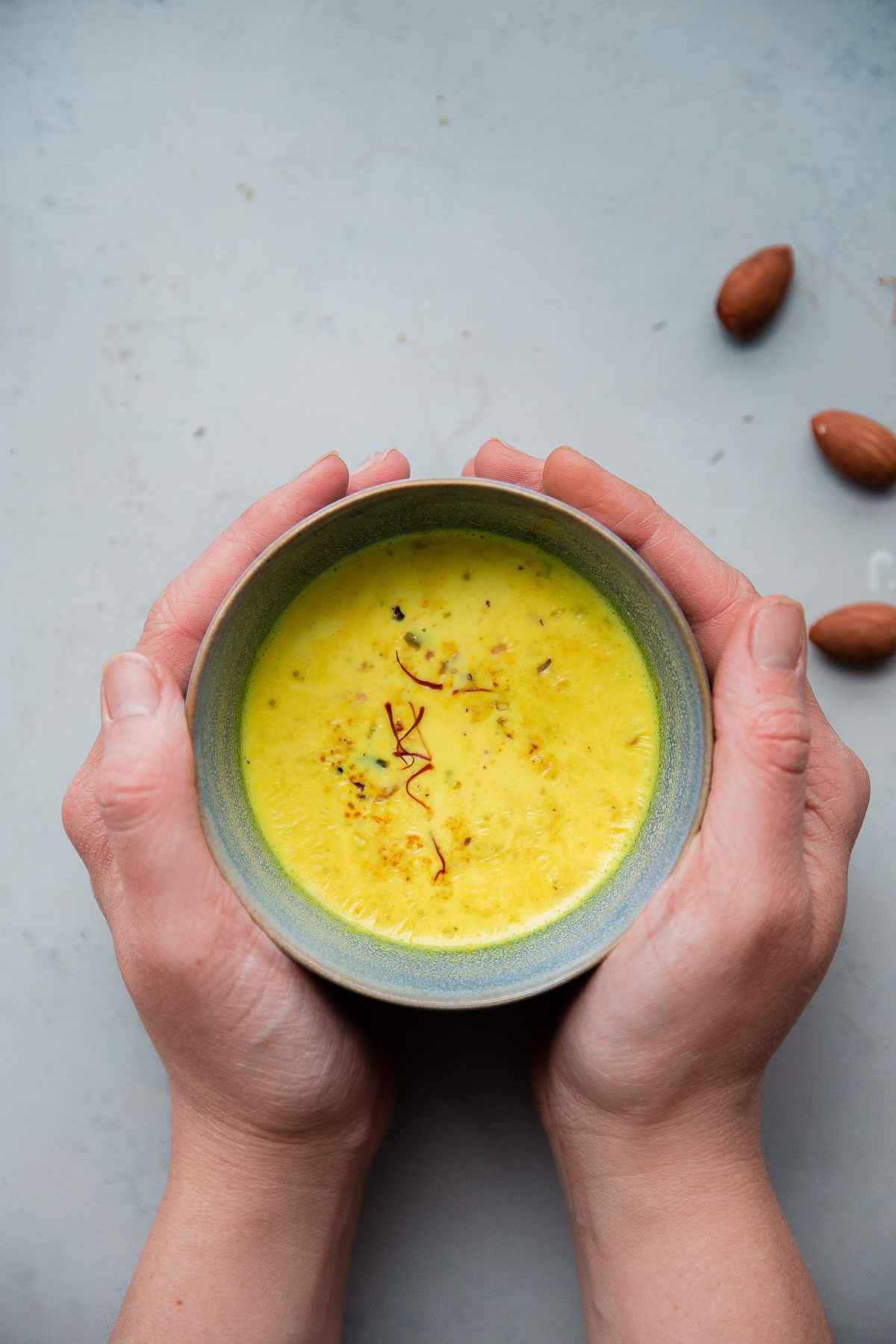 If I were to list out my favorite cuisines, Indian food would be very close to the top! Despite being a relatively picky eater growing up, I always had a strong affection for it. The bold use of spices, vegetable-heavy dishes, and vibrant colors.
Luckily for me, I grew up in a city that was full of fabulous Indian restaurants (if you ever head to Washington, DC, please be sure to book a reservation at Rasika!). I'm still searching for a favorite spot in Chicago.
It is one of those cuisines that I can never seem to master, no matter how hard I try. I recently got my hands on Chitra Agrawal's new cookbook Vibrant India: Fresh Vegetarian Recipes from Bangalore to Brooklyn. As the name suggests, it is full of vibrant vegetarian recipes ranging from breakfast dishes, salads and yogurts (radish yogurt raita to root vegetable and Asian pear salad), stir-fries and curries (green bean and coconut stir-fry to potato stir-fry with onion and ginger), rices, soups and stews, snacks, to sweets and chutneys.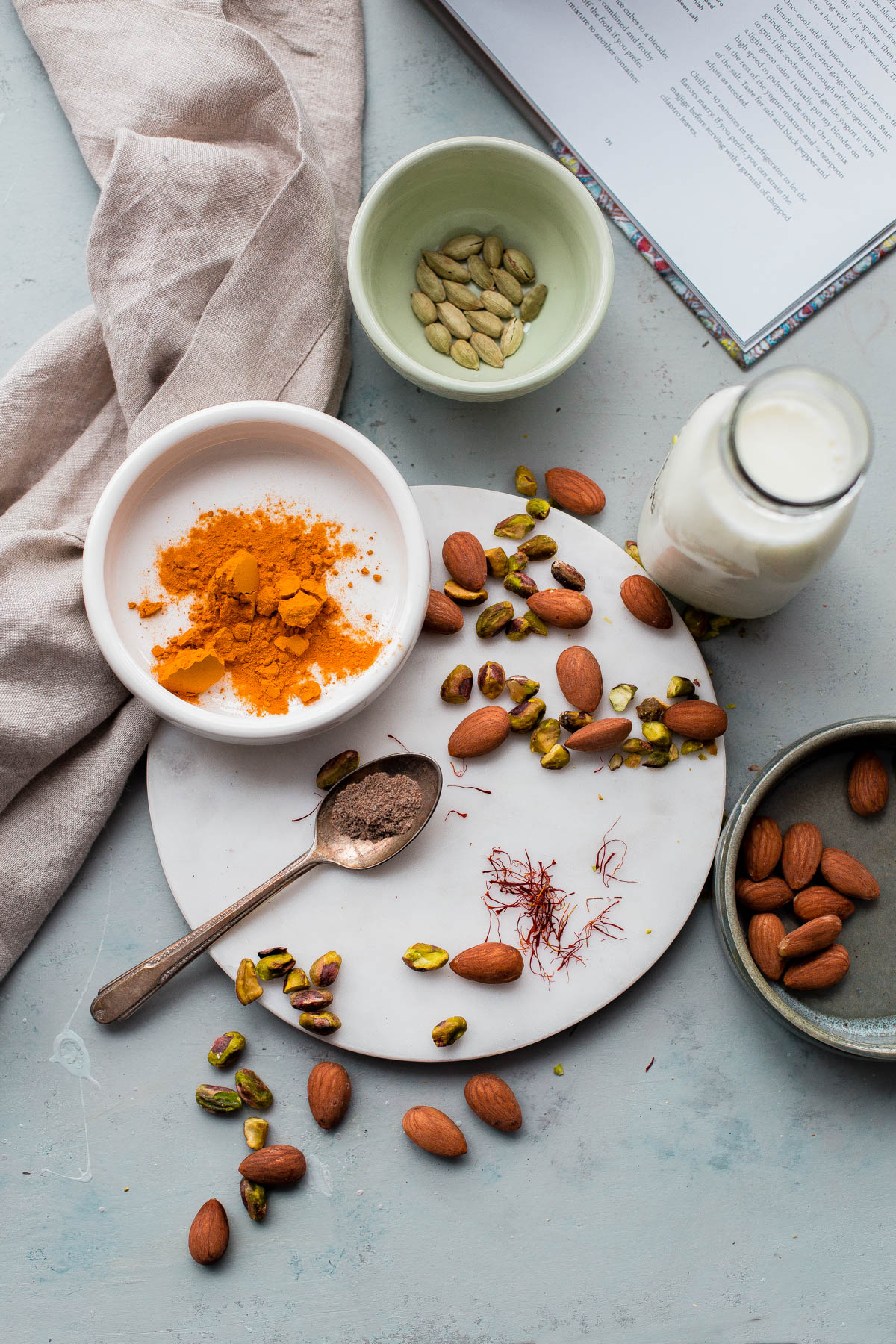 While most of the recipes require a few more specialty ingredients, the recipes are simple and straight-forward. Chitra provides easy-to-follow instruction and a wonderful foundation for learning the basics of South Indian cooking.
Her cookbook provides a fabulous source of inspiration for lighter vegetarian (in fact, many of the recipes are dairy-free) dishes and meals. There is a large variety of classic, as well as modern dishes inspired by Chitra's home base of Brooklyn, New York too!
Chitra's simple recipe for almond turmeric milk immediately caught my eye. The flavors reminded me of a liquid version of this saffron ice cream from years ago. This drink is not to be confused with a basic almond milk made from soaked almonds blended with water. Nope. There is more to this colorful almond turmeric drink than meets the eye!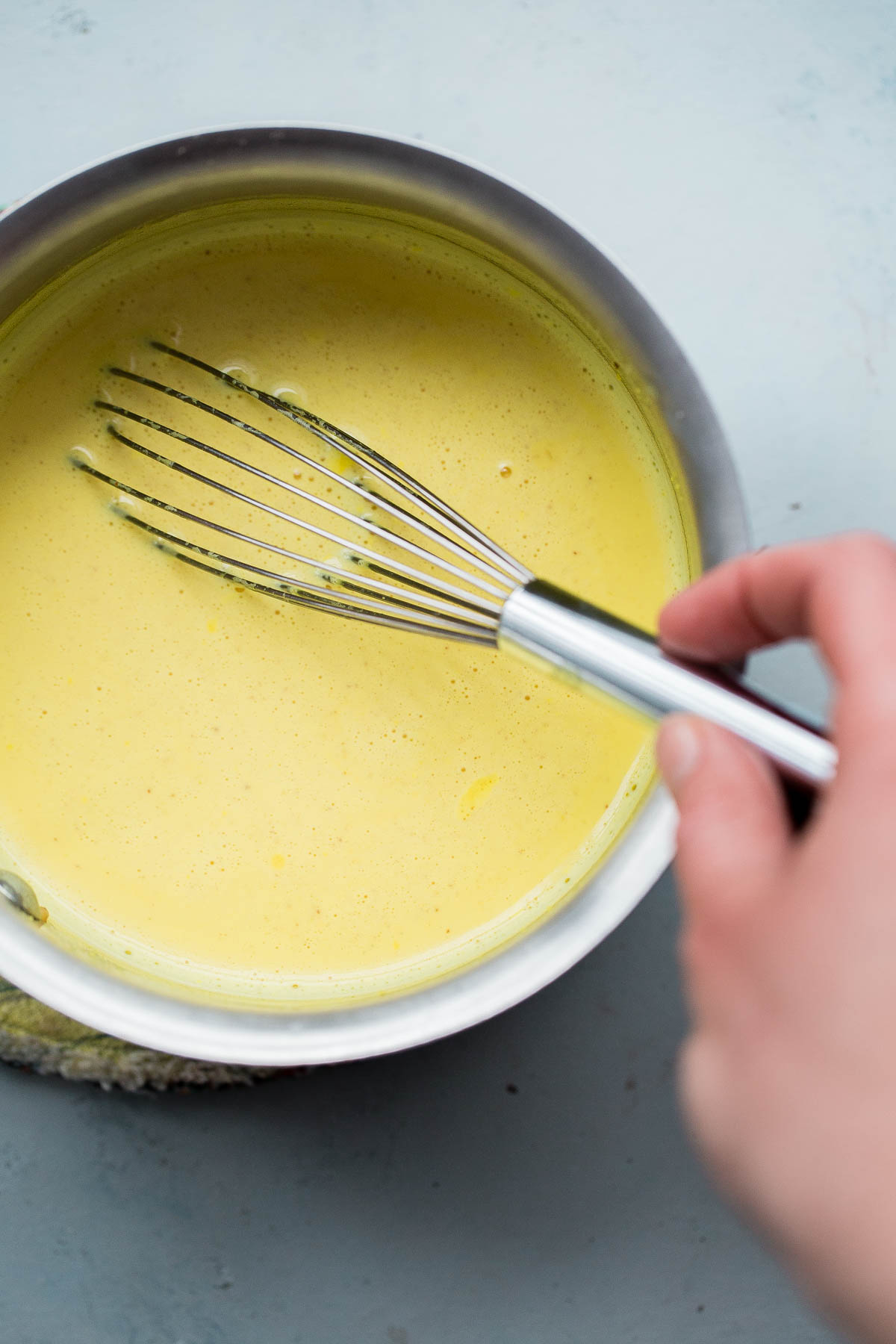 It is a very lightly sweetened drink (served warm or cold – Chitra prefers it warmed, as do I) made from low-fat or whole milk infused with homemade almond paste, saffron, turmeric, cardamom, and a touch of sugar. It is then finished with some crushed pistachios for color and texture.
The almond paste is incredibly easy to prepare. Just soak raw almonds in very hot boiling water for about 10 minutes, peel using your fingers, and blend with a touch of milk in a blender.
This drink is beyond comforting and flavorful! The saffron and cardamom are the star of this drink, and turmeric is a close second. I could literally drink this every morning or afternoon, and be a happy, happy girl. If you love cardamom and other warm spices, you will absolutely love this drink.
It will also make your kitchen smell fabulous.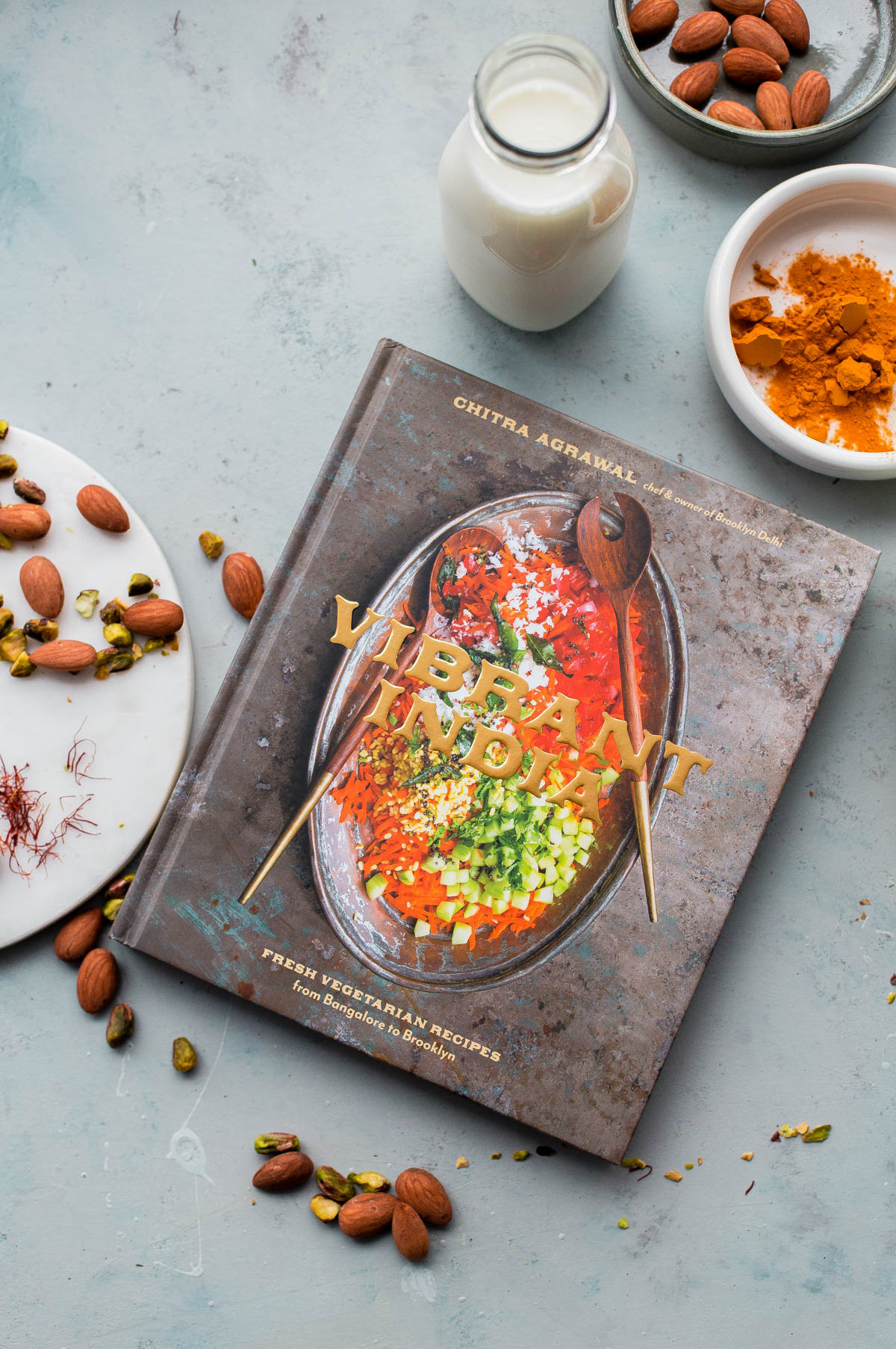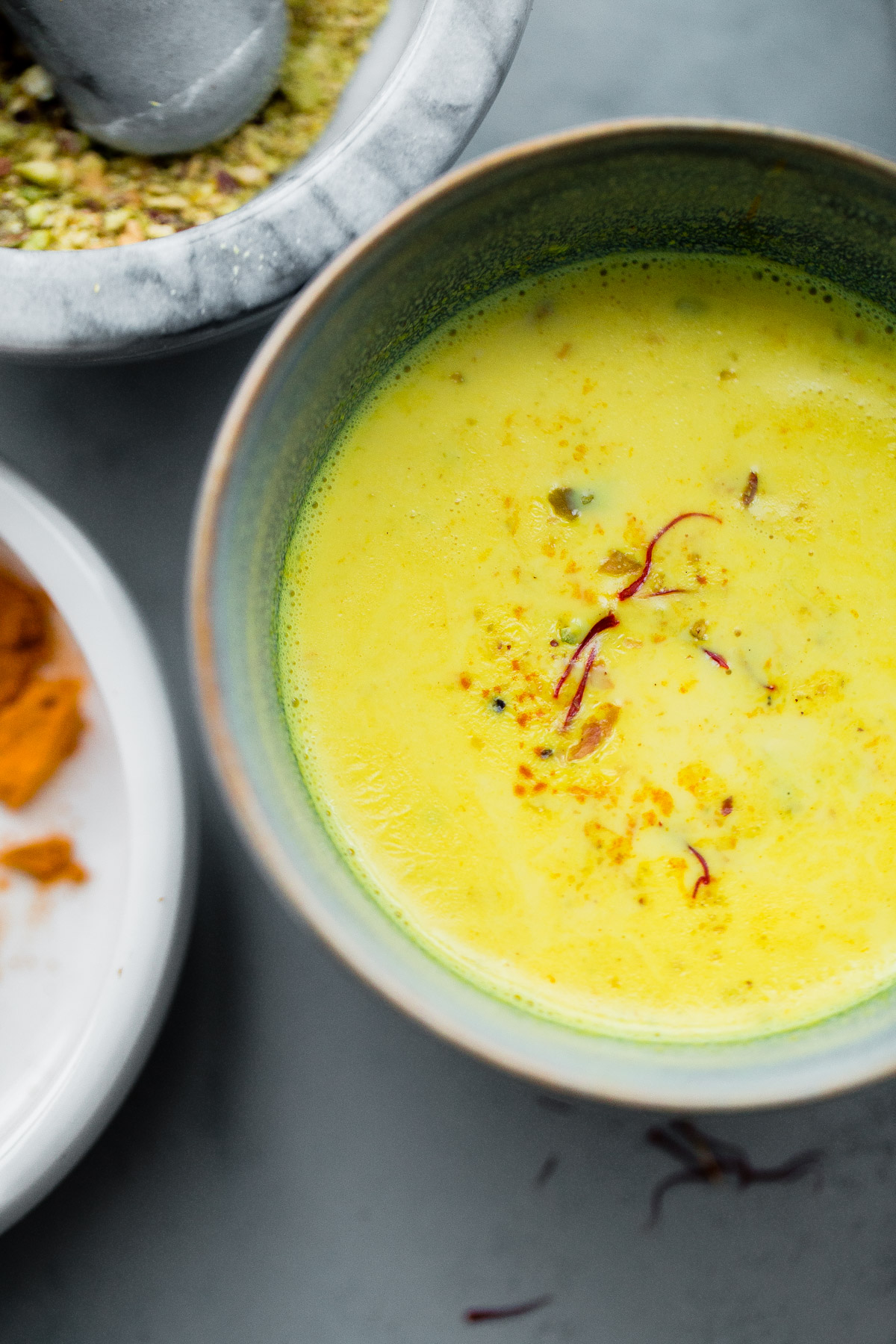 While the recipe does not mention this, you could easily make a dairy-free version of this by substituting the milk with a combination of unsweetened almond milk or coconut milk. In fact, I think a combination of the two would be excellent!
As you might notice in the pictures, the almond turmeric milk has a tendency to develop a thin skin (it does not affect the flavor at all, just whisk it back into the drink to incorporate) as it sits, so be sure to serve it right away.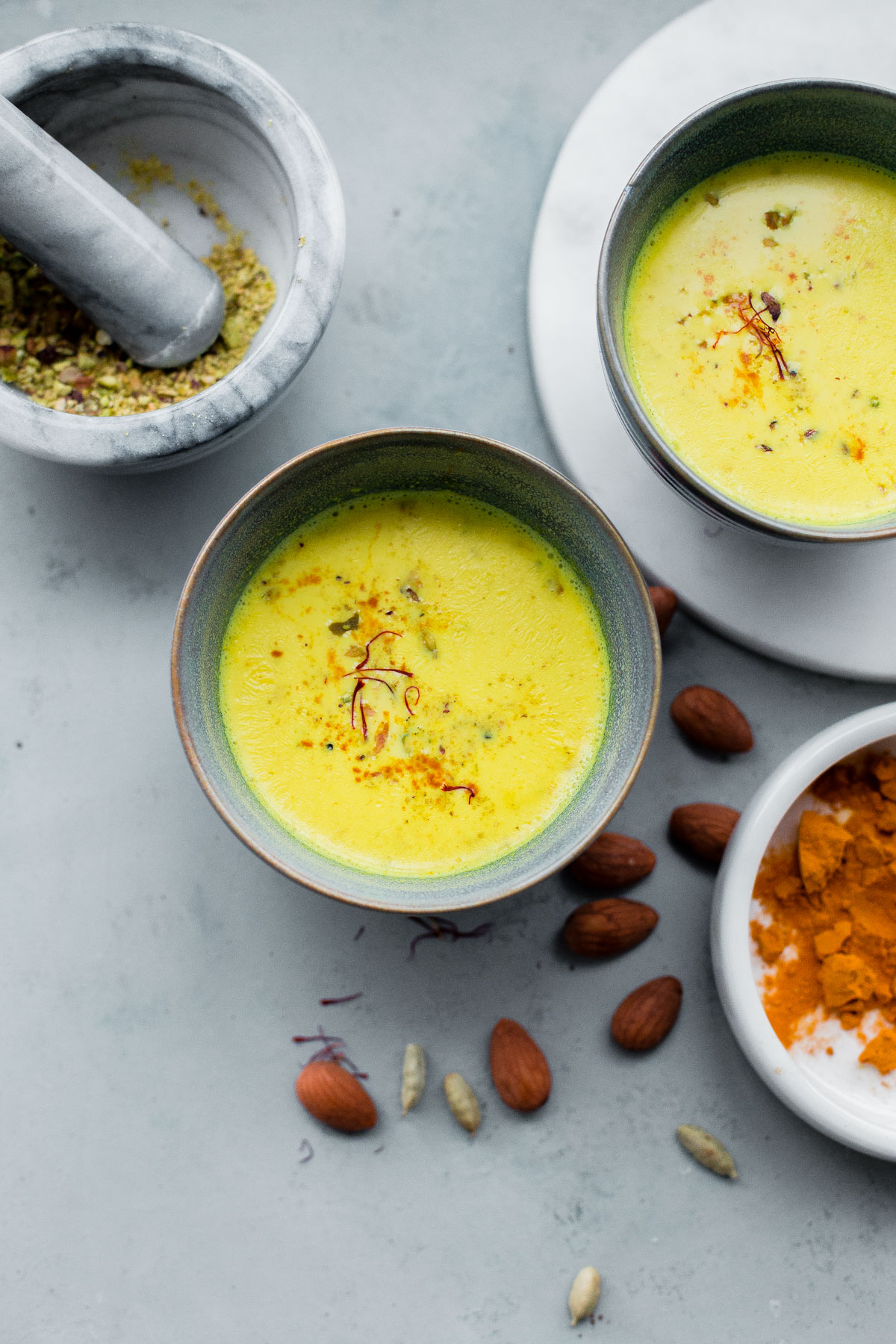 And be sure to check out Chitra's beautiful book (and blog). I can't wait to prepare more recipes from it!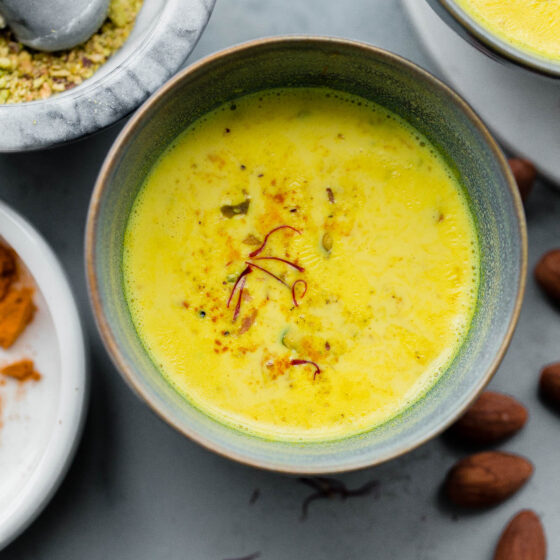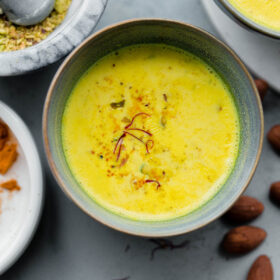 Turmeric Almond Milk
A lightly sweetened Indian turmeric almond drink made with raw almonds, milk, and infused with turmeric, saffron threads, and cardamom. See the note section for dairy-free substitution ideas.
Ingredients
20 raw whole almonds
2 cups (480 mL) low-fat or whole milk
½ teaspoon ground turmeric
¼ teaspoon ground cardamom
pinch saffron threads
2-3 teaspoons granulated sugar or to taste
crushed pistachios for garnishing
Instructions
Soak the almonds in very hot water for 10 to 15 minutes. Peel off the skins of the almonds. Place the almonds in a high-powered blender and grind to a powder. Blend the ground almonds with a couple tablespoons of the milk until you get a fine paste

Put the rest of the milk in a small saucepan over medium heat. When warm, add the almond paste, turmeric, cardamom, saffron, and sugar. Stir well. Simmer for 4 to 5 minutes, whisking continuously so no skin develops on the top. Taste and add more sugar if desired.

Serve warm or chilled, garnished with crushed pistachios.
Tips for Success:
To make this dairy-free, try a mixture of unsweetened coconut milk (stirred before using) and/or unsweetened almond milk.
Reprinted with permission from
Vibrant India
by Chitra Agrawal (Ten Speed Press; Spring 2017).
Serving: 1serving, Calories: 249kcal, Carbohydrates: 22g, Protein: 10g, Fat: 14g, Saturated Fat: 5g, Polyunsaturated Fat: 8g, Cholesterol: 24mg, Sodium: 107mg, Fiber: 2g, Sugar: 19g
This post contains affiliate links, which means that I make a small commission off items you purchase at no additional cost to you. Please read my
privacy policy
for more information.