Shiitake and Spinach Miso Soup
Simple and delicate shiitake and spinach miso soup from the beautiful The Love & Lemons Cookbook.
It's my favorite time of the year!
No, not spring. Although, technically I love that too. It would help if it would stop snowing in Chicago though. Connor and I got caught in a snow-freezing-rain-wind-tunnel this past weekend on the way back from the grocery store. It was fun. Ugh.
Anyway, back to the time of year thing. It is officially cookbook season! The time of year when lots of my internet friends are coming out with beautiful, inspiring, and positively stunning cookbooks. Last week, I shared a recipe from my friend Andie Mitchell's Eating in the Middle.
This week, I'm sharing a gorgeous, simple recipe from the The Love and Lemons Cookbook by Jeanine and Jack. I've been a fan of their blog for years and years, and I am so thrilled to share their brand new book with you today. I feel like I've been waiting to get my hands on a copy ever since they announced it years ago.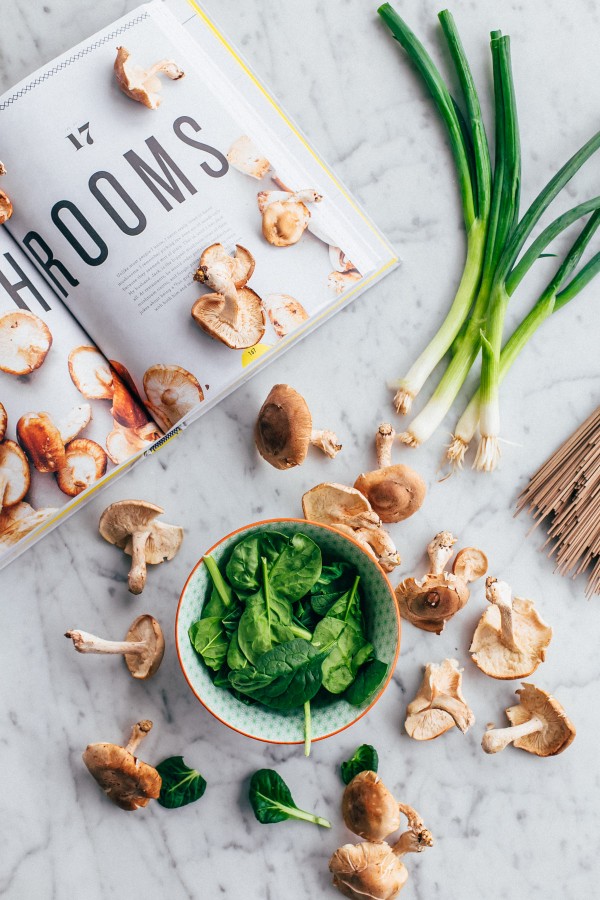 I've always loved, related, and admired their approach for cooking. Start with the highest quality local and seasonal ingredients you can get your hands on and work from there. This really does make all the difference.
The Love and Lemons Cookbook is organized by the same logic and I love that. It is, as the name suggests, an apple-to-zucchini celebration of impromptu cooking. Technically, all of the recipes are vegetarian (every recipe includes a tip for making things gluten-free and vegan too!).
While I'm not a vegetarian by any means, as many of you know – I cook a lot of plant-based meals. I just love to cook this way. Either way, this cookbook deserves a spot in all kitchens!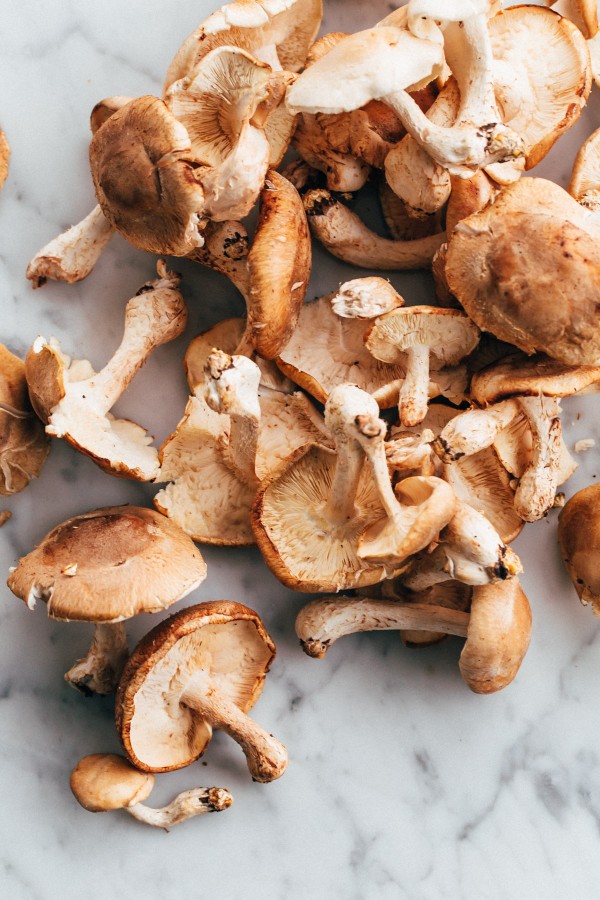 Instead of organizing the book by meal, the cookbook is organized by vegetable. There is a chapter for practically every vegetable: artichokes, cabbage and chicories, cucumber, herbs, peppers, root vegetables, and winter squash.
I love this concept, because it allows you to gain meal inspiration for ingredients that you already have on hand (have a head of cauliflower in your fridge, turn to the cauliflower chapter!).
Or simply, buy an ingredient and work backward. This is especially relevant and helpful if you enjoy buying produce at farmer's markets. Jeanine and Jack provide lots of tips and guides for improptu cooking throughout the book.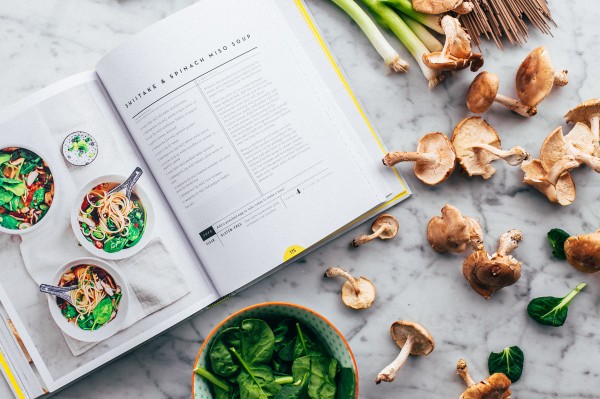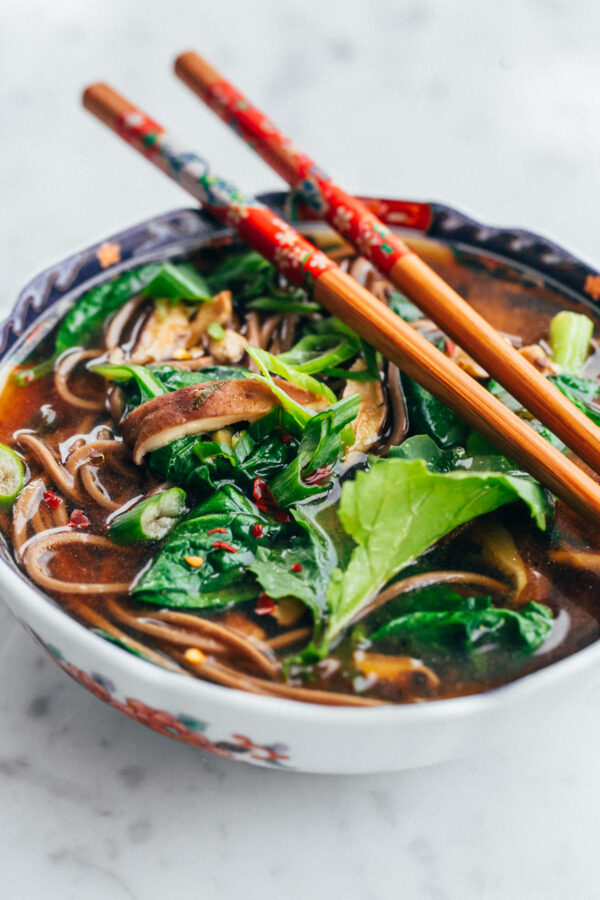 Oh, and it's worth stating that the cookbook itself is just stunning. The photographs, the design, typography, everything!
One of my goals this year is to buy more of our day-to-day ingredients at farmer's markets in Chicago. I love to support local farmers and gain a ton of recipe (and life) inspiration from them.
Food blogging makes this more difficult, because I (generally) have a set plan when it comes to recipe concepts. I also need access to ingredients easily and reliably to test recipes over and over again.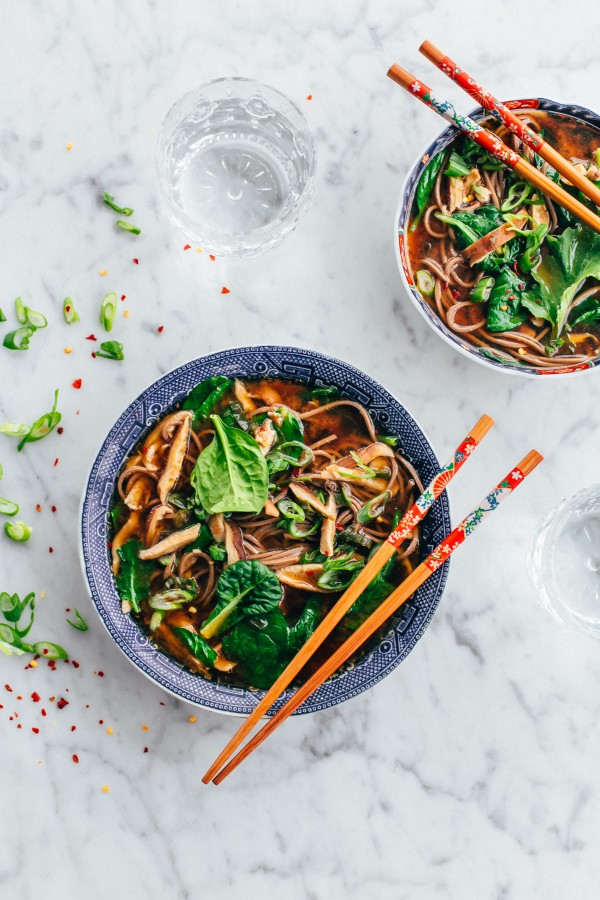 But if you're looking to become a more intuitive cook (don't forget to read these books while you're at it!), farmer's markets are a great place to start doing this. You're sort of forced into it.
As any of you farmer's market fans know, hyper-focused shopping lists and farmer's markets don't really mix. The last thing you want to do is get distracted or discouraged by your search for ____ and ignore that incredible fresh basil or summer squash staring at you from the next stall.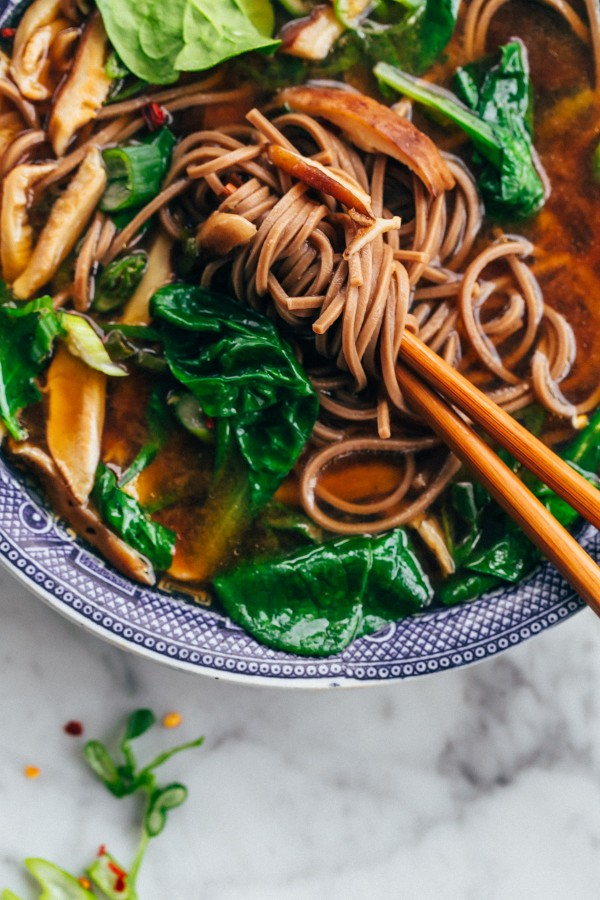 Today's recipe for Shiitake and Spinach Miso Soup is a great example of cooking backward. I happened to have a bunch of shiitake mushrooms sitting in my fridge (yes, really, the stars aligned!).
I love, love, love mushrooms – so it only felt natural to end up having to turn to the mushroom chapter in the cookbook.
My produce drawer contained scallions, there was a container of soba noodles in my pantry, a tub of miso paste in my fridge (*see the note section of the recipe for more info!), and a container of fresh spinach waiting to be used.
Most of the other ingredients (tamari, rice vinegar, red pepper flakes, garlic, sesame oil) are basic pantry staples that I keep on hand all the time.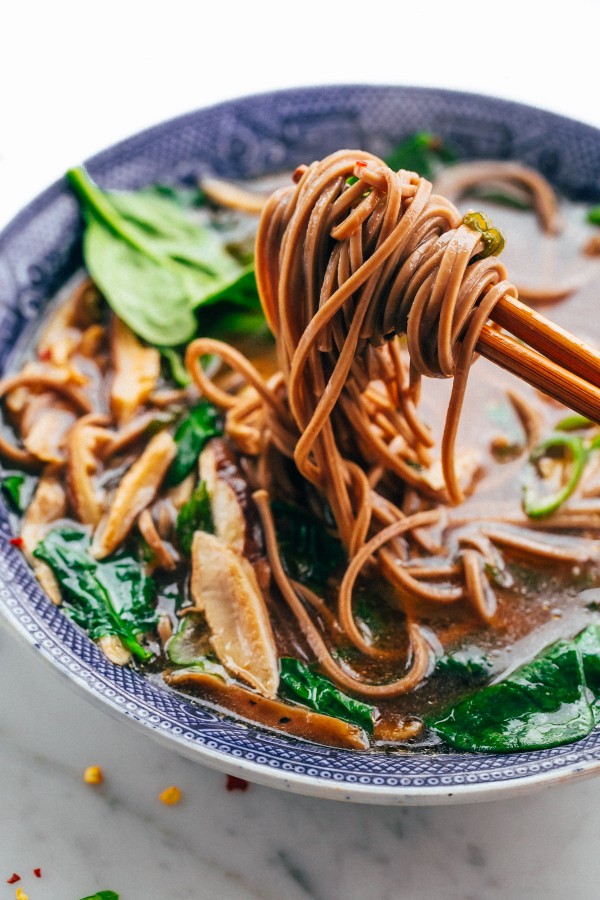 This soup is delicate, yet filling enough to serve as a complete meal (as Jeanine suggests, you could add cubed tofu or a poached egg to make it a meal – or even shredded chicken, edamame, etc!).
Miso soup is one of my favorite dishes, because it is so inherently simple and really lends itself to tons of different variations. Feel free to improvise by adding other greens, different mushrooms, or other seasonings to make it your own!
Also, be sure to get your hands on Jeanine and Jack's cookbook – you will absolutely love it!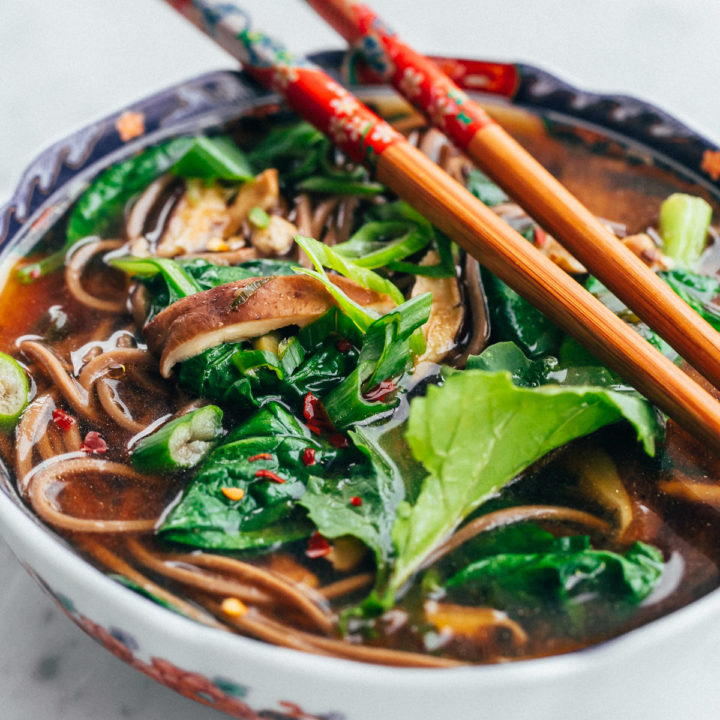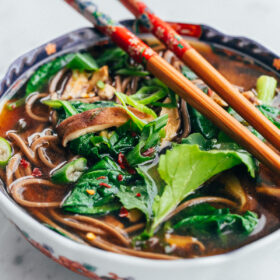 Shiitake and Spinach Miso Soup
This shiitake and spinach miso soup is delicate, yet filling enough to serve as a complete meal! Add cubed tofu or a poached egg to make it a meal – or even shredded chicken or edamame.
Ingredients
8 ounces shiitake mushrooms stems discarded and caps sliced
1 tablespoon (15 mL) extra virgin olive oil
⅓ cup finely chopped scallions 3-4 scallions roughly
2 garlic cloves minced
2 teaspoons grated ginger
5 cups (1.25 L) water
3 tablespoons white miso paste see notes
4 ounces soba noodles
2 cups (2 oz) roughly packed baby spinach
1 tablespoon tamari or soy sauce plus more to taste
½ teaspoon toasted sesame oil plus more for drizzling
1 tablespoon rice vinegar
¼ teaspoon dried red pepper flakes
Instructions
Prepare the mushrooms by remove the stems and cleaning with a damp cloth or paper towel. Then slice the mushrooms.

Heat the olive oil in a large saucepan over medium heat. Add the mushrooms and a few pinches of salt and stir. Let the mushrooms cook until soft, about 5 minutes, stirring only occasionally. Add the scallions, garlic, and ginger, and cook 1 more minute. Add the water and bring to a low simmer. Scoop some of the simmer water into a small bowl and add the miso paste, stirring until it dissolves, then add it back into the soup pot. Simmer over low heat for 15 minutes.

Bring a medium pot of water to a boil. Prepare the noodles according to the instructions on the package (*I prefer to cook them fairly al dente, because they will be going into the hot soup). Drain the noodles and add them to the soup pot, followed by the spinach, tamari (or soy sauce, if using), sesame oil, rice vinegar, and red pepper flakes. Stir until the spinach is wilted. Season to taste with tamarin and a drizzle of toasted sesame oil.
Tips for Success:
Add a poached egg or tofu cubes to make this soup more substantial and hearty.
To make gluten free: Use 100% buckwheat soba or brown rice noodles.
Miso paste can be found in the refrigerated section of your grocery store, usually alongside tofu and other Asian ingredients. It comes in three different varieties: white, yellow, and red miso.
White miso is the most delicate, as it is fermented for less time and red miso is the strongest and saltiest miso paste available, as it is fermented for the longest time. Yellow and red miso will work in this soup (white is more ideal, but yellow/red is still OK – I actually used red because I had it on hand!), but you will want to reduce the quantity and adjust by taste to ensure you don't overwhelm the rest of the soup's ingredients.
Reprinted from The Love & Lemons Cookbook by arrangement with Avery Books, a member of Penguin Group (USA) LLC, A Penguin Random House Company. Copyright © 2016, Jeanine Donofrio. Photographs copyright © 2016 by Jeanine Donofrio and Jack Mathews
Serving: 1serving, Calories: 358kcal, Carbohydrates: 54g, Protein: 16g, Fat: 11g, Saturated Fat: 2g, Polyunsaturated Fat: 8g, Sodium: 2278mg, Fiber: 7g, Sugar: 6g
This post contains affiliate links, which means that I make a small commission off items you purchase at no additional cost to you. Please read my
privacy policy
for more information.