Gnocchi Alla Romana (Semolina Gnocchi)
Gnocchi Alla Romana (semolina gnocchi) made with semolina flour, parmesan cheese, milk, and butter. A delicious, cheesy, and traditional Italian side dish!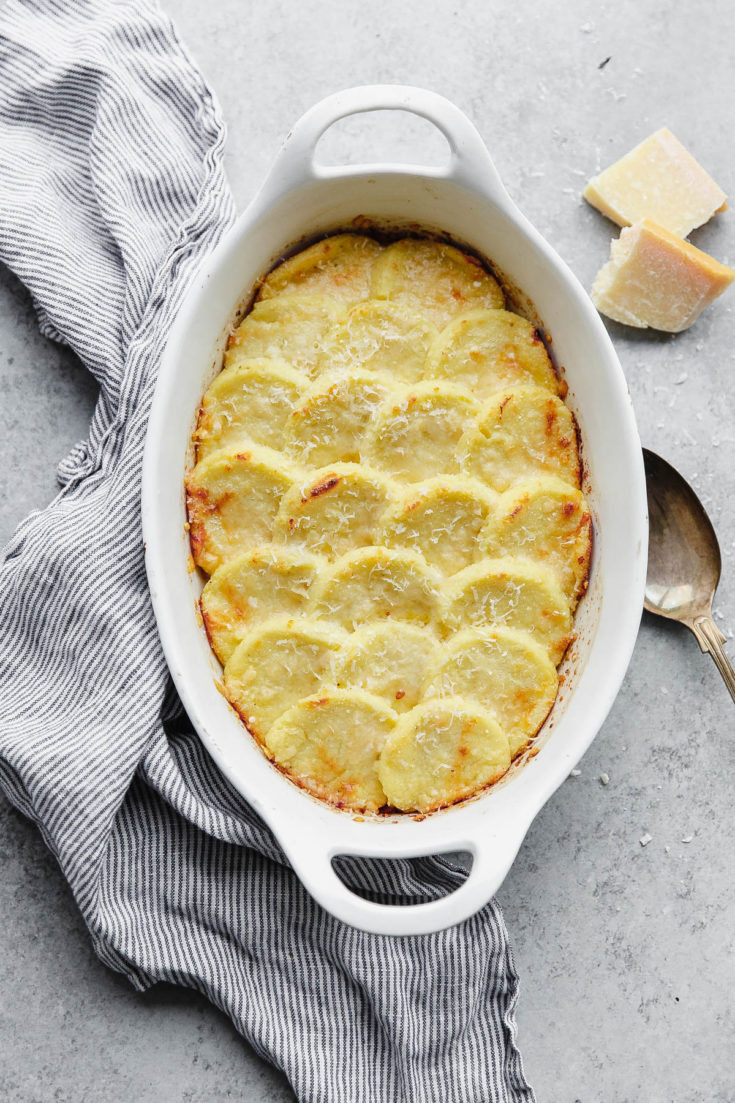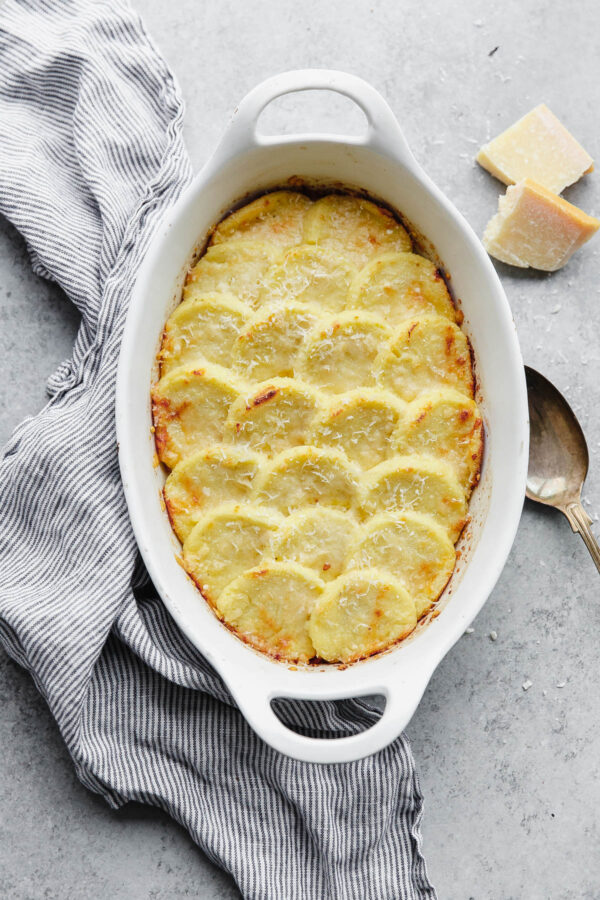 GNOCCHI ALLA ROMANA
If there is ever a reason to break out the stretchy pants, let this gnocchi alla romana be the culprit. This is serious Italian comfort food. Just look at all of that glorious cheesy goodness!
And since my laptop mysteriously stopped working yesterday, I'm in need of as much as comfort food as I can get my hands on at the moment. This recipe has been in my family for generations. It was one of my grandmother's favorite dishes and my mom carried on the tradition for us. Best of all, gnocchi alla romana is relatively foolproof and easy to prepare, but does require arm muscle and inactive cooking time.
Don't let the name fool you. As you can probably tell from the photos, this isn't your typical homemade gnocchi made with ricotta cheese or cooked potato. Gnocchi alla romana is actually baked semolina and the technique used to make it is very different.
Let's break out the semolina flour, milk, butter, and parmigiano reggiano cheese and start cooking!


What Is Gnocchi Alla Romana?
To give you a little background on the dish, gnocchi alla romana (sometimes referred to as semolina gnocchi) is made with semolina flour. Semolina flour can be found in most grocery stores and can also be purchased online (affiliate link).
Semolina is the coarse grind of durum wheat (#1), a high-protein wheat variety that is used in traditional pasta making and other preparations.
Any leftover semolina flour from this recipe can be used to make homemade pasta dough. Semolina's high-protein properties provide pasta dough with strength, structure, and that signature al dente chewiness. It produces a heartier texture than can be achieved through all-purpose flour. Read more about the properties of wheat flour varieties and how to use them here.
Gnocchi alla romana has a slightly crispy outside and soft, buttery, cheesy texture in the inside. The semolina rounds hold their shape, but almost melt into each other. It is classic and elegant stick-to-your-ribs Italian comfort food.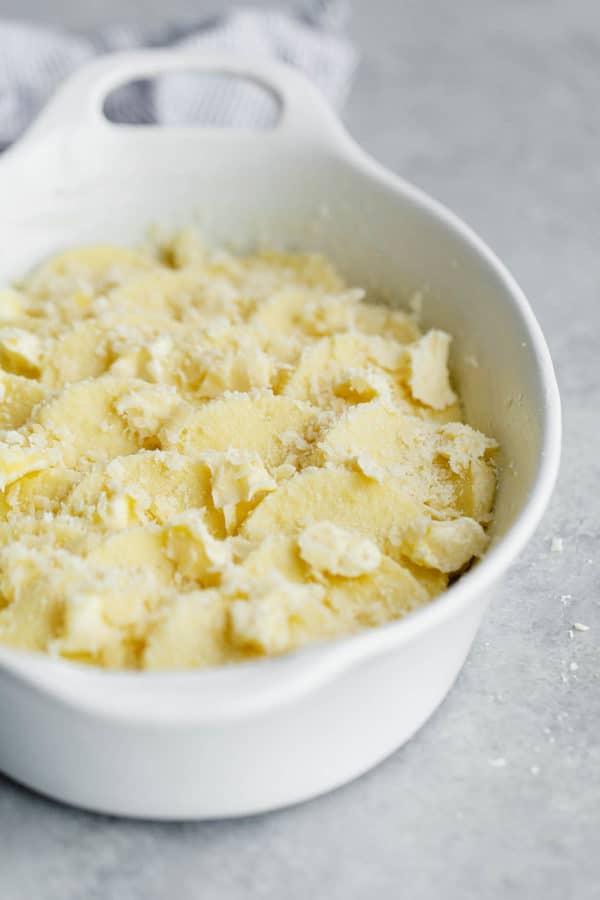 How to Make Gnocchi Alla Romana:
If you've ever prepared traditional soft polenta, the cooking method for gnocchi alla romana is very similar to that process. We'll be heating milk (I use 2%, but whole milk also works!) just short of a boil in a large saucepan and then slowly pouring in the semolina flour.
This mixture cooks over low heat for approximately 15 to 20 minutes or until the mixture becomes very thick and just starts to pull away from the sides of the pan.
The active cooking on the stovetop requires an arm workout – you'll be stirring vigorously the entire time – but it is absolutely worth the effort. About halfway through the process, you might start cursing me a bit.
If you have a family member around, this is a great time to enlist stirring help or work in shifts. I like to think of it as an excuse to eat another serving!


Once the semolina cooks and forms a thick, dough-like mass, we'll be stirring in butter, salt, lots of grated parmigiano cheese (please use the good stuff for this recipe!), freshly grated nutmeg, and lastly two large egg yolks.
The protein and fat in the egg yolks provides the semolina gnocchi with additional structure and lends the final baked dish a rich, custard-like flavor.
The semolina mixture is spread into a thin layer on a half sheet pan, allowed to cool, and is cut into rounds using biscuit cutters. These semolina rounds are overlapped, layered, and placed in a greased baking dish, topped with more cheese and butter (yes, please), and popped into the oven until golden brown and bubbling. It's the stuff of dreams.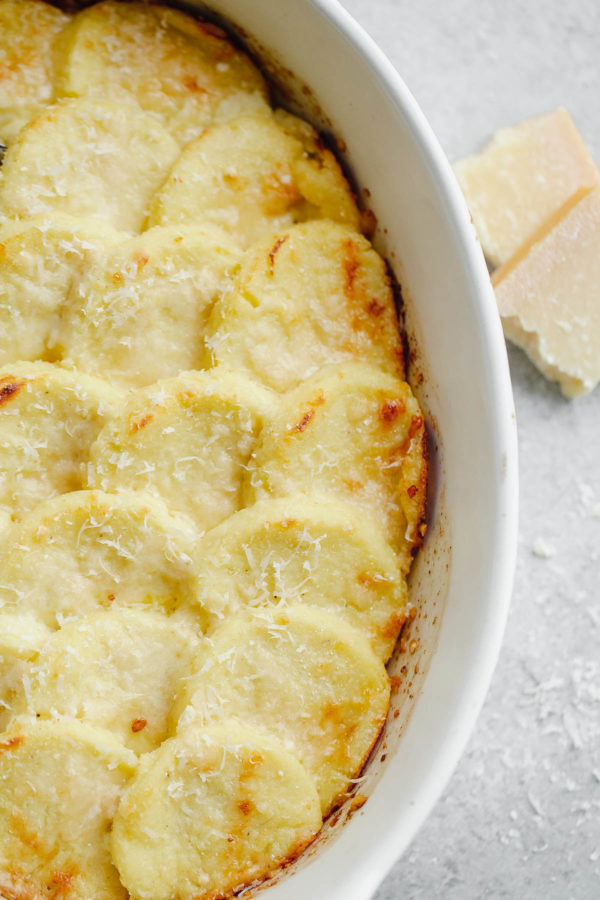 While you could certainly serve the gnocchi alla romana on it's own, I like to serve it with warm tomato sauce, vegetables or salad (tossed with a simple lemon vinaigrette to help cut the richness). It can also be a side dish to traditional proteins. Italians wouldn't approve of any seafood pairing, but you do you.
Tools and Ingredients Used In This Recipe:
This list includes affiliate links.
Please refer to the 'tips for success' notes in the recipe box below on ways to prep and make this ahead. Enjoy!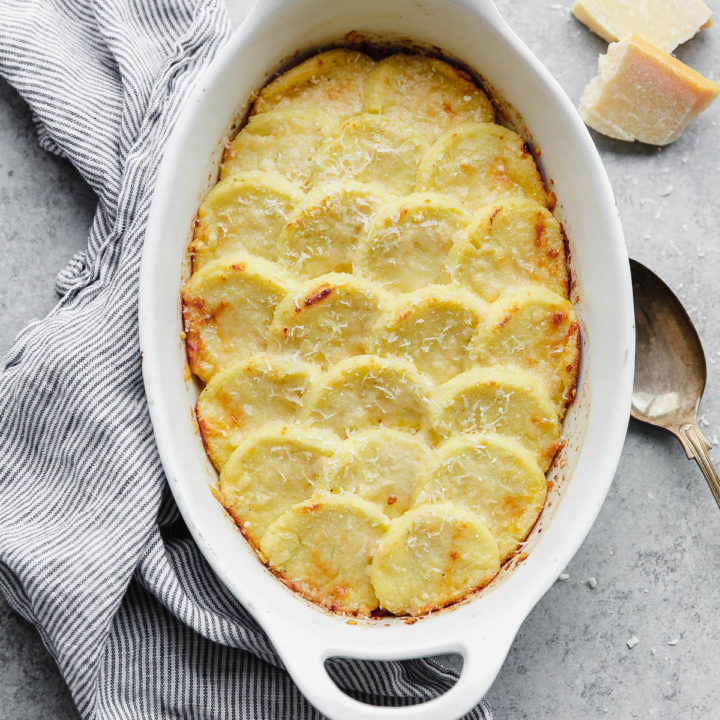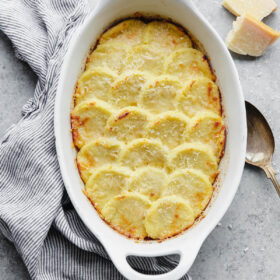 Gnocchi Alla Romana (Semolina Gnocchi)
Gnocchi Alla Romana made with semolina flour, parmesan cheese, milk, and butter. A delicious, cheesy, and traditional Italian side dish that is prepared on the stovetop and finished in the oven. Don't let the long preparation time in this recipe scare you away - it includes a 45-minute cooling time. Serve with warm homemade tomato sauce, roasted vegetables, or as a side dish with traditional proteins. 
Ingredients
1 quart (4 cups) whole or 2% milk
1 heaping cup (175 g) semolina flour not the fast-cooking variety
1 teaspoon Diamond Crystal kosher salt plus more as desired
4 tablespoons (60 g) unsalted butter divided, plus more for greasing
1 heaping cup (3½ oz) freshly grated Parmigiano-Reggiano cheese
large pinch freshly grated nutmeg
freshly cracked black pepper to taste
2 large egg yolks
Instructions
Heat the milk in a large saucepan over medium-high heat until tiny bubbles start to form around the edges of the pan and the liquid is just short of boiling.

Reduce the heat to low and slowly add the semolina flour in a thin steady stream with one hand as you stir the mixture steadily with a large stiff whisk. Cook the mixture for roughly 15 to 20 minutes total, or until it becomes very thick and begins to pull away from the sides of the pan. It will be very loose for the first few minutes and will thicken to the consistency of a loose pudding within about 5 minutes. Once the mixture is thick enough that it becomes difficult to continue whisking, switch to a wooden spoon. Continue stirring with a wooden spoon, scraping the sides of the pan as well, until the mixture begins to form a loose-ish mass and begins to pull away from the sides (approximately 15 to 20 minutes of total cook time ). Remove from the heat. Allow the mixture to cool for a minute or two.

Stir in ⅔ of the grated parmesan cheeses, 2 tablespoons (30 g) unsalted butter, freshly grated nutmeg, and kosher salt. Season to taste, adding more salt and freshly ground black pepper as needed. Once the mixture has cooled just slightly, add the egg yolks and mix rapidly with a wooden spoon until fully incorporated.

Moisten a half sheet pan with cold water over a sink and allow the excess water to drip off the pan. Spoon the hot semolina mixture onto the moistened sheet pan, spreading it with an offset spatula into an even layer until it is just under ½-inch thick. Let cool for 30 to 40 minutes.

Preheat the oven to 425°F (220°C) with a rack in the center position. Grease the bottom and sides of an oven-safe baking dish (roughly 2 quarts in capacity) with unsalted butter. Using a small biscuit cutter (roughly 2½-inch in diameter), cut the semolina into disks, dipping the biscuit cutter into water between each cut to prevent sticking. Transfer and layer the semolina rounds into the greased baking dish, overlapping the slices slightly, so that each row resembles roof shingles. Top with the polenta with the remaining 2 tablespoons (30 g) butter, cut into small cubes. Sprinkle the dish with the remaining grated cheese. Make Ahead Tip: Gnocchi alla romana can be prepped ahead to this stage and stored, covered with plastic wrap, in the refrigerator for up to 2 days.

Bake uncovered for 15 to 20 minutes or until a light golden crust is formed. Allow to cool for a few minutes before serving.
Tips for Success:
This dish can be cooked and prepped ahead of baking. Follow steps 1 through 5, cover dish with plastic wrap, and store in the refrigerator for up to 2 days. Follow baking instructions, adding additional time as necessary.
Use any leftover semolina flour to make homemade pasta!
Serving: 1serving, Calories: 371kcal, Carbohydrates: 31g, Protein: 16g, Fat: 20g, Saturated Fat: 11g, Polyunsaturated Fat: 7g, Cholesterol: 144mg, Sodium: 750mg, Fiber: 1g, Sugar: 8g
This post contains affiliate links, which means that I make a small commission off items you purchase at no additional cost to you. Please read my
privacy policy
for more information.