Hope everyone had a fun Mother's Day yesterday!  After debating whether or not to treat my mom by going out for brunch, I decided that it might be more fun to stay at home and have an excuse to get in the kitchen and make some treats…
And by treats, I mean, recipes that involved a nice dose of creamy and butter.  My favorite!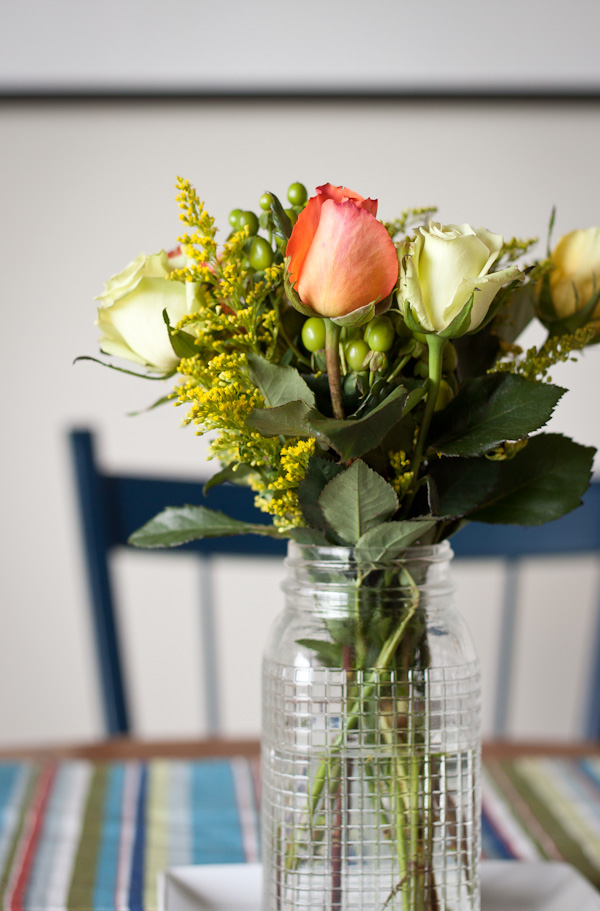 It also gave me an excuse to go out and buy some fresh flowers–which almost never happens.  I'm that person that literally stands in front of the $3.99 flower bouquets at Trader Joe's for several minutes during every shopping trip and walks away empty-handed every.time.
The highlight of yesterday's brunch were definitely these scones!  In the midst of planning, my sister sent me this recipe with the note, "these look right up mom's alley!".   They did not disappoint–and I'm sure they will be made many times in the future.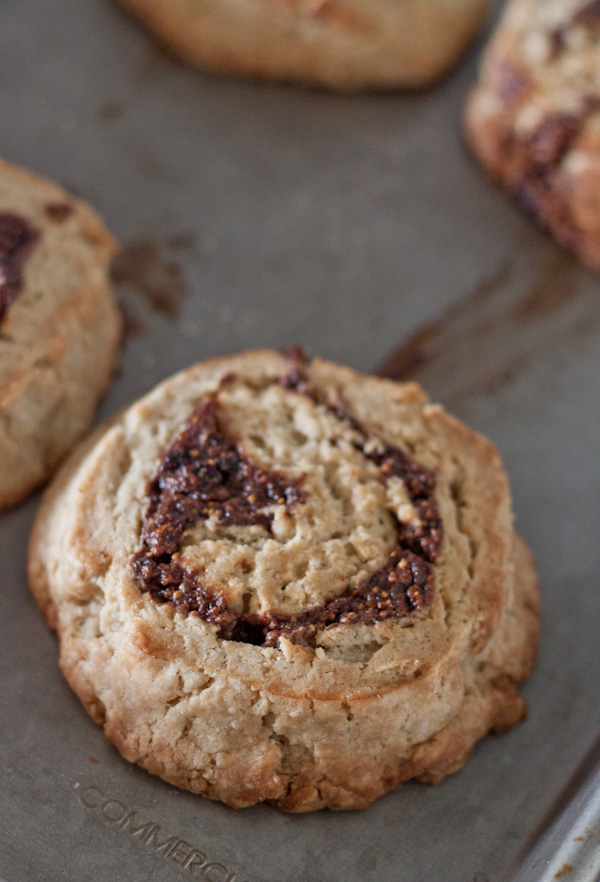 These Figgy Buckwheat Scones–a creation of Kim Boyce–(and discovered through 101 Cookbooks)–were incredibly light, crumby, and flavored with homemade fig jam–which is slathered on the scone dough and rolled up, similarly to cinnamon buns, to create beautiful rings of jam throughout the scone.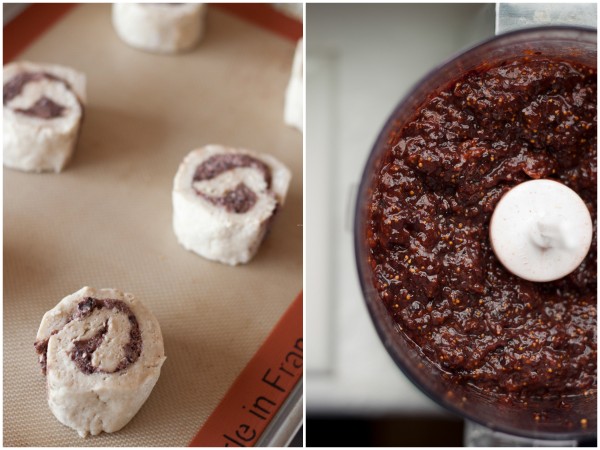 The jam is a reduction of syrup-turned-light caramel, to which you add lots of port and red wine, dried black mission figs, star anise, nutmeg, and cinnamon, and allow to reduce down over a low simmer.  This then gets processed in a food processor until it is nice and smooth, at which point you add a small amount of butter, which really takes it over the top.
(Recipe Notes: I used freshly ground buckwheat flour, ground nutmeg, about double the port quantity (and half the wine–simply because that is what I had on hand), and scaled everything to the gram.  My dough only rolled out to a 8 x 12 inch rectangle (with the proper thickness)–which yielded 10 scones).
Even if you don't feel like making scones, the jam alone is worth the effort!  I'm planning on slathering the leftovers on lots of things.  I prepped the jam and dough on Saturday and simply popped them into the oven on Sunday morning.  Worked perfectly!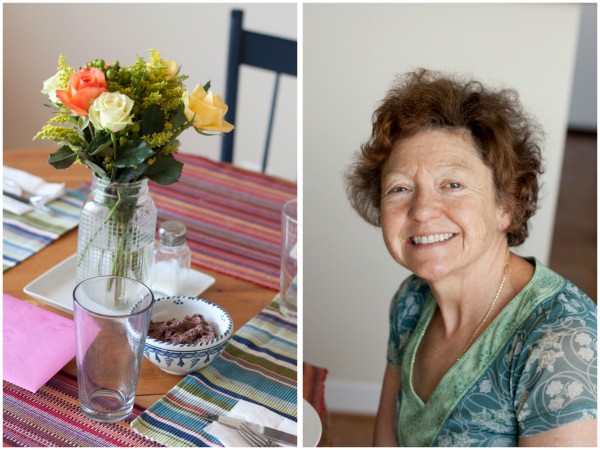 To serve along side the scones, I opted for a savory egg dish.  Eggs are a tricky thing to serve to a bunch of people (unless you go scrambled).  After toying with the making either a frittata or quiche, I decided to try these aptly named "Company Eggs" from a recent issue of Bon Appetit magazine.
Though you can prep the greens up to a day ahead, I decided to do it the morning of–and avoid the whole reheating process–and it didn't take long.  The first step involves sauteing thinly sliced onion, garlic, and lots of fresh swiss chard.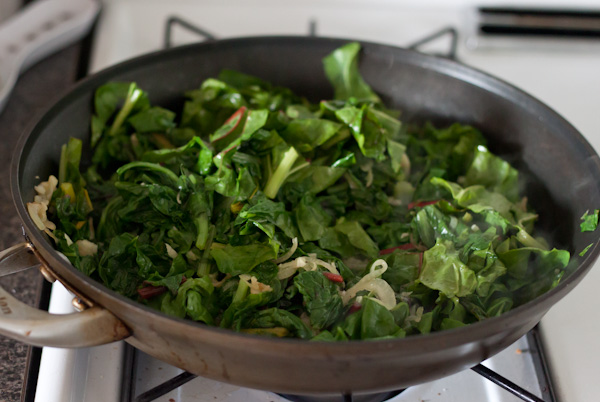 I ended up grabbing a few large bunches of rainbow chard from the farmer's market on Saturday, which were very fresh and tender!   If you plan on making this recipe, definitely get about 1.5-2 times the amount of swiss chard that you think you will need…
Just after wilting the chard, you add a nice dose of heavy cream and allow it to reduce almost completely.  To add some brightness, I also added a touch of lemon zest as well!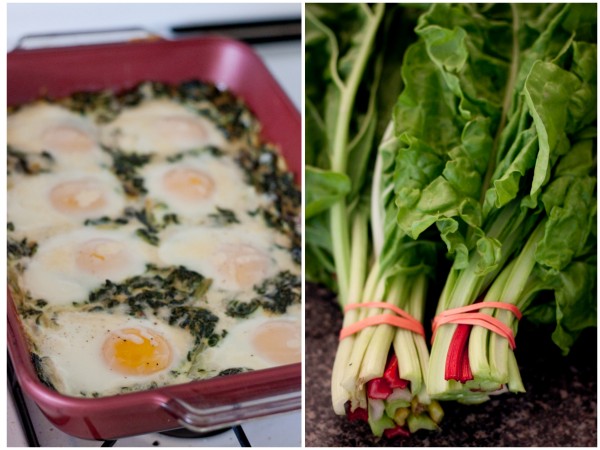 After spreading out the sauteed chard on the bottom of a baking dish (which doesn't amount to a lot, but don't fret, the eggs bulk it up)–you create little wells to which you add your eggs and a modest sprinkling of sharp cheddar cheese. I ended up cooking eight eggs (two per person) total.
This all pops into a 400 degree oven to bake for about 15-18 minutes until the whites are just set.  The yolks aren't runny, like a normal fried egg, but are very soft and pillow-y.  We all really enjoyed it!  The cream definitely added a little something to the final dish–don't skip it.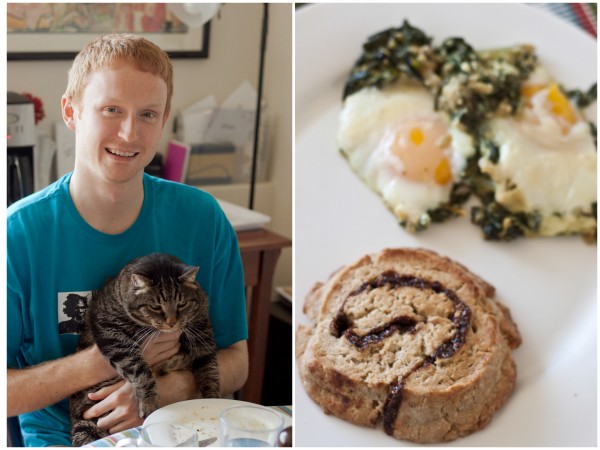 On the side, I tossed together some fresh berries–which included the first batch of farmer's market strawberries this season.  They were small, flavorful, and juicy.  We ate them all!
Scones, berries, eggs, lots of coffee refills, and ridiculous cat behavior made for a fun morning.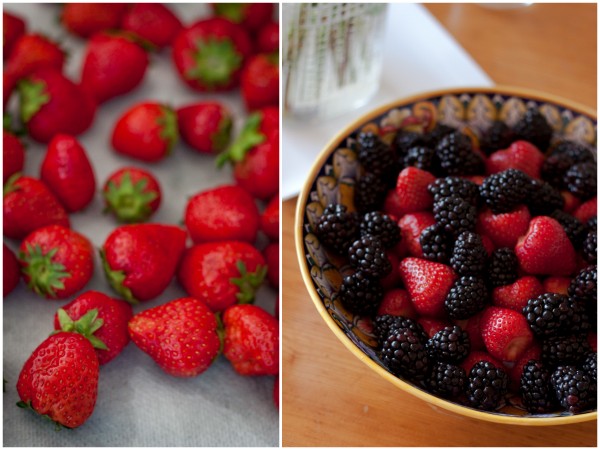 Overall, it ended up being a really fun Mothers' Day brunch!   And great way to treat my mom for all that she has done for us over the years.  After all, my sisters and I are quite the opinionated bunch and she puts up with quite a lot from us (right, mom?), so it is the least I can do.
Hope you all had a wonderful weekend!