Stuffed Portobello Mushrooms with Crispy Goat Cheese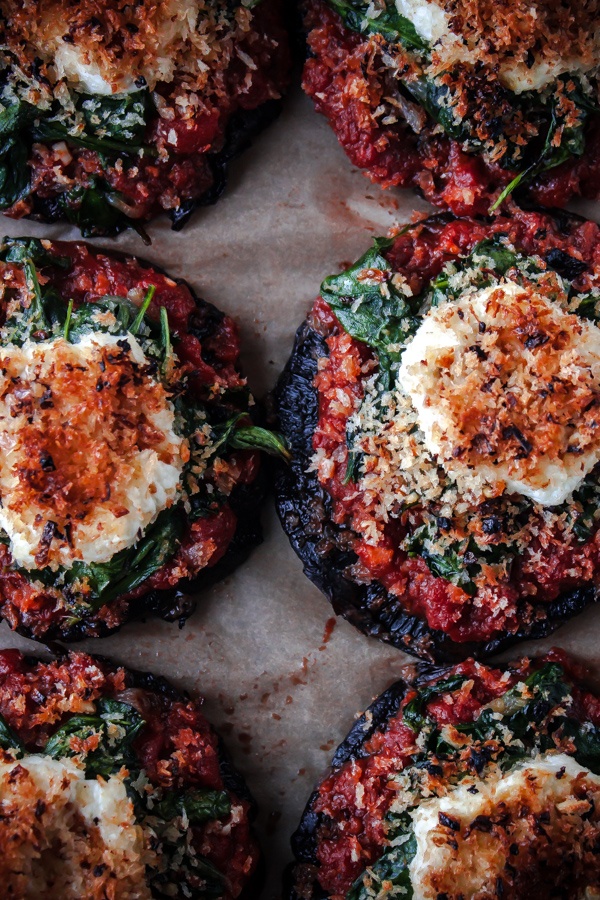 These past few weeks have been nuts. N-U-T-S.
I promise I will talk about these delicious stuffed portobello mushrooms in just a second, but I can't help and share a little bit of what is going on in my world right now, because well…this blog is a reflection of all of it.
The good, bad, and the ugly.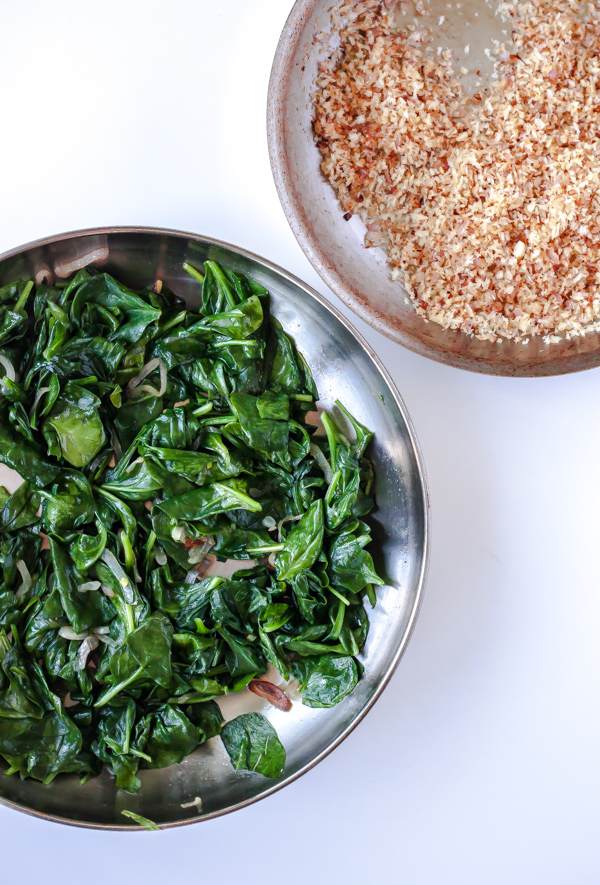 Remember when I told you a few weeks ago that we were getting our engagement photos taken?
Well…that never happened. My life revolves around 10-day weather forecasts and precipitation percentages. The universe is either playing a really cruel joke on us or having major issues. It needs to get its act together.
Next Tuesday will be attempt number five.
I also decided (after three months of procrastination) to go full-force into wedding dress shopping, which means that I've gone to three different salons within the span of seven days.
We are in the throes of planning our honeymoon–which is about a million times more fun than the wedding planning part. And Connor will be living in three different cities for three out of the next four months.
So there's that.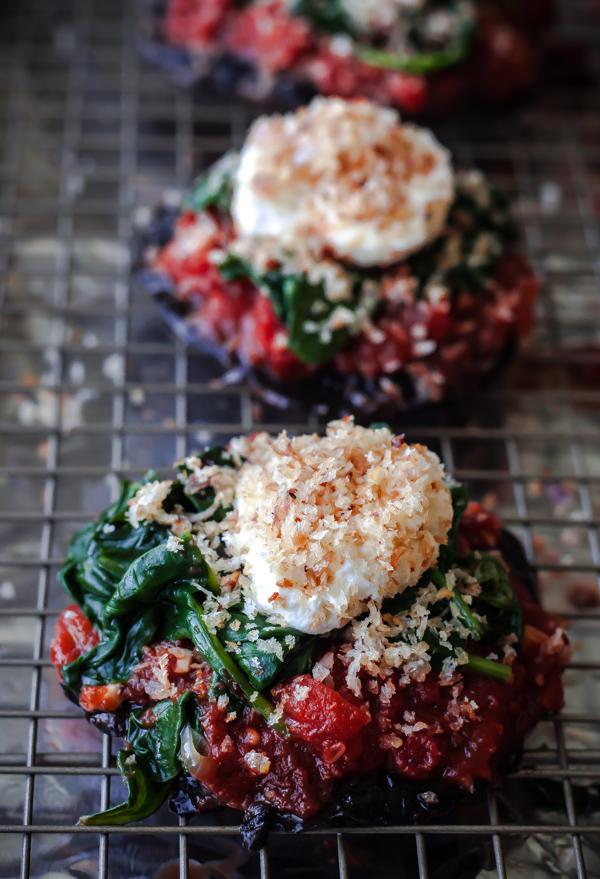 My brain literally feels like a pile of mush right now. For that reason, I'm really hoping these pictures do most of the talking for this dish…if you know what I mean.
Because if you asked me to describe these stuffed portobello mushrooms right now, I would be tempted to respond in grunts and caveman responses like, "this.good" or "ooh.goat.cheese." And let's be honest, even though both of those statements are true, I think you will disappear for good if I do.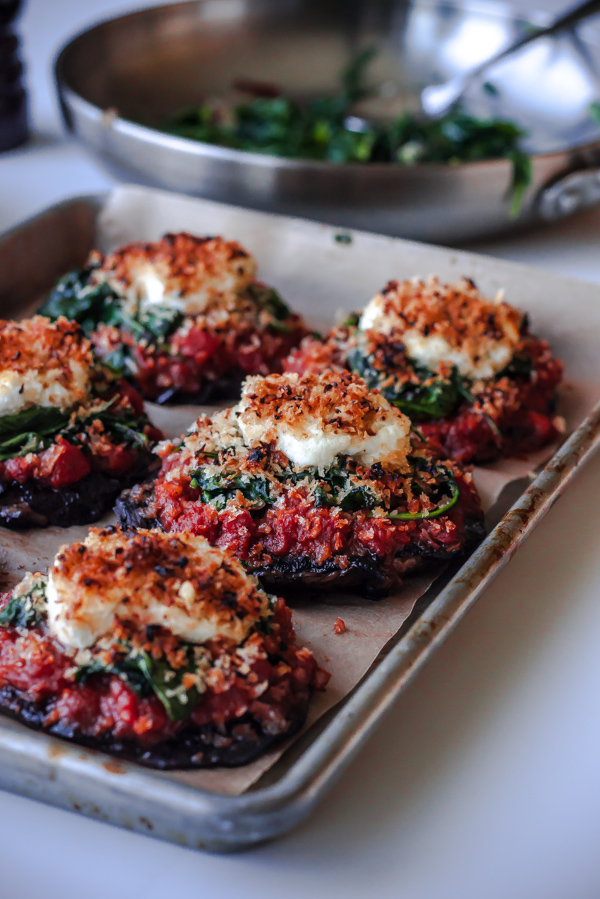 The portobellos are lightly grilled and topped with a chunky homemade tomato sauce, sautéed spinach and shallot mixture, soft goat cheese, and topped with a hefty spoonful of crispy panko breadcrumb topping. The trick to the crispy topping is to lightly sauté the panko breadcrumbs with melted butter, finely chopped shallots, and garlic.
I could eat that stuff with a spoon!
With that being said, these portobello mushrooms are my kind of dinner. They are hearty enough to be served on their own with a simple salad or grain (such as quinoa or pasta!), or as a side dish. You could also serve them as a really messy, but amazing open-faced burger.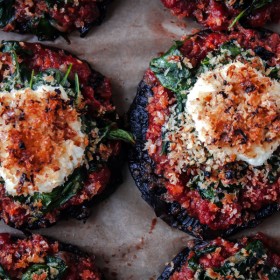 Stuffed Portobello Mushrooms with Crispy Goat Cheese
Ingredients:
Homemade Tomato Sauce:
1 tablespoon olive oil
5 cloves garlic, finely minced
2 dried bay leaves
1 tablespoon dried oregano
2 tablespoons tomato paste
1 (28-ounce) can chopped plum tomatoes
Sautéed Spinach:
1 tablespoon olive oil
1 shallot, finely sliced
6 ounces baby spinach
Panko Bread Crumb Topping:
2 tablespoons unsalted butter
1 shallot, finely chopped
1/2 cup panko breadcrumbs
1 garlic clove, finely chopped
8 large portobello mushrooms, stems trimmed
olive oil
4 ounces soft, young goat cheese
Directions:
Prepare Sauce:
Using large saucepan, heat the olive oil in a medium saucepan over medium heat.
Once the oil is warm, add the chopped garlic, stirring continuously for 30 seconds, making sure that the garlic does not brown (this is essential). Add the bay leaves and the dried oregano to the pan and stir continuously for a minute.
Add tomato paste and canned tomatoes, stir together, and bring to low simmer. Cover and simmer sauce for 30 minutes, stirring occasionally. Season with salt and pepper to taste.
Saute Spinach:
Heat the oil in a large sauté pan over medium heat. Add the sliced shallots and sauté until soft and translucent.
Add the baby spinach and sauté until just wilted, stirring continuously. Season with salt and pepper and set aside.
Breadcrumb Topping:
Melt the butter in a small sauté pan over medium heat. Once the butter is just beginning to sizzle, add the chopped shallots and cook for 30 seconds, stirring continuously.
Add the panko breadcrumbs and chopped garlic, and toast for three to four minutes, stirring constantly to prevent the breadcrumbs from burning--or until the breadcrumbs should be lightly golden.
Prepare the Mushrooms:
Preheat the oven to 425 degrees Fahrenheit. Line a large baking sheet with foil and wire rack.
Trim the portobello mushrooms and drizzle them lightly with olive oil. Season with salt and pepper.
Heat a grill pan over high heat. Grill the portobello mushrooms for 2 to 3 minutes on each side. Place the grilled portobello mushrooms gill-side up onto the wire rack as they are ready (the mushrooms will give off a lot of liquid as they cook and sit, and this will prevent them from sitting in any of their juices).
Top the mushrooms with a large spoonful of tomato sauce and then top with spinach mixture, distributing it evenly among the mushrooms.
Slice the goat cheese into 1/2" thick slices (roughly half an ounce). Bread the goat cheese slices lightly in the panko breadcrumb topping and place on top of each mushroom. Sprinkle the mushrooms with the remaining breadcrumb mixture.
Bake for 10 to 15 minutes, or until heated through and the breadcrumbs are golden brown and goat cheese is jut beginning to soften. Serve immediately.
To speed up the cooking process, feel free to substitute the homemade sauce with your favorite store-bought variety--but homemade is always best!
Tips For Success:
These stuffed portobellos are hearty enough to be served on their own with a simple salad or grain (such as quinoa or pasta!).