2019 Eco Friendly Gift Guide
Give the gifts that keep on giving with these practical and eco friendly gift ideas!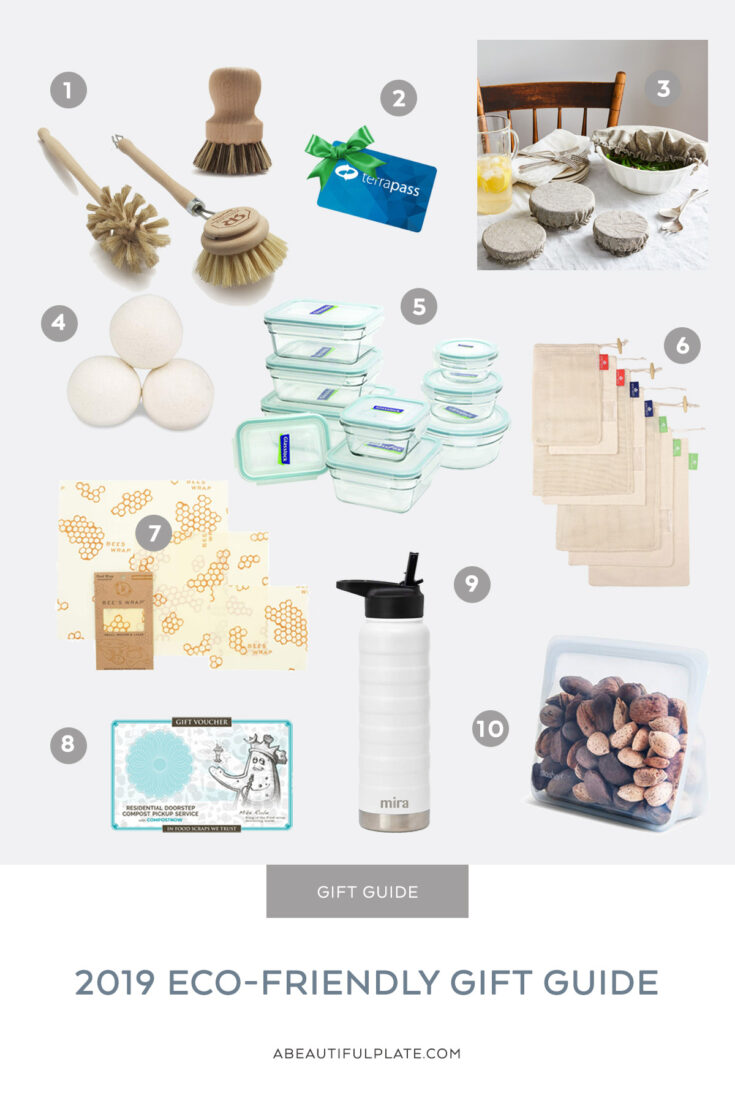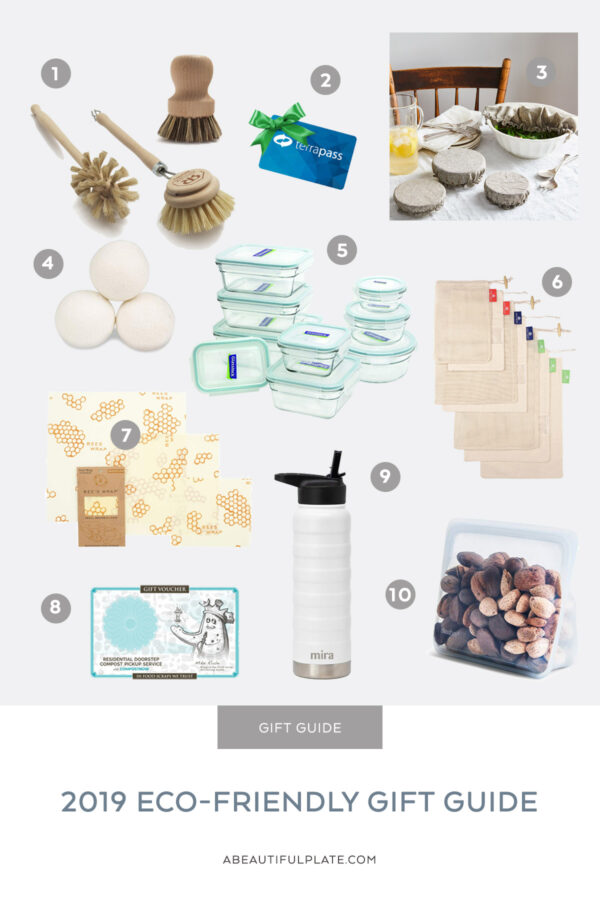 This post contains affiliate links. This means I may earn a small commission, at no cost to you, if you purchase items using these links.
Hope you had a wonderful Thanksgiving! I'm popping in with
one
more gift guide to finish off the season. Earlier this year, I shared that one of my big goals for 2019 was to
reduce our waste
.
And while we've made big strides in that department, it is a topic that is very much on my mind this holiday season.
Did you know Americans throw away 25% more waste between Thanksgiving and Christmas? And that that waste amounts to more than 25 million tons of garbage?
[
Source
.] The statistics are pretty staggering.
With this mind mind, I've put together my first Eco Friendly Gift Guide! It's filled with lots of low to zero waste gifts that you can feel really good about gifting (or putting on your wish list) this year.
All of these gifts are practical, made to last, and in many cases, support small businesses. Happy holidays!
---
Wood & Natural Fiber Cleaning Brushes – I love the idea of adding these beechwood and natural bristle brushes to a holiday stocking or gift basket paired with a handmade linen or an apron. Practical, beautiful to look at, durable, and a great way to eliminate plastic sponges and scrubbers.
TerraPass Gift Card – give the gift of carbon offset! Or flight offsets.
Linen & Cotton Bowl Covers – while I love reusable containers, these linen bowl covers are so helpful for leftovers, covering doughs or batters, and numerous other kitchen tasks. They're machine wash friendly too!
Wool Dryer Balls – another great stocking stuffer idea! Eliminate the plastic (and chemicals) in traditional dryer sheets with a set of natural wool dryer balls. They offer the added bonus of cutting down dryer time too. We love these so much.
Glass Storage Containers – I'm an advocate of using what you've got, but glass storage containers are a must-have in my kitchen. This set is oven-proof, microwaveable, airtight, and leak-proof. Great for reheating leftovers and taking to work.
Reusable Produce & Bulk Bags – one of the easiest ways that I've cut down on single use plastic this year is investing in a set of reusable produce and bulk bags. This set is made from natural cotton (which means they're biodegradable) and come with tare weights for easy shopping.
Bee's Wrap – these eco-friendly, reusable wraps (made from a cotton-beeswax blend) are so great! We use them for wrapping cheese, covering bowls in the fridge, etc.
Compost Gift Certificate – we signed up for a local compost pick-up service two months ago and it is one of the best decisions that we've made all year. So easy to implement and very impactful. A great gift for anyone, especially passionate home cooks!
Reusable Water Bottle – a reusable water bottle is essential for travel, working out, etc. Mira sent me one of these and it's one of my favorite workout bottles to date. While it does have a plastic straw attachment, the mouthpiece is much easier to keep clean. It also keeps your cold beverages extra cold. If you travel a lot, there are many collapsible options too.
Stasher Bags – yep, I'm sharing these again! I use these bags all the time (more than bees wrap, etc.) and absolutely love them. Great for cooks, travelers, kids, etc. Fill them with homemade cookies or candies to make them extra festive.
Gift Cards, Memberships, or Experiences – last, but certainly not least, gift cards are some of my favorite zero waste holiday gifts. They might not be quite as fun to give, but they're some of the most memorable and impactful when push comes to shove!
Here are a handful of ideas to get you started:
favorite restaurant or coffee shop gift cards
monthly or yearly memberships to local art museums, workout studios, streaming services (eg. Spotify, Audible, Hulu), an online magazine subscription, etc.
gift an experience! Gift cards or tickets to a comedy show, cooking class, local theater, etc.
For more gift ideas, check out my 2019 favorite things gift guide and cookbook gift guide or more easy ways to reduce kitchen waste.
This post contains affiliate links, which means that I make a small commission off items you purchase at no additional cost to you. Please read my
privacy policy
for more information.