2019 Cookbook Gift Guide
My most-loved and coveted cookbooks from the past year with unique pairing gift ideas! For more favorites, check out last year's cookbook guide.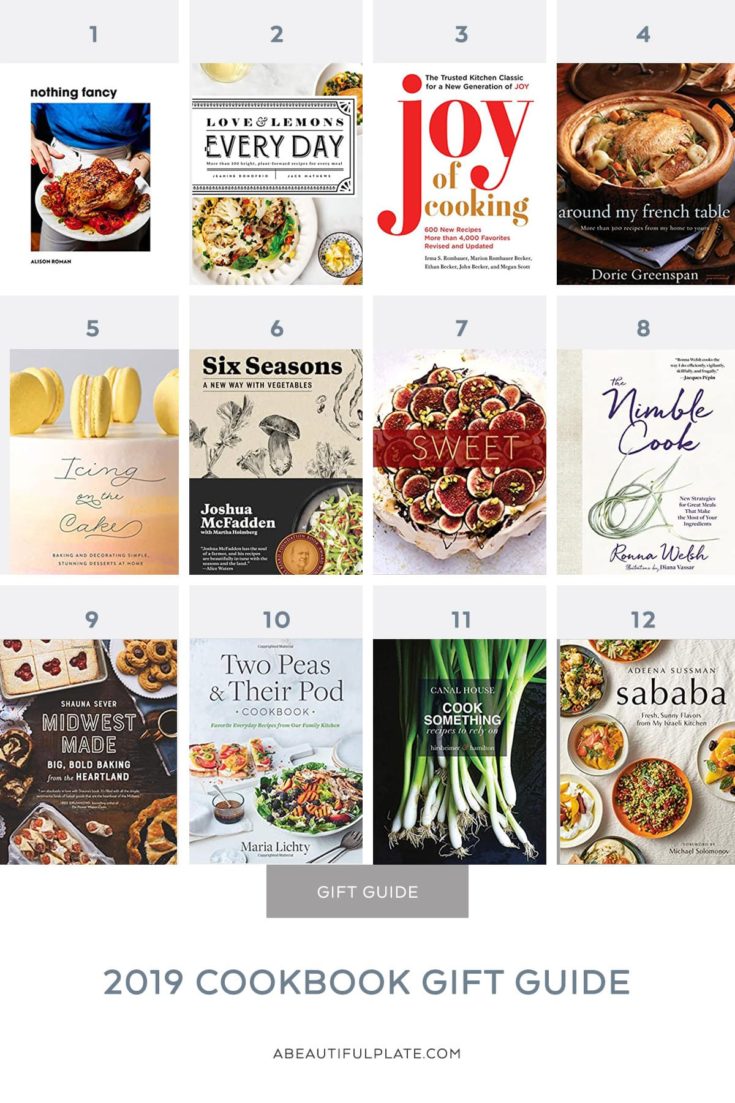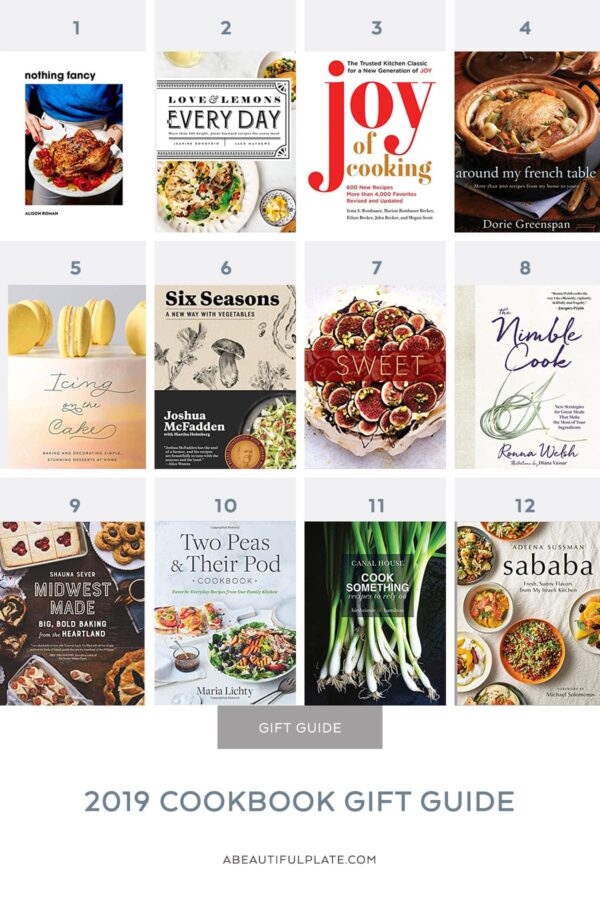 This post contains affiliate links. This means I may earn a small commission, at no cost to you, if you purchase items using these links.
It's that time of year again! Since Thanksgiving falls so late this year, I'm starting this season's gift guides early in order to make holiday shopping extra easy.
We're starting things off with my annual cookbook gift guide! I've been sharing these guides for the past four years and this is one of my favorites to put together.
Most of the cookbooks in this year's guide are brand new, but I've included some older gems as well.
As always, I've added unique pairing gift ideas for each book below. This is a great way to add a personal touch to your gift and make it extra special.
---
Nothing Fancy (Alison Roman) – I loved Alison Roman's first cookbook, Dining In, and can't wait to get my hands on her much-anticipated follow up. If you know someone who loves creative and modern recipes for everyday entertaining, this cookbook would make a great gift.
Love & Lemons Everyday (Jeanine Donofrio) – if you're looking to add more meatless meals to your rotation, this cookbook by my friend Jeanine is an incredible source of inspiration. It is beautifully designed too.
Joy of Cooking (Rombaeur, Becker, & Scott) – a classic that has been fully revised and updated. They've added metric weights to the baking chapters too. A must-have on any cookbook shelf.
Pairing Gift Idea: My favorite salt pig.
Around My French Table (Dorie Greenspan) – an oldie but one of my absolute favorites! If you love French cuisine, this is a must-have cookbook to add to your collection. Dorie is an amazing cookbook writer and her recipes never disappoint. They're thorough, easy to follow, and very well tested.
Icing on the Cake (Tessa Huff) – if you've ever made this London Fog Cake, you're familiar with Tessa's work. She makes incredible cakes and her latest cookbook includes more than 100 recipes for decorative cakes, pies, macarons, and more.
Six Seasons (Joshua McFadden) – this cookbook has been out for a couple years, but continues to inspire me! If you're looking to take your vegetable preparation to the next level, this book will offer endless ideas and inspiration.
Pairing Gift Idea: a high-quality extra virgin olive oil.
Sweet (Yotam Ottolenghi) – I love all of Ottolenghi's cookbooks and this one is no different. It isn't brand new, but it contains some of the most creative and mouth-watering dessert recipes that I've come across. If you know someone who loves to bake, they'll love this one.
The Nimble Cook (Ronna Welsh) – I was sent this cookbook earlier this year and was immediately drawn to it. Unlike some of the other cookbooks on this list, this one is a little bit different. Rather than being recipe forward, it is ingredient forward. Geared towards teaching you how to make the most out of the ingredients in your pantry (and reducing food waste), this book is a wonderful resource.
Midwest Made (Shauna Sever) – if you're interested in expanding your baking repertoire and love comforting, classic American baked goods, you will love this new cookbook. Shauna's midwest roots shine through!
Two Peas & Their Pod (Maria Lichty) – if you're a fan of the blog, you will love Maria's first cookbook which is filled with even more of their everyday favorites. I've always had success with Maria's recipes and love how approachable they are! I'll be featuring one of her cookie recipes in next few weeks.
Canal House: Cook Something (Hirsheimer & Hamilton) – the latest Canal House cookbook is one of my favorites from this year! It is packed with recipes (more than 300!) and a joy to flip through. Most importantly, I love that the recipes are timeless and classic, yet still fresh and modern. It is great for both beginners and experienced cooks alike.
Sababa (Adeena Sussman) – while I haven't had the chance to flip through this cookbook myself, it has already gained a ton of praise and recognition. The recipes are forward in flavor, yet easy to prepare in a home kitchen. If know someone who loves Middle Eastern cuisine, this book is a great choice!
Pairing Gift Idea: my favorite tahini.
For more cookbook ideas, check out my cookbook gift guides from 2016, 2017, and 2018.
This post contains affiliate links, which means that I make a small commission off items you purchase at no additional cost to you. Please read my
privacy policy
for more information.