2020 Favorite Things Gift Guide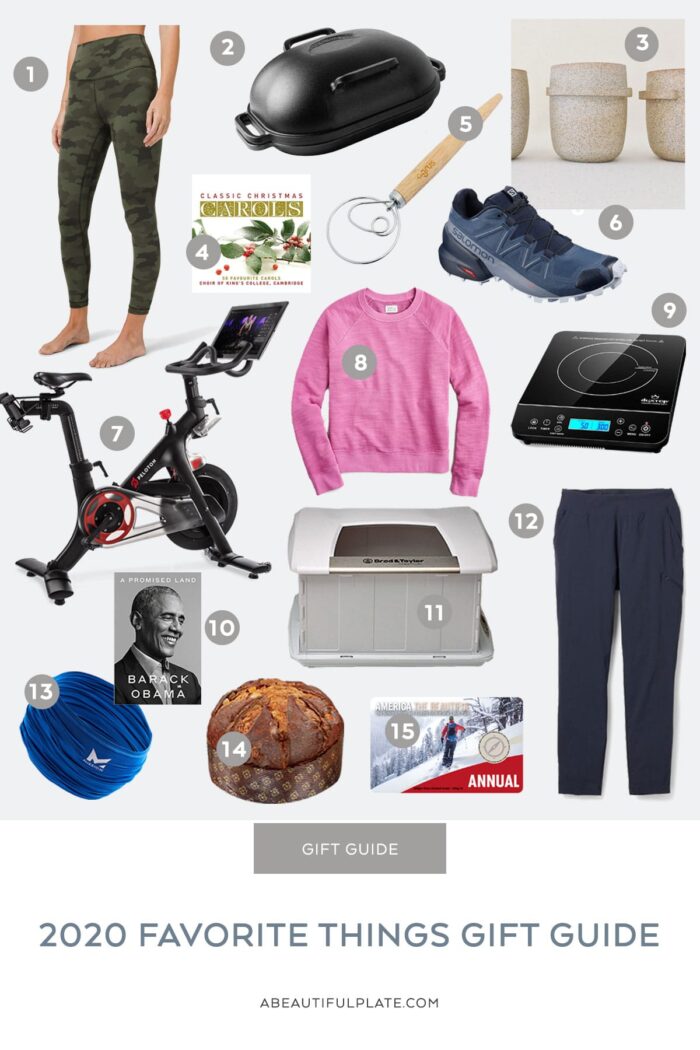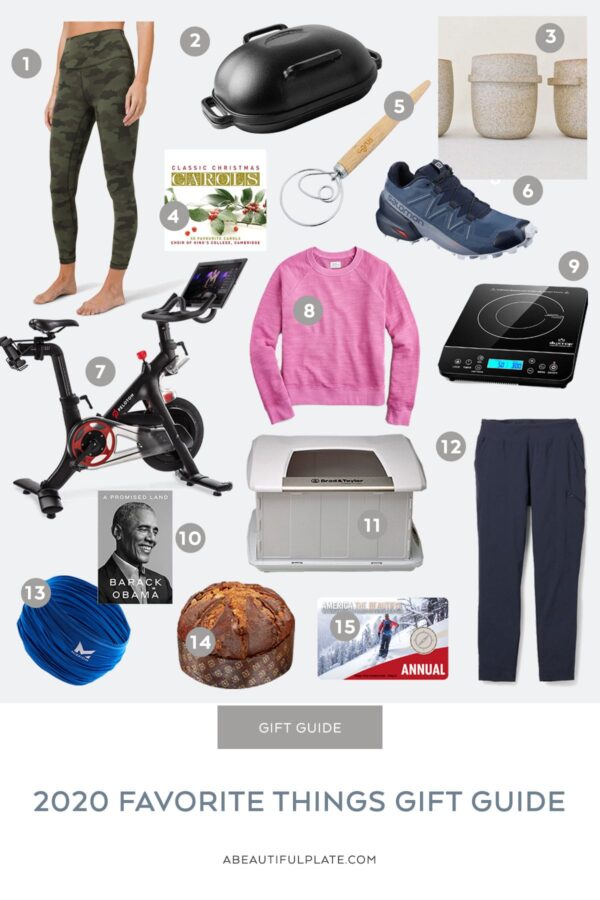 This post contains affiliate links. This means I may earn a small commission, at no cost to you, if you purchase items using these links.
I'm here with my annual favorite things gift guide! The holidays are looking very different this year, but I wanted to take time to round up my most-loved items from 2020. Find more of my favorites from past years here.
I've tried my best to include a mixture of items, affordable and bigger ticket items, as well as to highlight small business owners and easy-to-find items.
Please know that the best gifts are not always bought. A thoughtful card or care package of homemade cookies always have the ability to put a smile on someone's face!
---
Lululemon 25″ Align Leggings – leggings have been my unofficial 2020 uniform and these Lululemon align leggings are my absolute favorite right now. I've hesitated splurging on these, but they're ridiculously comfortable, buttery, and hold up very well over time if you wash them properly. The wild thing camo and deep coal camp are my favorite and go with everything!
Challenger Bread Pan – I've shared more information about this pan in my sourdough tools guide, but the Challenger is my most-loved kitchen item in 2020. If you have fallen in love with sourdough bread baking or know someone who has, the Challenger is the ultimate gift. They recently lowered the price from $295 to $225 too. A wonderful way to support a fellow small business and USA made product, this pan will last a lifetime!
Cloutier Ceramics – every year I share a handmade ceramic artist that I've been loving! I recently treated myself to two Cloutier pieces (the salt bowl and ledge cup) and they are absolutely beautiful. Works of art, yet incredibly functional.
King's College Classic Christmas Carols – my favorite classic Christmas music album. Our family has been listening to King's College Christmas Carols every year for as long as I can remember, and they're so beautiful. You can also stream on Spotify.
Danish Dough Whisk – this funky-looking whisk is designed specifically for bread doughs, pizza doughs, and delicate pastries. While it certainly isn't a must-have kitchen item, it makes mixing bread doughs much less messy. This would be a great affordable gift for any baker in your life!
Salomon Speedcross Trail Running Shoes – I absolutely love these trail running shoes and have been using them on all of our hikes and outdoor adventures in Utah. They are very comfortable and have great traction. Many outdoor enthusiasts advised getting trail running shoes over traditional hiking boots, and I'm so glad I listened to them!
Peloton Bike (referral discount code: HPUT8Y) – Connor and I decided, after careful consideration, to invest in a Peloton bike in April of this year. Despite not being an avid spinner, I can honestly say that this bike has been one of the best investments that we've ever made! The instructors, variety of classes, and interface are incredible. If you don't have the budget for a bike, I highly recommend checking out the Peloton app membership if you're looking to mix up your workout routine.
J.Crew Vintage Pullover (code: EARLY for 50% off) – I recently purchased two of these vintage pullovers when they were on sale a few weeks ago, and I've been living in them. Extremely comfortable, perfect thickness for everyday wearing, and have that lovely worn-in feel, . The vintage raspberry and dark spruce are my favorite colors.
Induction Burner – since our rental home in Utah has an old electric stovetop, I decided to invest in a small portable induction burner and this machine has saved my sanity over the last few months! It is extremely lightweight and heats up extremely quickly, unlike an electric burner. I use it every single day. If you struggle with an electric stovetop, I highly recommend getting your hands on one of these!
A Promised Land by Barack Obama – currently reading and loving!
Brod and Taylor Folding Proofer and Slow Cooker – if you're interested in taking your sourdough bread to the next level (or struggling with a cold kitchen for bread dough proofing), this folding proofer and slow cooker is an amazing tool.
Mountain Hardware Ankle Hiking Pants – incredibly comfortable, light-weight, fast-drying and SPF 50, these hiking pants are one of my favorite items from this past year.
Mission Neck Gaiter – can you tell that we've been spending a lot of time outdoors? These neck gaiters have been a dark horse favorite over the past few months. They provide 50 SPF protection, cool down by 30 degrees when wet with water, making them absolutely fantastic in the hot summer months, and can be worn a number of ways (including as a quick face covering for outdoor purposes).
Fiasconaro Panettone – no holiday is complete without panettone and this is my family's favorite! You can easily order this panettone online, making it a wonderful gift to send to friends and family this season.
National Parks Pass – my mom gifted us an annual national parks pass last year for Christmas and we've put it to such incredible use this year. Spending more time in the outdoors and nature is one of the best things to have come out of 2020. This pass helps supports national parks, but also makes a great practical gift for any outdoor lover!
For more gift ideas, check out my favorite things gift guide from 2016, 2017, 2018, and 2019.
This post contains affiliate links, which means that I make a small commission off items you purchase at no additional cost to you. Please read my
privacy policy
for more information.