2020 Cookbook Gift Guide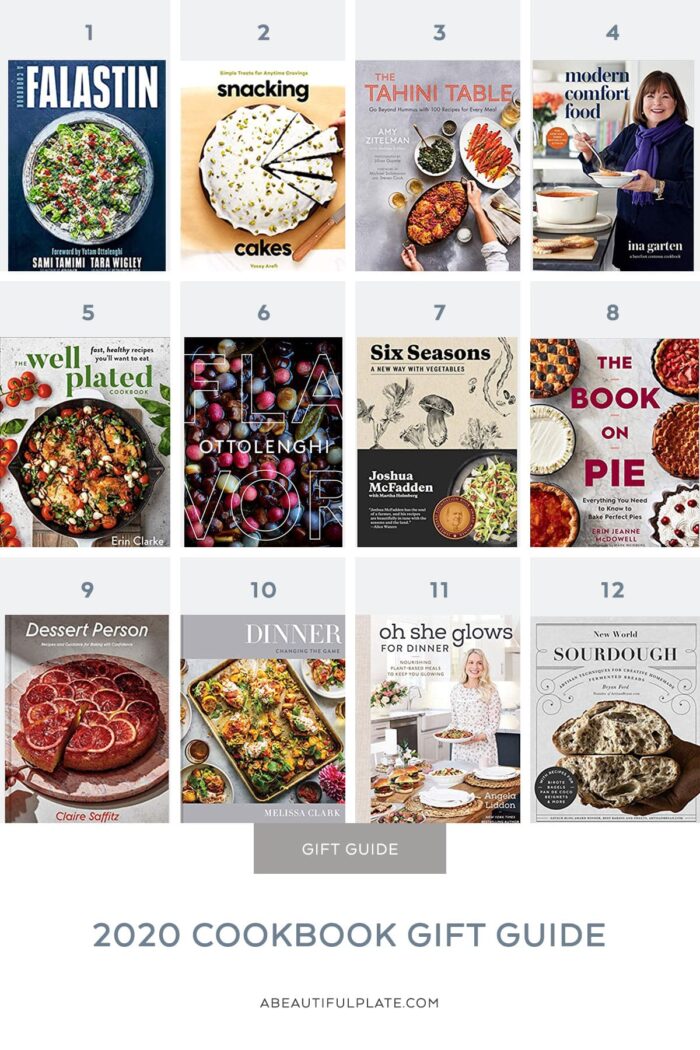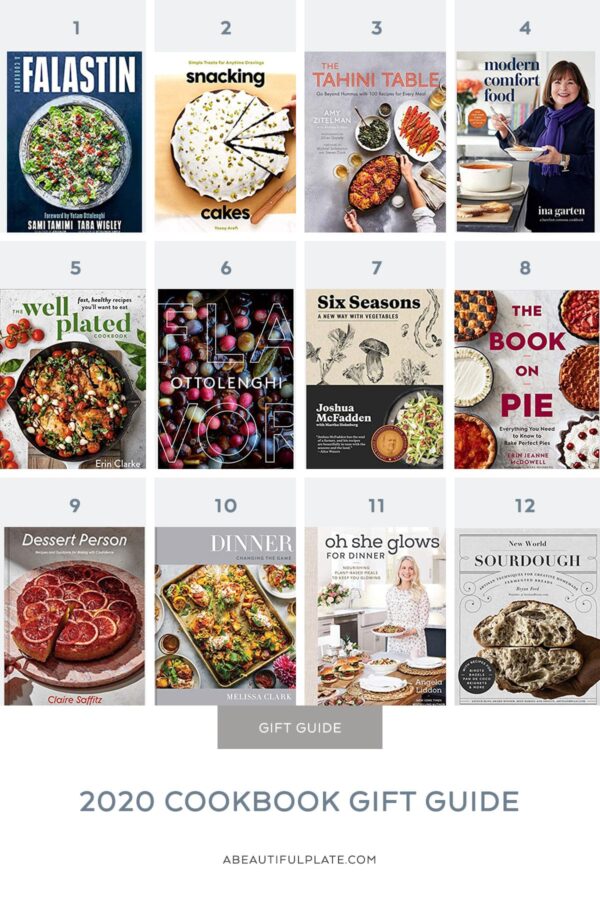 This post contains affiliate links. This means I may earn a small commission, at no cost to you, if you purchase items using these links.
One of my favorite gifts to receive and gift over the holidays is a beautiful cookbook.
I love building up my collection, supporting fellow authors, and being able to rifle through the pages every time I'm feeling stuck in the kitchen.
Nearly all of the cookbooks featured in this year's cookbook gift guide are brand new or recently published. However, I've also included a sprinkling of older titles, specifically ones that received a lot of love in my kitchen this past year.
As always, I've added a unique pairing gift idea for each book.
---
Falastin – I've only heard incredible things about this cookbook in the last year or so. If you're looking to expand your cooking repertoire or explore Palestinian cuisine (some of my favorite flavor profiles), this cookbook gets rave reviews.
Pairing Gift Idea: jar of sumac and za'atar seasoning.
Snacking Cakes – my sister recently sent me this cookbook and I absolutely love it. I've made at least four cake recipes from the book and they've all been fantastic. In my opinion, a snacking cake is the perfect dessert. Delicious, but practical and easy to make. Every recipe from this book comes together quickly and can be made in a 8 x 8 cake pan (or adapted for a loaf or bundt pan).
*The Tahini Table – written by the founder of my favorite tahini brand, this cookbook is all about tahini. It is packed with amazing ideas on how to use it in just about anything from breakfast to dinner to dessert. I'll be highlighting a recipe from this new book shortly (it is fantastic!), but I can't wait to make more recipes from this book.
Modern Comfort Food – Ina Garten is the cookbook queen. You really can't go wrong with any of her cookbooks, but I love that this latest one is all about comfort food. We all need a little bit more of that, especially this year.
*Well Plated Cookbook – if you're familiar with the Well Plated blog (and my friend Erin Clarke!), you'll absolutely want to grab yourself a copy of her beautiful debut cookbook. It is packed with approachable, versatile, and extremely well-tested recipes spanning all categories.
Flavor – I absolutely love all of Ottolenghi's work and recently gifted myself a copy of his latest title. This newest cookbook is 100% plant-based (vegetarian) and packed to the brim with ideas and tips on maximizing flavor from your favorite vegetables. While I can't say that his recipes are the simplest or easiest, they are some of the most inspiring and delicious out there!
Six Seasons – featured in last year's cookbook guide, this cookbook continues to be one of my most-reached-for books in my collection! Approachable, beautiful seasonal recipes that don't require a ton of ingredients or fuss.
The Book on Pie – Erin McDowell is the official pie queen and is a wealth of pastry knowledge. If you know anyone who loves to make pie, they will love this book.
Dessert Person – a great new cookbook for anyone who loves dessert or wishes to understand the fundamentals of baking. Packed with 100+ modern baked good recipes (including metric measurements!) in all categories.
Dinner – one of my most-loved cookbooks, I've made countless recipes from this book and have enjoyed them all. Flavorful, yet approachable and almost all simple enough to make on a weekday. Melissa Clark is one of my favorite recipe writers! You can never have enough dinner ideas.
*Oh She Glows for Dinner – if you're looking for plant-based recipe inspiration, this new cookbook by Angela Liddon is a wonderful title to add to your collection. It is specifically focused on dinner and main course recipes, which makes it particularly helpful.
New World Sourdough – while I don't own this title yet, I've only heard amazing things about this cookbook by Bryan Ford. If you love sourdough or know someone who does, this is the sourdough book to gift this year.
For more cookbook ideas, check out my cookbook gift guides from 2016, 2017, 2018, and 2019.
*Books with asterisks were gifted to me by publishers and author friends, but included in this gift guide on my accord.
This post contains affiliate links, which means that I make a small commission off items you purchase at no additional cost to you. Please read my
privacy policy
for more information.