Ingredient Spotlight: Asparagus
This post contains affiliate links.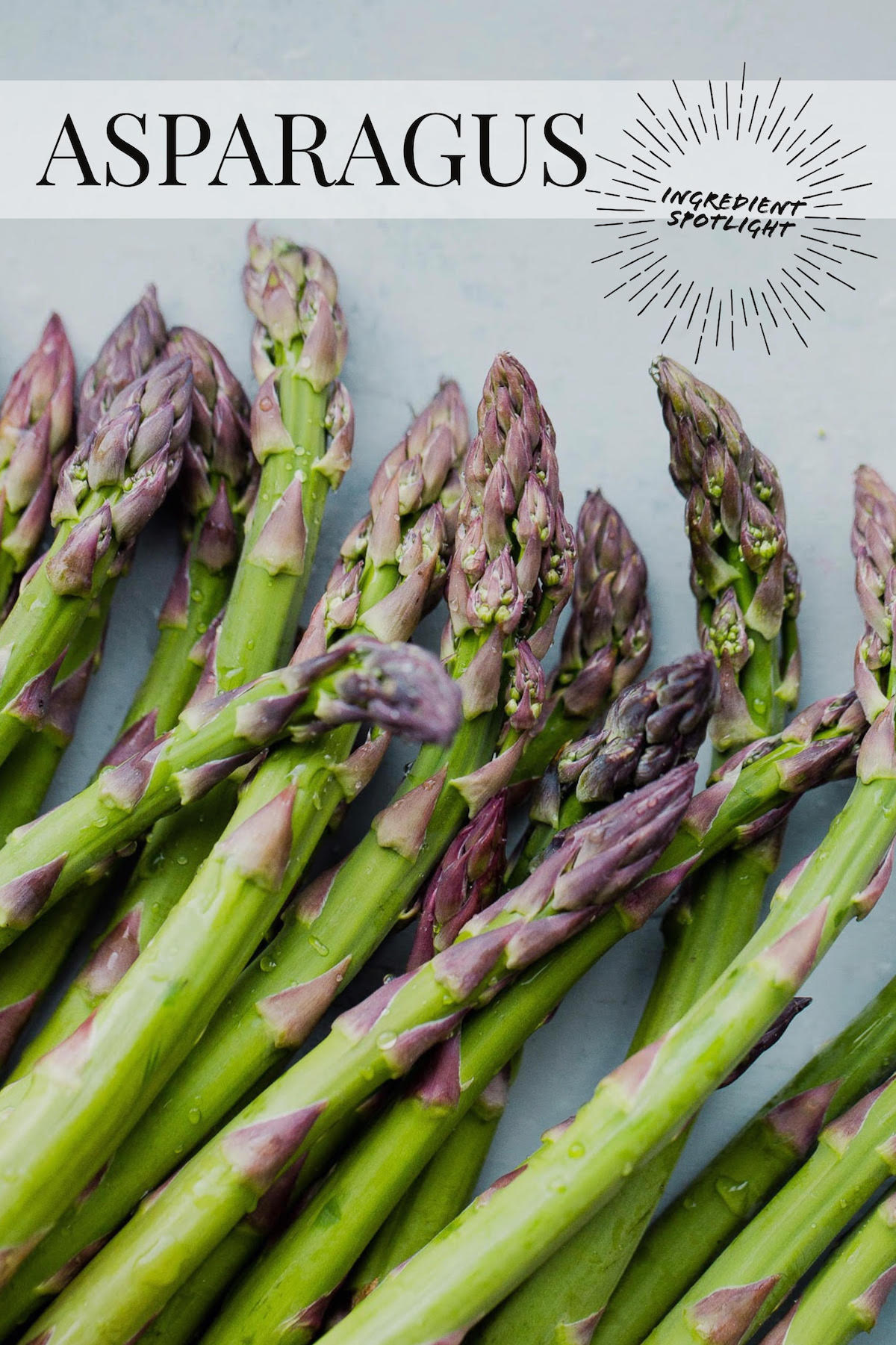 After asking in this year's survey (still open!) what types of content you'd be interested in seeing in this space, tons of you responded with enthusiasm for my concept of 'ingredient spotlight' posts. The idea behind the new series?
Delve into a seasonal ingredient and share a little bit of everything: buying tips, how to store it, basic nutritional information, cooking ideas, and recipe inspiration galore.
I'm secretly thrilled that you are just as excited as I am about these posts, because it brings out the cooking nerd in me. My local farmer's markets (and farmers) will be the source of inspiration, but I'll do my best to share these guides in time for you to take full advantage of the season.
The goal? Break everyone out of their cooking comfort zone and create an informative, fun, and approachable resource for you to turn back to time and time again. Today, we're talking about asparagus! We've been eating our weight in it ever since it first appeared at our markets a few weeks ago, and I can't get enough.
---

After picking up my first batch of asparagus at the farmer's market a few weeks ago, I was reminded of one simple fact: nothing beats locally grown, freshly picked asparagus. And I mean, nothing. It is naturally sweeter and more tender.
If you can find it at your nearest farmer's market, get your hands on some asap! You'll pay a higher price per pound, but the stalks will require almost zero trimming (no loss or waste!) and the flavor, quality, and freshness is unparalleled.
Buying and Storage Tips: 
When buying asparagus, you want to look for very firm stalks that have very tightly closed tops and moist ends. The thickness of the stalks is not an indication of when the asparagus was picked, but the age of the asparagus plant.
Once asparagus is picked, the natural sugars slowly turn into starches. As this happens, the ends will become more and more white and tough. White ends are woody and fibrous in texture – and require more trimming and waste (think: price per pound!) –  and give an indication or clue as to when the asparagus were harvested (most likely, not very recently!).
To store asparagus: gently wrap the ends the ends of the asparagus stalks in a lightly damp paper towel, place in a perforated bag, and store in the produce drawer of your refrigerator. Use within a day or two.
If a farmer's market stall or grocery store is storing asparagus upright in a very shallow pool of water, I always look to those first because they tend to be firmer and be in better shape.
---

Quick Flavor Pairing Ideas:  
Asparagus is fairly delicate in flavor, but pairs particularly well with: eggs, cheese (parmigiano-reggiano!), lemon and other citrus, garlic, tarragon, mushrooms, and balsamic vinegar.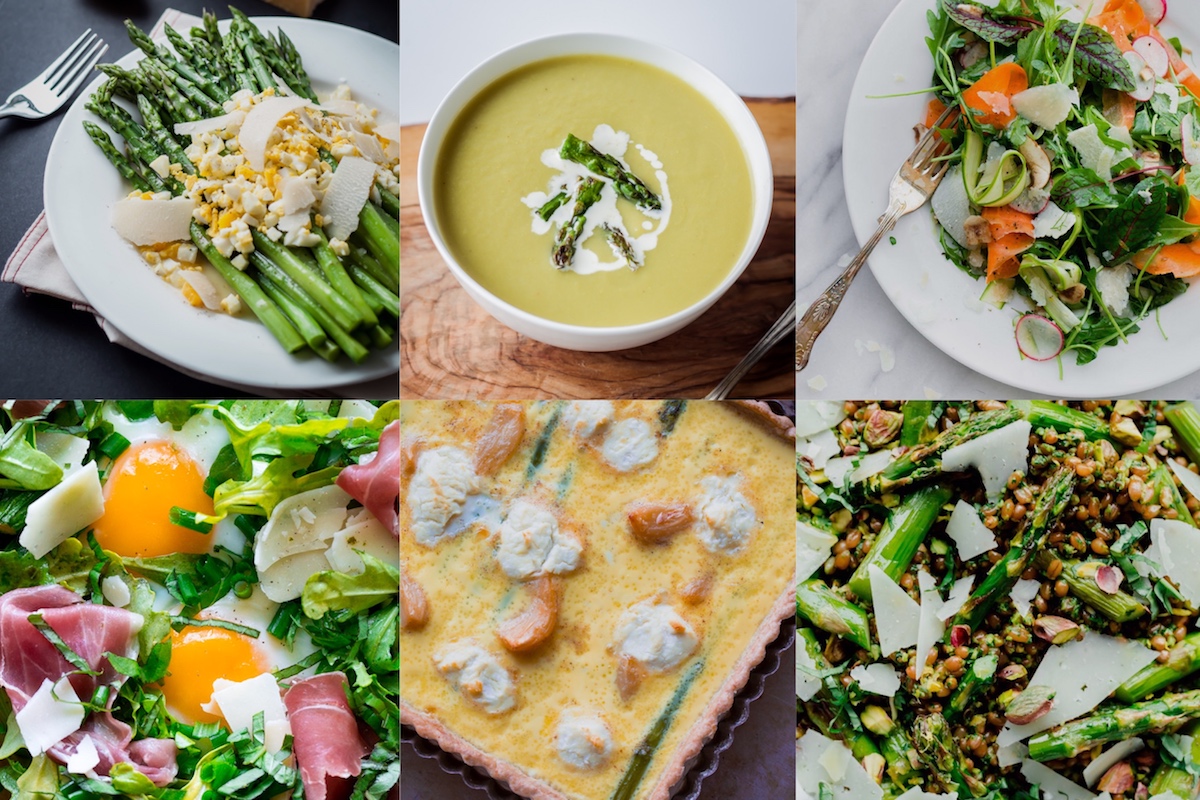 Top Row (Left to Right): Asparagus Mimosa // Asparagus Soup // Shaved Vegetable Arugula Salad
Bottom Row (Left to Right): Asparagus, Egg, Prosciutto Tart // Asparagus Goat Cheese Quiche // Roasted Asparagus Wheat Berry Salad
For more recipe inspiration, browse the recipe archive. 
---

It is best to cook asparagus the day it is bought (especially if it's from the farmer's market). Like most vegetables, asparagus loses moisture, flavor, antioxidants, and phytonutrients rapidly once picked. They are highest in natural sugar (and, therefore, flavor!) when just picked.
Asparagus have some of the highest antioxidant levels of all vegetables. They are also naturally high in soluble and insoluble fiber, vitamin C, E, K, B1, B2, and folate – just to name a few.
Varieties of Asparagus: 
While they can be a bit harder to come by at the grocery store, there are numerous types of asparagus varieties all ranging in color hues from dark green to purple. If you can find purple asparagus, go for it! It contains three times the number of antioxidants as most green varieties of asparagus.
White asparagus (not a variety or separate species) are picked just as the spear tips start to emerge from the ground – before the spears have been exposed to sunlight and can produce chlorophyll – and are generally more bitter in flavor and don't contain very high nutrient levels.
---

While steamed asparagus is actually higher in antioxidant value than raw asparagus, my favorite ways to prepare asparagus – particularly when it is in season – is toss it lightly with olive oil, season with salt and pepper, and grill or roast it.
When trimming, I prefer to line up the stalks and trim any woody stalks with a chef's knife – as opposed to the popular bend and snap method. For basic cooking applications, I approach asparagus differently depending on the stalk size.
If the stalks are thin and delicate, I like to chop them into 1-inch pieces and sauté or stir-fry them over medium high heat. If preparing pasta, you can also drop asparagus pieces into the salted water just as the pasta is finishing cooking – as a quick way to add veggies. Quick blanching followed by an ice bath, as demonstrated in this asparagus mimosa recipe, will also help preserve asparagus's bright green color.
Larger, thicker stalks are better suited for the grill (you won't have to worry about them falling through the grates), steamed, or peeling raw to add to salads, such as this shaved vegetable arugula salad.
---
Helpful resources:
This post contains some affiliate links, which means that I make a small commission off items you purchase at no additional cost to you. Please read my
disclosure policy
for more information.