12 Recipes to Make This Fall
A round-up of my favorite fall recipes! For other fall favorites, click here.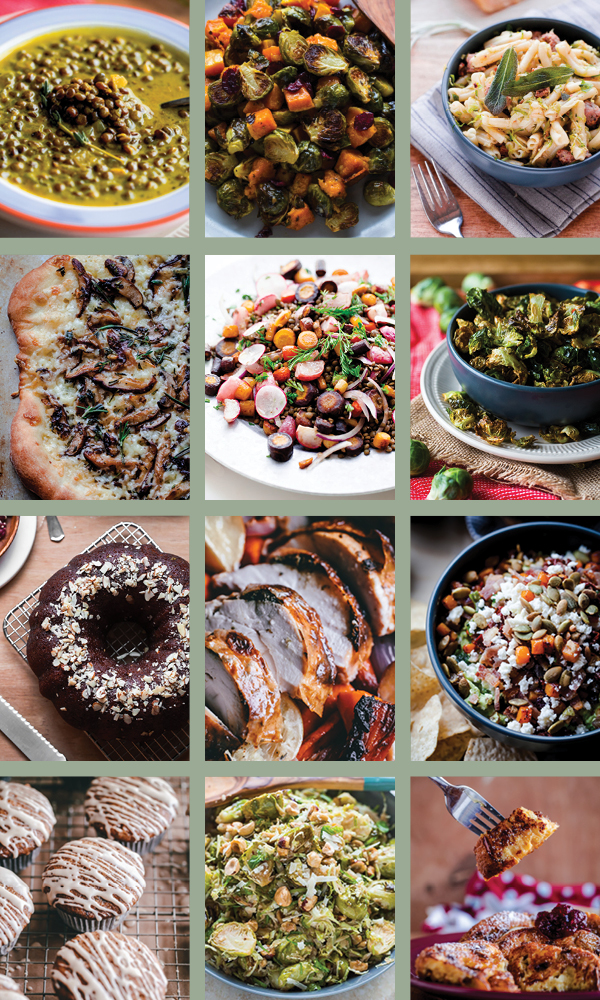 From Left to Right; Top to Bottom
ONE: This Green Lentil Soup with Coconut Milk and Indian Spices might be one of my favorite soup recipes on the blog (well, besides this one). The flavor is out of this world (think coconut and warming spices like cardamom, cinnamon and cloves).
TWO: There is a reason why these Roasted Brussels Sprouts and Squash with Dried Cranberries and Dijon Vinaigrette have quickly become my most popular blog recipe to date. So addictive, so easy, and so perfect for quick dinners, special occasions, or that holiday that starts with 'T' and ends with 'hanksgiving'.
THREE: I literally made this Pasta with Pork Sausage, Shaved Brussels Sprouts, and Sage just last week for dinner. It is incredibly hearty and the whole dish can be prepared in under 45 minutes! Prepare it with whole wheat pasta to add a boost of nutrition.
FOUR: If you're a mushroom fanatic (like me), you have to add this Mushroom Pizza with Havarti Cheese, Fresh Herbs, and White Truffle Oil to your recipe list this fall. Cathy, a blog reader, says, "We made this for a girls weekend back in May and we are STILL talking about it. It was AMAZING and it will be on our menu again for sure. Phenomenal-easily in my top 3 pizzas ever."
FIVE: This new Roasted Carrot Lentil Salad with Tahini Dressing proves that healthy salads can be extremely satisfying, impressive, and anything but boring. If you're looking for other roasted carrot dishes, try this one.
SIX: Ok, so clearly I'm a Brussels sprout fiend, because this list includes a lot of them. These Fried Brussels Sprouts with Lemon and Chili Flakes are a little more indulgent, but worth the effort! Basically, the Brussels sprout version of a kale chip (but dare I say tastier?)
SEVEN: I couldn't create a list of fall favorites without including cake! This Grand Marnier Orange Bundt Cake is soaked with my favorite booze and lots of citrus.
EIGHT: Ever wondered the trick to super crispy roast chicken? This Simple Herb-Roasted Chicken with Mixed Vegetables recipe shares all my favorite tips.
NINE: This Fully Loaded Guacamole is what happens when guacamole meets the fall season. It is adapted from Rick Bayless's XOCO (one of my favorite casual sandwich shops in Chicago) and is topped with toasted pepita seeds, sauteed butternut squash (!), and other cozy things like crispy bacon, sun-dried tomatoes, and queso fresco.
TEN: My family is obsessed with these Pumpkin Chocolate-Chunk Espresso Muffins with Coffee Glaze. Seriously, my brother-in-law goes nuts over these muffins.
ELEVEN: This Brussels Sprouts Salad with Hazelnuts, Parmesan, and Pomegranate Molasses Vinaigrette is incredibly filling (think roasted and raw shaved Brussels sprouts) and is packed with amazing ingredients, such as pomegranate molasses (put it on your list to try), my favorite parmigiano-reggiano cheese, and toasted hazelnuts.
TWELVE: Buttermilk Panettone French Toast with Cranberry Compote. Does it get more festive than this? I don't think so.
This post contains affiliate links, which means that I make a small commission off items you purchase at no additional cost to you. Please read my
privacy policy
for more information.