Banana Walnut Bread with Spiced Walnut Butter
This delicious banana walnut bread is made with 100% whole grain flour, coconut oil, naturally sweetened with maple syrup, and loaded with toasted walnuts.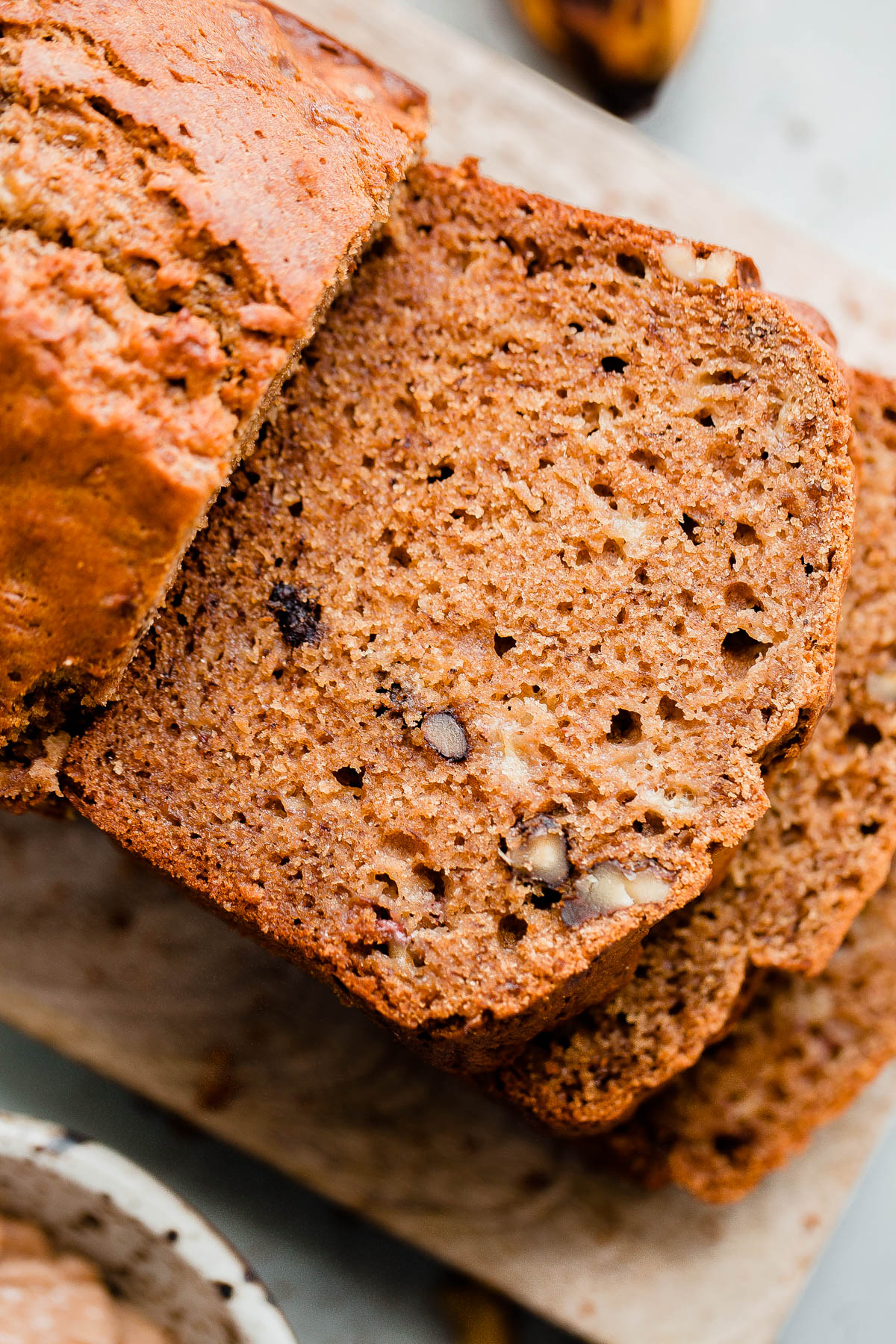 It has been far too long since I shared a baked good around here. One month and twenty five days if I'm being precise. What better way to break the silence than with classic banana bread, right? You're going to want to bookmark this recipe and come back to it time and time again.
Despite the fact that this banana walnut bread is made entirely with whole grain flour, coconut oil, and sweetened naturally with maple syrup, I'm going to refrain from using the obvious adjectives like 'healthy'. Let's not fool ourselves here. It's quick bread, not kale.
Let's call it healthyish, ok? It's a banana bread that we can justifiably eat for breakfast on a busy day (or as a quick afternoon snack!) and one that won't leave us with a sugar coma. All good things. As a little optional side bonus, I'm sharing a fun and simple spiced walnut butter to serve alongside it.
I'm into it.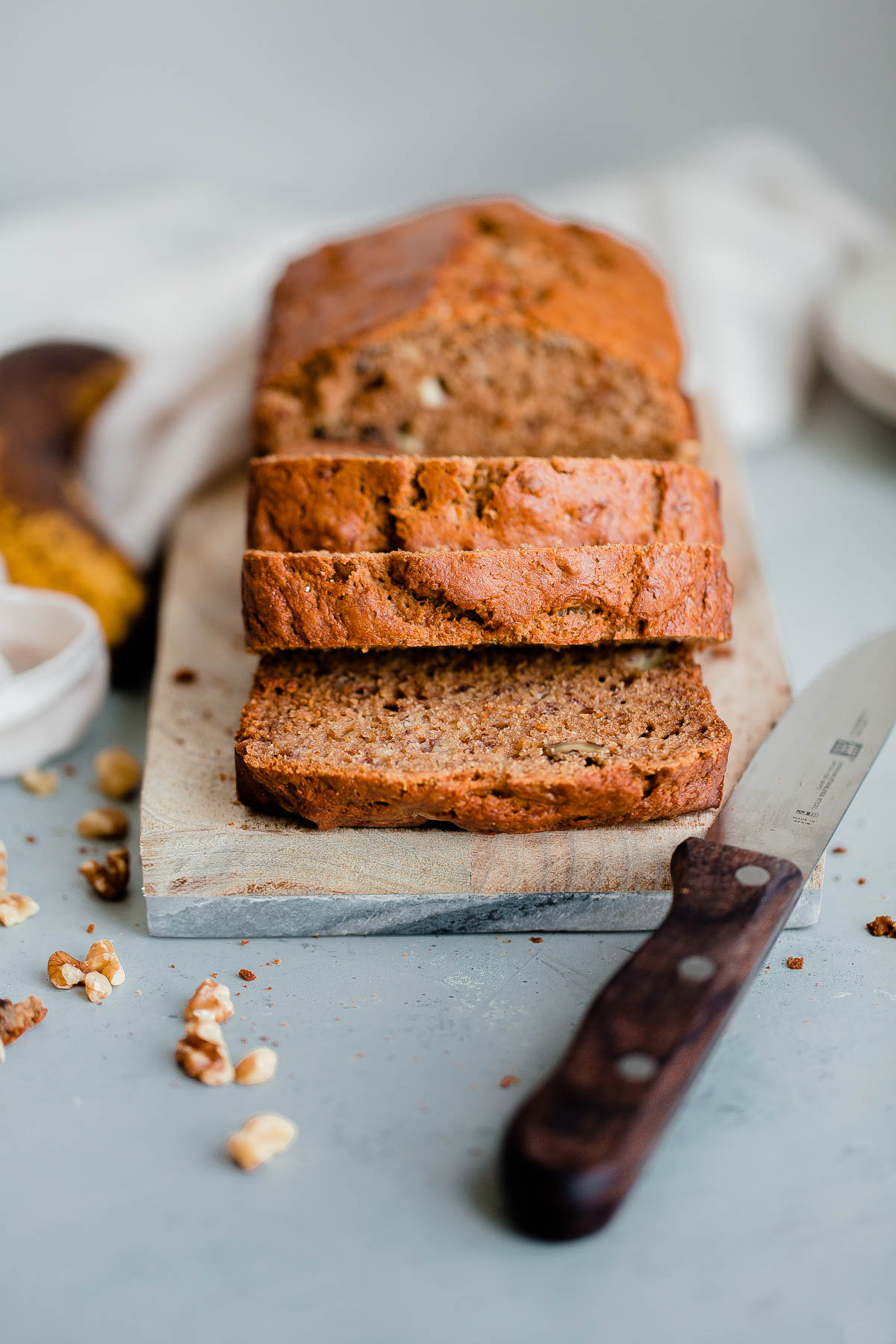 Growing up, dead bananas on the kitchen countertop meant one thing and one thing only: a loaf of my mom's banana bread was in our future! Banana bread was one of the very first baked goods that I ever learned how to make as kid. Quick breads hold a special place in my baking heart. I just love them.
For today's banana walnut bread, I turned to my mom's original formula and tweaked it a lot to make it more nutritious, tastier, and easier to prepare! You'll need your basic measuring cups and spoons, two mixing bowls, a whisk, and a large spoon. If you're a baking scale lover (like myself!), I've provided gram measurements as well.
One of the best parts about baking with fruit purees, whether from banana, pumpkin, apple, or other fruits, is that they make it fairly easy to create 100% whole grain baked goods. The natural moisture from the fruit, along with the coconut oil, produces a tender, moist banana bread that stores well.
To achieve a light and fluffy crumb, I turned to my favorite whole wheat pastry flour. Whenever I'm making tender quick breads, cakes, or muffins, it is my flour of choice. Please note that whole wheat pastry flour is not the same thing as traditional whole wheat flour or white whole wheat flour.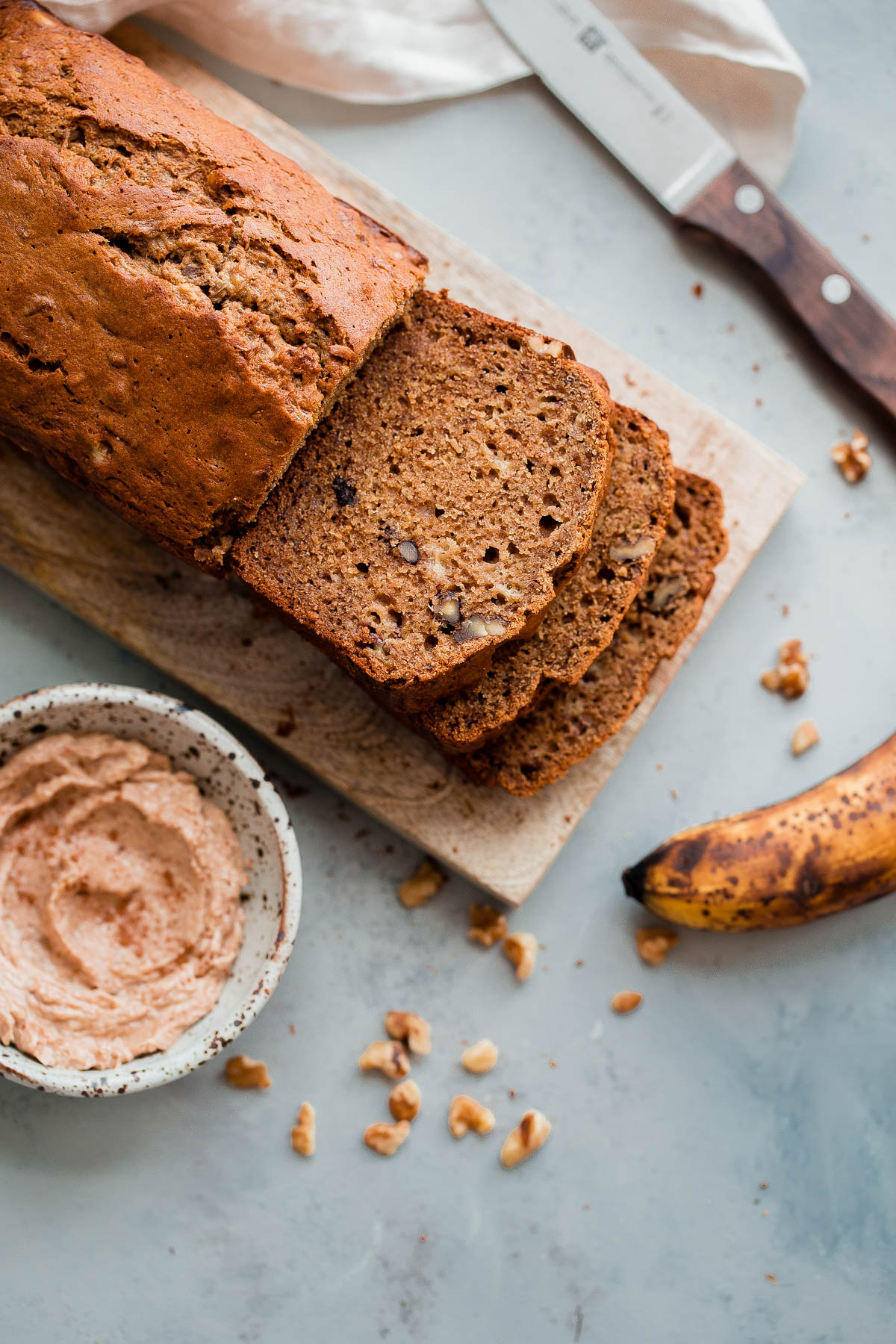 Whole wheat pastry flour is milled from soft white wheat. Soft white wheat contains significantly less protein than red wheat (used to produce whole wheat flour). As a result, whole wheat pastry flour is lower in protein and produces less gluten development. Low gluten development is preferable for baked goods that don't benefit from increased elasticity. Aka. banana bread.
While you may be able to get away with using traditional whole wheat flour or white whole wheat flour, they generally require a higher liquid to flour ratio and will not produce as tender of a crumb as whole wheat pastry flour.
You can find more details and baking science information in this post on different types of flour (and when to use them!). I highly recommend checking it out if you are interested in adapting family recipes into healthier whole grain versions.
Tip: Store your whole wheat flours in the freezer. This will give them a longer shelf life and help them retain the nutritional benefits since the natural germ and bran in whole wheat flours can become rancid with time. Just remember to allow your flour to come to room temperature prior to baking, unless you are preparing pies or other pastry doughs that require chilled ingredients.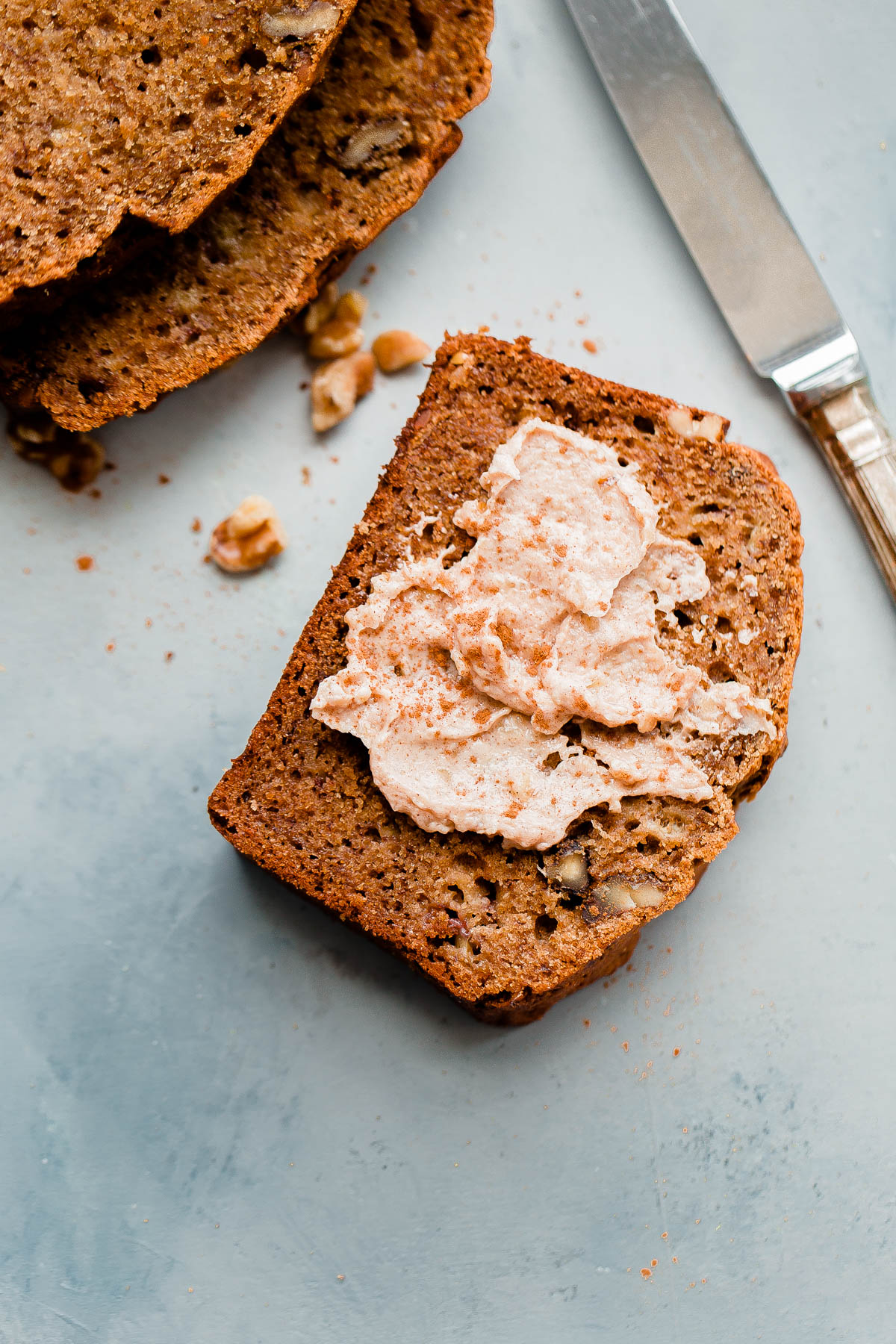 While my mom's original banana bread recipe used a combination of granulated sugar and brown sugar, I always love to sweeten baked goods with pure maple syrup (like these easy rhubarb muffins!) if I can get away with it. It is a more natural alternative (that doesn't spike our blood sugar!) and adds tons of flavor to boot.
This banana walnut bread tastes fantastic on its own…but if you're looking to jazz it up for friends or serve it at a brunch party, I've included a bonus sweet compound butter  – spiced walnut butter – for spreading. It's a simple combination of softened butter, toasted walnuts, cinnamon, and a touch of maple syrup. It would taste fantastic on all sorts of things!
You should totally make this today.
Products Used for this recipe:
(may include affiliate links)