Easy whole grain muffins made with Greek yogurt, lightly sweetened with maple syrup, and studded with fresh rhubarb. 
Can you do me favor? Run — don't walk — to your nearest farmer's market or well-stocked grocery store, pick up some rhubarb, and bake up these muffins. You won't regret it one bit. Rhubarb season will be over before you know it.
Made with 100% whole grain flour and protein-rich Greek yogurt, these rhubarb muffins are one my favorite muffin recipes to date. The batter forgoes refined sugar in exchange for pure maple syrup, which produces a flavorful, lightly sweetened muffin that is perfectly suitable for breakfast or an afternoon snack.
These muffins are fluffy, moist, and can be thrown together in less than 30 minutes. You'll need just two mixing bowls, a whisk and spatula, and a standard muffin pan.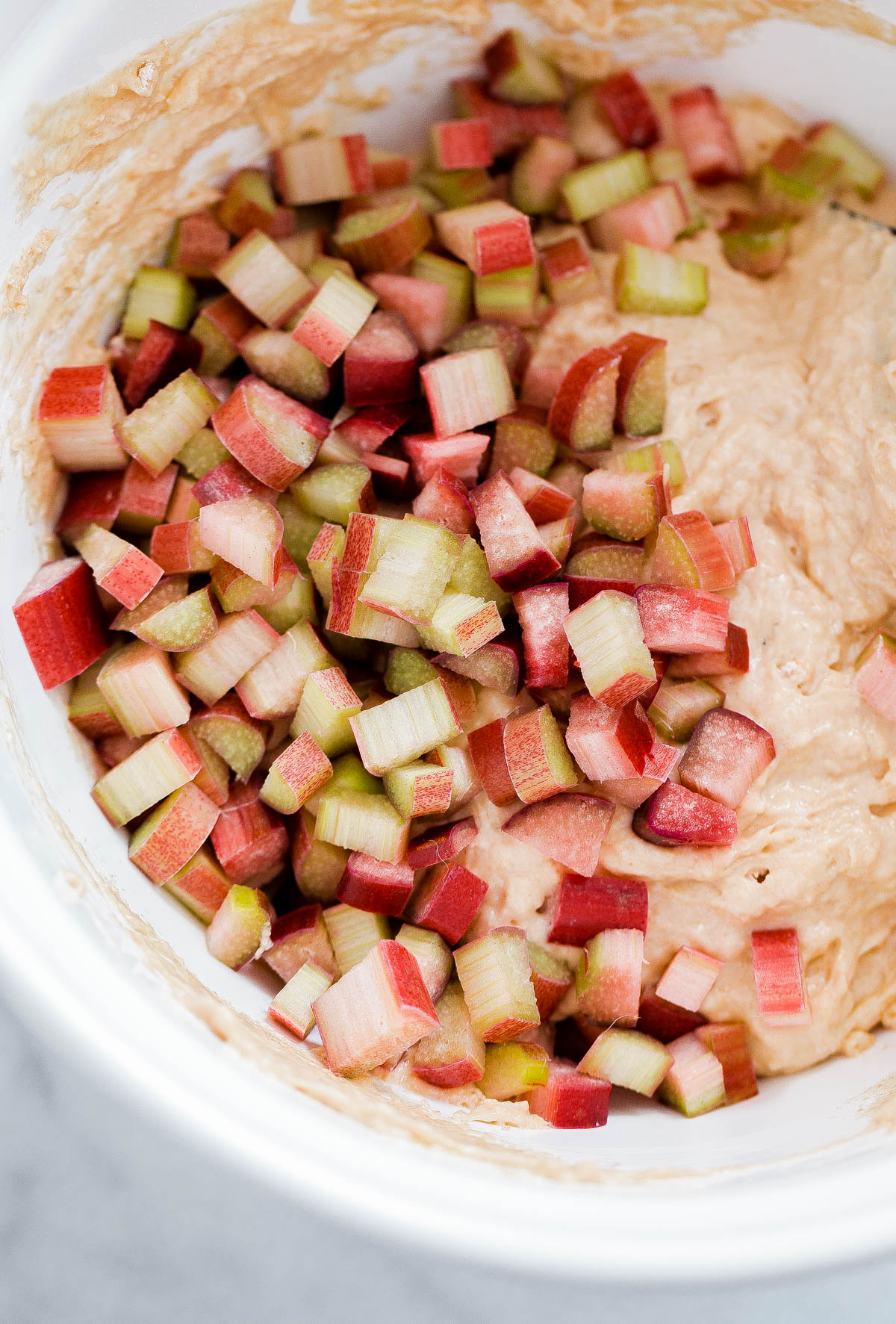 As most of you know, rhubarb season requires a bit of spontaneity. The season is totally unpredictable, short-lived, and often times frustrating, particularly for those of us who love fresh rhubarb! You can't really plan for it.
Just when you need or want a few of those beautiful dark pink, green stalks, you can't find it anywhere. Take my advice. If you do happen to spot rhubarb at your local farmer's market, don't let the opportunity pass you by. Unfortunately, it could be another year before you see it again.
Grab a few stalks (or a large bunch of it!) and take full advantage. Whip up a batch of these muffins. Make some pie or a casual crisp. Or if you'd prefer something a bit more elegant and special-occasion worthy, try this rhubarb galette with orange frangipane or these rhubarb meringue cups.


Unlike other rhubarb recipes I've shared in the past, these muffins require a relatively small amount of fresh rhubarb. You'll need roughly 1/2 lb or 2 medium stalks. The color of your rhubarb has no bearing on its flavor or sweetness, so while the pink stalks are visually preferable, don't fret if your stalks are greener than mine.
As many of you know, rhubarb is naturally very sour. Since we're folding raw rhubarb into the muffin batter, it is important to cut the rhubarb into a small dice. Ideally you want the rhubarb pieces to be only a bit larger than the size of a standard chocolate chip. We don't want anyone biting into a massive chunk of rhubarb.
Keeping the rhubarb pieces small helps distribute them evenly amongst the muffins. It also prevents the batter from being weighed down during baking, resulting in fluffy muffins with well-domed tops.
To keep the muffins tender and light in texture, I used my favorite go-to whole wheat pastry flour (if you enjoy baking science, be sure to read this post on different types of baking flours) and whole fat Greek yogurt.
The final touch is a simple cinnamon sugar sprinkled on top just before baking. It is a very small amount, but it adds the subtlest burst of spiced sweetness to each bite. Aside from that, these muffins are refined sugar free and naturally sweetened with pure maple syrup.
You won't be getting any sugar crashes from these rhubarb muffins!
It is important to note that these muffins are best served the day they are made, preferably when slightly warm just out of the oven. A little salted butter doesn't hurt either.
Though this recipe hasn't been tested with other fruit (I promise, it's happening soon!), I have a feeling frozen wild blueberries would be an equally as delicious substitute if you can't find rhubarb or wish to make these throughout the year.
I even enjoyed the a few test batches that didn't contain any fruit at all!
[recipe]
Products Used for this recipe:
(may include affiliate links)