California BLT Sandwich with Hummus
This post contains affiliate links.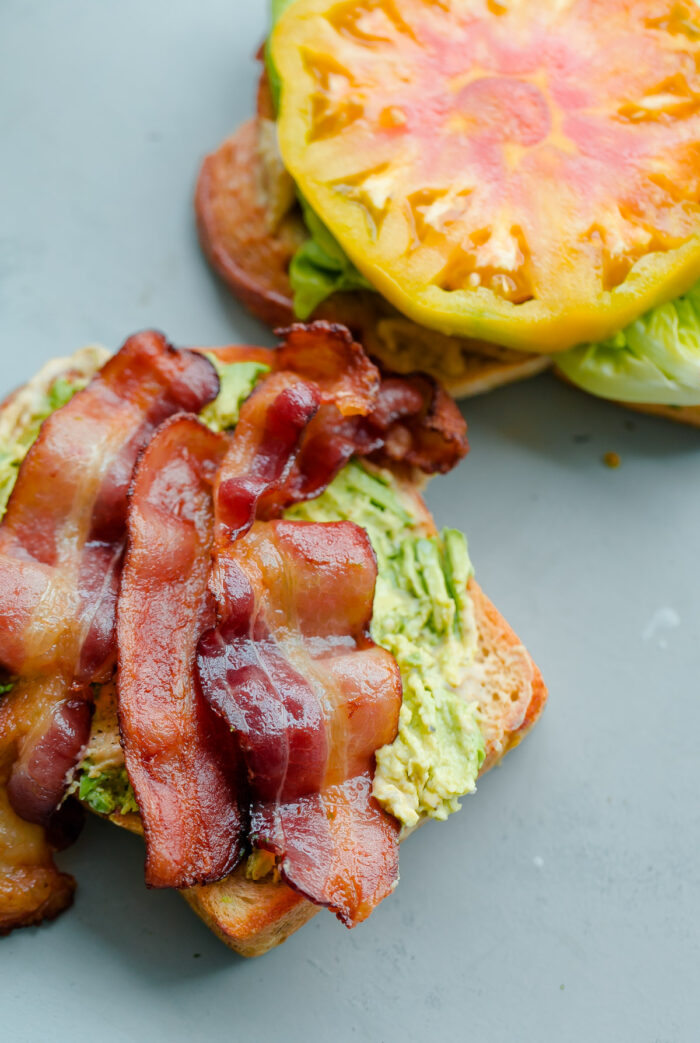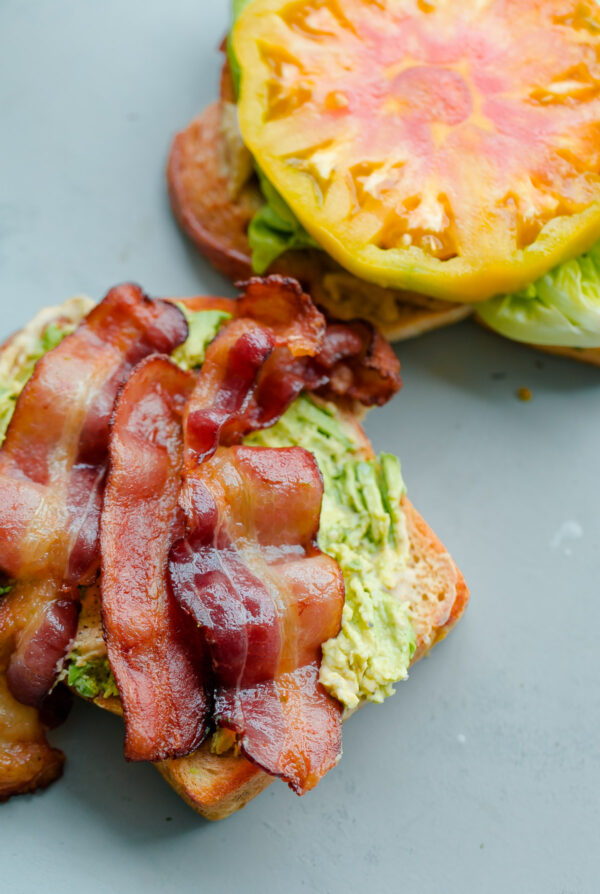 This post is in partnership with Sabra.
Confession time. It took years for me to join the BLT bandwagon. It happens to be Connor's favorite sandwich of all time, and I'm pretty sure his infatuation with this classic passed itself onto me at some point in the past eleven years of our relationship (eleven years!?!).
You see, I didn't love bacon growing up. I just heard a collective intake of breath from all of you reading this post, and I get it. You didn't like bacon? Yes, I was that kid. Somehow, along the way, I got over this aversion and embraced bacon – as long as it is crispy! One thing I've never quite gotten over is my dislike of mayonnaise. I like it in egg salad and tuna sandwiches (and am all for homemade mayonnaise every now and then), but that's about it.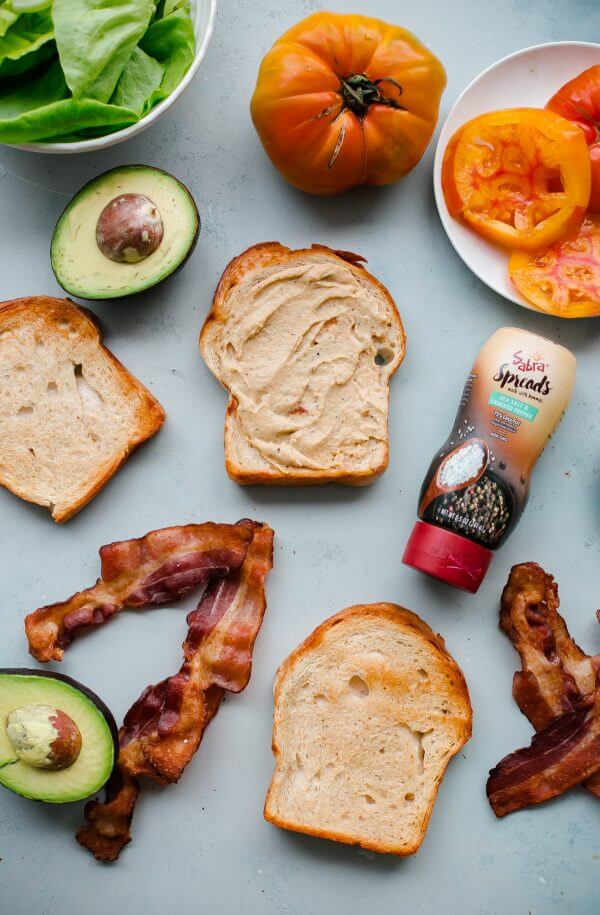 As most of you already know, BLT sandwiches are traditionally made with mayonnaise. I've always gotten around this by substituting the creaminess of mayo with mashed avocado (technically, a 'Caliornia BLT' or 'BLAT'). All BLT sandwiches should contain avocado. It's just a fact.
Recently, my friends at Sabra introduced a new line of wholesome, refrigerated hummus sandwich spreads, and I've been dying to try them on my favorite sandwiches. I've always loved spread traditional hummus on bread and toast (remember this spicy hummus avocado toast?!).
The spreads come in easy-to-use squeezable bottles and come in a variety of flavors, including sea salt & cracked pepper, garlic herb, and honey mustard. It is a wonderful alternative to mayonnaise, because it offers healthy protein and fiber, and contains 75% less fat.
Plus, hummus > mayonnaise.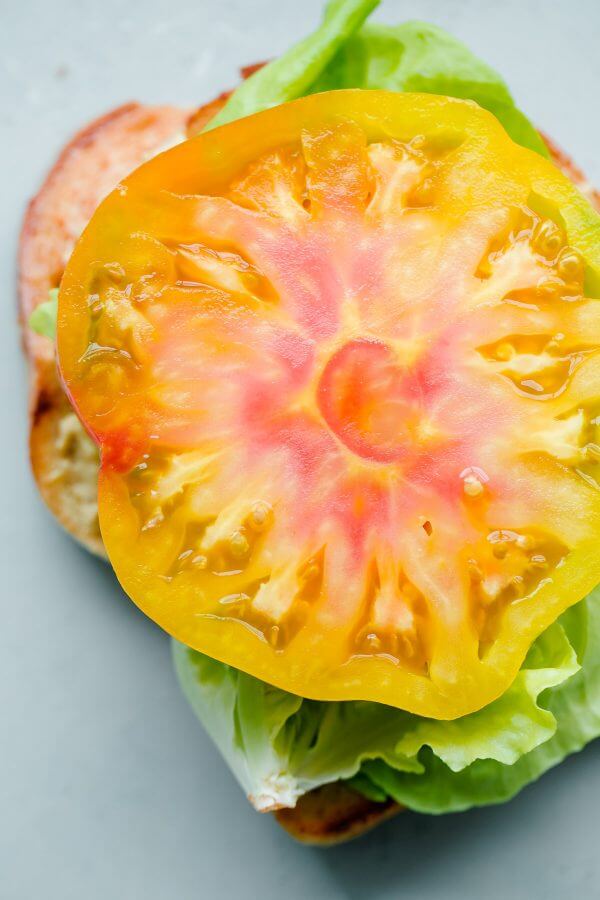 As it turns out, hummus is an incredible addition to a traditional BLT. I used the sea salt & cracked pepper, which has a lovely fresh pepper flavor and paired well with the fresh tomato, but the other flavors would work just as well (I'm not a huge honey mustard fan, but if you are – you will love that flavor hummus spread!).
My favorite way to elevate a normal BLT is to use heirloom tomatoes. If your sandwich only contains a few ingredients – bread, crispy bacon, avocado, lettuce, and tomato – the key is to use only the best! Thankfully, I'm still finding great tomatoes at my local farmer's market and randomly found the prettiest ones ever for this sandwich.
I can't handle the ombre yellow/orange/pink color! Too gorgeous.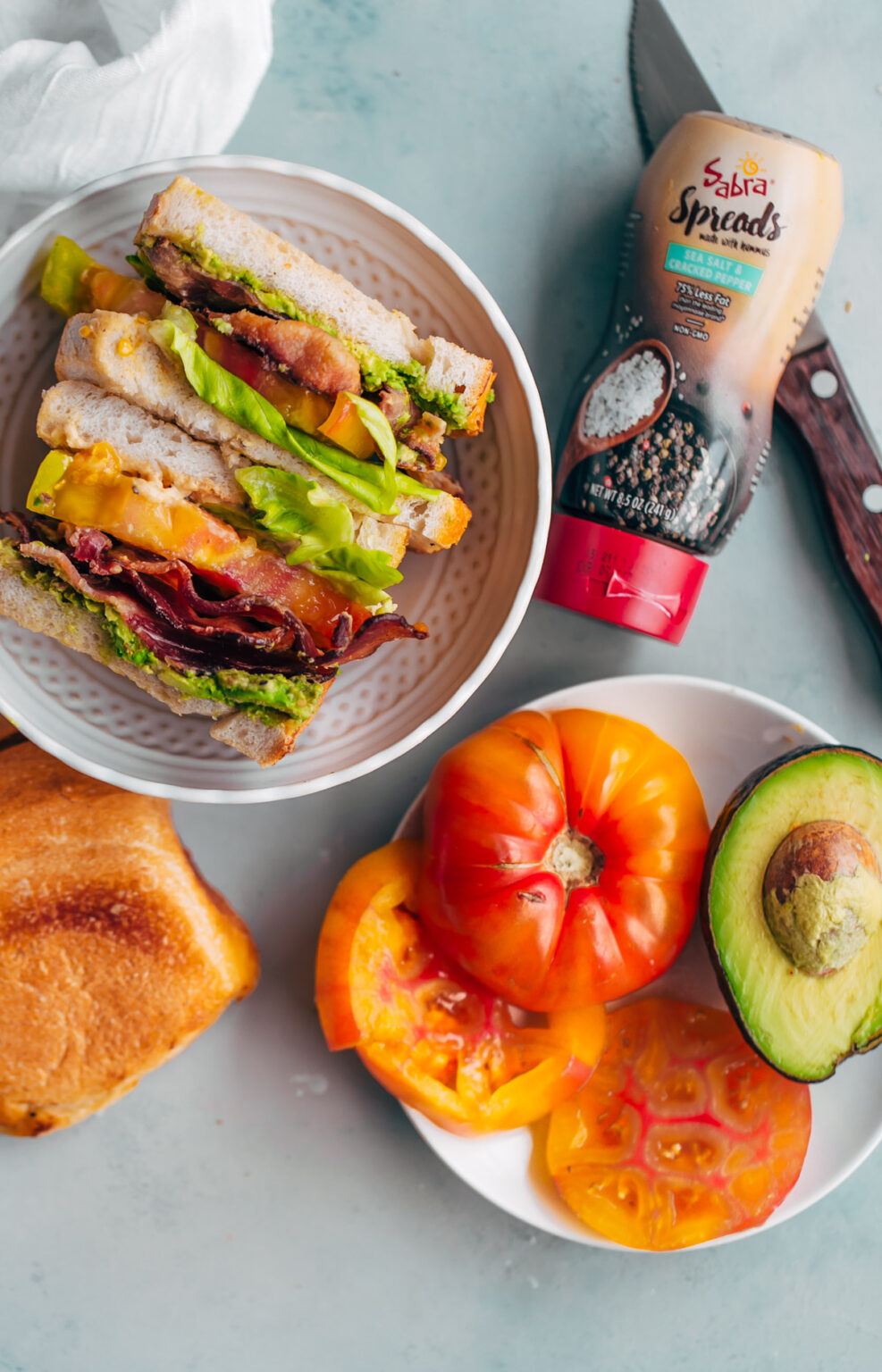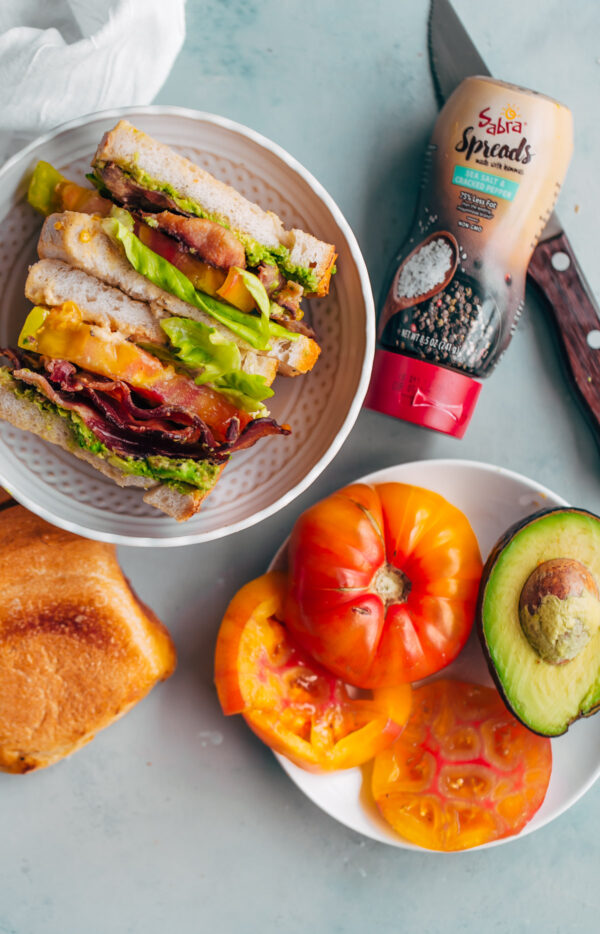 My next biggest tip is to bake your bacon! I'm sure many of you are already doing this, but it saves so much clean-up on the stove-top and the bacon cooks incredibly consistently.
Oh, and buy some great bread. The end.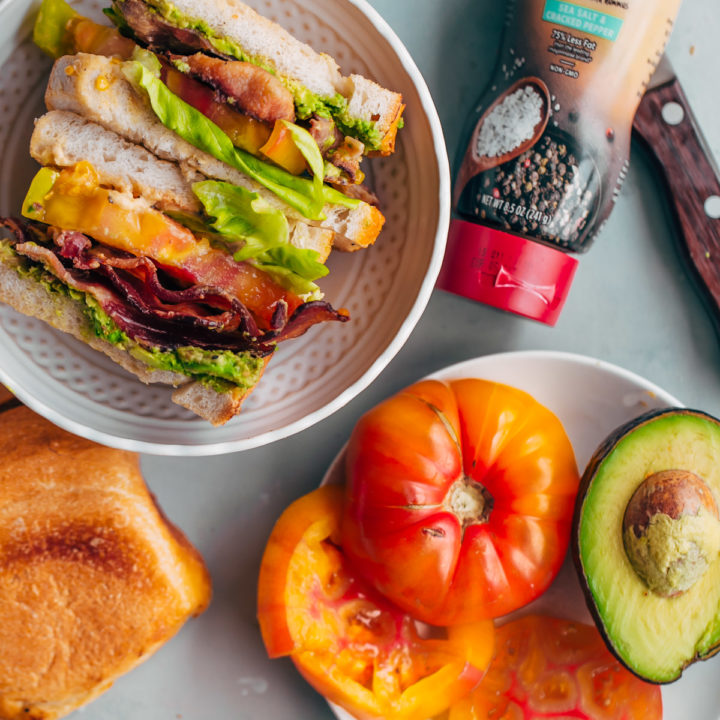 California BLT Sandwich with Hummus
Yield: 1 Serving
Additional Time: 5 minutes
Total Time: 5 minutes
Ingredients
2 thick-cut slices of bread, toasted
half a ripe avocado, thinly sliced or smashed
1 large slice of heirloom tomato
3-4 slices of cooked bacon
1-2 large pieces of butterhead lettuce
Instructions
Spread a medium layer of hummus spread on each piece of toasted bread. Layer one piece with sliced or smashed avocado, heirloom tomato, cooked bacon, and lettuce and top with the remaining piece of toast, hummus spread facing down. Slice in half and serve immediately.
Notes
Tips for Success:
To Cook the Bacon: Preheat an oven to 375 degrees Fahrenheit with a rack in the center position. Line a baking sheet with aluminum foil and lay the bacon strips flat on the foil. Bake for 15-20 minutes, flipping the bacon slices halfway through. Transfer the bacon slices to a paper-towel lined plate to cool slightly before using.
Nutrition Information:
Yield: 1
Serving Size: 1
Amount Per Serving:
Calories: 513
Total Fat: 29g
Saturated Fat: 6g
Trans Fat: 0g
Unsaturated Fat: 22g
Cholesterol: 23mg
Sodium: 1222mg
Carbohydrates: 46g
Fiber: 13g
Sugar: 8g
Protein: 22g
This recipe post is in partnership with Sabra. I am proud member of the Sabra Tastemaker program! Thank you for supporting brands that I love.
This post contains some affiliate links, which means that I make a small commission off items you purchase at no additional cost to you. Please read my
disclosure policy
for more information.