Creamy Goat Cheese Grits with Roasted Brussels Sprouts and Squash and Poached Eggs
Creamy goat cheese grits topped with roasted Brussels sprouts and squash and perfectly runny poached eggs! This hearty vegetarian main course can be prepared in less than 45 minutes.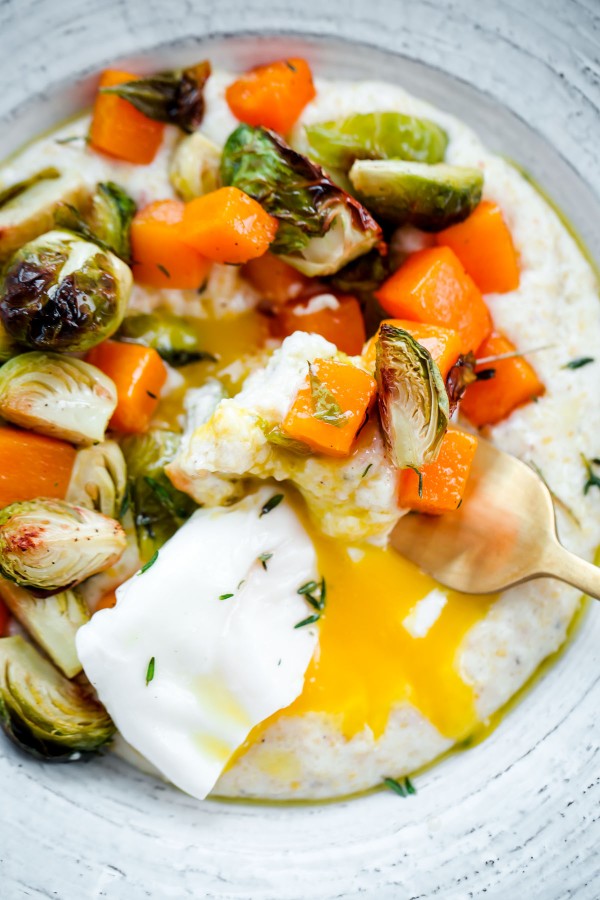 Oh, Brussels sprouts. How I love thee? Let me count the ways. First, I dedicated an entire week of new recipes to this little sprout last year.
I shared everything from fried Brussels sprout leaves with lemon and chili flakes to these roasted Brussels sprouts with squash, dried cranberries, and Dijon vinaigrette (if you're looking to add a last minute Thanksgiving side dish to your table, this is it!). Then, I tried to convince you to shave and eat your Brussels sprouts raw in these salads (one, two, three).
Today, I'm taking my favorite roasted vegetable combination – roasted Brussels sprouts and butternut squash – and placing them on top of creamy goat cheese grits along with perfectly poached eggs (see my tips in the recipe directions!).
It makes an amazingly hearty and satisfying vegetarian dinner, but can easily double as post-Thanksgiving Day brunch fare. Truthfully, you can't go wrong with this stuff. If you have roasted vegetables from the day before, by all means, use those instead! This dish can stand on its own, but is a great way to use up all of those leftovers as well.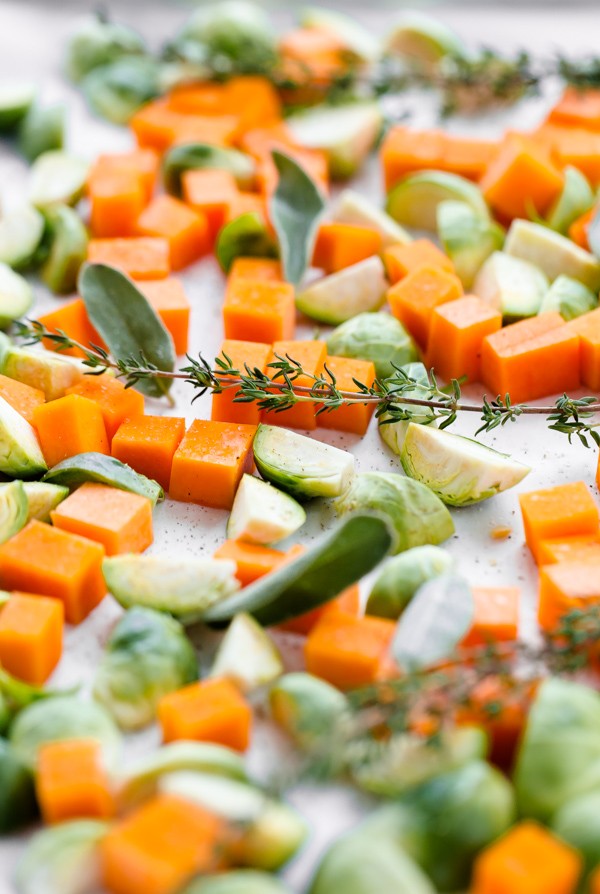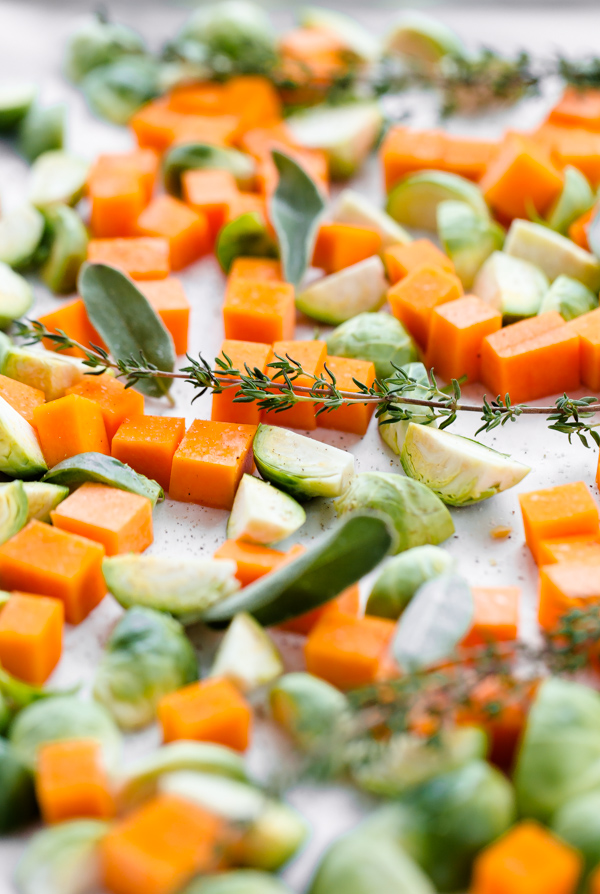 As I was developing this recipe, I was reminded of the fact that I should cook grits far more often. They're very easy to prepare! I don't really consider myself a grits aficionado, but man, these grits are good.
In the past, I'd always looked at grits as the Southern equivalent of Italian soft polenta, but they are, in fact, very different (thanks to The Kitchn for clearing that up!). Traditional grits are made with a variety of dent corn.
I've had good grits and bad grits, and trust me, there is a night and day difference between the two. Another tip? Don't substitute whole milk with skim milk, or skip the goat cheese or butter! It's going to be a little more indulgent and that's OK.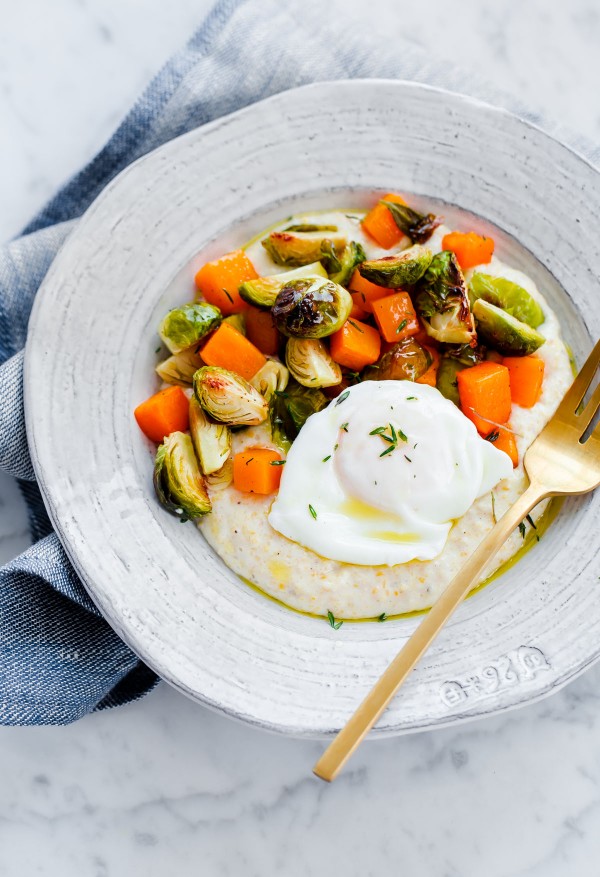 My biggest advice for making amazing grits at home is to get your hands on some high-quality grits! It makes a huge difference in flavor. Huge!
For this recipe, I used stone-milled rainbow corn grits from a local Chicago brand called Baker Miller Flour & Grain Co., which I found in the bulk bin at my local Whole Foods.
If you're looking for a similar substitute at your grocery store, I recommend seeking out "stone-ground corn meal" (polenta is not an equal substitute and will result in a different texture). Otherwise, Southern-style grits would be the closest equivalent.
The good news? Regardless of the type of grit you use, the ratio of liquid:grain (3:1) for cooking is the same.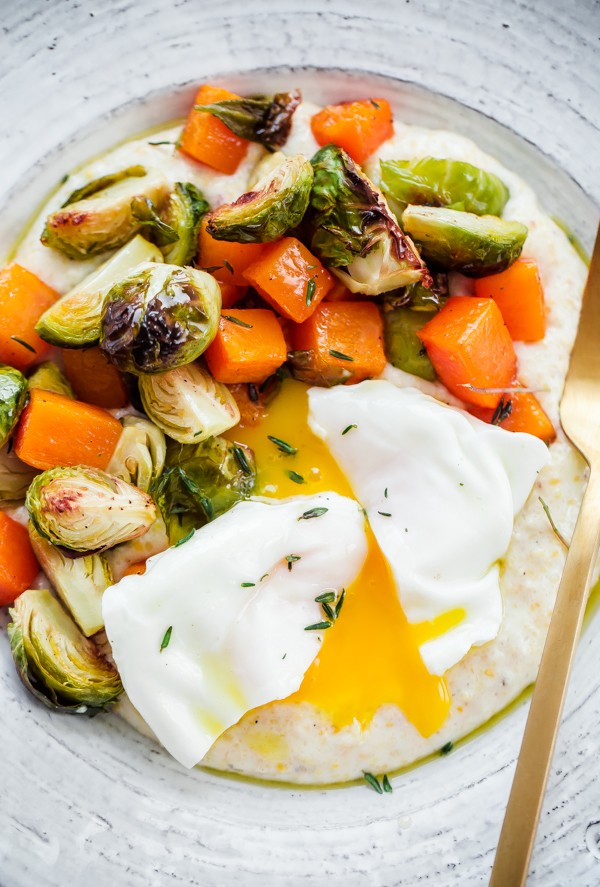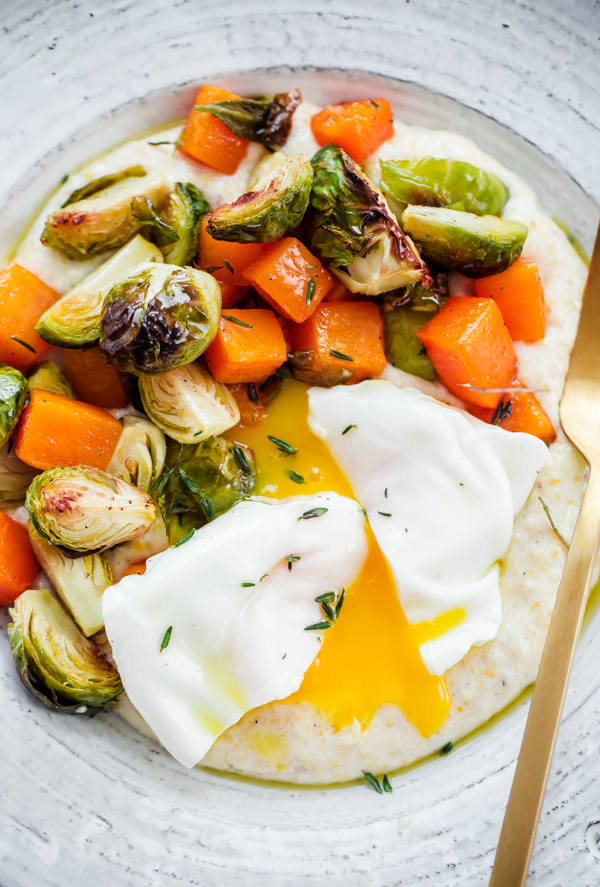 The nicest part of this recipe is that all of the components can be prepared at the same time. The vegetables can be roasting in the oven as you cook the grits, and just before you serve everything, you can cook the eggs!
If you've never successfully poached a perfectly poached egg (with firm whites and an entirely runny yolk), see my tips in the recipe below. No need for vinegar or water vortexes – just a pot and three minutes of cooking time!
This is my go-to method and it never fails. [On that note, I plan to share my favorite for prepping poached eggs ahead of time – an ingenious method that I learned in culinary school – in the coming weeks! It's life-changing and will change your breakfast game during the upcoming holiday season.]