Day 12: Pork Chops, Charcutiere Sauce & Coffee Éclairs
I'll keep today's post short, as I'm in the midst of studying for our practical and theory test on Thursday!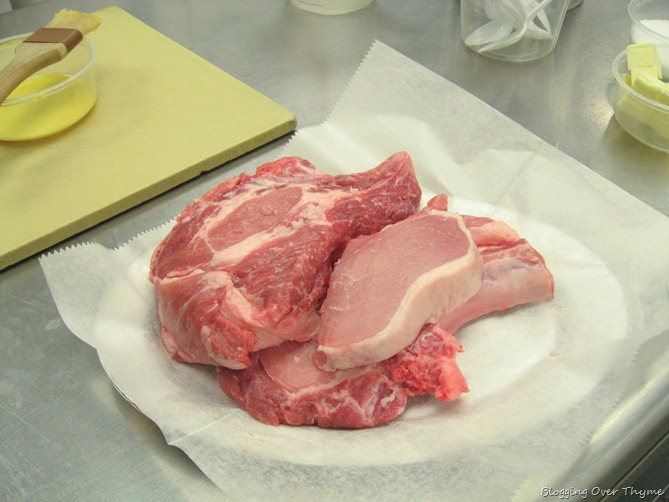 Today's menu involved another new (to us) protein, PORK.  I have to admit, I haven't cooked a lot of pork in my own kitchen either (besides a pork tenderloin), so this was completely new to me.  Though I don't eat a lot of meat, I am excited to finally know how to cook the stuff!  I've always found it somewhat intimidating, I'm sure that will no longer be the case by the end of the program.  At least, I hope so!
Today's pork dish was LA COTE DE PORC POELEE (which literally means, pan seared boned pork loin) served with LA SAUCE CHARCUTERIE.  Once we pan seared our pork, which essentially involved placing it in a very hot sautoire pan with clarified butter and browning both sides.  We then popped into into the oven to finish cooking.  The way we test to see whether it is done is essentially with our fingers.  With pork, it should be mostly firm. 
After we finished cooking our pork chop, we got started on the sauce.  Charcuterie sauce is a derivative (variation) of sauce Robert, which is a classic French pan sauce made with white wine, white vinegar, shallot, and dijon mustard.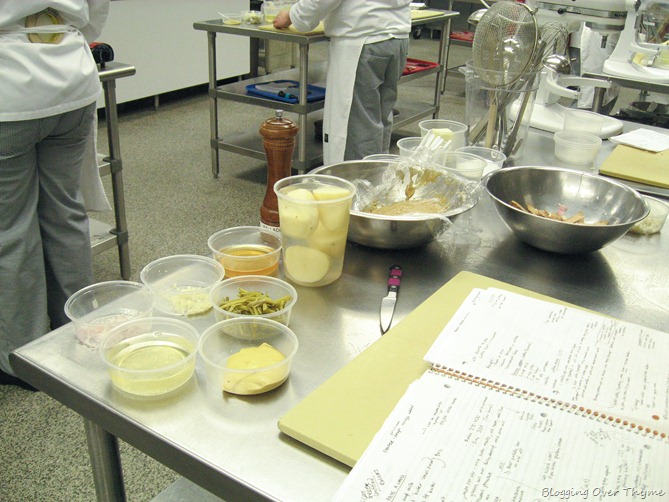 Using the glazed sautoire pan, we added our shallots and garlic (which is optional).  This was all deglazed with white wine and the rest of our ingredients, along with pork jus.  The addition of julienned cornichons (or gherkins)—which are a type of small French pickle—makes it a charcuterie sauce. 
As you can probably tell from the ingredients, it is a quite acidic pan sauce from the vinegar and pickles.  However, it pairs perfectly with a  pork loin, especially if it is marbled with quite a bit of fat.  Acid cuts fat!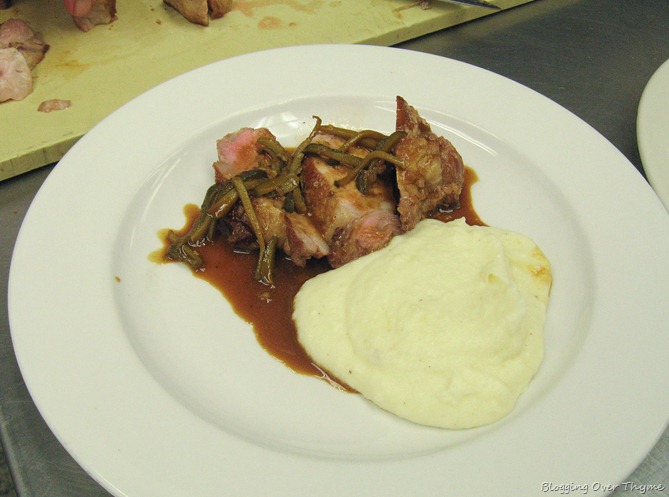 Our pork loins were served with LA POMME PUREE, mashed potatoes.  We learned the official technique for making the creamiest mashed potatoes ever!
It essentially involves cooking and ricing the potatoes (with a potato ricer), letting them dry a bit in the pan and adding LOTS of warm heavy cream and cold, cubed butter.  During demo today, Chef Brian literally made three potatoes worth of mashed potatoes, but used close to 1/2 POUND of butter and I'm guessing at least a cup of cream.  These mashed potatoes are no joke—especially for your waistline!
However, as he explained, these mashed potatoes are not supposed to be served in typical ginormous American portions.  In fact, you would normally be served a quenelle of mashed potatoes, because they are so heavy and filling.
In addition to our hearty meat and potatoes main course, we also made gaspacho (the French spelling).  Actually, we technically threw the ingredients together yesterday afternoon and let it all marinate over night.
Our gaspacho was made up of red onion, tomato (which we blanched, de-seeded, and cut up), cucumber, cilantro, celery, red pepper, spring onion, garlic and other aromatics, including toasted cumin seed, Worcestshire sauce, tobasco, olive oil, and sherry wine vinegar.
Instead of placing the mixture in a food processor or blender, we actually used a meat grinder attachment for a KitchenAid stand mixer.  This made it the perfect texture, without over blending and making the soup too smooth.  It still had texture and body! 
We topped it with a garnish of the main ingredients, cut into brunoise (1/8 inch cubes) and some brunoised croutons.  It was good!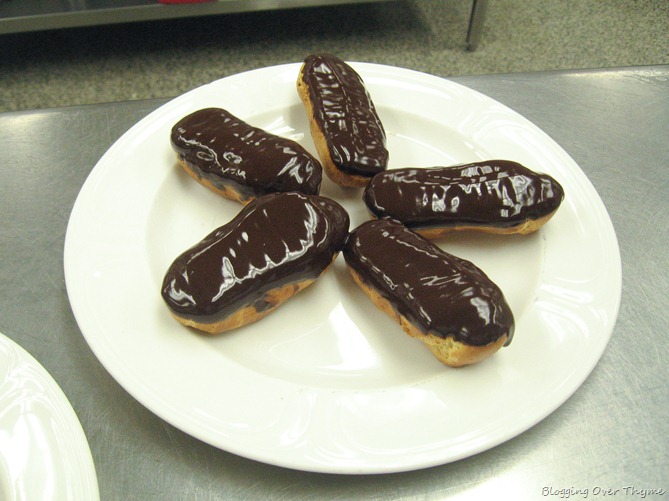 Of course, we couldn't finish the day without another pastry.  Today's was a variation of the cream puffs we made last week, the classic eclairs! 
Éclairs, like cream puffs and profiteroles, are made with pate a chou dough (a mixture of milk, butter, salt, and flour—cooked until it forms a dough) piped into 3-4 inch long stripes. 
Once the éclairs were fully baked, we filled them with pastry cream, except today, instead of making regular pastry cream, we flavored it with coffee paste!   We then dipped them into chocolate glaze, made with butter, semisweet and unsweetened chocolate, and a tiny bit of corn syrup. 
These were dangerously good!  I swear, I didn't even know I was a fan of eclairs!  I guess I've just never had a really good one before! 
Lunch was followed by clean-up—always a fun task!   I guess I get in a mini-workout though.  Today I took charge of sweeping the kitchen floors and using the massive mop and bucket.  We definitely have some hard labor every day, which is inevitably a necessary chore of working in a professional kitchen.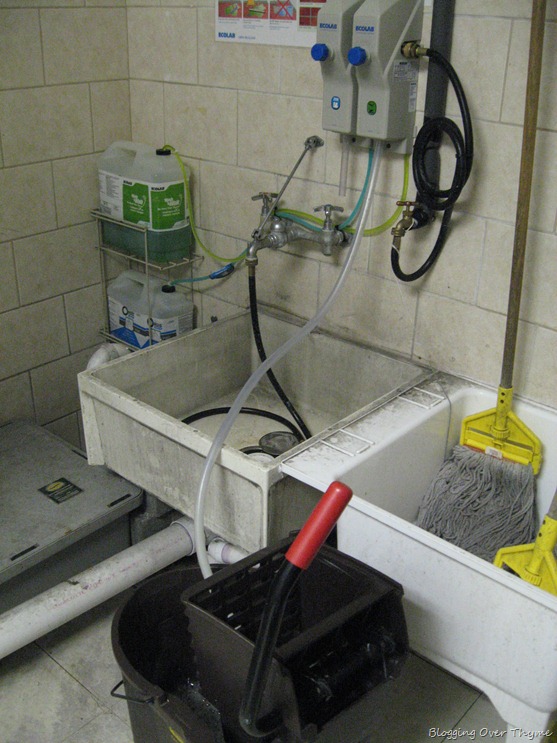 Off to do more studying!  I think I have a pretty good idea of the some of the dishes we might be required to make for the practical (Hollandaise..cough!), but I've been practicing my tourneed potatoes in the kitchen.  They are already a lot better than they were that first day, but it definitely is a work in progress.
Don't think I'll get a chance to update tomorrow, so check back Thursday for a full recap.  Trust me, I already know what's on the menu for tomorrow and you won't want to miss it! 
This post contains affiliate links, which means that I make a small commission off items you purchase at no additional cost to you. Please read my
privacy policy
for more information.