Day 18: Coq Au Vin, Tarte Tatin, & Dim Sum
After encountering a major traffic jam on the way to school on Thursday morning (which I luckily figured out how to get around), I was worried the day was going to get off on a bad start, but luckily it ended up going smoothly.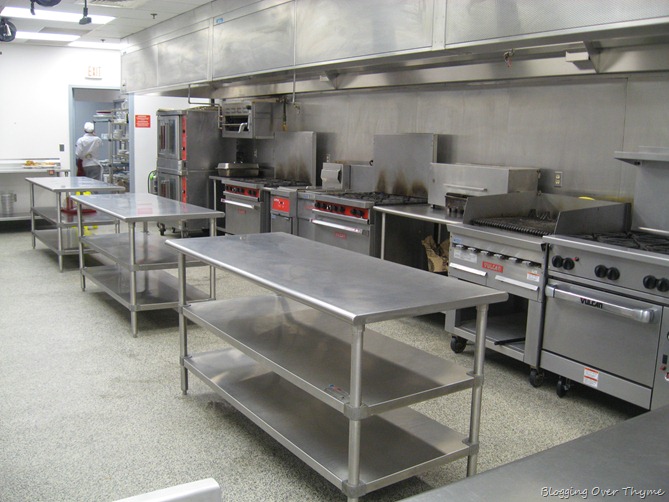 The main dish for Thursday was COQ AU VIN.  We broke down and started marinating the chicken the day before in class.  Traditionally, Coq Au Vin was made with roosters or old hens that were no longer useful on the farm, so they were much tougher, gamier animals than the chickens we are used to breeding today.  Marinating them helped them become much more tender. 
During our morning lecture, we learned that there are three purposes to a marinade:
Tenderize by virtue of a culinary acid, such as wine, vinegar, citrus, etc.
Flavor something through the use of aromatics, garlic, and spices.
Enrich a meat through the addition of some sort of fat (olive oil, etc.)
The ratio of these components should change based on the type of meat you will be making.  Since tougher meats require more tenderization, you should use more acid.  However, tender cuts (such as tenderloin and chicken breasts) don't require very much, but may require more fat. 
Our marinade included red wine, mirepoix, bouqet garni (thyme, peppercorns, parsley stems, and bay leaf), orange segments, clove, and garlic.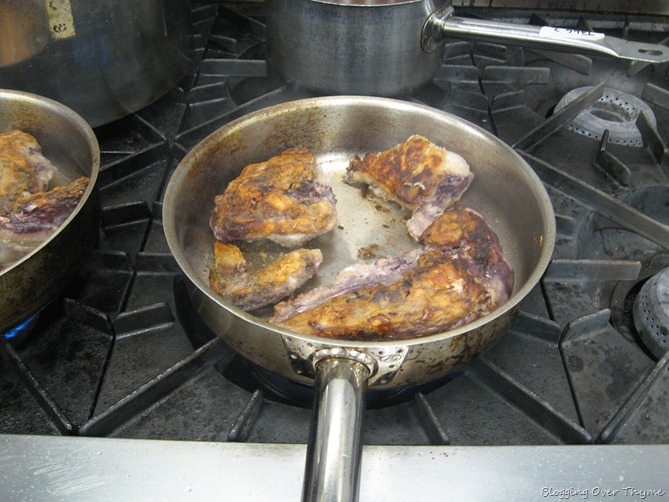 To make our Coq Au Vin, we removed the chicken pieces (on the bone) from the marinate and lightly dusted them with flour and seared them in a very hot pan.  These were then set aside…
We drained the pan of any excess fat and deglazed with the marinade mirepoix and added in a small amount of tomato paste.  This was all deglazed once again with red wine (also from the marinade).  To this, we added veal stock and placed all the seared chicken back into the pan.  We reserved the breast for later, as it cooks and dries out much faster than the drumsticks, thighs, and wings.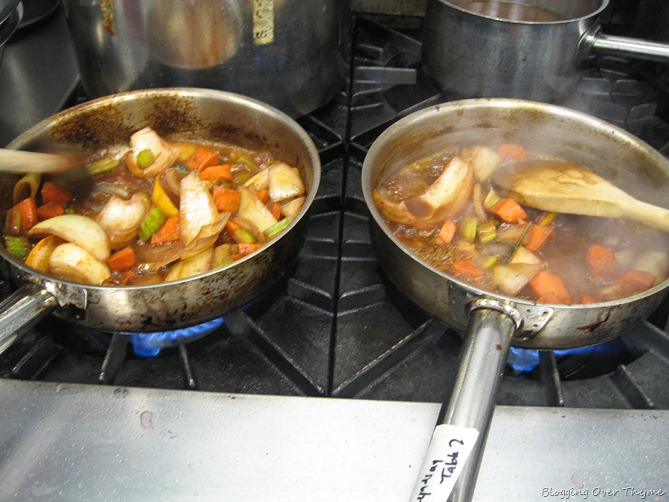 The pan was then covered with a cartouche (parchment lid) and placed in a 300-325 degree oven until the chicken was cooked through—we added the breast about 30-40 minutes later.  Right before serving, we removed the chicken and strained the sauce.  This is almost always done–as the mirepoix at that point has served its function–to add flavor to the sauce.  
The traditional garnish for Coq Au Vin is quartered and sauteed mushrooms, bacons (cut into lardon—which are small 1/2 rectangles), and glazed pearl onions—which were all cooked separately and combined with the sauce and chicken at the end.  This was served with a simple rice pilaf.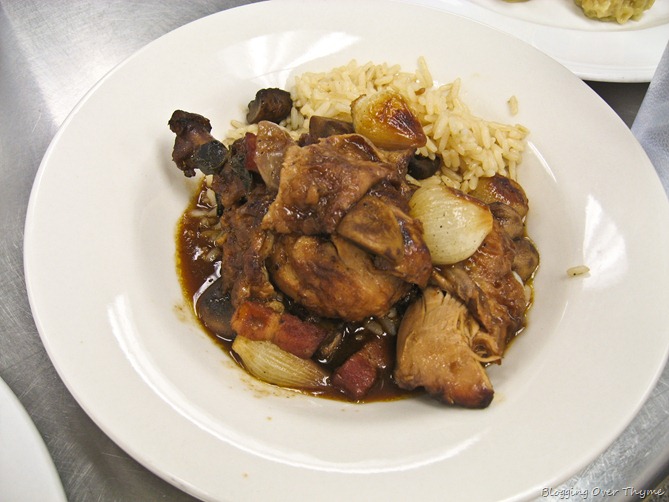 Coq Au Vin –not super photogenic, but very tasty.  The meat was falling off the bone!
To go along with our Coq Au Vin, we made RATATOUILLE for the first time.  Ratatouille is a classic dish made with red bell pepper, yellow squash, zucchini, tomato, onions, and eggplant.  We also added in some garlic and chiffonade basil for flavor! 
It is a simple dish, but requires some careful attention to knife skills (as each component is supposed to be nearly identical in size).  Each component is also cooked separately, as well, and then tossed together at the end before service.  I can't help but think of the Pixar movie whenever I think about this dish now!  
This plate was very colorful and fun to plate, especially the little drizzles of olive oil at the end!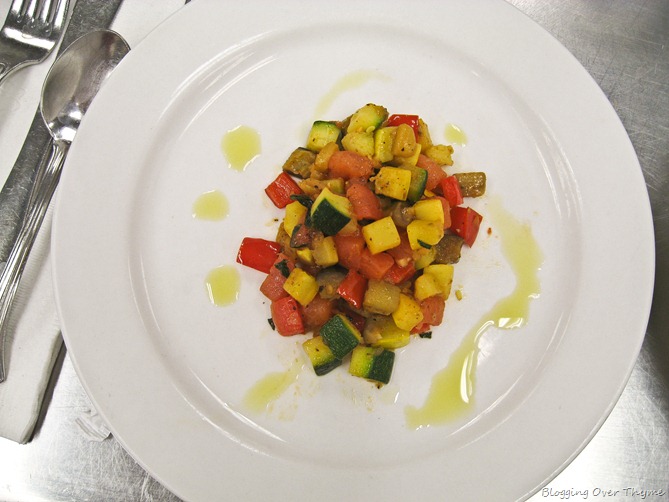 For our dessert, we made TARTE TATIN, which is another classic French dessert.  Our little individual portion sizes were made using very small blue-steel pans to make a simple caramel, to which we tossed in cored and quartered apples.
The apples were then covered with leftover (docked) puff pastry discs and placed in the oven.  Very delicious! This dessert is also made with pate sucree or even pate brisee too.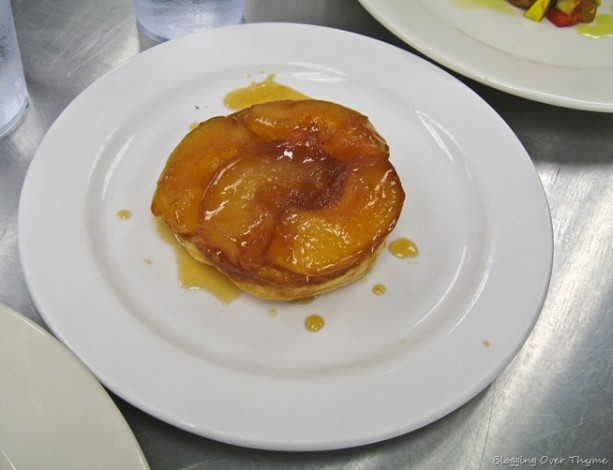 For fun (and because Chef Somchet wants to teach us as many Asian dishes as possible), we also learned how to make DIM SUM.  These were very delicious and I'm definitely going to be making these at home!  I will also share the recipe when I do, as it is relatively simple and straightforward.
Ours were made with a combination of ground pork (must be at least 30% fat) and finely chopped raw shrimp, to which we added in chopped mushroom, green onions, ginger, and lots of other flavorings.  They must be eaten straight from the steamer–hot, hot, hot!  
Even at 8:30 am, during demonstration, these tasted wonderful!  I've really enjoyed learning more Asian dishes, as I believe that is probably where I lack the most knowledge and experience.   I think we have an entire Asian Day menu coming up in the near future—I'm very excited for that!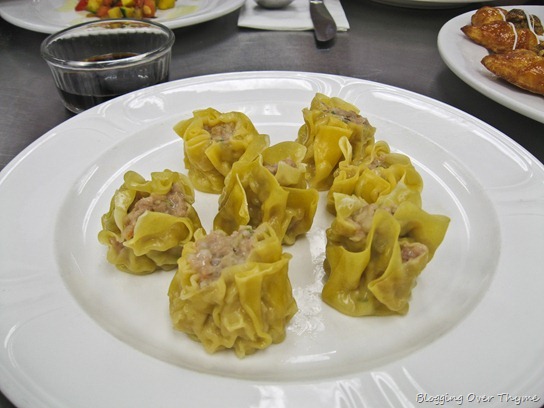 Hope everyone is having a great weekend!  And, of course, making lots of great food for the SuperBowl.  I don't care about football very much, but I do enjoy making the food for it!  
This post contains affiliate links, which means that I make a small commission off items you purchase at no additional cost to you. Please read my
privacy policy
for more information.