Day 19: Lemon Tartelettes, Gnocchi, & Grenobloise
The first day of Week 6 (how can that possibly be true already?!) was filled with many delicious dishes.   I was happy to find out that fish was on the menu once again.  However, today we worked with rainbow trout, which happens to be one of my favorite kinds of fish.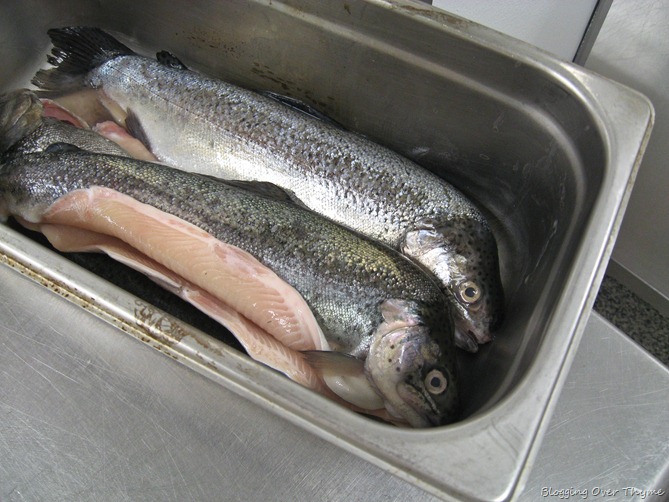 The official dish is called, LA TRUITE SAUTEE GRENOBLOISE, sauteed trout served with grenobloise sauce, which is a very similar sauce (derivative) to meuniere sauce, which we made last week and served with flounder.  To make this dish, we trimmed and removed the pin bones from all the trout filets (keeping the skin on) and lightly coated it with flour, before searing it over medium-high heat in clarified butter.
Once our fish was seared, we threw together the sauce A LA MINUTE (at the last minute).  The only difference between our grenobloise and last week's menuiere sauce was the addition of capers and baby croutons.  I love capers, so I was game!
The croutons were sprinkled on the fish for garnish, which added a great crunch to the dish as well.  We also peler a vif'ed a lemon and cut up some segments to place on top as well!  This was very lemony and delicious.  I often find the most simple of dishes to be the most satisfying.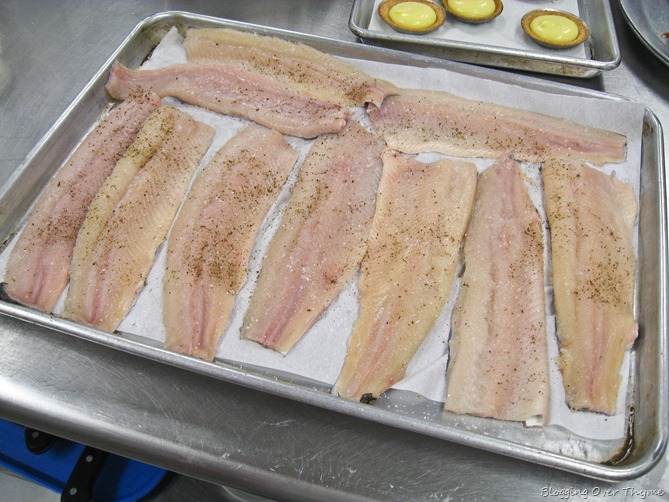 To go with our trout, we also made braised endive.  For this dish, we literally cut endive lengthwise, placed them in a greased sautoir pan and covered them with a small amount of chicken stock.  Topped with a cartouche lid, it was placed in the oven until they were extremely tender.  Almost the consistency and texture of very soft leeks!
This method of cooking for endives is apparently very popular in France.  Since endive is already quite bitter even when raw, this actually brought out more of the bitterness in the leaves!  I found it interesting and ate mine, but wasn't the biggest fan.  To be honest, I'm not sure if this ever has been a popular dish among students at school!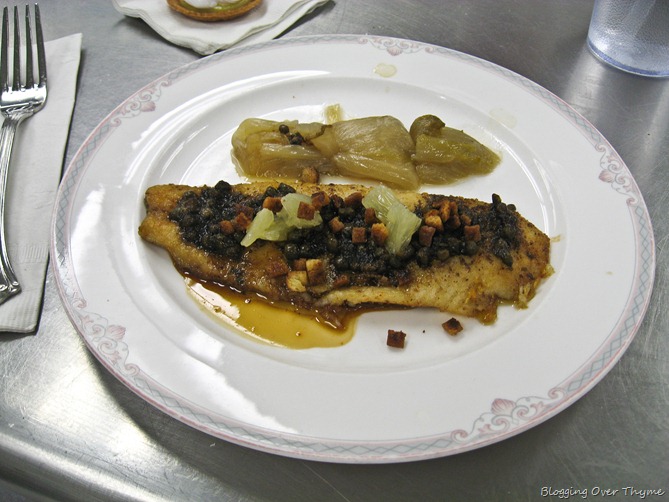 As a (massive and equally as filling) appetizer, we served alongside the trout GNOCCHIS A LA ROMAINE (in Italian known as "Gnocchi alla Romana").  These are not the potato or ricotta gnocchi that you are probably familiar with, but another variety made with semolina flour and made over the stovetop, set, and cut into rounds, similar to polenta actually. 
I am actually very familiar with this dish, because my mom (who is Italian) has made it several times at home for us!  It is delicious and very versatile.  It is essentially a porridge made with milk, semolina flour, butter, parmesan, eggs, and, in our case, seasoned with nutmeg and salt and pepper.
Although you can serve this gnocchi straight from the pan and soft, we set ours in a baking sheet, chilled it, and cut into into large rounds.  For a topping, we made a fennel and tomato sauce, which was very similar to the method we used for tomato and pesto sauce that went with our homemade pasta.  For extra anise flavor, we added in crushed fennel seeds and a little bit of Pernod (which is a herb distilled alcohol that has an incredibly anise-y smell to it!). 
Topped with a bit of parmesan cheese and heated in the oven.  Yum!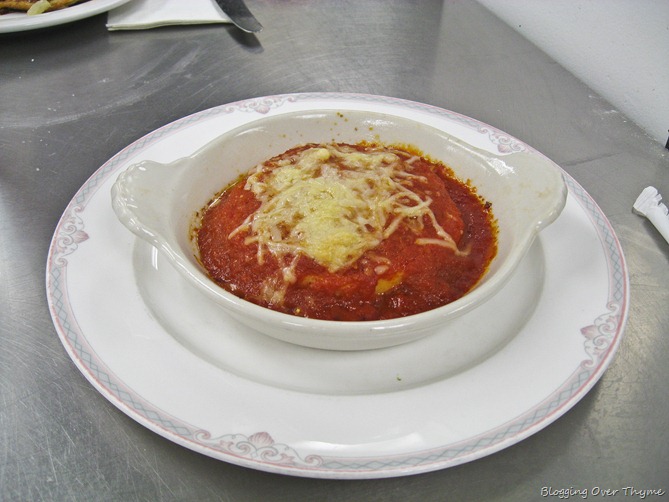 As for our dessert, which I was very excited to see on the menu in the morning, we made KEY LIME MERINGUE TARTLETTES.  We happened to use a very good quality (bottled) pure key lime juice, for whatever reason, but obviously lemon or meyer lemon juice would work just as well. 
To make these, we had the option to make a basic pie dough crust or use leftover PATE SUCREE from the other week—my team chose to go with the latter to save a bit of prep time, but the results are almost identical.  Pate Sucree is a bit sweeter though! 
We made tiny little tartlets, which were probably about an inch-and-a-half in diameter.  After molding, we blind baked them before adding our filling, which was a classic curd.  I am obsessed with tart lemon anything—so this was right up my alley!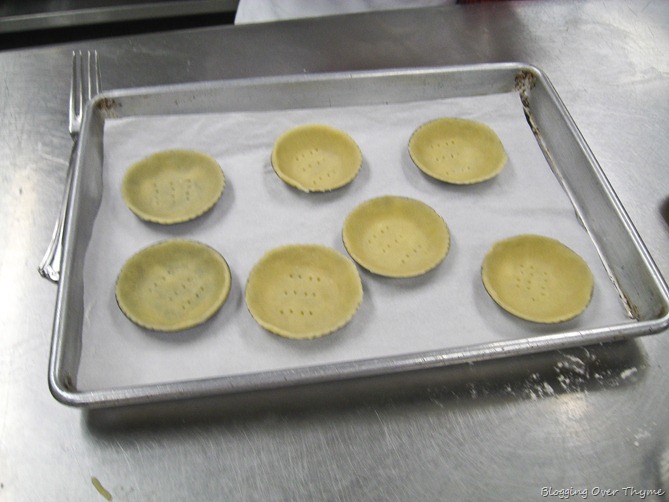 Once we piped our tart shells with lemon curd, we got to work making a meringue topping (we made a Swiss hard meringue).  This involved whisking together egg whites (3 ounces) and granulated sugar (6 ounces) and  slowly heating it over a bain marie, until the sugar was fully dissolved.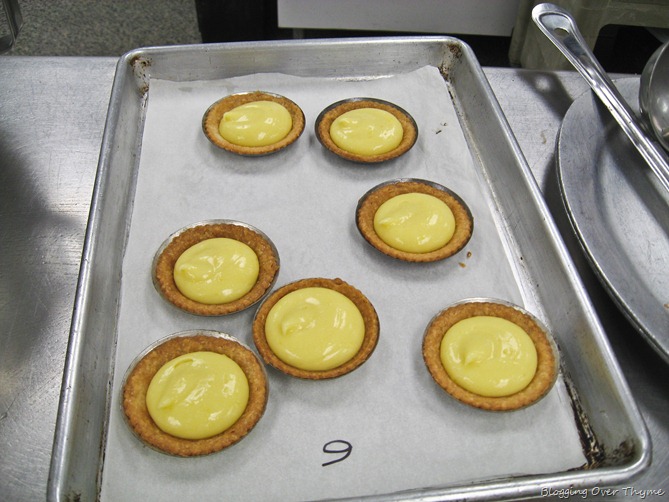 We then moved the mixture over to the stand mixers, where we beat it until the meringue held stiff peaks and was very shiny.  After piping a small amount on our tarts, we had the option of using a torch or the oven to lightly brown the meringue.  Our chef demonstrated on ours using the blow torch, which unfortunately burned the tips a bit.  We later found out that the oven is much more reliable in terms of equal browning! 
Oh well..equally as delicious and marshmallow-y in texture.  These were great and the perfect 2-3 bite size!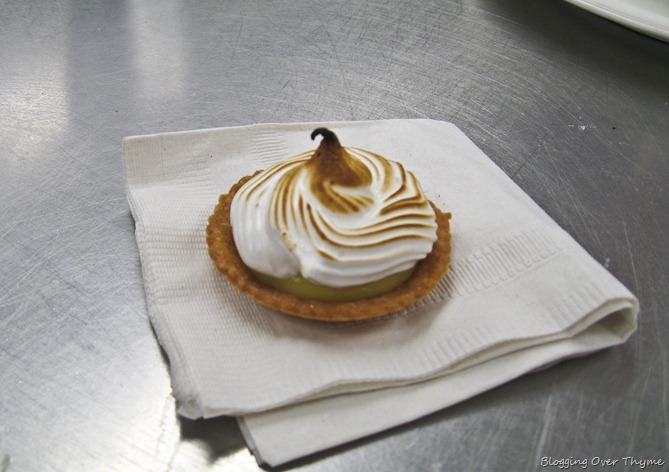 After serving and eating lunch, we delayed our kitchen clean-up to have a quick tutorial on how to make CRÈME ANGLAISE (a cold sauce) and homemade BRIOCHE bread.
I have always wanted to make brioche (don't know why its taken me this long, considering I love working with yeast!).  Our dough, which we made by table, is currently resting in the kitchen (and will rest and rise two more times) before we bake it tomorrow!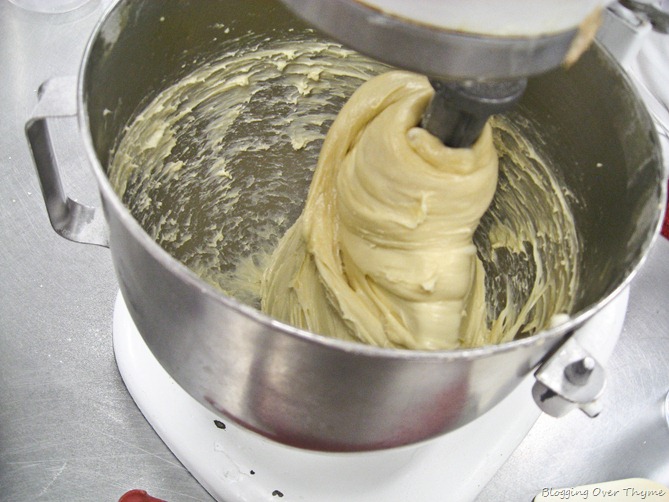 A long clean-up (and chicken bone trimming) session to follow and my feat and back were starting to hurt!  Again—this is the most difficult and least enjoyable part of the day.  Unfortunately, our class is very small (we have actually had two people drop out since we started), so we have to put in double the effort to get this all done and still be on schedule with everything!
It's worth it though…
Back tomorrow with another daily recap! 
Thanks for the continued positive feedback and interest in these posts.  You guys are the best! 
This post contains affiliate links, which means that I make a small commission off items you purchase at no additional cost to you. Please read my
privacy policy
for more information.