Day 24: Artichoke Salad, Chasseur, & Napoleon
Right now, I'm sitting in bed, fighting off sleep, but attempting to keep my eyes open in an effort to tell you all about yesterday's class!  I try to stay on top of my posts as much as possible, because I remember so many more details if I post immediately after class.  Here's hoping I don't forget anything!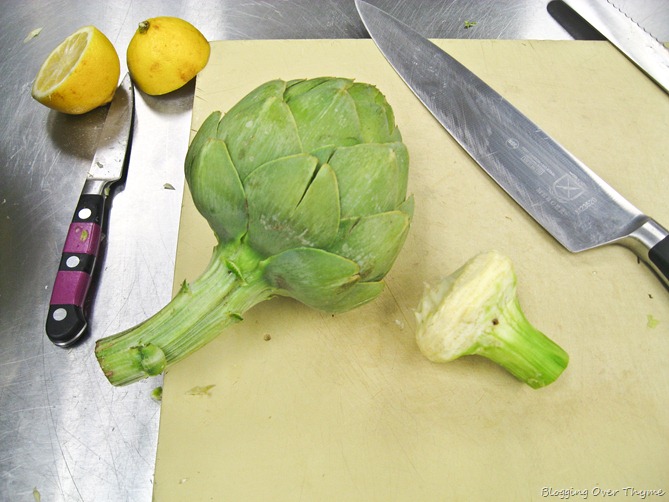 Yesterday's menu involved a stew, a salad, and a classic pastry dessert.  Hmm…that sounds like most days!
Our salad of the day included artichokes, specifically the ones we turned the afternoon prior.  The official name of the dish was LA SALADE DE FONDS ARTICHAUTS A LA GRECQUE, which is a marinated artichoke salad primarily flavored with coriander seeds.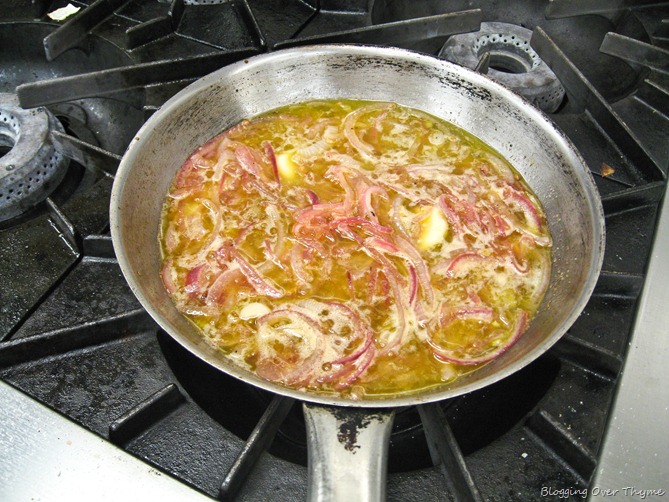 This dish involved sweating red onions in a large amount of olive oil (since we were basically making a vinaigrette) and adding in lemon juice, white wine, and coriander seeds.  We added in the sliced artichoke hearts and let them marinade until service.
This was served over watercress (pretty much any delicate green would do).  It was very pretty, but I wasn't a huge fan of the vinaigrette—perhaps a bit too oily for my liking.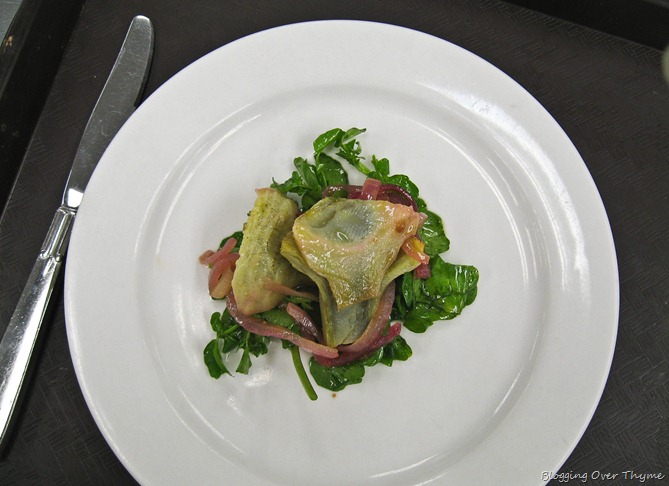 Our main dish was another stew, this time involving chicken legs and thighs, called LE POULET SAUTE CHASSEUR.  The word "chasseur" means hunter of small game.  The dish is flavored with chopped tomatoes, tarragon, and sauteed mushrooms—which apparently are very good flavors for this type of meat.  I don't think I've ever made a dish at home with tarragon before this! 
I'm not sure if I love it…but it did go very well with this dish.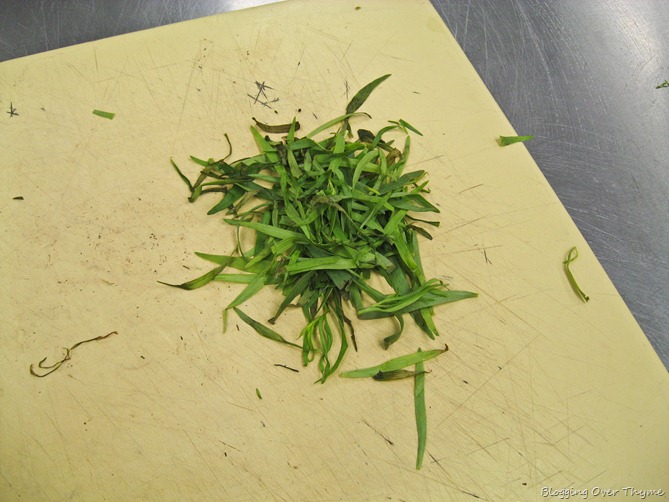 The dish was made in a very similar fashion to all our other stews—by lightly flouring the meat and searing it, before deglazing with mirepoix and red wine—and eventually adding in a large amount of chicken stock.  The meat was then put back into the sauce and allowed to get very tender in the oven until service.
The drumsticks and thighs work beautifully for stews like this because they become very tender and fall off the bone!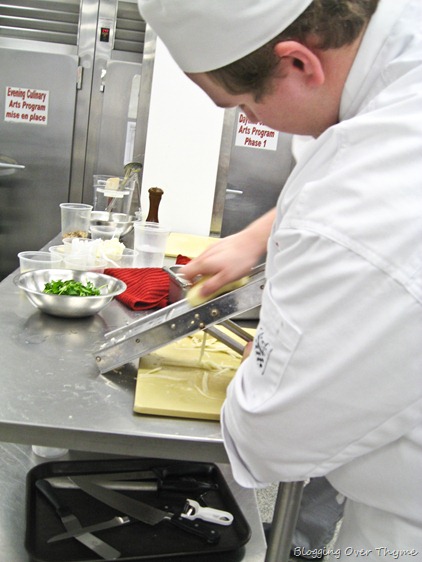 We served ours with a POMME DARPHIN, which is basically a potato pancake of sorts that is made with very finely julienned potatoes.  We used very small pans (maybe 2 1/2 inches in diameter) to make ours, but these could easily be adapted to any size.  Once we seasoned the pans with clarified butter, we added a hefty amount of seasoned potatoes and flipped them once golden brown.  The trick is to brown them perfectly and cook them through!  They were delicious and could be used for so many dishes!
They will also be on our next practical exam—eek!
Though we've been hand-julienning everything up until now, we finally were introduced to the mandolin (see in action above).  I'm not sure how I feel about it though—obviously, it is a life saver for tasks like this, but its very scary to use!  The school has no hand guards, so you really have to be seriously careful with this thing.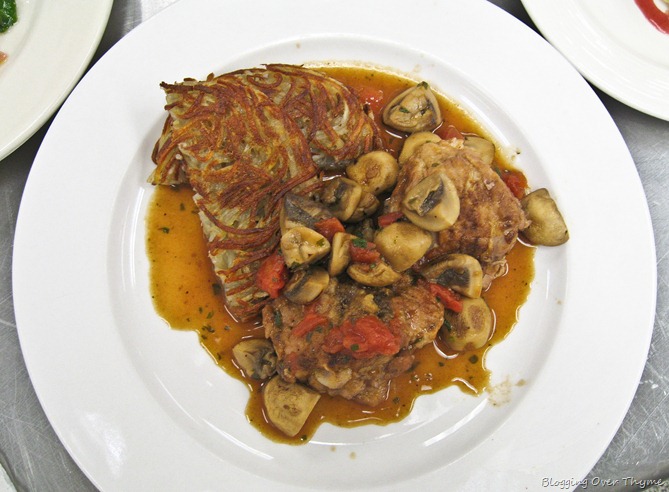 For dessert, we made a very fancy Napoleon, using puff pastry, pastry cream (with gelatin added for stability), and toasted almonds.
We started by rolling out our puff pastry thinly (we made another batch on our own time yesterday) and docking it, and lighting dusting it with sugar.  This went into the oven to bake and once cool, got sliced into three equal lengths.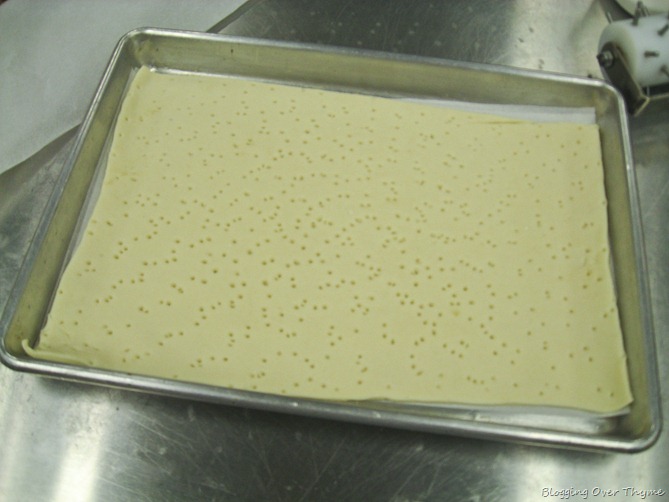 We then added pastry cream between the layers and coated the sides with sliced, toasted almonds.  The top was dusted with powdered sugar and then came the fun part…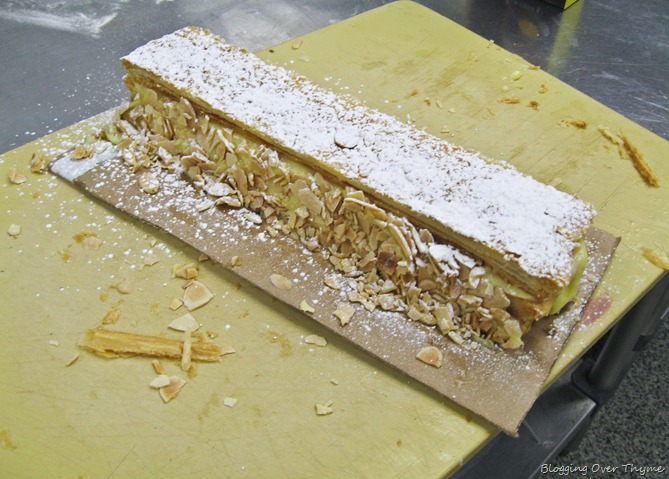 We used skewers (which we heated over a gas flame) to scorch and make marks along the top (X).  Not only does this add an interesting element for presentation, but by literally burning the sugar, you are basically making dark caramel, which adds a nice bitterness to the dessert and cuts the sweetness a bit.
This was a fun dessert to make, but we definitely had to throw it together at the end of service to get everything done in time!  We served ours sliced on top of strawberry puree (made into hearts) for Valentines Day!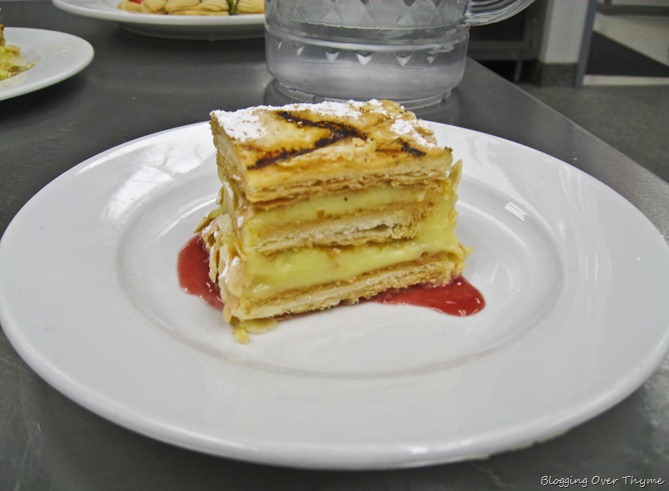 As is the case with every Tuesday afternoon, we ended the day with a meat lecture, where we watched Chef Michel (instructor in Phase II) butcher an entire leg of veal.  This thing weighed 55 lbs and he broke it down completely.  Apparently he used to be able to do all of this in just 20 minutes!!
Butchering is something that L'Academie focuses a lot of attention on because it isn't taught in many culinary schools anymore (or that substantially) and it can save you TONS of money in the industry or your own personal business one day.  Not to mention, it is an incredibly valuable and important skill to have when you go into the industry.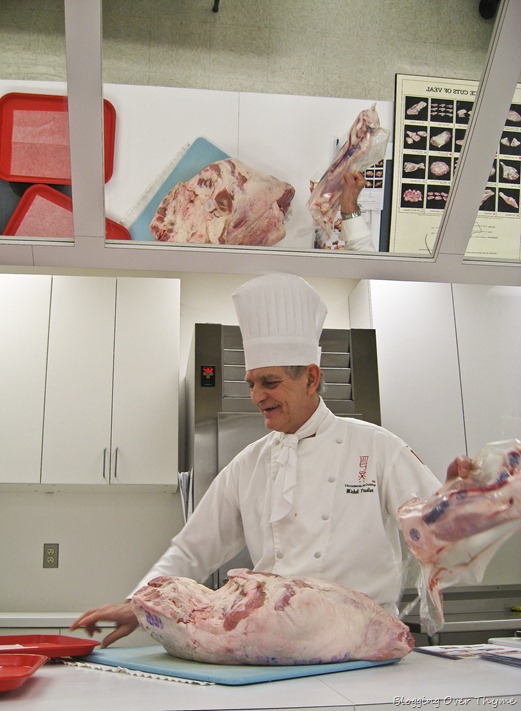 For example:  I believe this entire leg of veal cost about $350 dollars (roughly $6/lb)—and by the time Chef broke it down, he explained that you could easily make up to $3000 dollars by portioning it out accurately and costing it effectively on a menu.  And this was simply from the most tender cuts of the meat from the leg!   Pretty crazy.  If you ordered all of these cuts already fabricated, your costs would be significantly higher.
And on that note, I am off to bed!  Tomorrow is another exciting day in the kitchen—but I'll wait to share over the next few days.  Let's just say that we are taking a major departure from traditional French fare…
This post contains affiliate links, which means that I make a small commission off items you purchase at no additional cost to you. Please read my
privacy policy
for more information.