Day 25: Veal Vennoise, Caesar Salad, & Floating Island
Wednesday was full of many classic and traditional dishes….starting with homemade Caesar salad (which is not French, whatsoever, in origin).  It's funny—Caesar salad used to be one of my favorite things to order at restaurants when I was young, but I haven't had it in years, mainly because I find most to be mediocre or over-dressed.
The best caesar salad of my life was, without a doubt, one I ordered when I went to the Hotel Bel-Air in Los Angeles with my family many, many years ago.  Very memorable!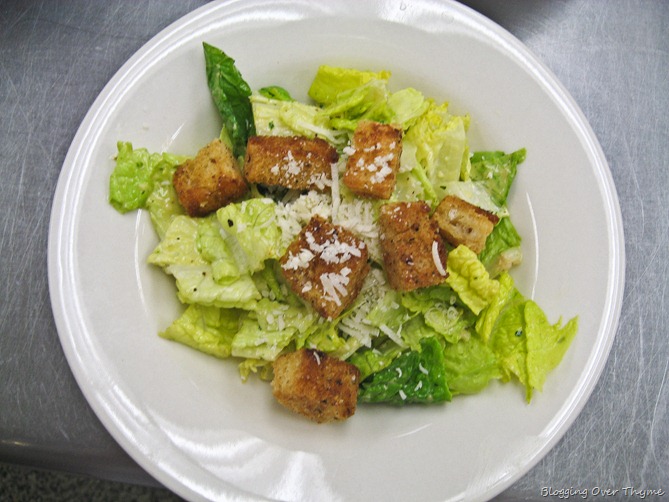 But homemade Caesar salad is a cinch to make!  The dressing is basically a variation of a mayonnaise—started with egg yolk, dijon mustard, lemon juice, and Worcestershire sauce, and emulsified with olive oil.  The addition of parmesan, freshly made anchovy paste, and garlic take it to the next level.  One nice addition we added was very finely chopped parsley, which gave it a very nice color. 
We also made homemade croutons with butter, minced garlic, and a little bit of parsley as well over the stovetop.  They were good!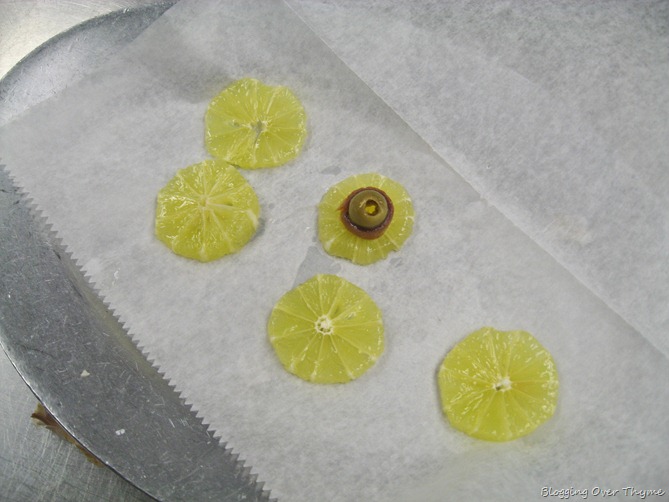 Our main course of the day was ESCALOPE DE VEAU VIENNOISE—Veal Scallop with Viennoise Sauce.  In layman terms, it is breaded veal topped with demi glace and a caper, lemon juice, parsley, and butter sauce—basically another derivative of meuniere–to which we add chopped hard-boiled egg–and a classic garnish of lemon rondelle and an anchovy-wrapped green olive.  Pretty fancy, huh? 
This whole dish sounds really, really weird in concept (and to describe)—but when you had a bite of everything, including the garnish, it came together beautifully and is really delicious.  I was surprised too! 
Traditionally, Veal Viennoise was served banquet style with the garnishes separated by color to resemble the Neapolitan battle flag.  
Besides the garnish and getting our mise en place together, this dish wasn't cooked until the last minute.  We thinly cut the veal (butchered in the previous day's class) into scallops, which are slices no thicker than 1/8 of an inch.  It is a tricky thing to do perfectly, but I ended up doing well for my first try!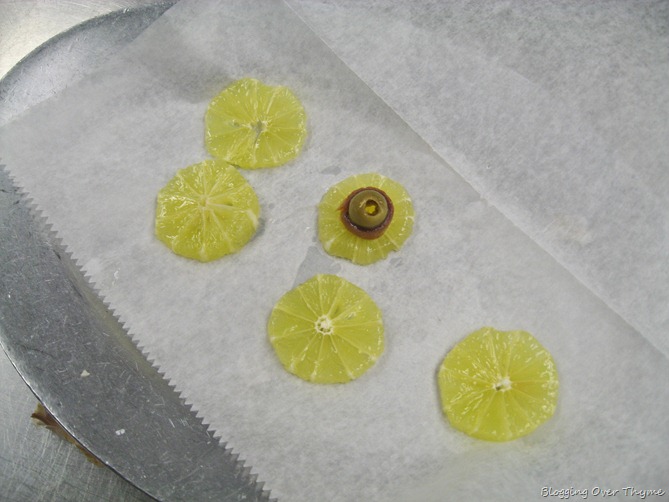 We served our veal with another new potato dish—GRATIN DAUPHINOIS. Bring on the heavy cream, butter, and cheese!  Seriously.
After using the mandolin to cut our potatoes into thin slices, we layered (overlapping) them on a greased baking sheet and proceeded to cover each layer with a lot (and I mean, a lot) of heavy cream, gruyere and a little bit of parmesan cheese, nutmeg, and salt & pepper.  For gratin dishes, it is really important to use a very starchy potato to ensure that it holds together well!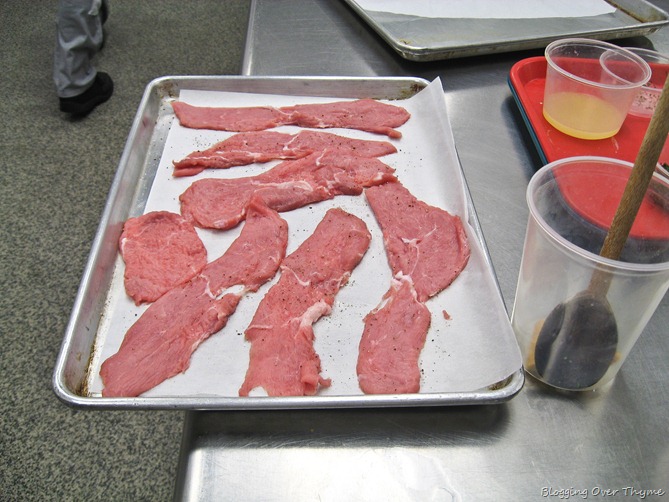 Our Chef told us that you could make a variation of this gratin with part turnip slices too.  It was very rich, but very good.  We used biscuit cutters to plate this! 
And to end the meal, we made a very unique and technique-intensive dessert, called L'ILE FLOTTANTE AU CARAMEL or "Floating Island".  This dessert is on our next practical exam—so I'm going to be practicing it a lot over the next week because it is very time-sensitive and requires a lot of careful attention to detail.
Check out the sugar-caramel basket!!! That was so much fun to make and even though our chef explained that we weren't required to do it, my partner, Turner, and I tried to squeeze time in at the end to at least try. These type of elaborate presentation details are more emphasized during Phase II of the program.
But it was a lot of fun to learn! And not nearly as difficult as it appears.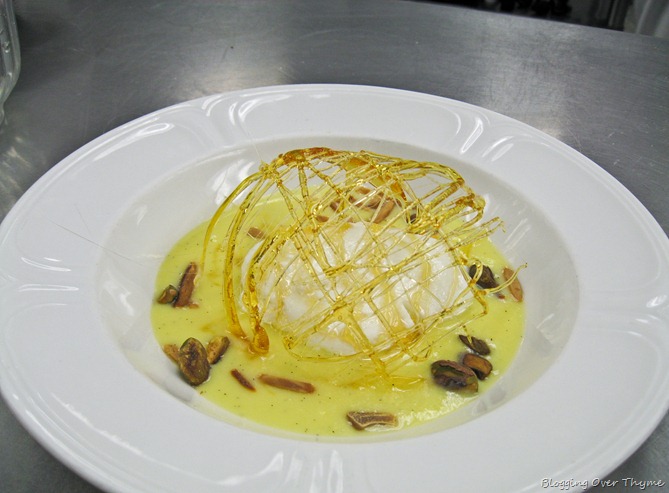 Floating Island dessert comprises of hard French meringue—which is shaped into a quenelle (a new technique of the day) and poached in water at the last minute—served on top of crème anglaise and drizzled with caramel and sliced almonds and pistachios. 
The poached meringue must be made at the last minute to ensure that it doesn't lose body. 
To make our caramel baskets—we drizzled hot caramel with a fork very quickly over the bottom of a lightly greased ladle and allowing it to cool slightly.  Once it cooled, the whole thing comes off perfectly shaped!  Another blog video idea, perhaps?! 
This weekend will be very eventful!  Saturday, I will be heading back to school for our open house, where we will be providing a buffet to prospective students and our families, and the rest of the weekend will be spent preparing for my second exam and practical, which is next Thursday.  Lots to do to prepare for that!
This post contains affiliate links, which means that I make a small commission off items you purchase at no additional cost to you. Please read my
privacy policy
for more information.