Day 47: First Day of Phase II
Today marked the first day of Phase II. If that wasn't overwhelming enough, we also had to get used to a new classroom, new kitchen, new chefs, new format, and new rules. Basically, our previous routine, which we had finally gotten comfortable with, has been wiped out in place of a completely new one.
Since the new Phase I class doesn't start until next week, we were the only students at the school as well (including Phase II pastry class)! It was an odd (and unsettling) feeling…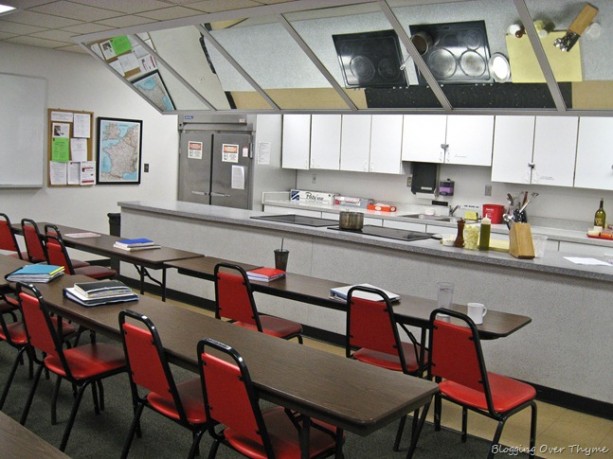 One of the biggest changes of Phase II is our schedule. Whereas we previously had class Monday-Thursday (7:00 – 2:30), we now have class Tuesday-Friday and our times have changed from 8:00 am to 3:30 pm.
I know what you're thinking—that means I get to sleep in an extra hour each morning!!?
Nope (cue sad face). While we don't technically have to be in the classroom until 8:00 am, we are strongly encouraged to get to school at the exact same time as we did previously, which means my 5:15 am alarm won't be changing any time soon. We also won't realistically get out of school until about 4:00 pm everyday too, so our days are getting much longer.
One major positive of Phase II is that we are allowed to pull our own mise en place before class starts and start gathering equipment for the day. Since our menus will be significantly more time consuming and intensive, we really need to take advantage of any prep work that we can do ahead of time.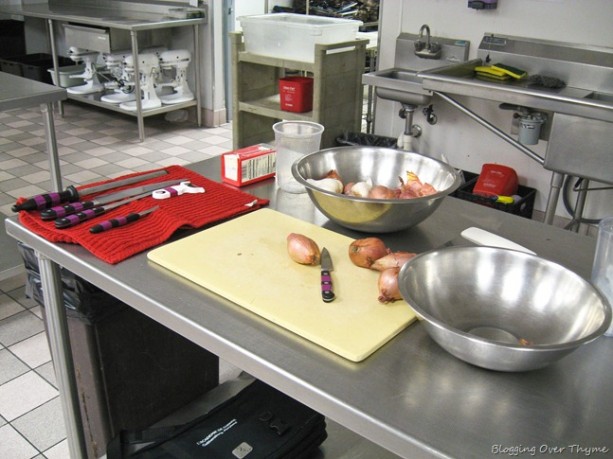 I ended up getting to school this morning at about 6:15, with a few others, and started to help Allyson, our new teaching assistant, get Chef Patrice Olivon and Chef Michel Pradier (our new chef instructors) set up in the classroom for demo, as well as start to get familiar with the classroom.
Two new things that we always need in our daily mise en place, as well as chef's, are peeled shallots and an entire head of garlic, peeled. Chef Patrice is from the South of France (and has more than 40 years of experience in the restaurant industry), where garlic is in almost everything!
Being in a new kitchen was disorienting! I felt like it was my first week at school all over again, and I have to admit, I got a little sad walking and glancing into our empty Phase I kitchen throughout the day. However, I can already tell that I will learn a lot throughout the new three months. Chef Patrice is a stickler for good technique, sanitation, organization, and efficiency. Also, our small class size (10 people as opposed to the last phase II, which had 22 students) guarantees that we will have lots of personal attention and instruction—I'm sure that could be both a bad and good thing, haha!
Other major changes of Phase II include:
Service – unlike Phase I, where we plated all of our courses to be served at the same time, Phase II mimics more of a natural restaurant environment. Therefore, we will be timing and serving our courses to be served accordingly. This means that we really need to be on top of our dishes and have a organized timeline for our cooking and prep work.
Teams – in Phase I, we rotated team members every day. This was partially due to the fact that they wanted to have us be comfortable working with new people every day, meet our classmates, but also because we were individually responsible for making most of the dishes. In Phase II, we get assigned to our team partner for one month before switching to a new partner. Today we found out our partners and I will be working with Jim!
Mise en Place – as I mentioned above, since we now know our work table (and partner), we can arrive early and start to get ourselves set up in the morning. We can also keep little crates of daily items, such as salt, clarified butter, pepper, cubed butter, mirepoix, etc. I'm excited about this part!
Plating & Presentation – Whereas in Phase I, we were focusing on learning techniques and basic skills, Phase II puts most of the emphasis on production, plating, and serving, so we will focusing and learning much more about plating! I love this aspect of food production (figures), so I have really been looking forward to this. We also pay much more attention to temperature and holding food properly!
There are a lot more new things about Phase II, but I'll explain them as I go along!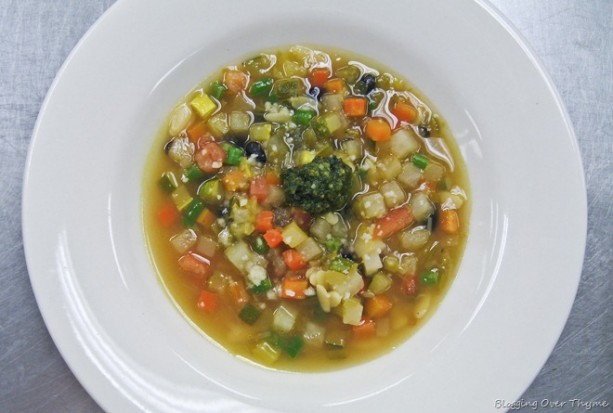 Today's menu involved both a soup and pan seared duck breasts with a duck jus & gastrique sauce, served alongside plain broccoli and sautéed potatoes. Looks pretty simple, but each of these dishes involved a lot of components.
The soup of the day, La Soupe Au Pistou, was very similar to our Potage Cultivateur of Phase I, except with the addition of pesto and a little bit of grated parmesan on top. The main work that goes into this soup is prepping all the ingredients, which included: yellow squash, zucchini, turnip, potato, green beans (cooked separately), tomato (blanched and diced), celery, leek, and carrot. We also added some cooked black beans and orzo pasta at the very end as well.
Tasty and healthy! The pesto really made this soup.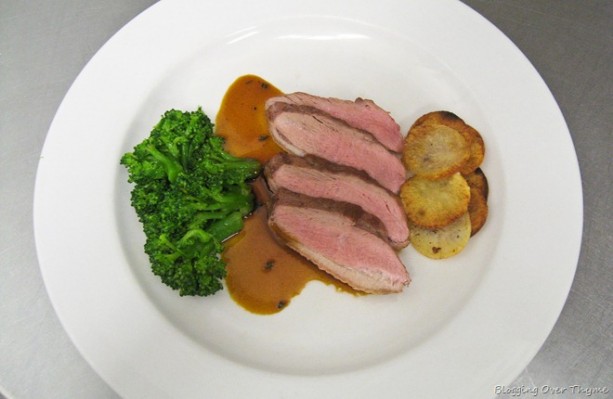 And lastly, our main course duck dish, which involved breaking down whole ducks, using the bones, mirepoix, wine and garlic to make a new jus, and pan searing the breasts (carefully to render the skin and brown nicely).
We also made gastrique (combination of caramel and red wine vinegar—basically, a sweet and sour sauce) to add to our duck jus. This was all reduced until it was thick and then we added some finely chopped rosemary to finish it off!
We also made sauteed potatos (which we sliced with a mandolin and used biscuit cutters to shape), which were cooked in duck fat until nice, crispy, and golden brown. And lastly, some simple broccoli on the side tossed in a small amount of olive oil.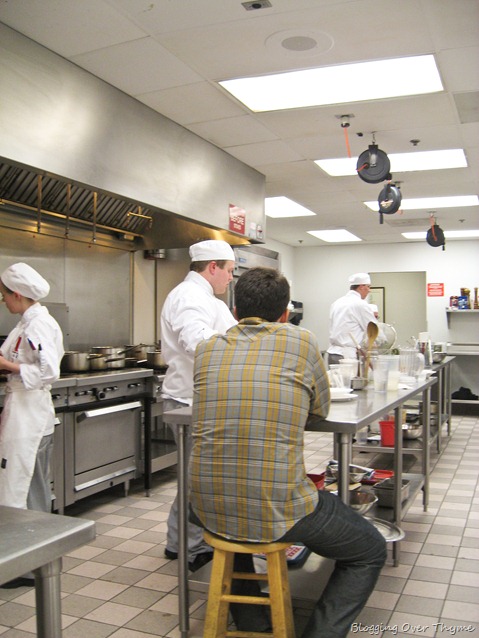 Although we didn't end up serving on time (which I can't say I was expecting given the circumstances), I think we did an overall pretty good job on our first day of production. Especially given the intimidation factor of being in a new kitchen with our new chef instructors watching over us.
After we cleaned up (which took us a shorter amount of time than in Phase I, due to the smaller size and layout of the kitchen—yay!), we spent the afternoon with our classroom assistant, Allyson, who gave us a more thorough tour of the kitchen, where all the equipment is located, as well as some tips and advice as to the expectations of our chef instructors. It was a lot to absorb, mentally and emotionally, in one day, but I'm glad to know that it's over and, more importantly, I survived.
Since our menu is getting more involved and hectic, the amount of pictures I take (during the cooking process) will probably go down, but I will try my best! No matter what, I will try my best to make a point of taking pictures of our finished dishes every day. Until next time!
This post contains affiliate links, which means that I make a small commission off items you purchase at no additional cost to you. Please read my
privacy policy
for more information.