Day 79 & 80: Tuna Tartare, Frog Legs, Veal Cheeks, & Apple Tart
Thursday's class was packed with dishes! Usually we are responsible for making a three-course lunch every day. However, on this day, we upped it to four courses, which meant we had even more to get ready in the same amount of production time (which is roughly 2 hours).
I was particularly excited about our first course of the day, which was tuna tartare. I think I've only tried tuna tartare once before, but I've always loved raw tuna. It is buttery and delicious. Our whole class divided up amongst ourselves an entire center-cut of #1 Sushi-grade tuna tenderloin—which was about 7 lbs in weight and approximately $140 dollars worth of fish!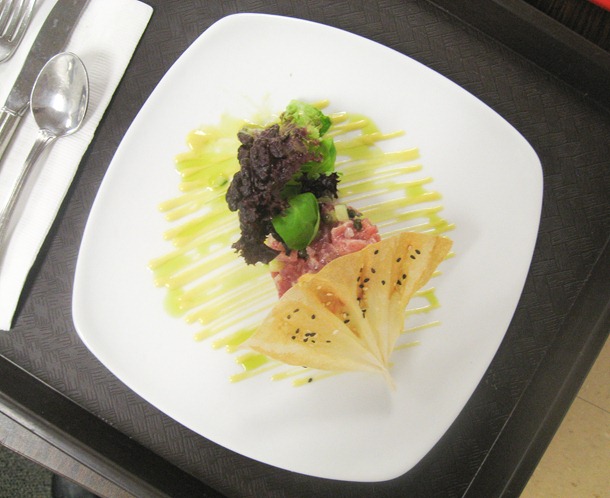 We made our tartare at the last minute (besides prepping all the ingredients and finely dicing up the tuna and keeping it in a bowl on ice) by combining it with cucumber, capers, red onion, and a small amount of wasabi powder, lemon juice, and sesame oil for a slight Asian preparation. We also mixed it with a classic Dijonnaise sauce, which is simply Dijon mustard, olive oil, and Worcestershire sauce emulsified to add a bit of kick and add some acidity to the tuna. The drizzles on the plate were more Dijonnaise sauce, as well as a few drizzles of Thai basil oil, which Chef Patrice prepared that morning during demonstration.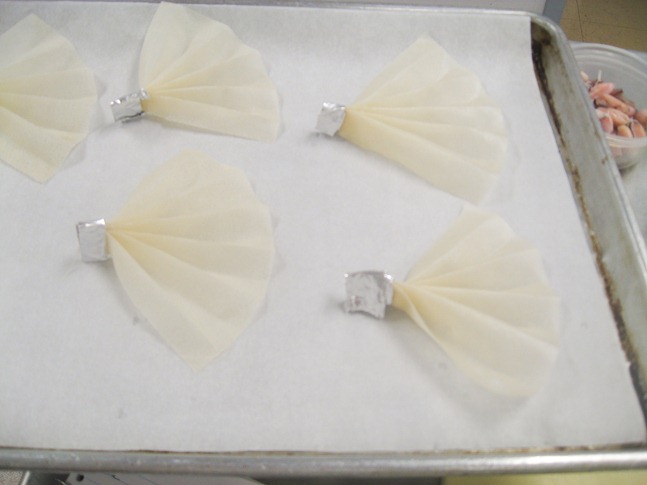 For a fun, Asian-inspired garnish, we made "paper fans"—prepared with feuille de brick–Middle-Eastern paper-thin pastry sheets (similar in a way to phyllo dough, but slightly less delicate), which we cut into rectangles and folded to create a fan shape. We held the end together with a small piece of foil, brushed them with egg wash, and sprinkled on a mixture of white and black sesame seeds for color. These then got baked in the oven under they were golden brown. It was a cool product to work with!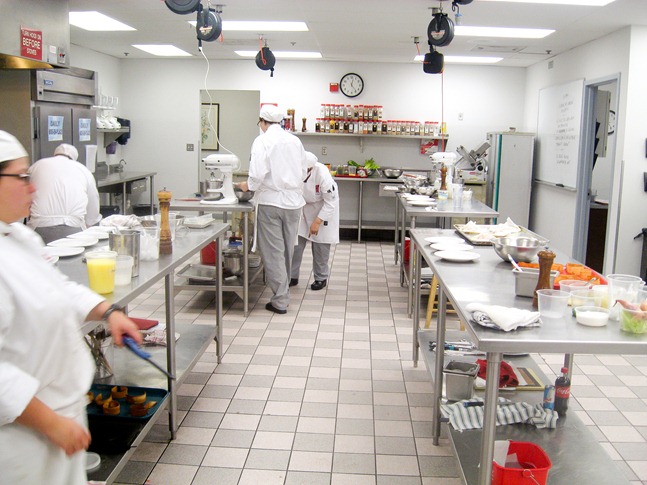 Our second-course of the day was another new experience for me! We prepared fried frog legs, which we served with a gribiche sauce (mayonnaise based sauce with capers, cornichon, hard-boiled egg, parsley, and lemon juice) and a small pickled carrot & fennel salad.
Though people associate the French with frog legs, our Chef said that he rarely ever encountered them in France, while growing up. So, I think it might be more of an American-French preparation, which I found interesting. I have always heard from people that they are delicious, but the thought of eating frog legs always grossed me out a bit in the past. However, in honesty, compared to some of the other weird foods I've eaten during this experience (calf's liver, sweetbreads, caul fat, etc.), it seems relatively normal now. I was actually secretly kinda excited to try them!
This is how they are packaged and delivered! I have to admit, I did get a little sad seeing these little guys during production. They must get these super-strong muscles from all the leaping and jumping!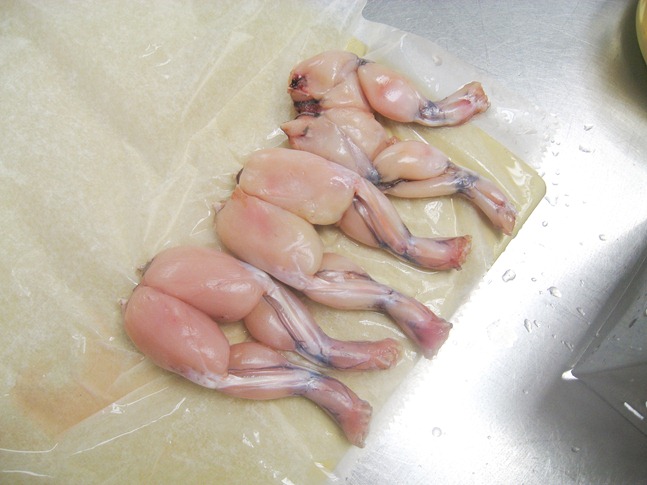 To prepare the frog legs, we removed the calf meet and frenched the bones to come up with the following—Frog Leg lollipops.
I'm not sure if I would want to eat a lot of these in a row, but they were pretty good (we coated them in a batter made of semolina, whole wheat flour, baking powder, etc.). They had a similar texture to rabbit, sort-of. Hard to describe! But they don't have an incredibly distinctive flavor at all.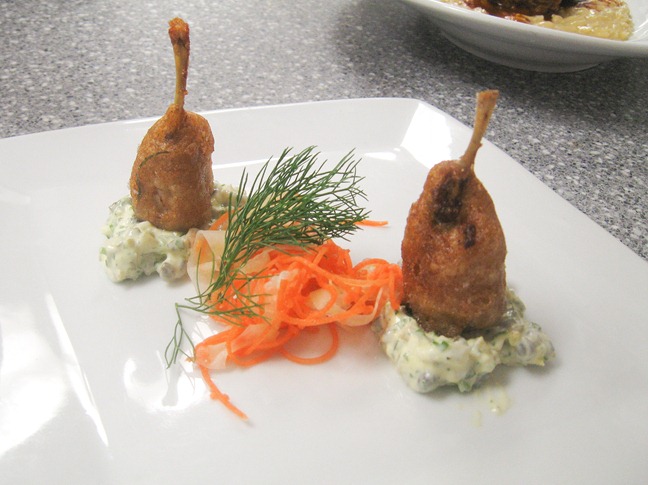 Our main course of the day was braised veal cheeks, which were so tender they were able to be cut with a plastic spoon, and served with orzo pasta, which we prepared like risotto. This dish was good, but I couldn't decide if I was a fan of veal cheeks—they were a bit gelatinous in texture and pretty fatty, believe it or not, despite a lot trimming we did before preparing them.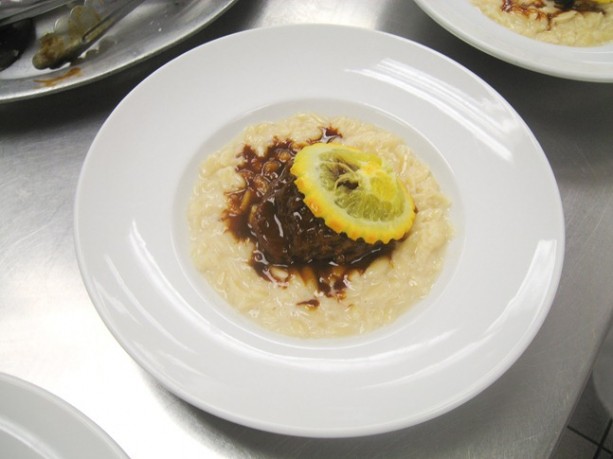 Last, but not least, we served a classic apple tart (Tarte aux Pommes) for dessert. For some reason or other, we've been making a lot of apple desserts lately, which I have no problem with at all! I love fruit-based desserts. Especially rustic tarts like this.
This tart, unlike most of the ones we have made in the past, was prepared not by blind-baking the crust, because it is classically made in a deck oven (or it can be prepared on a pizza stone at home) and baked for almost 2-2 1/2 hours, which sounds like an insanely long baking time, but that is exactly how we prepared ours! The filling is simply Granny-Smith apples, cored, peeled, and sliced very thinly, some tabs of butter, generous sprinkling of sugar, and ground cinnamon (not a classic French ingredient, but we added it for more flavor).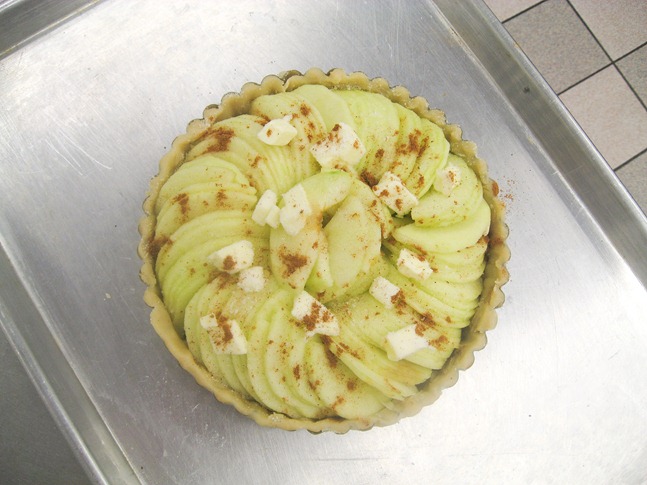 After baking for such a long time, the apples got very soft and tender. It was really delicious! I could have eaten several slices of this…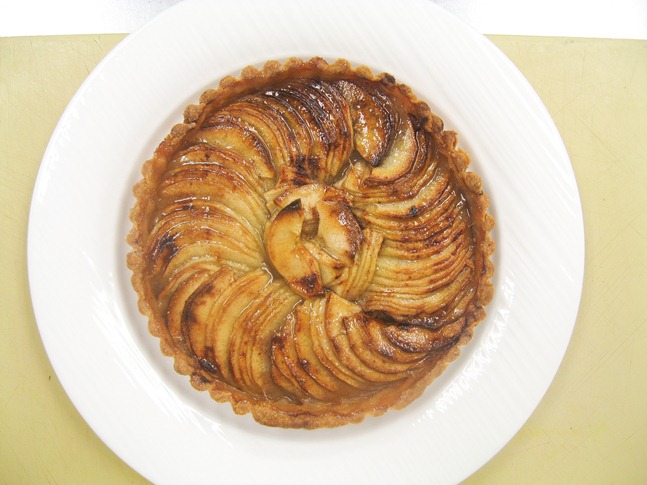 After a fast, productive day, we spent the afternoon learning about our ingredients for the following day's Market Basket challenge. Our ingredients were veal and shrimp. Since we had an early dismissal on Friday for Memorial Day weekend, we were only responsible for making two courses (an appetizer and main) and were allowed to use the ingredients in whichever order we preferred. I wasn't particularly excited about either ingredient, but after a lot of brainstorming, Kevin and I came up with the following: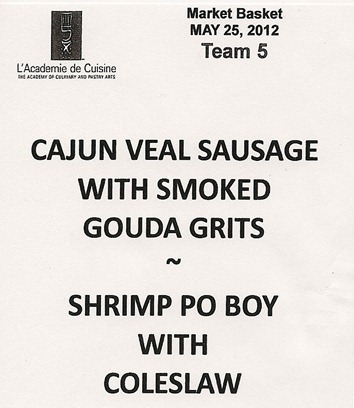 Our visiting judge was, Jason Maddens, the Executive Chef at Central, a very popular and well-regarded Michel Richard restaurant in DC. Chef Maddens is actually a L'Academie graduate as well. So we had extra pressure to make some good dishes. In addition to Chef Maddens, the director of our program, Francois Dionot, and our instructor, Chef Patrice, taste everything as well.
Considering we only had 2 1/2 hours to make everything—minus about 20 minutes of discussion time with Chef Patrice the morning of—I felt like our menu was pretty ambitious. About 20 minutes prior to needing to be in the classroom to start everything, we were both getting very worried about even finishing on time! Even though I am not that familiar with Southern/New Orleans cuisine, I actually suggested the Po Boy (I can't really believe it either!). The trickiest part then was to come up with an appetizer/main that incorporated veal and had a similar theme/flavor profile. Kevin came up with the idea of making a veal sausage seasoned with Cajun spices. Somehow we were able to get it all done in time…
To make the po boy a bit more interesting, we served it on a brioche bun, with a French-inspired remoulade sauce, and instead of dipping the shrimp in a basic batter, we actually wrapped them in Kasplittaifi (shredded phyllo dough)—which added a lot more texture and crunch. On the side, we served a simple vinegar-based coleslaw made with red cabbage, carrot, shallot, & jalapeno. We served the veal sausage, with smoked gouda grits, a veal jus, and a side of asparagus tips. I wish I could have gotten pictures, but it almost impossible during the whole process, since we are plating them in the room, serving them, and needing to describe them to the class.
Our main criticisms were that the veal sausage could have used a bit more fat (it was a tiny bit dry) and that they could have used more sauce on the po boy! In the end, Chef Maddens ended up picking our two dishes as his favorite appetizer and main course of the day. It was a great way to end the day, especially since I felt like I had majorly gone out of my comfort zone with our menu, even though it was definitely fun to make something a bit more out of the box and risky.
This post contains affiliate links, which means that I make a small commission off items you purchase at no additional cost to you. Please read my
privacy policy
for more information.