Za'atar Grilled Chicken Bulgur Bowls with Tahini Sauce
Za'atar spiced grilled chicken is paired with fluffy bulgur, roasted vegetables, feta cheese, and creamy tahini sauce in this healthy, flavor-packed main course.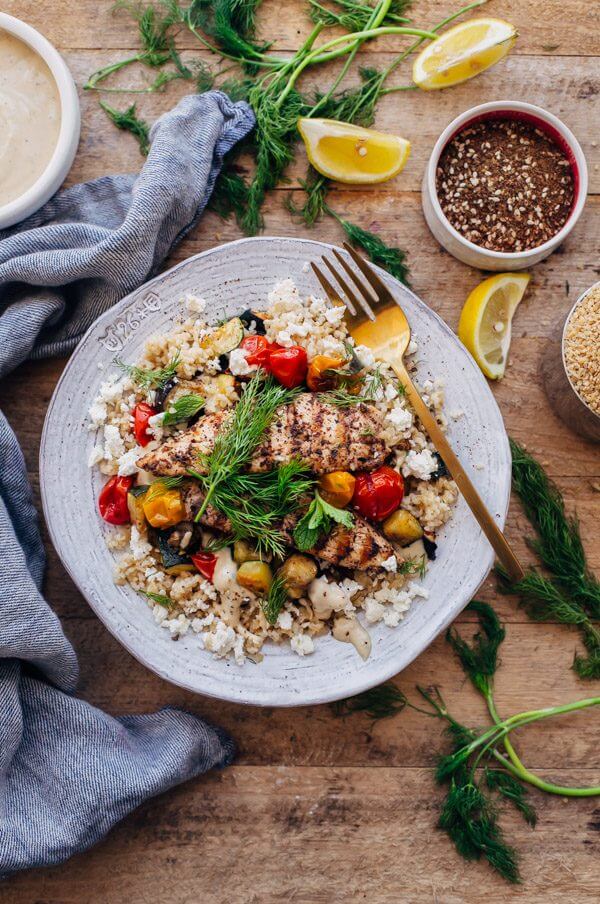 This post is brought to you by Bob's Red Mill.
Lately I've been struggling with the age-old question: "what the hell should we make for dinner?" Regardless of how large a role cooking plays in your life, I feel like this is a question that plagues many of us.
Thankfully, I have a few favorites that we turn to time and time again in this often-occurring predicament. That being said, I'm always looking for trusty (preferably healthy!) main course recipes that pack flavor, can be prepared easily, and make great leftovers. These za'atar grilled chicken bulgur bowls have been in our rotation for months, and I'm so excited to share them with you!
Please don't be intimidated by the ingredient list or recipe length. This dish comes together in a few steps – many being hands-off – and I'll share time-saving, preparation tips below that help make this meal come together even more quickly! Let's get started.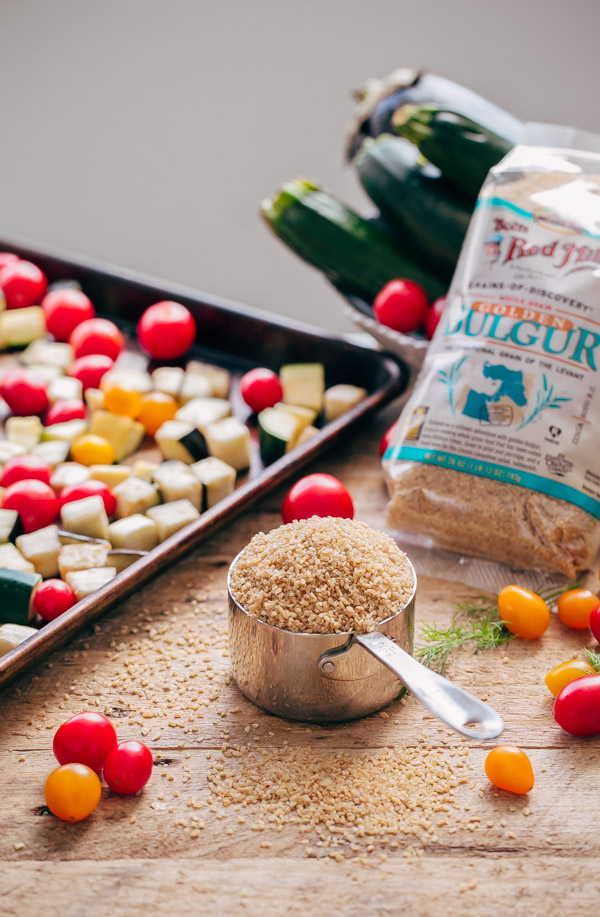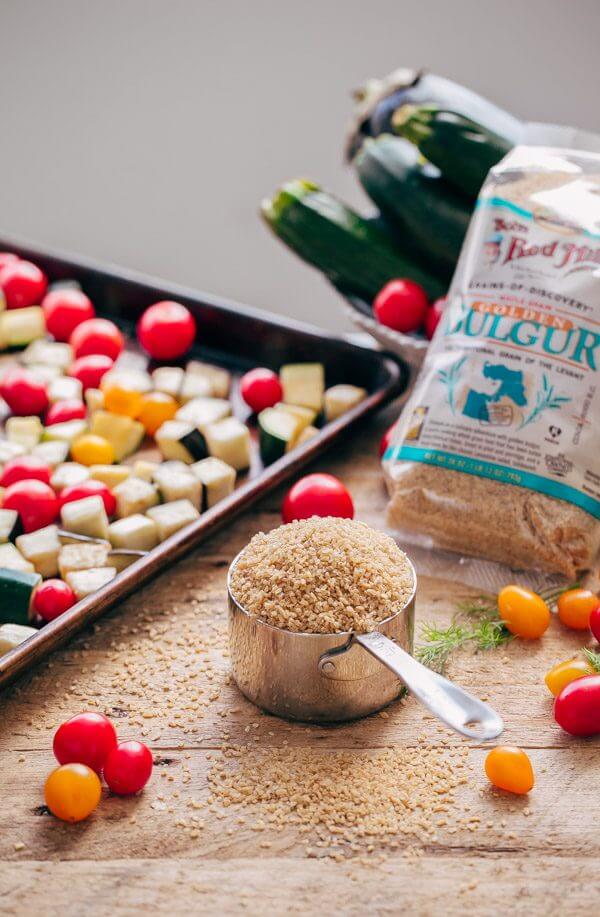 I don't know about you, but I'm very much into the grain bowl trend. It is so nice being able to create an all-in-one dinner that pulls together all the main essentials in one bowl.
If grain bowls had a formula, it would be:
grains
vegetables
protein (meat, tofu, etc.)
sauce, topping, + garnishes
Fluffy whole-grains make up the hearty base, vegetables and protein are added in some form or other, and the whole thing is pulled together with a few zesty garnishes and toppings. Toppings are key! [Also, I'm obsessed with toppings.]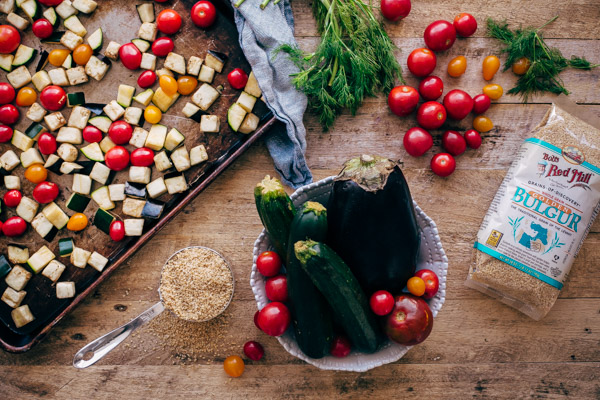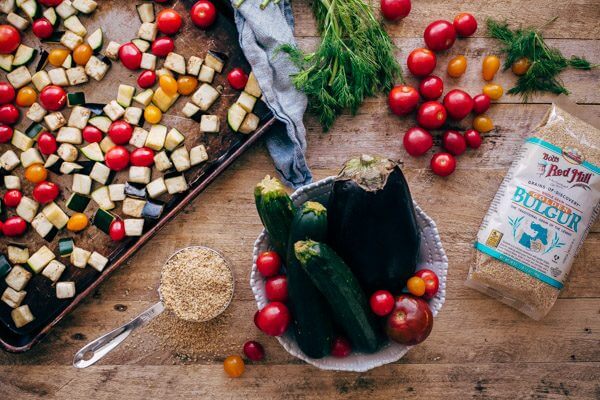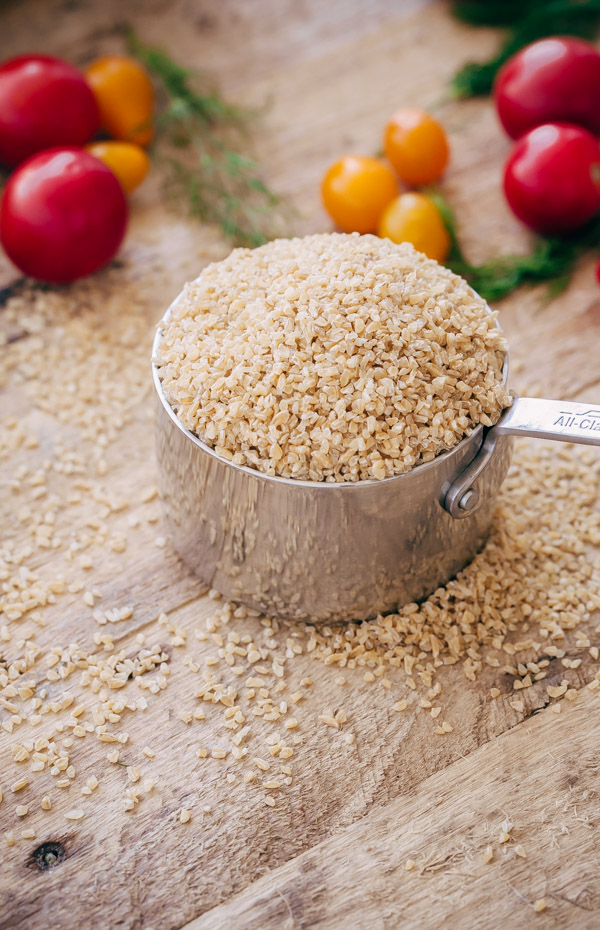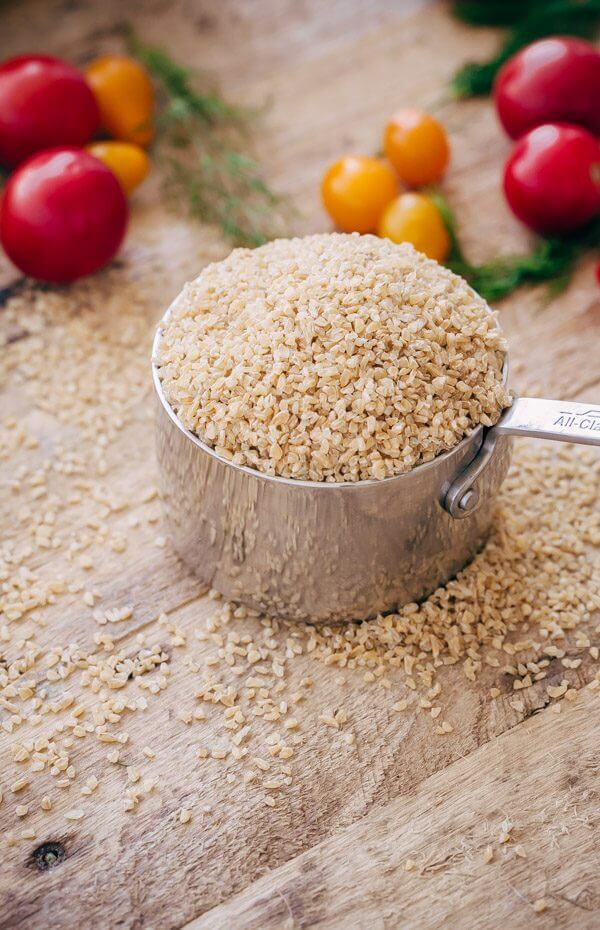 Grains are the starting points of one-bowl meals, and a very important one at that. For these za'atar grilled chicken bowls, we're using bulgur!
Bulgur, made from whole grain soft white wheat, doesn't get nearly enough credit and attention in the whole grain world. It is a staple of Middle Eastern and Mediterranean cuisine, and most popularly known for its role in classic tabbouleh.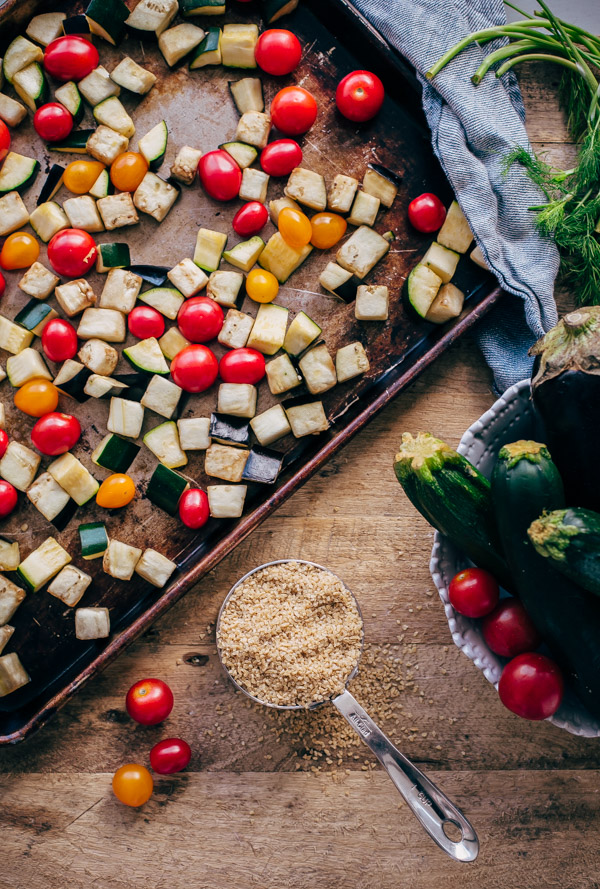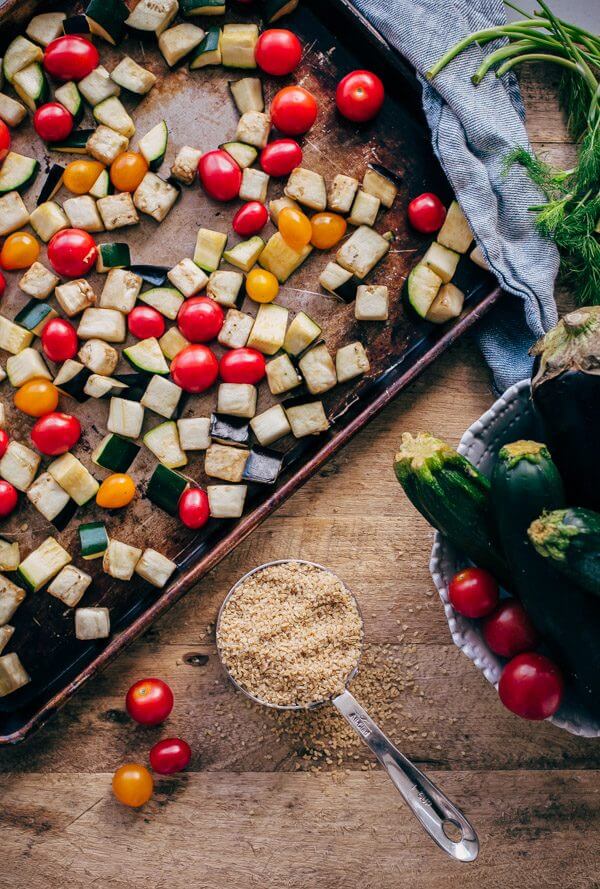 Bulgur is, by far, one of my favorite whole grains, because it cooks incredibly quickly (about 10-12 minutes!) and consistently, packs a healthy amount of fiber and protein (1/4 cup contains 5 grams of each), and has a great nutty texture. One of the reasons why bulgur cooks so quickly is that it is sold in par-boiled form.
If you've seen bulgur at the grocery store, you've probably noticed that it can come in a variety of forms or 'grinds': fine (#1), medium (#2), coarse (#3), and very coarse (#4). They are all made from the exact same whole grain, but will vary in cooking time and texture.
My favorite grind, and coincidentally the most commonly found in my experience, is medium (#2) grind. I have been using Bob's Red Mill golden bulgur (medium #2 grind) for years, and it is the one used in today's recipe.
It is heartier than fine bulgur (which resembles the texture of couscous), but is still fluffy once cooked (unlike other whole wheat grains such as wheat berries or farro!).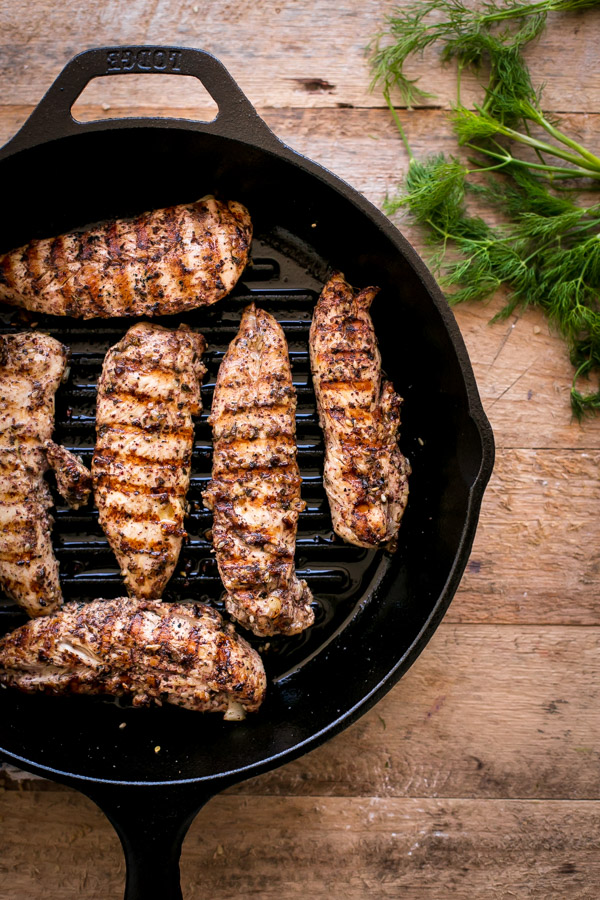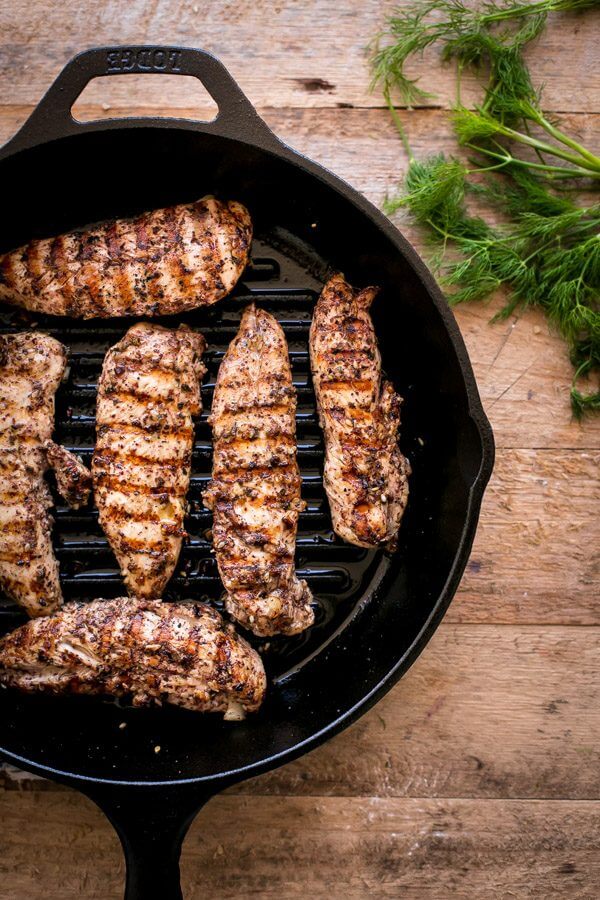 The cooked bulgur is topped with za'atar grilled chicken and roasted vegetables. If you haven't cooked with za'atar, I highly recommend getting your hands on some immediately!
It is a Middle Eastern spice blend made from toasted sesame seeds, sumac, and thyme (and occasionally a few other spices!). You can try your hand at making your own – though sumac is difficult to find – but I've had better luck finding za'atar spice blend online or in the international aisle of my grocery store.
It can be used in so many things (or just sprinkled on meat or vegetables before serving!), and once you've tried it – you'll want to put it on everything!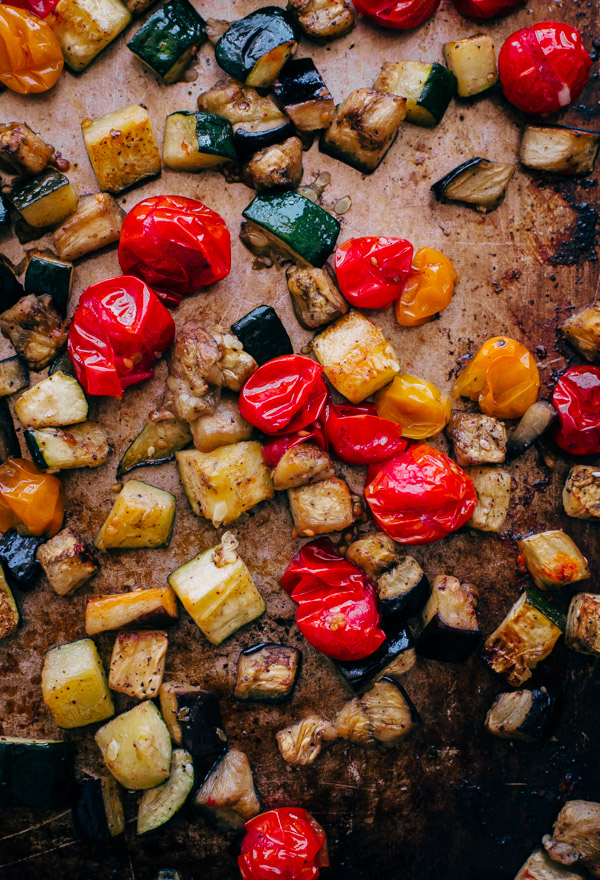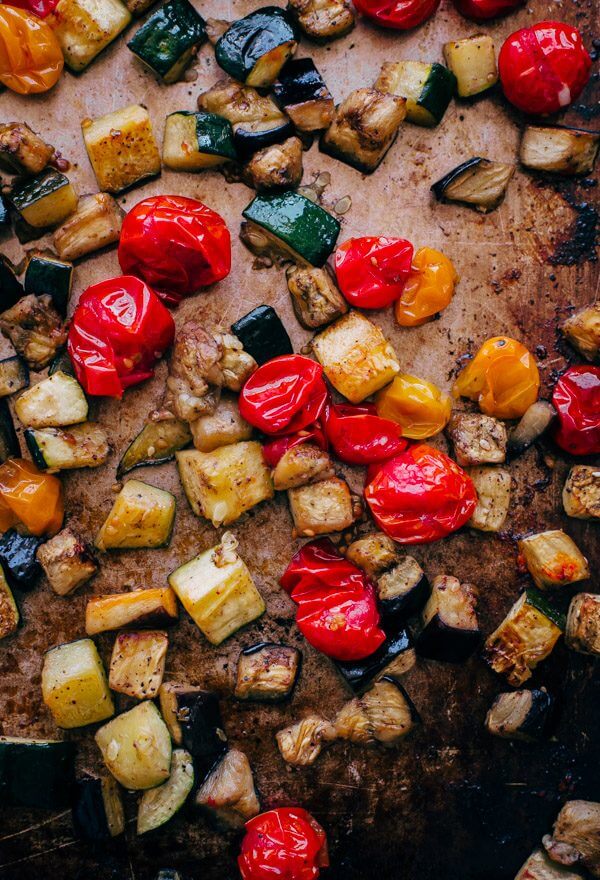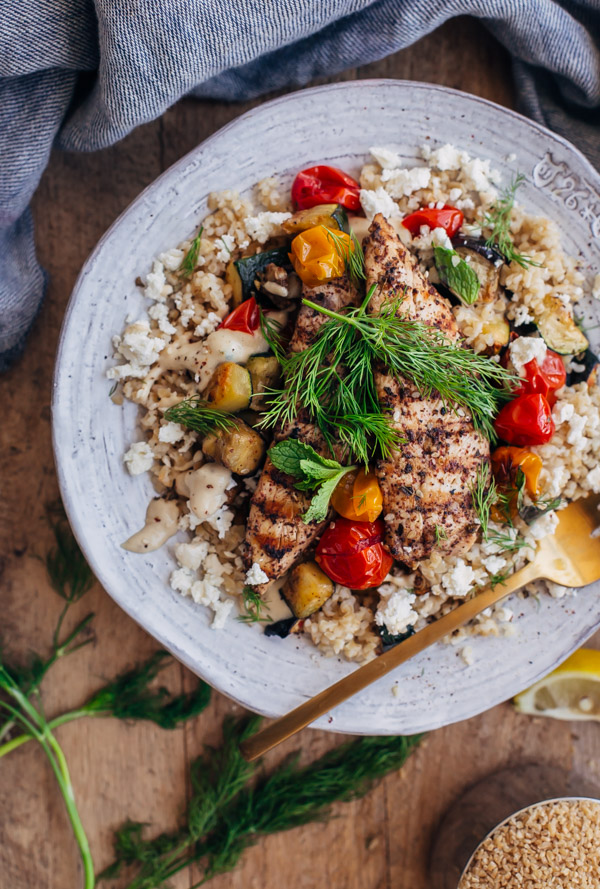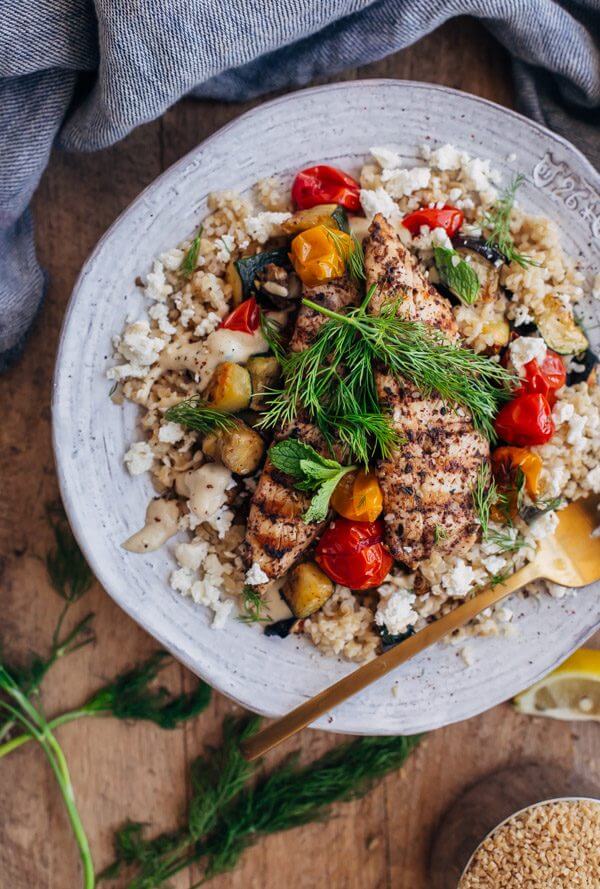 The bowls are finished off with creamy tahini sauce (this stuff is so addictive and I used a similar one on this roasted carrot lentil salad), crumbled feta, fresh dill and mint. So many awesome flavors in one bowl – I love this dish!
To make this meal even more weeknight-friendly, try the following:
cook the bulgur the night before, store in the fridge, and reheat just before serving
prep the tahini sauce several days in advance; store in the fridge and whisk in a teaspoon or two of warm water to loosen before serving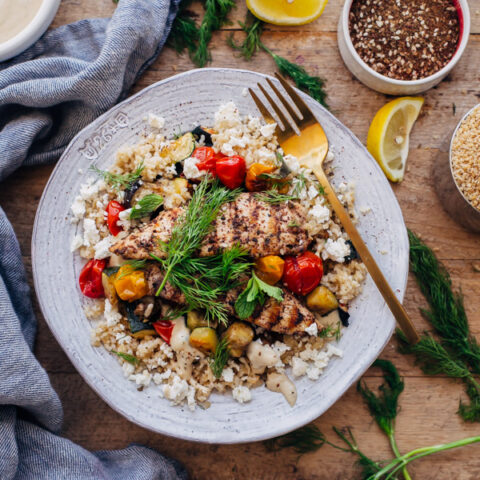 Za'atar Grilled Chicken Bulgur Bowls with Tahini Sauce
Yield: 4 Servings
Za'atar spiced grilled chicken is paired with fluffy bulgur, roasted vegetables, feta cheese, and creamy tahini sauce in this healthy, flavor-packed main course.
Prep Time: 15 minutes
Cook Time: 30 minutes
Total Time: 45 minutes
Ingredients
Za'atar Chicken
1/4 cup extra virgin olive oil
2 heaping tablespoons za'atar spice blend (*try to find one that does not contain salt, but if it does, disregard the salt below)
1 tablespoon lemon juice
2 garlic cloves, pressed or finely minced
pinch of red pepper flakes
1 lb chicken tenderloins (tendons trimmed)
kosher salt + pepper
Roasted Vegetables
2 medium eggplant (roughly 1 lb), trimmed, cut into 3/4-inch chunks
2 medium zucchini (roughly 3/4 lb), trimmed, cut into 3/4-inch chunks
12 ounces (3/4 lb) cherry tomatoes
2 tablespoons extra virgin olive oil
1 teaspoon za'atar spice blend
kosher salt + pepper
Bulgur
Tahini Sauce
1/4 cup tahini
2 tablespoons freshly squeezed lemon juice
2-3 tablespoons of warm water
kosher salt + pepper
For Serving
3-4 ounces feta cheese, crumbled (*see note)
fresh dill sprigs, for garnishing
fresh mint leaves, torn, for garnishing
za'atar spice blend, for sprinkling
Instructions
Combine the olive oil, za'atar spice blend, lemon juice, garlic, and pepper flakes in a gallon-size Ziploc container (or in a container). Add the chicken, squeeze out any excess air from the bag and close, and distribute the marinade evenly on the chicken pieces. Marinade in the fridge, flipping the chicken 1 to 2 times, for a minimum of 45 minutes or up to 2 hours.
As the chicken is marinading, preheat the oven to 450 degrees Fahrenheit with a rack in the center position. Pat the eggplant and zucchini dry with a clean kitchen towel. Place the eggplant, zucchini, and cherry tomatoes on a sheet pan. Drizzle and toss with the olive oil, za'aatar blend, salt, and pepper, and distribute the vegetables into an even layer on the pan. Roast for 20 to 25 minutes, tossing halfway through, or until the vegetables are lightly caramelized and the tomatoes have just burst.
As the vegetables are roasting, prepare the bulgur and cook the chicken. Combine the bulgur, cold water, and salt in a small saucepan. Bring to a boil, cover, and reduce the heat to a simmer. Cook until tender, about 12 minutes. Drain any excess liquid (if there is any), fluff with a fork, and set aside until ready to serve.
To cook the chicken, preheat a large (preferably, cast-iron) grill pan over medium-high heat. Grease the pan lightly with olive oil. Remove the chicken from the marinade, and season on both sides with salt and pepper. Grill the tenderloins for roughly 3 minutes, flip, and continue cooking for 2-3 minutes until the internal temperature reaches 160 degrees Fahrenheit. Time will vary depending on the thickness of your chicken tenderloins. Rest the chicken on a clean plate for 5 minutes.
Meanwhile, prepare the tahini sauce. In a small bowl, whisk together the tahini, lemon juice, salt, and pepper. Whisk in the warm water, adding a tablespoon at a time. The sauce should be creamy and slightly thick, but be able to drizzle from a spoon. If it is too thick, add another teaspoon or so of hot water. Set aside until serving.
Serve the bulgur, top with roasted vegetables, and chicken. Drizzle with tahini sauce and top with feta cheese, fresh dill, and mint. Sprinkle lightly with za'atar spice (if desired). This dish tastes great both hot, lukewarm, or cold as leftovers.
Notes
If making ahead or serving cold, I'll often cool the bulgur down quickly by spreading it on a sheet pan.
Any leftover tahini sauce can be wrapped and stored in the fridge for up to a week. It will thicken with refrigeration – add warm water, teaspoon at at time, to loosen.
Tips for Success:
Avoid buying pre-crumbled feta cheese. It is dry, crumbly, and usually of lower quality than feta packed in brine. Brine-packed feta is much creamier when crumbled by hand, and significantly more delicious!
Nutrition Information:
Yield: 4
Serving Size: 1
Amount Per Serving:
Calories: 832
Total Fat: 52g
Saturated Fat: 18g
Trans Fat: 0g
Unsaturated Fat: 31g
Cholesterol: 172mg
Sodium: 1796mg
Carbohydrates: 42g
Fiber: 12g
Sugar: 17g
Protein: 55g
This post is sponsored by Bob's Red Mill. Thank you so much for supporting the brands that I love and use in my own kitchen!