Espresso Almond Cashew Butter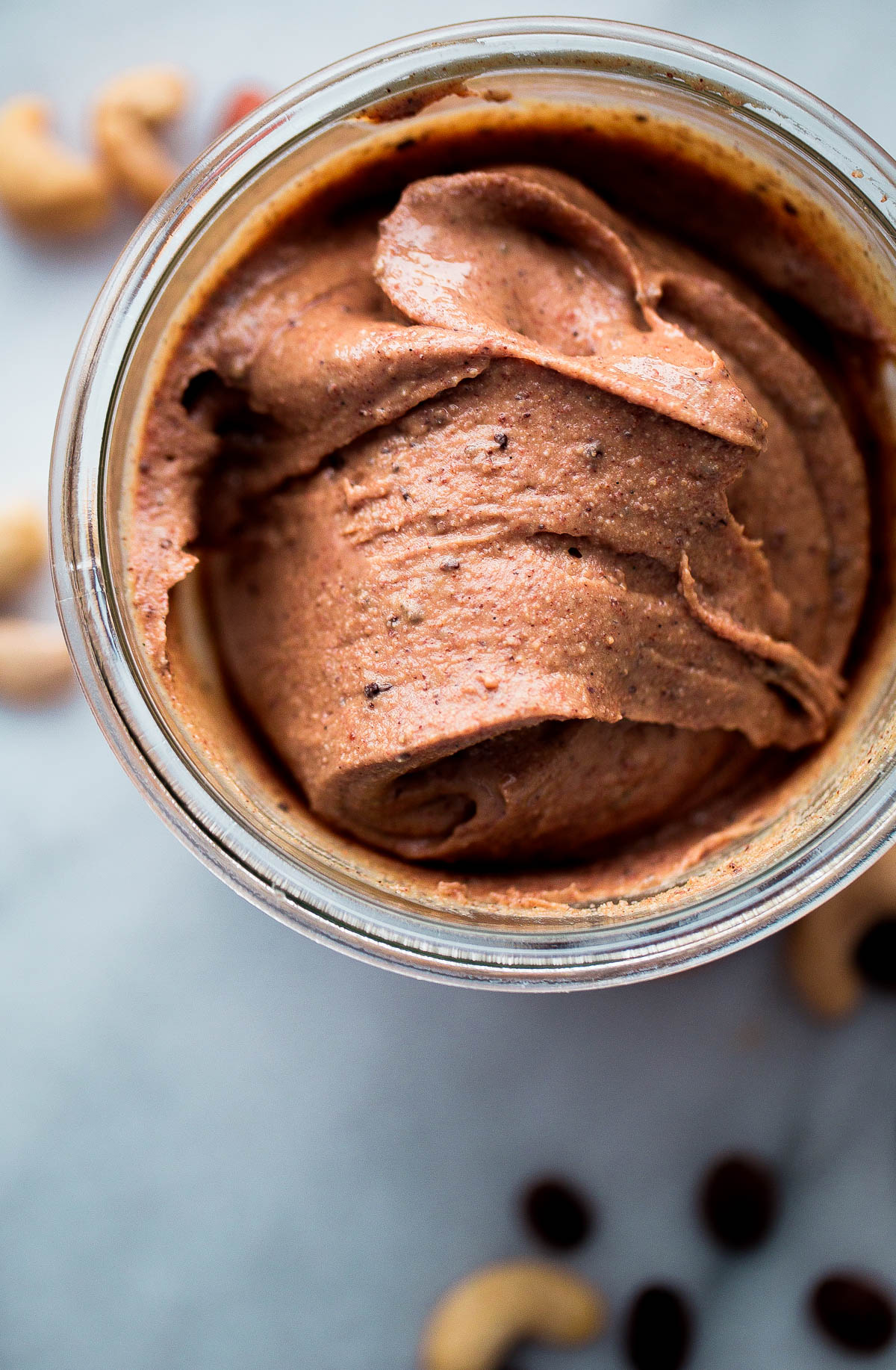 Good morning! Hope you had a wonderful long weekend. We're making almond cashew butter today. The best part about it? I've spiked this homemade nut butter with my favorite thing in the world…coffee! And not just any old coffee. We're using whole espresso beans.
If you love nut butter and coffee (is this even a question?), this espresso almond cashew butter has got you covered. You get that creamy nut butter fix and a little kick of caffeine alongside it. Spread some on a banana and you've got the best and easiest pre-workout or afternoon slump snack.
You could even add a little spoonful of this to a chunk of dark chocolate. Yes, please do that.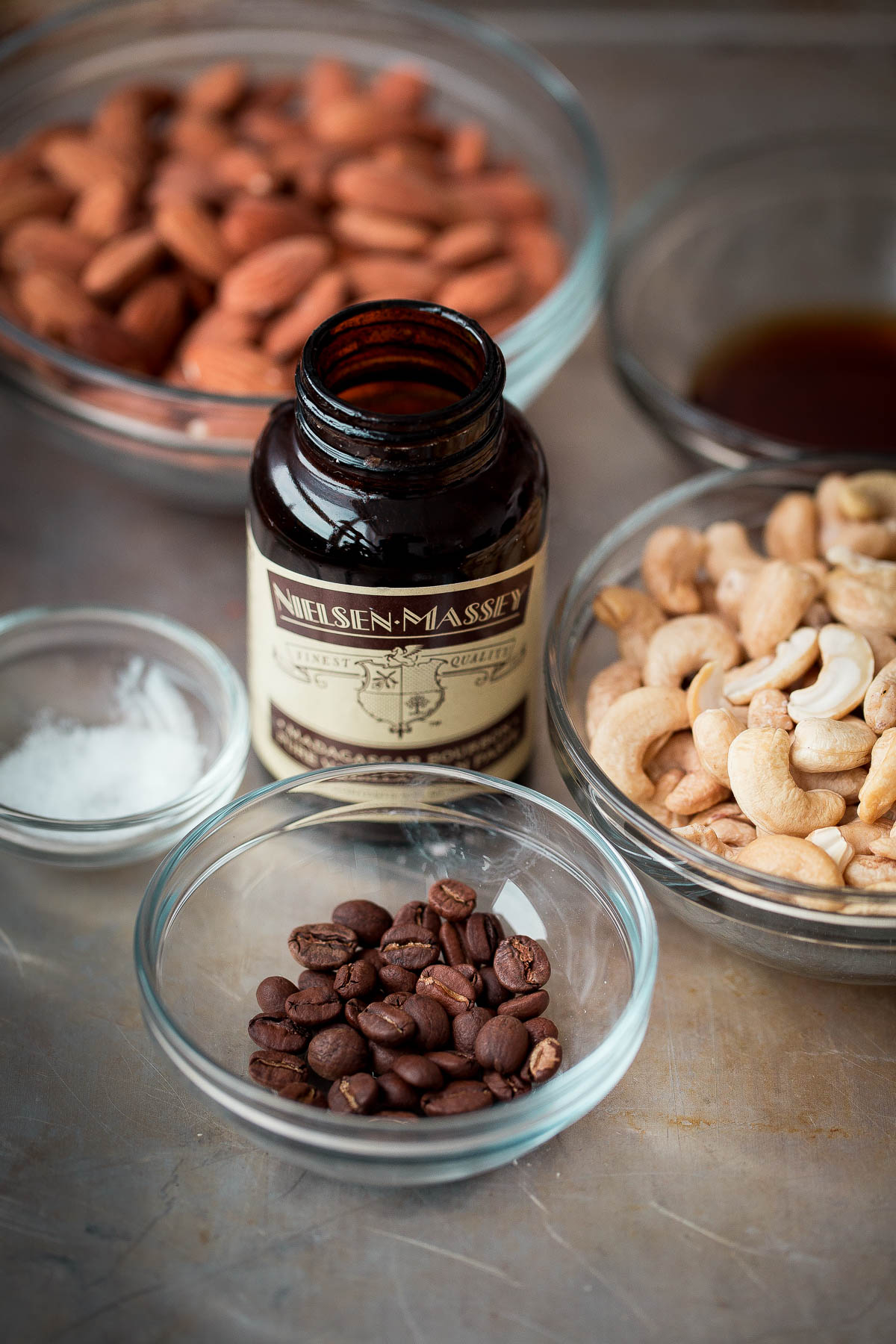 Here's a little backdrop on the inspiration for today's almond cashew butter. When I was three years old (yes, three!), my pre-school teacher asked me what I wanted for my birthday that year. I promptly responded, "an espresso machine." I don't actually remember either of these events, but you can imagine this nice lady's expression upon hearing this.
Alarm, amusement, confusion? All three? Either way, my parents have been telling this story for years. Coffee is my part of my bloodstream at this point. So it only makes sense that I would eventually get my hands on that long-awaited espresso machine and conjure up this homemade nut butter.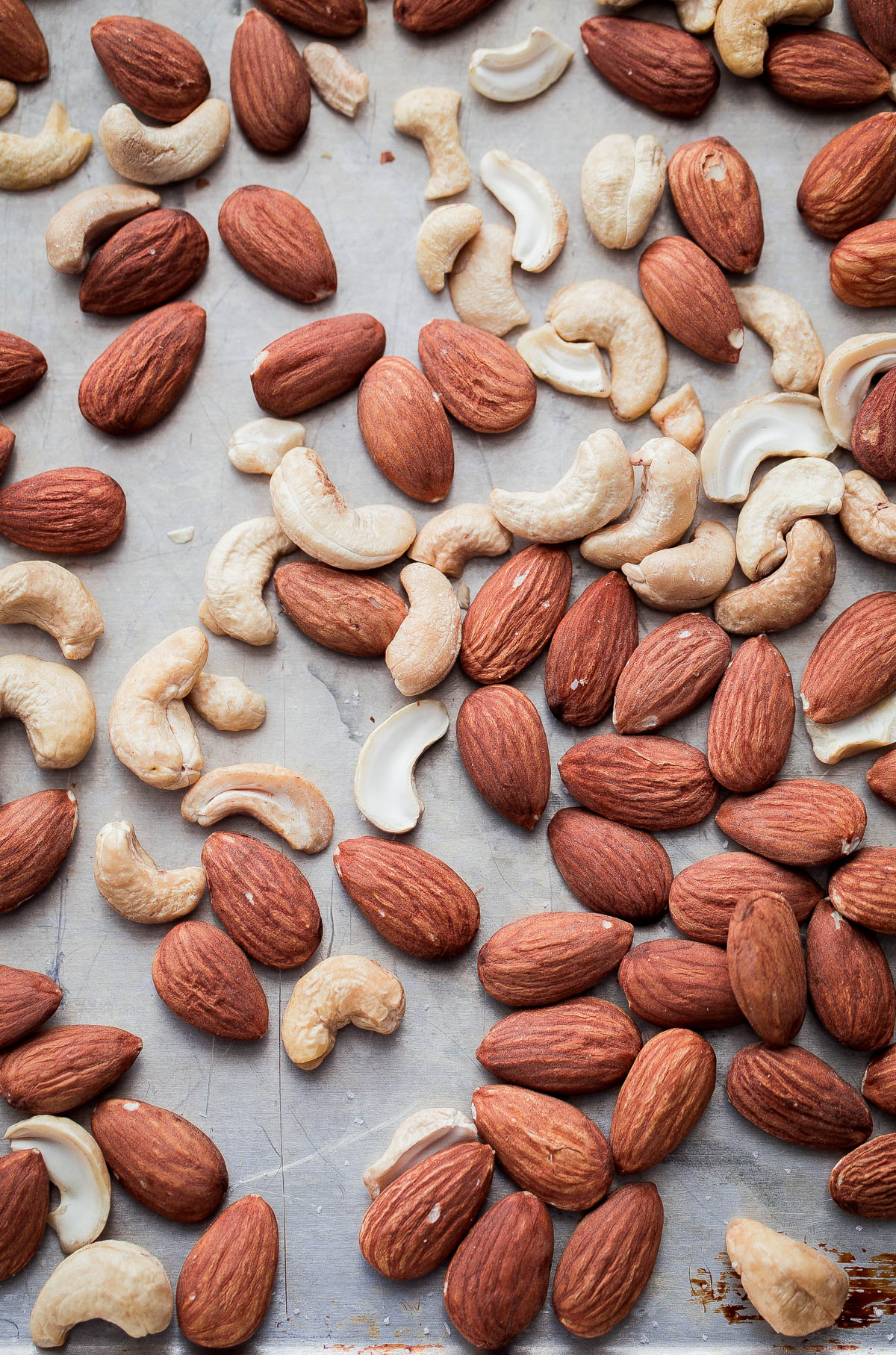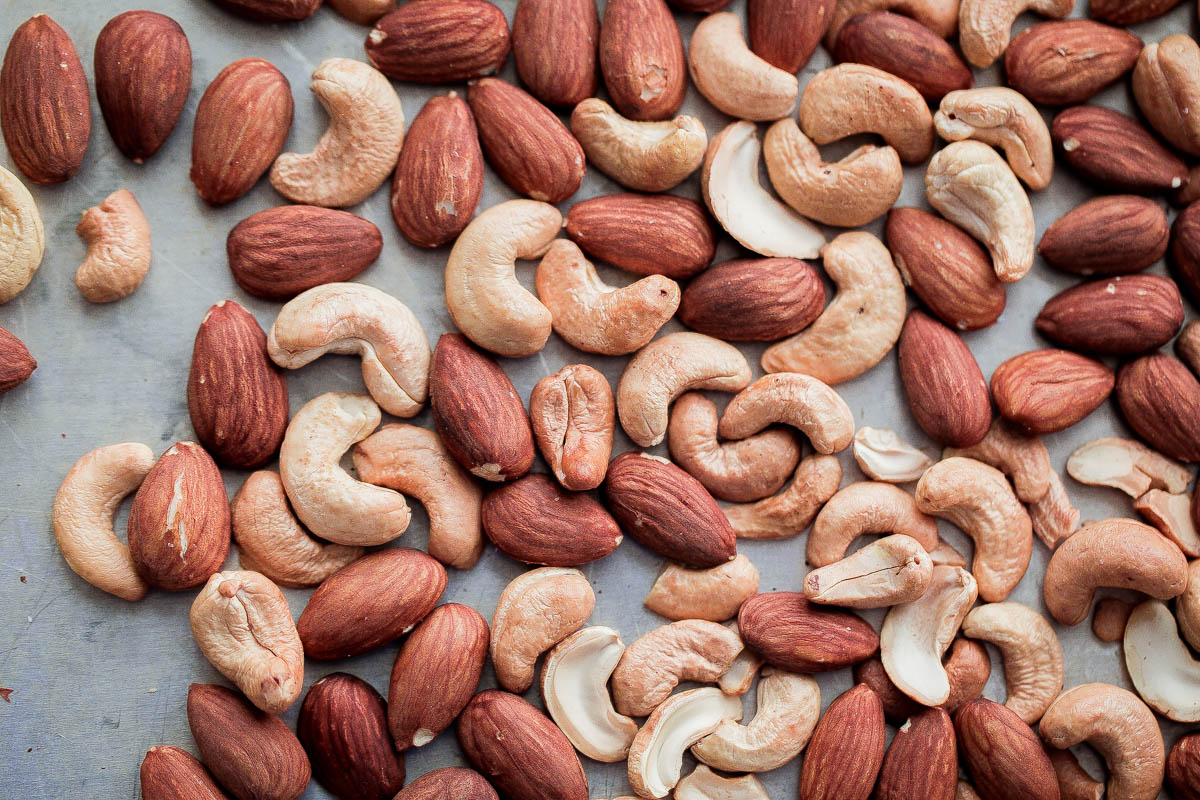 While I wish I could take full credit for this recipe idea, this espresso almond cashew butter was inspired this espresso nut butter that caught my eye at one of my favorite Chicago stores, Publican Quality Meats, a few weeks ago. Their version was made with a combination of almonds, peanuts, and honey.
Instead of using peanuts (did you read this article yet?), I used a combination of raw almonds and raw cashews as my base. Almonds are a wonderful source of calcium, fiber, and Vitamin E (and offer a decent amount of protein as well). Cashews provide copper, magnesium, and phosphorous. Cashews have a more delicate flavor than almonds, and I enjoy using a combination if I have already have both on hand.
The almonds and cashews are roasted until warm and fragrant in a hot oven for 10 to 12 minutes before processing. Warm roasted nuts will release more natural oils and produce a smoother nut butter than raw nuts (but you can use raw nuts too!).
The espresso beans add that signature roasted coffee fragrance and flavor, and really take it to the next level.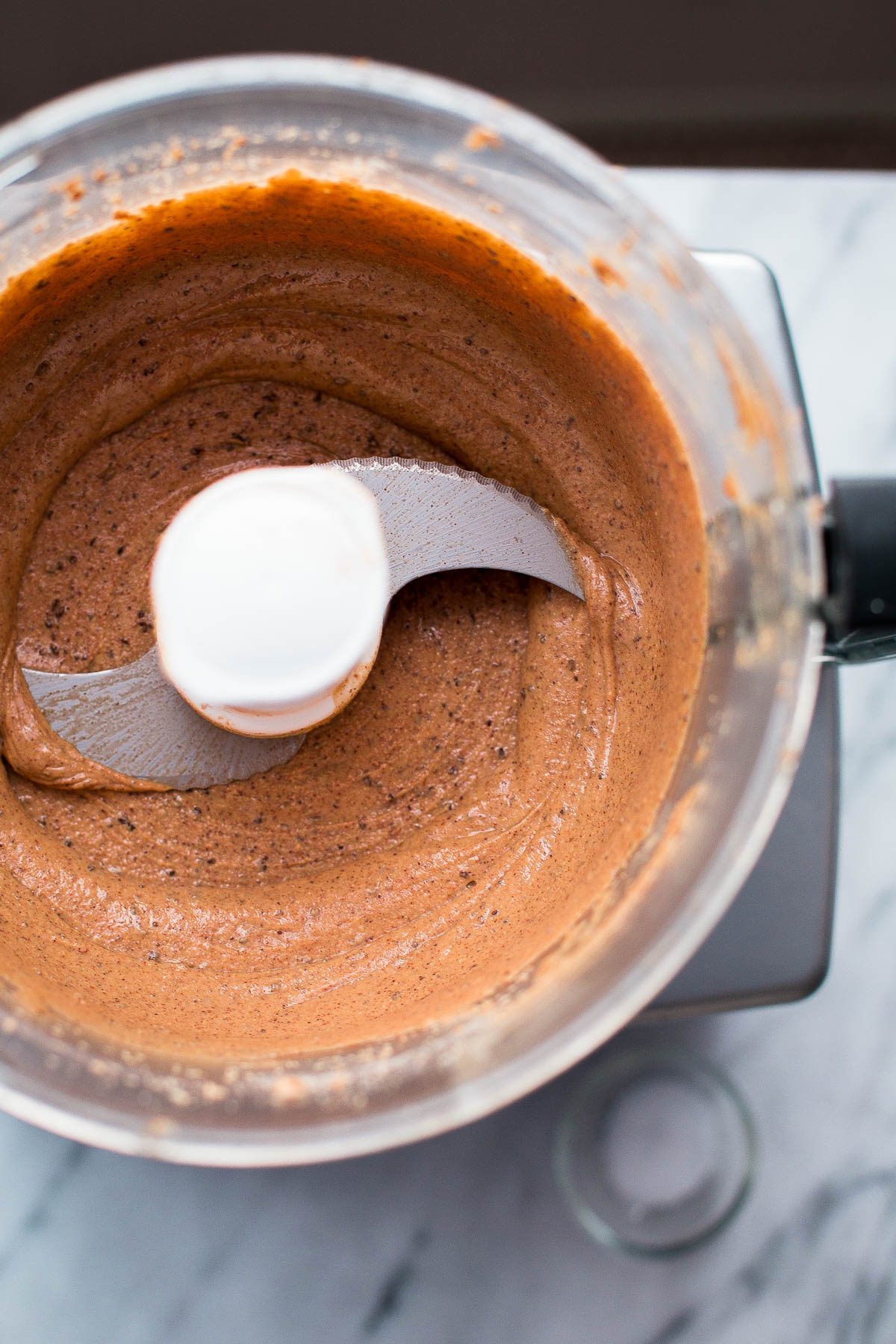 The final touches? Maple syrup, vanilla bean paste, and salt. All three of these ingredients are optional and able to be adjusted to your preference level. Like less salt? Reduce the salt. Like more sweetness? Add a touch more maple syrup. This is the best reason to make homemade nut butter (along with the fact that it is very easy!). You can adjust and control all the itty bitty details. Nut butters are very adaptable and forgiving.
I actually prefer unsweetened nut butters, but love the flavor of dark pure maple syrup so much. It complements the other flavors in this nut butter really well.
This combination produces an incredibly rich and fragrant toasted nut butter. A small spoonful goes a long way!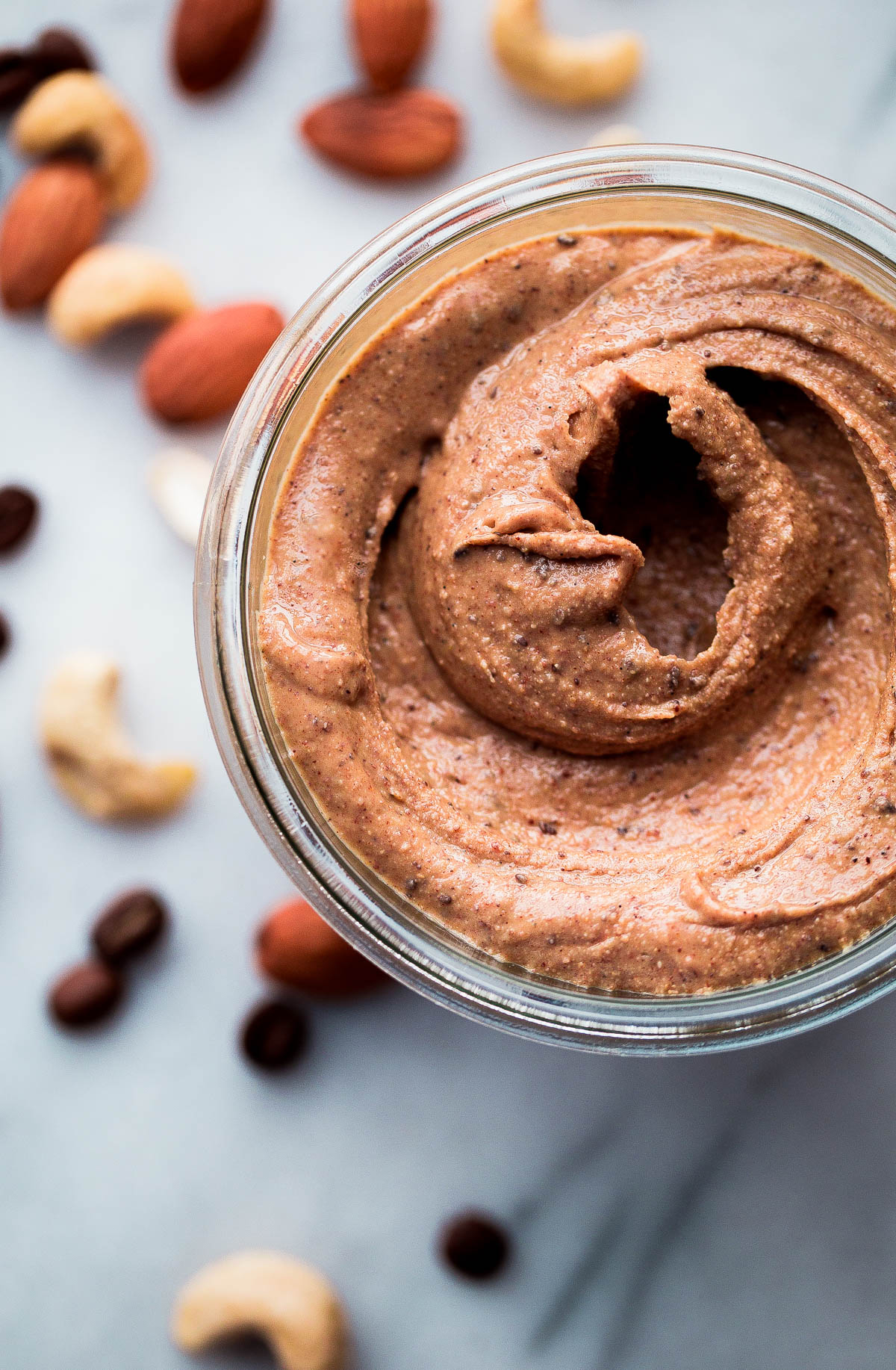 Once processed, tiny crunchy flecks of espresso beans remain in every spoonful of this espresso almond cashew butter, which I love. It reminds me of those chocolate covered espresso beans. If you prefer ultra smooth nut butter, see the recipe notes for additional tips.
Ways to Use this Almond Cashew Butter:
add a spoonful to your morning or afternoon smoothie (such as this rise and shine smoothie or this simple berry smoothie)
dollop a small spoonful on a piece of dark chocolate
spread on half a banana as a great pre-workout or afternoon slump snack
blend several large spoonfuls with cold water in a high-powered blender for an instant homemade espresso almond cashew milk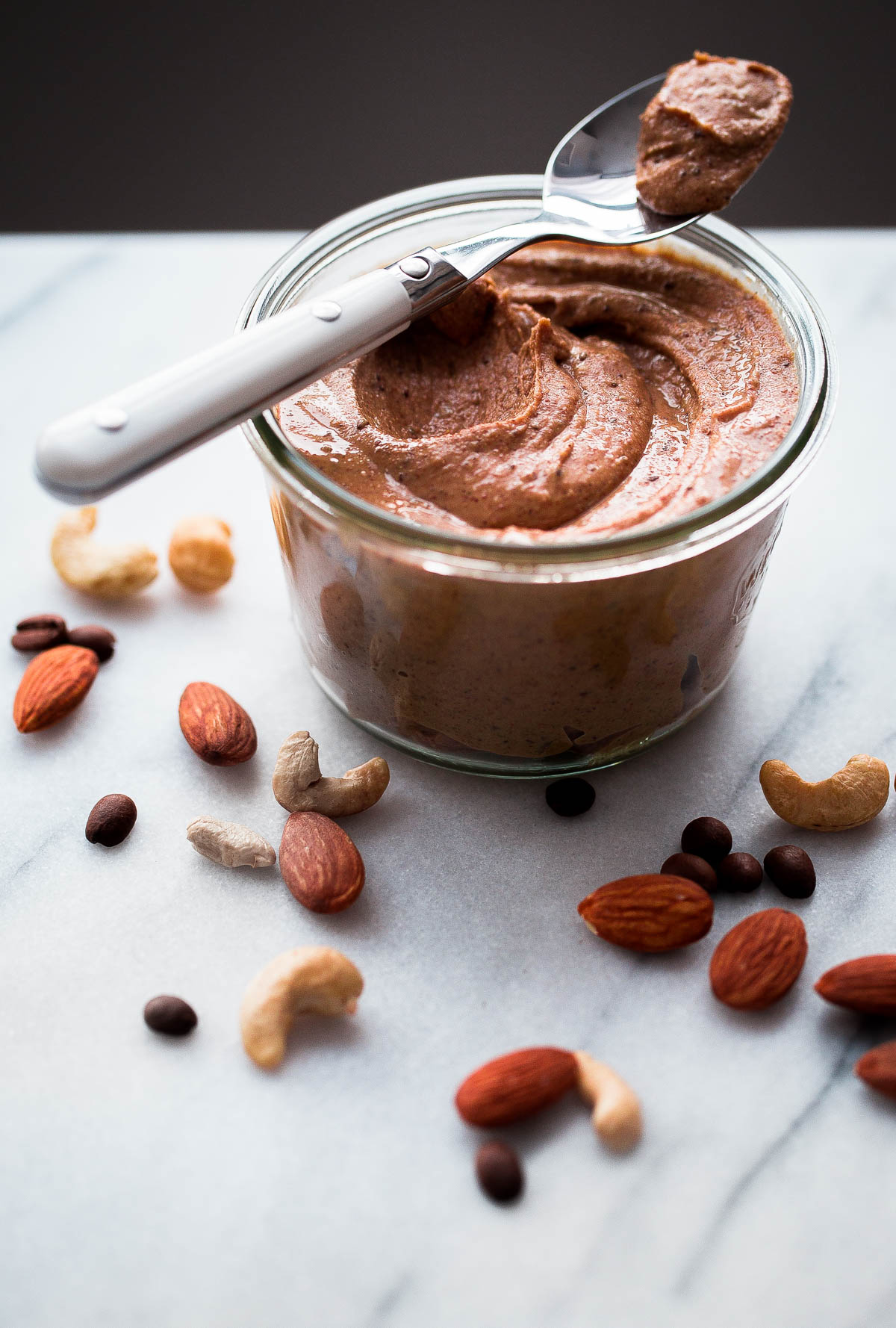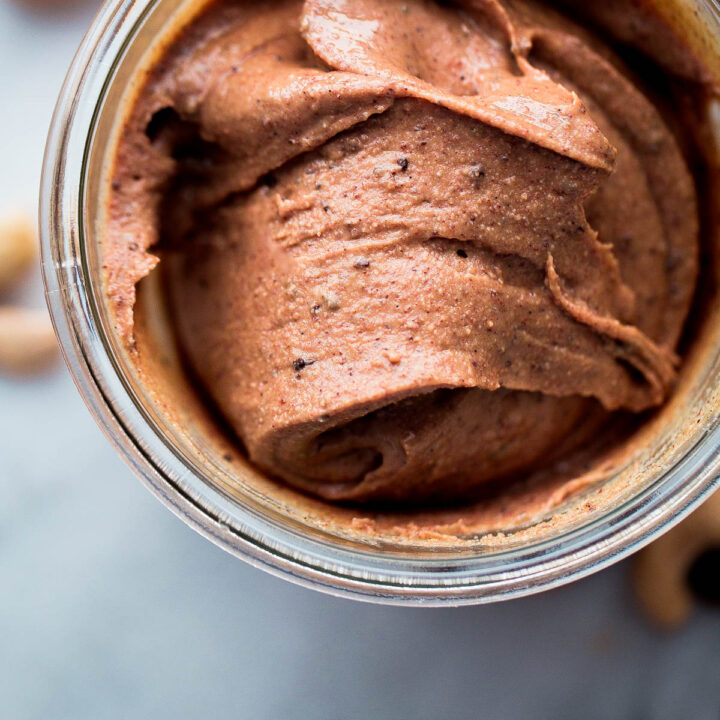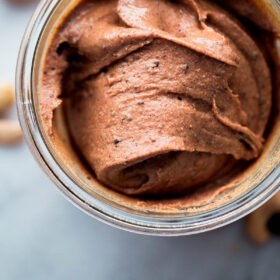 Espresso Almond Cashew Butter
Homemade creamy almond cashew butter infused with maple syrup, whole espresso beans, salt, and vanilla. Each spoonful contains tiny crunchy flecks of espresso beans, which I absolutey love!
Ingredients
1 cup (150 g) raw whole almonds
1 cup (150 g) raw whole cashews
1 tablespoon (8 g) whole espresso beans
1 teaspoon vanilla bean paste or pure vanilla extract
½ teaspoon kosher salt or to taste
1-2 teaspoons pure dark maple syrup optional
Instructions
Preheat the oven to 350°F (176°C) degrees with a rack in the center position. Spread the raw almonds and cashews on a half sheet pan. Toast for 10 to 12 minutes, tossing them halfway through, or until the nuts are lightly golden and fragrant.

Allow the nuts to cool for 1 to 2 minutes and then transfer them to a large food processor bowl fitted with a blade attachment. Add the espresso beans. If you have a high-powered blender (such as a Vitamix), you can use this instead of a food processor, but I prefer using a food processor.

Process the toasted nut and espresso mixture until it is coarse and clumpy. Once it clumps, it will form a ball and quickly begin to become smooth. Scrape down the bowl with a spatula every few minutes. Continue processing until the nuts release all of their oils and the butter is loose, smooth, and can easily drizzle from the end of a spoon. Depending on the power of your food processor, this process may take 5 to 15 minutes.

Add the vanilla bean paste (or vanilla extract), salt, and maple syrup (if using) and process for an additional 30 seconds. Storage: Transfer the nut butter to a small glass container, cover, and store in the refrigerator for up to 3 weeks. The flavor of the espresso strengthens during storage, which is delicious!
Tips for Success:
If you have roasted nuts on hand (instead of raw), it is best to warm them in an oven for several minutes before processing. Warm nuts will release more oils and produce a smoother nut butter than raw nuts. If you prefer raw nut butters, feel free to skip the roasting step.
If you prefer an ultra-smooth almond butter (without crunchy flecks of espresso bean), substitute whole espresso beans with 2 teaspoons finely ground espresso. Do not substitute instant espresso powder.
Serving: 1serving, Calories: 126kcal, Carbohydrates: 9g, Protein: 4g, Fat: 9g, Saturated Fat: 1g, Polyunsaturated Fat: 7g, Sodium: 233mg, Fiber: 2g, Sugar: 3g
This post contains affiliate links, which means that I make a small commission off items you purchase at no additional cost to you. Please read my
privacy policy
for more information.