Simple Berry Smoothie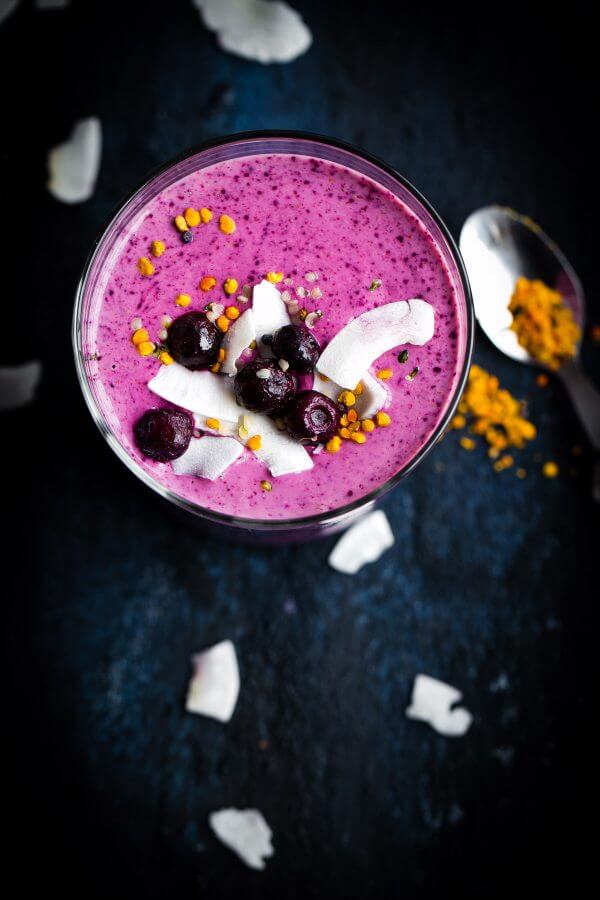 I know what you're thinking.
Nearly two weeks have passed without a post (I've literally traveled to Alaska and back), and here I am sharing a simple berry smoothie. Yes. That's how I chose to break the silence. In my defense, it is a damn good smoothie!
As you can tell, I haven't boarded the fall recipe train. It has been incredibly hot in Chicago up until two days ago. Last Monday's real feel temperature was 101 degrees. I can't eat pumpkin and winter squash when it's that hot out.
I can't, I can't, I can't. No. Not yet. I'd rather drink smoothies and live in denial for as long as possible. Care to join me?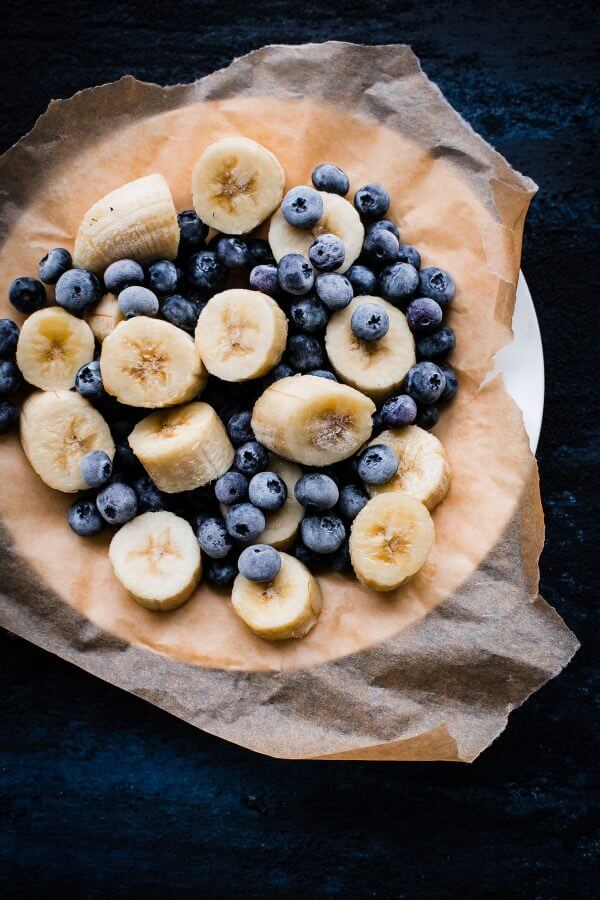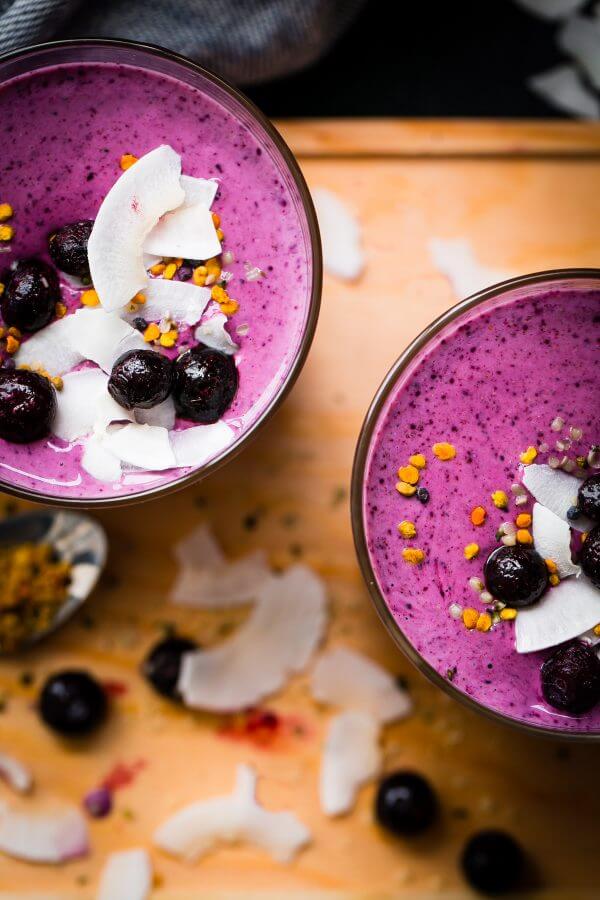 I'm still seeing fresh blueberries at the farmer's market, so I feel slightly justified in this. When I shared this blueberry almond tea cake a few weeks ago, I mentioned that I've been buying tons of blueberries this summer and freezing a lot of them.
Many of them have ended up in my blender. Oops. I've probably made this smoothie at least once a week since the beginning of July. It is so very simple, but delicious, filling…and vibrant! You could easily substitute the blueberries with other berries (or a berry blend) – but I find that frozen organic blueberries are readily available and more affordable than other frozen berries.
This smoothie also comes out perfectly thick each time. Not smoothie bowl thick, but thick. I'll have it as a light lunch or more filling snack on a busy day, or blend one up after a workout.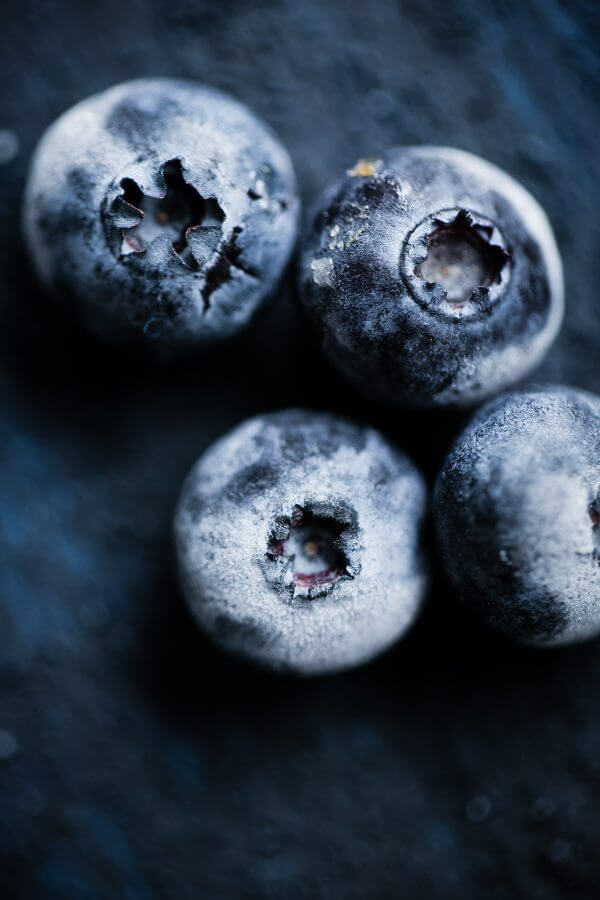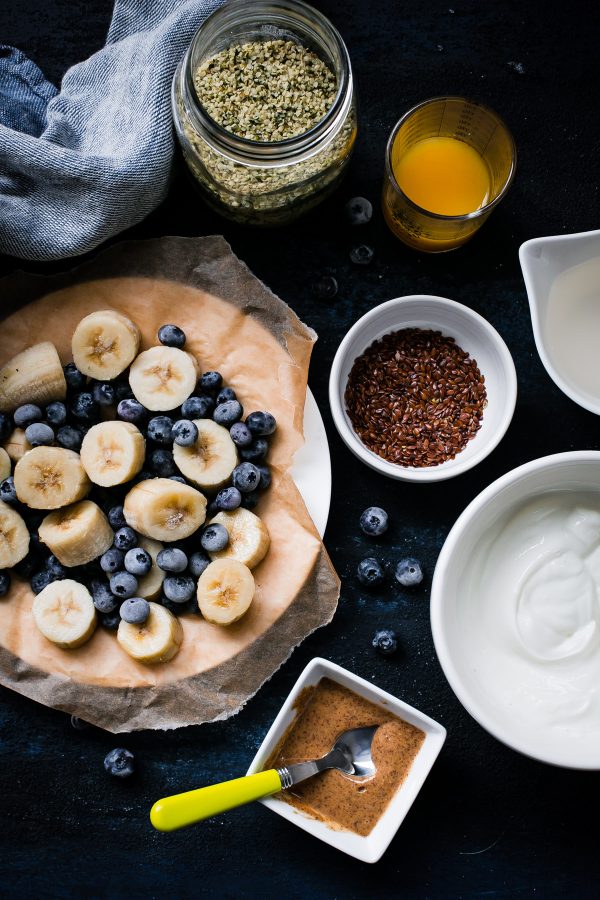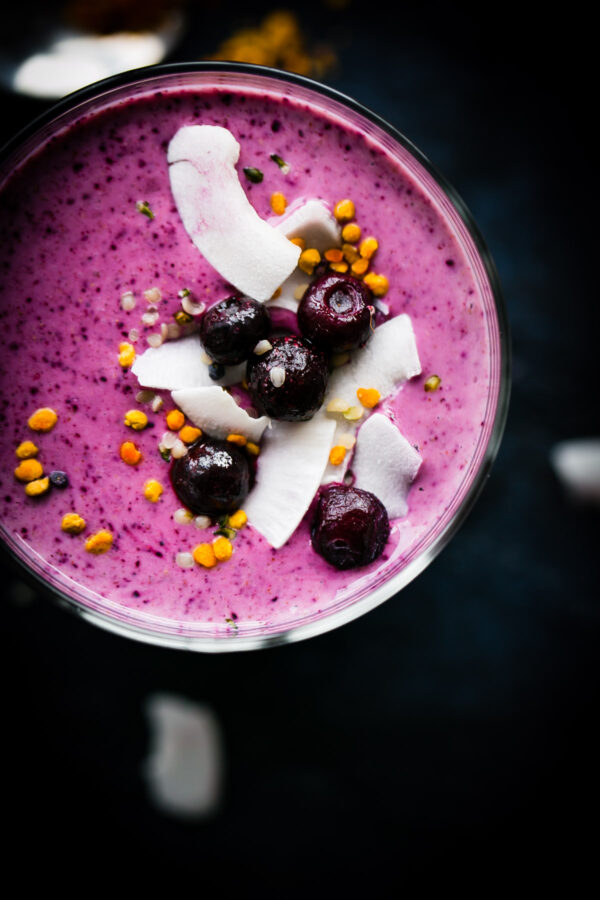 My go-to smoothie ingredients are fairly standard: greek yogurt, frozen berries (in this case, blueberries!), and frozen banana. Hemp and flax seeds are another favorite that I add to smoothies all the time, because a) they're incredibly good for you, b) you can't taste them, c) it is an easy way to add protein and healthy fats.
The extras, or add-in's, in this case are coconut water (naturally hydrating), a tiny splash of orange juice (I love the hint of acid it adds), and my favorite smoothie ingredient ever: creamy almond butter. If you're not putting almond butter in your smoothies, please do so immediately.
Remember this rise and shine smoothie from years ago? Yeah, that contains almond butter too. It is a smoothie game-changer. Ironically, I don't enjoy almond butter on toast, but I'd put a jar of it in my smoothie any day of the week!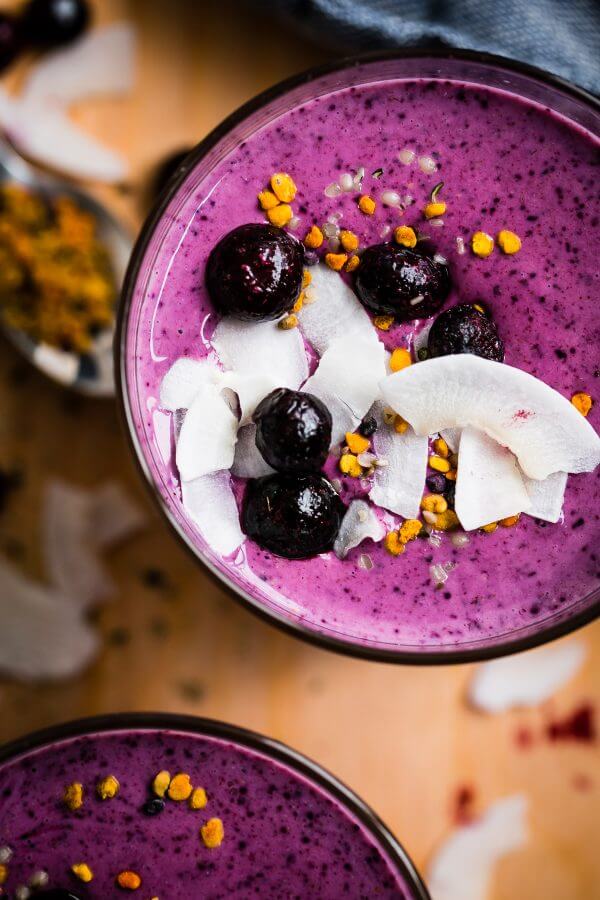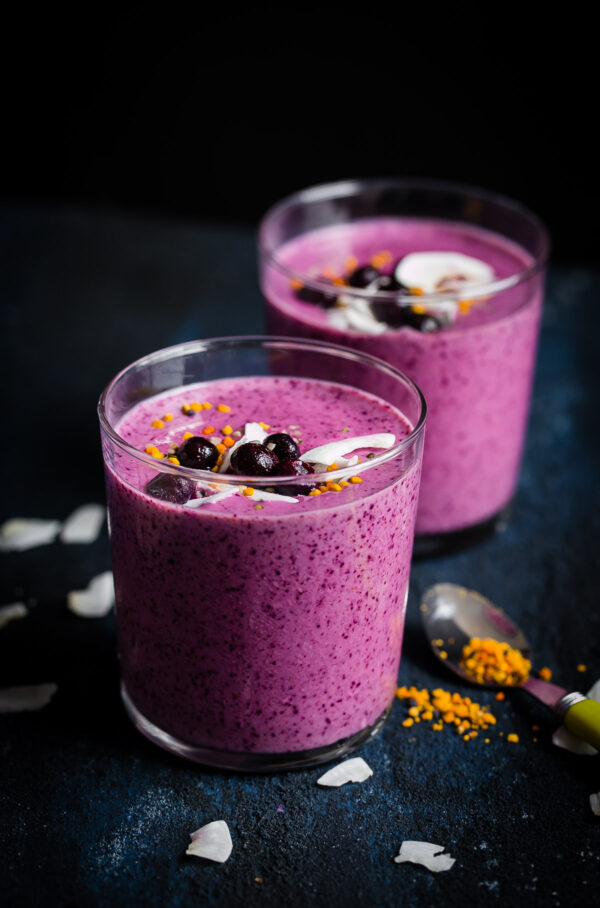 If you want to be able to throw this smoothie together even faster, I highly recommend putting together your own customizable smoothie packs.
Set aside a few minutes on a Sunday and throw the individual portions of berries, banana, flax seeds, and hemp seeds all together in small Ziploc re-sealable bags, freeze, and grab them as you need them throughout the week!
You could even add fresh spinach or baby kale leaves too as an easy way to sneak in some vegetables (just be prepared for a slightly less beautiful, but equally as delicious smoothie). Happy slurping!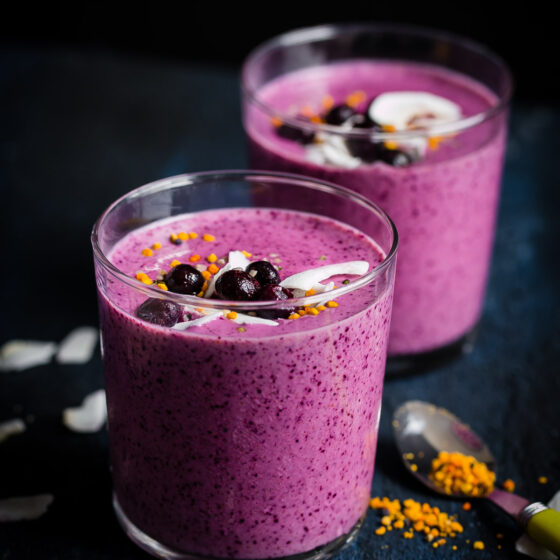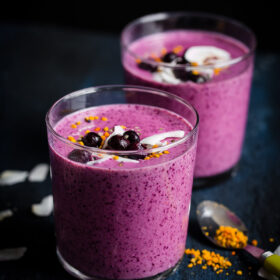 Simple Berry Smoothie
This simple berry smoothie recipe is tart, refreshing and delicious. Feel free to mix up the fruit addition with a frozen berry blend, or substitute the coconut water with your favorite non-dairy milk (or even water, in a pinch!).
Ingredients
Simple Berry Smoothie:
⅓ cup pure coconut water see notes for substitution ideas
splash of fresh orange juice
¾ cup low fat Greek yogurt
1 cup frozen blueberries or frozen berry blend
1 frozen banana
1 tablespoon almond butter
1 tablespoon hemp seeds
1 tablespoon whole or ground flax seeds
Optional Toppings:
unsweetened coconut flakes
frozen blueberries
bee pollen
Instructions
Add the ingredients, in the order listed, in a high-powered blender. Blend until smooth and serve. Top with garnishes as desired.
Tips for Success:
Other frozen berries or berry mixes will work just as well in this smoothie! If your bananas are not frozen, add a few ice cubes to reach the proper consistency.
I love using coconut water, because it contains electrolytes and is very hydrating; but you can easily substitute it with almond milk, any nut, or cow milk. The same goes for orange juice – feel free to substitute it with additional coconut water, almond milk, or cow milk.
Serving: 1serving, Calories: 402kcal, Carbohydrates: 52g, Protein: 16g, Fat: 17g, Saturated Fat: 7g, Polyunsaturated Fat: 9g, Cholesterol: 3mg, Sodium: 89mg, Fiber: 11g, Sugar: 34g
This post contains affiliate links, which means that I make a small commission off items you purchase at no additional cost to you. Please read my
privacy policy
for more information.