Everyday Chickpea Curry
This vegetarian easy chickpea curry comes together in less than 30 minutes and is made with basic pantry ingredients.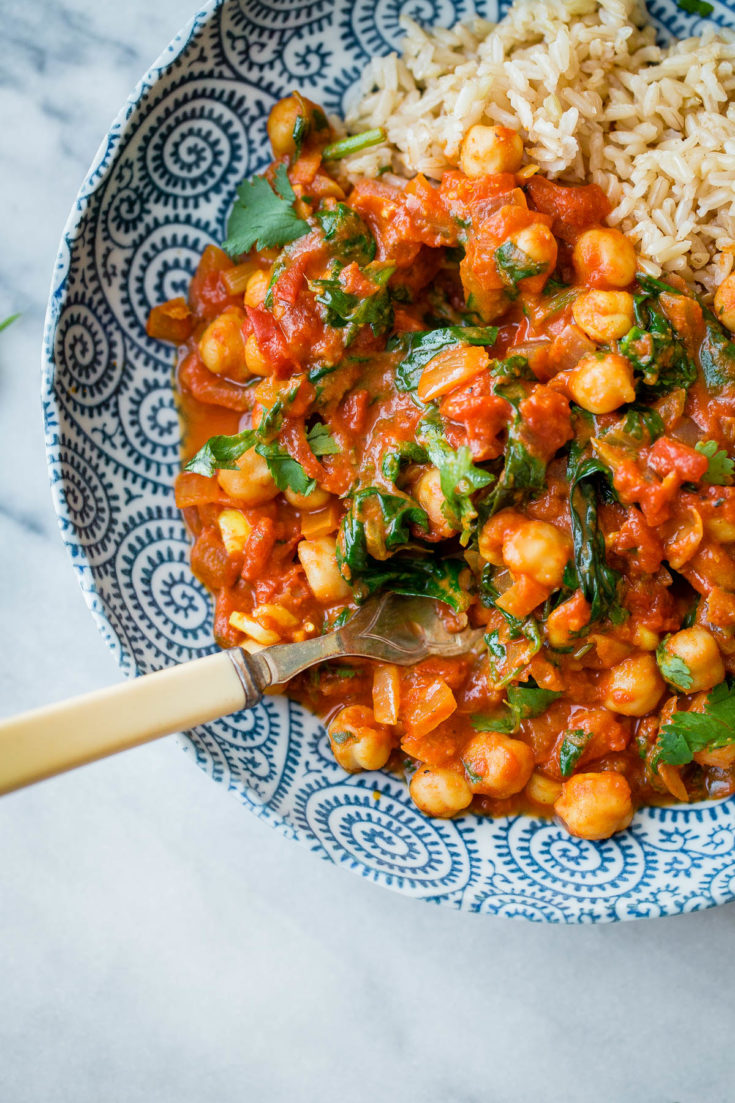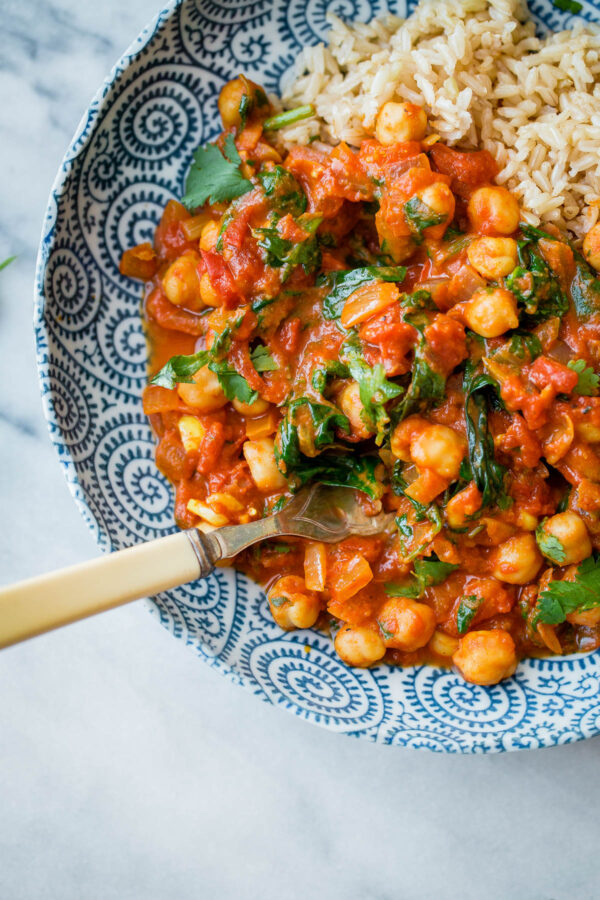 Here with an weeknight dinner recipe to add to your rotation! Everyday chickpea curry. I made a version of this all the time back in my college days.
In my junior and senior year, I lived in my first on-campus townhouse with a working kitchen. After surviving dining hall food for two years prior, I remember how excited I was for that space. The counter space was severely limited, I had to share the fridge with three other friends, and my kitchen tool arsenal was nowhere near what it is today, but that didn't stop me from cooking nearly every day of the week.
I made homemade pasta sauce (I was probably the only college student hoarding parmigiano-reggiano in my fridge!), batches of soup, refried bean quesadillas, and a handful of other simple dinners.
This everyday chickpea curry was one of my regulars. It was affordable, quick to come together, nutritious, and filling. Most of the ingredients were already in my pantry too.
While I would never dare to call this an 'authentic' Indian chickpea curry by any stretch of the imagination, it was the closest thing that I could get living in my one-stoplight college town in upstate New York.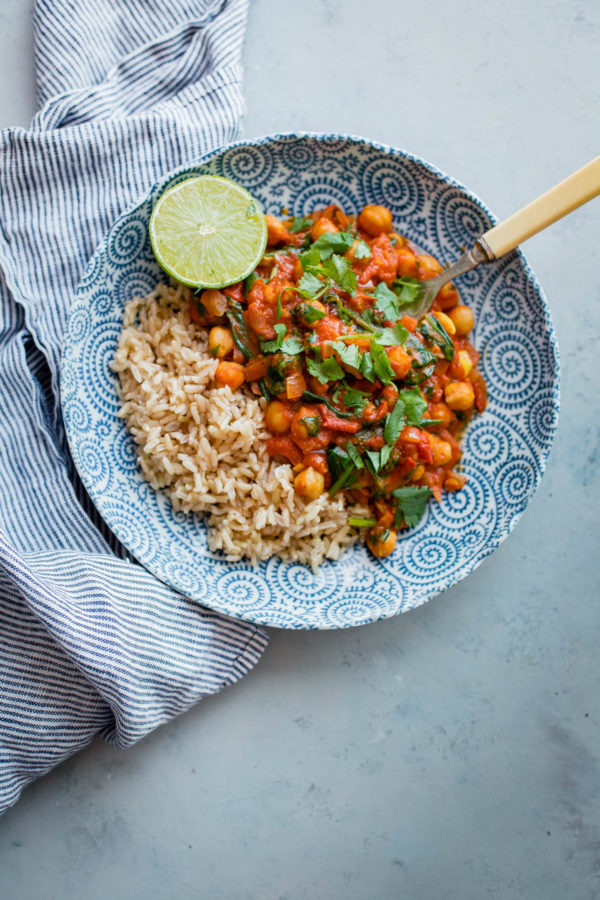 While the base of today's recipe is the same, this version is elevated with a splash of creamy coconut milk, baby spinach, lime juice, and a generous handful of chopped cilantro.
Feel free to adjust the seasonings and spices to your taste. Always start on the more conservative side, as everyone's curry powder blend will vary a bit in heat and intensity. Serve this with brown rice pilaf, a side of toasted naan, and yogurt.
It's not as sophisticated in flavor as this cauliflower curry or my favorite green lentil soup, but it makes a fantastic weeknight dinner when you're short on time!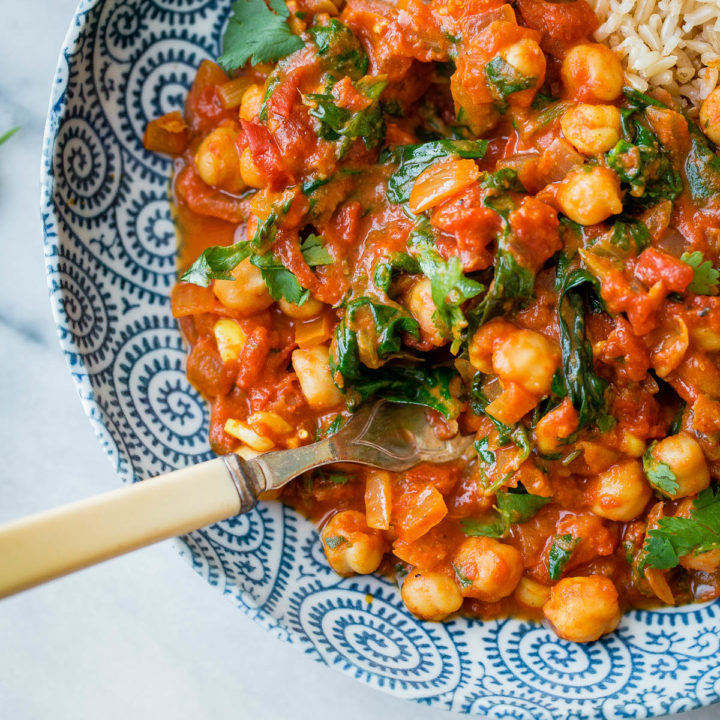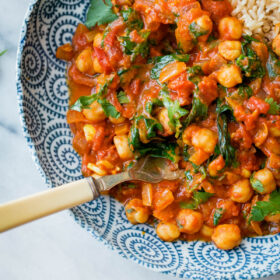 Everyday Chickpea Curry
This easy vegetarian chickpea curry comes together in less than 30 minutes using just basic pantry staples. Naturally dairy free and gluten free.
Ingredients
1 tablespoon coconut or neutral-flavored oil
1 medium yellow onion diced
2 cloves garlic finely chopped
2 teaspoons finely chopped fresh ginger
1 teaspoon curry powder
½ teaspoon turmeric
1 teaspoon coriander
1 teaspoon cumin
1 (15-ounce) can crushed tomatoes
1 (15-ounce) can chickpeas drained and rinsed well
½ cup (120 mL) full-fat coconut milk
1 cup fresh baby spinach leaves loosely packed
1 teaspoon lime juice
¼ cup cilantro leaves roughly chopped, plus more for garnishing
freshly ground black pepper
Instructions
Heat the oil in large skillet over medium heat. Add the onion, salt lightly, and sauté for 8 to 10 minutes, stirring occasionally, or until the onion is very soft and translucent. Add the garlic and ginger, and sauté for an additional minute or so. Add the spices and sauté, stirring constantly, for 30 seconds or until aromatic.

Add the crushed tomatoes, chickpeas, coconut milk and bring to a very low simmer. Cook for 10 to 15 minutes. Add the spinach leaves and stir to combine. The heat of the mixture will wilt the spinach fairly quickly.

Stir in the lime juice and chopped cilantro. Season to taste with salt and pepper. Serve with rice or toasted naan.
Serving: 1serving, Calories: 335kcal, Carbohydrates: 39g, Protein: 13g, Fat: 16g, Saturated Fat: 8g, Polyunsaturated Fat: 7g, Sodium: 726mg, Fiber: 11g, Sugar: 9g
This post contains affiliate links, which means that I make a small commission off items you purchase at no additional cost to you. Please read my
privacy policy
for more information.