Raspberry Pavlova with Vanilla Whipped Cream
Crisp and chewy pavlova filled with homemade raspberry curd, vanilla whipped cream, and topped with berries.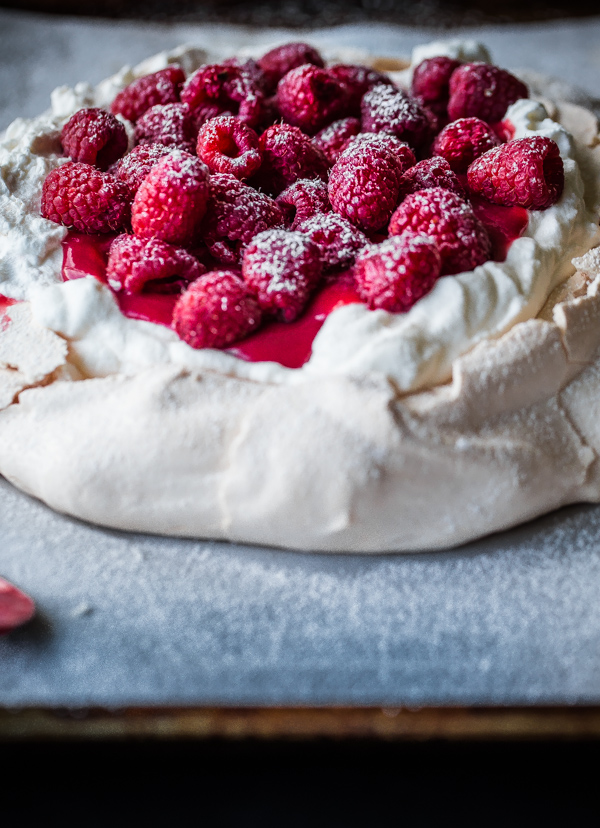 Indian Summer is in full-force and raspberries are ripe for the picking. The other day, we went raspberry picking and ended up with buckets of fresh berries!
I froze about 60% of the raspberries from that excursion, ate another 10% straight out of the fridge, and used the remaining 20% to make today's fresh raspberry pavlova with vanilla whipped cream.
We're using homemade raspberry curd and fresh berries for today's show stopping dessert.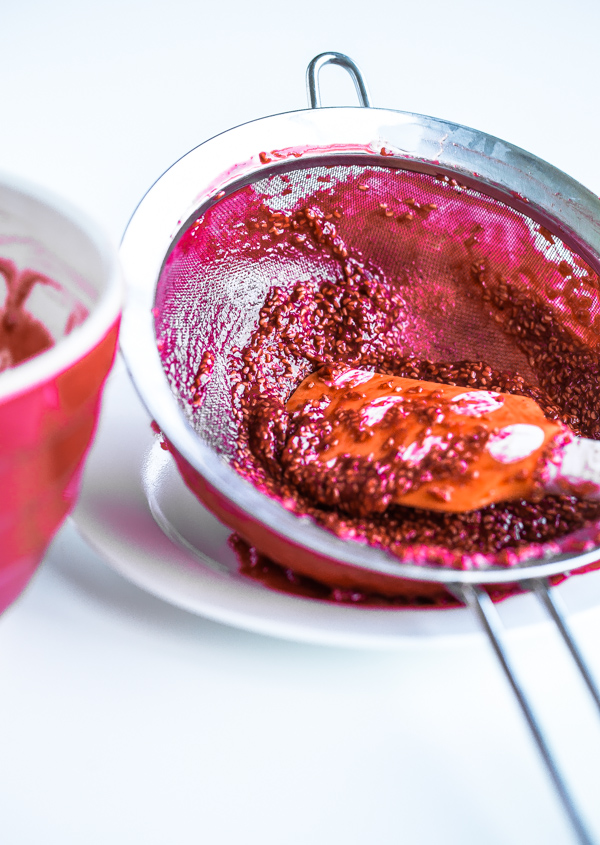 Pavlovas are the dessert epitome of rustic elegance and happen to be one of my favorite desserts: these meringue cups and berry pavlova are two other iterations that are well worth your time.
Rustic elegance is my style (or the style I strive to achieve in life and in the kitchen; whether I achieve it or not is an entirely different story). It does require some time to put together, but they are fairly easy to make!
Did you know that pavlovas were named after a Russian ballet dancer named Anna Pavlova? Technically they are from New Zealand, where the dancer toured in the 1920's.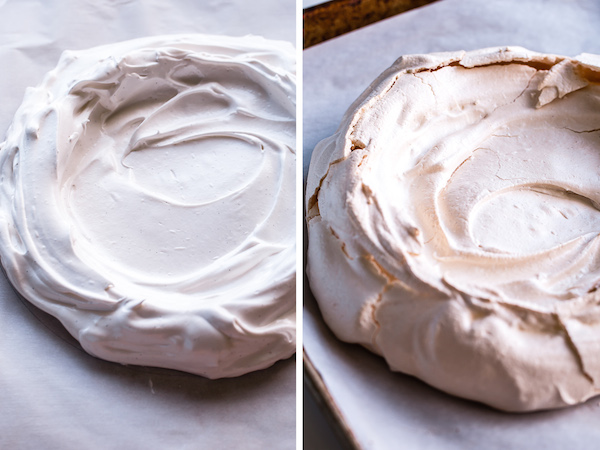 What Makes Pavlova Different From Meringue?
Pavlovas are a meringue-based dessert. Unlike regular meringue, which is crisp and completely solid throughout, pavlovas have a hard outer shell, and are soft and marshmallow-y in the inside. This is due to the addition of vinegar and cornstarch to the meringue base.
They are usually filled with whipped cream and topped with fresh fruit. In other words, they are really delicious and absolutely gorgeous to look at.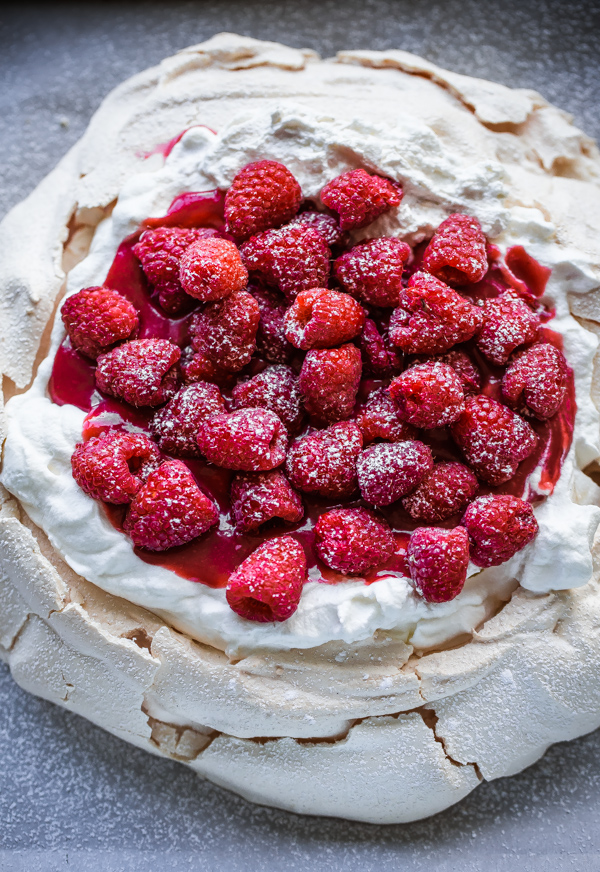 How to Make Raspberry Curd:
It doesn't hurt that this pavlova is topped with fresh homemade raspberry curd, vanilla whipped cream, and even more fresh raspberries. Two doses of raspberry goodness going on in there.
The raspberry curd could not be easier to make! Seriously, just combine all of the ingredients in a small saucepan, and bring the mixture to a light boil, stirring frequently, for a few minutes. It is then strained and allowed to cool completely.
Unlike lemon and other curds I've shared in the past, this raspberry curd is ultra light in texture and richness. It is sweet, yet tart, thin and spreadable. It nearly melts into the whipped cream and works incredibly well for this application.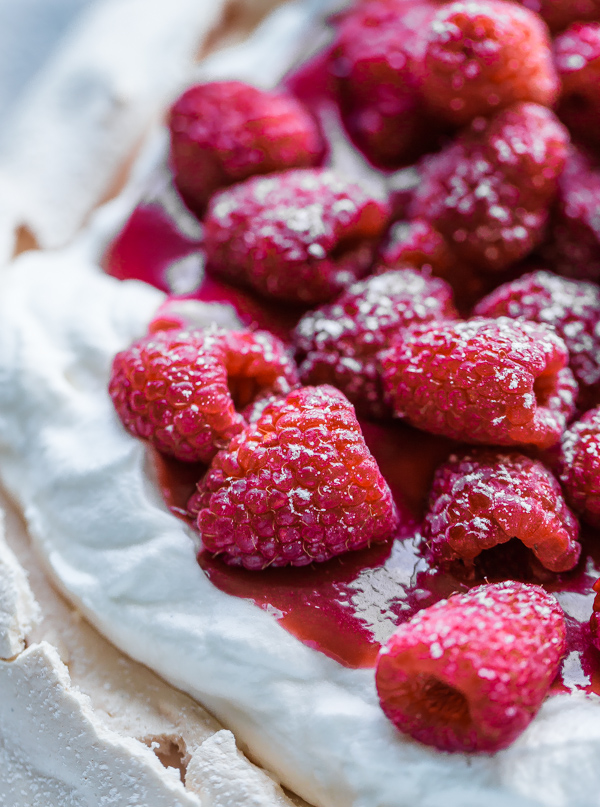 Note: Since pavlovas are relatively delicate, it is important that you allow the base to cool completely in the oven once it has baked through!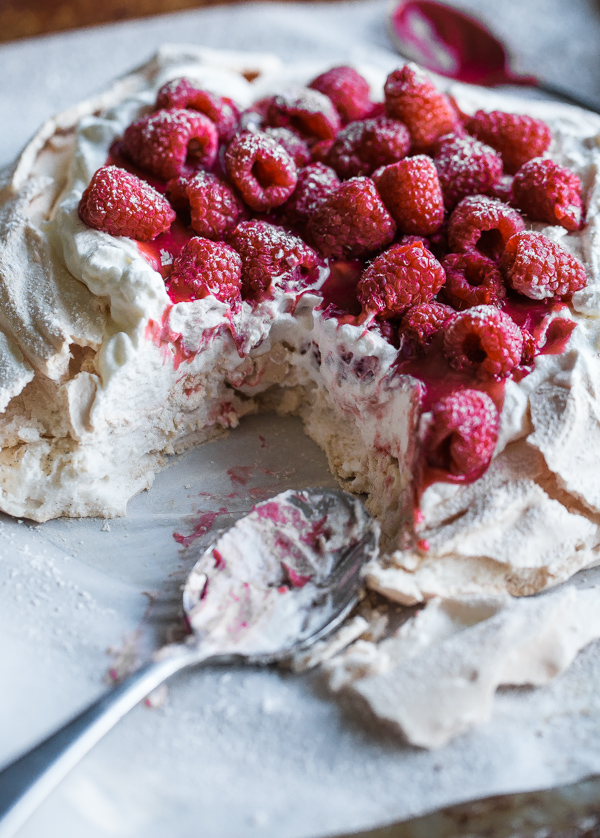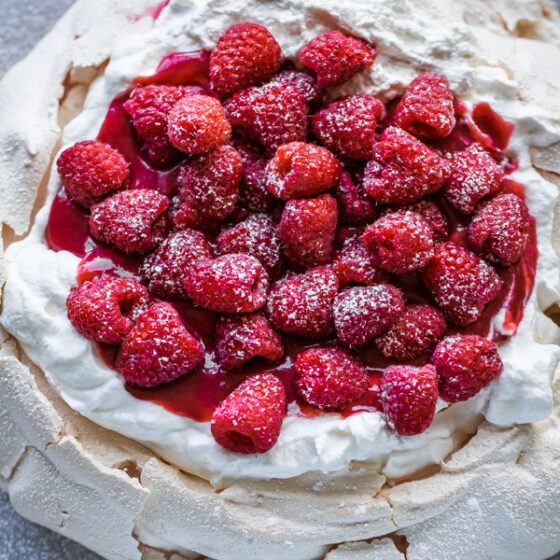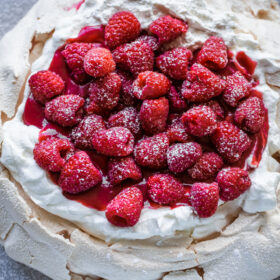 Raspberry Pavlova with Vanilla Whipped Cream
Crisp and chewy pavlova topped with homemade raspberry curd, vanilla whipped cream, and fresh berries. A show stopping dessert for summer!
Ingredients
Fresh Raspberry Curd:
6 ounces (170g) fresh raspberries
2 large egg yolks
½ cup (100g) granulated sugar
4 ounces (8 tablespoons; 115g) unsalted butter
3 tablespoons (45 mL) freshly squeezed lemon juice
2 teaspoons cornstarch
⅛ teaspoon Diamond Crystal kosher salt
Meringue Shell:
4 large egg whites room temperature
pinch kosher salt
1 cup (200g) granulated sugar
1 teaspoon vanilla bean paste or ¾ teaspoon pure vanilla extract
2 teaspoons cornstarch
1 teaspoon distilled white vinegar
Vanilla Whipped Cream:
1 cup (240 mL) cold heavy cream
1 teaspoon vanilla bean paste or ¾ teaspoon pure vanilla extract
Assembly:
8 - 12 ounces (220g -340g) fresh raspberries for garnishing
powdered sugar for garnishing
Instructions
Preheat the oven to 275°F (135°C) with a rack in the center position. Using a pencil and bottom of cake pan or plate, trace a 9-inch (23-cm) circle in the center of a large piece of parchment paper. Set the parchment paper - pencil side facing down - into a half sheet pan.

Prepare Raspberry Curd: Combine the raspberries, egg yolks, sugar, unsalted butter, lemon juice, cornstarch, and salt in a medium saucepan and stir together. Set over medium heat until the mixture begins to bubble. Boil, stirring frequently, for 2 to 3 minutes, cooking until the curd has reduced, thickened, and the cornstarch has cooked completely - the curd will still be relatively thin when finished. Remove from the heat and strain the curd through a fine-meshed sieve set over a heatproof bowl. Cover the bowl with plastic wrap and transfer to the refrigerator to cool completely. It will thicken slightly as it cools.

Prepare and Bake Meringue: Place the egg whites in the bowl (clean and free of any grease) of a stand mixer fitted with a whisk attachment. Whisk over low speed for 1 to 2 minutes, or until the egg whites are foamy and frothy.  Increase speed to high and continue whipping for an additional 1 to 2 minutes. With the mixer on high speed, slowly sprinkle and add the granulated sugar, one tablespoon at a time, whisking until the meringue reaches a stiff peak.

Add the vanilla bean paste (or extract), cornstarch, and vinegar, and whisk at high speed to combine. Scrape the bottom of a bowl with a spatula to ensure that all the ingredients are incorporated evenly. Transfer the meringue to the center of parchment paper lined sheet pan. Using a small offset spatula, smooth the meringue into a round using the traced circle as a guide. Then use the offset spatula to build up the sides of the meringue slightly, this will help create slight edges to contain the whipped cream, curd, and fresh raspberries for assembly.

Bake for roughly 1 hour. Turn off the heat and use a wooden spoon to prop open the oven door slightly, allowing the meringue to completely cool in the oven (roughly 1 hour). It will be crisp and slightly cracked on the outside, but slightly soft on the inside.

Prepare Whipped Cream: Combine the cold heavy cream and vanilla bean paste (or extract) in the clean bowl of a stand mixer, fitted with a whisk attachment (or alternatively, use a hand-held mixer). Beat the cream until it reaches soft peaks. Do not over beat. Note: Since the dessert is plenty sweet enough, I prefer to leave out any additional sugar from the whipped cream.

Assembly: Dollop the top of the baked and cooled meringue with the whipped cream and spread rustically into an even layer. Top the cream with the chilled raspberry curd and garnish with fresh raspberries. Sift confectioners' sugar on top of the fresh raspberries. Use a spoon to scoop servings.
Storage Tips: 
Leftover pavlova can be wrapped well and stored overnight in the refrigerator; however, the meringue will gain moisture and lose crispness with time.
Meringue recipe adapted from Ina Garten.
Serving: 1serving, Calories: 228kcal, Carbohydrates: 44g, Protein: 4g, Fat: 4g, Saturated Fat: 2g, Polyunsaturated Fat: 2g, Cholesterol: 77mg, Sodium: 102mg, Fiber: 2g, Sugar: 40g
This post contains affiliate links, which means that I make a small commission off items you purchase at no additional cost to you. Please read my
privacy policy
for more information.