Fresh Raspberry Curd & Vanilla Whipped Cream Pavlova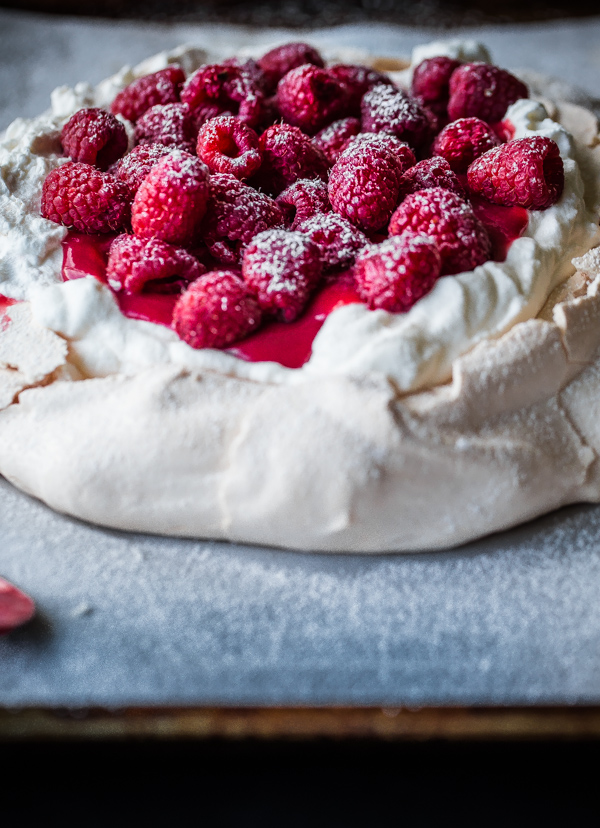 Remember when I went to Butler's Orchard, picked a million raspberries,  and promised to share a new recipe? Well, the day has finally arrived! Indian Summer is still in full-force (the farmers' markets were brimming with summer produce on my trip to New York City this past weekend) and raspberries are still ripe for picking. It feels a bit weird–do I buy heirloom tomatoes or pumpkins? But I kinda like it.
Anyway, I froze about 60% of raspberries from that excursion, ate another 10% straight out of the fridge, and used the remaining 20% to make today's fresh raspberry curd and vanilla whipped pavlova.
Oh my. I have a serious crush on this pavlova.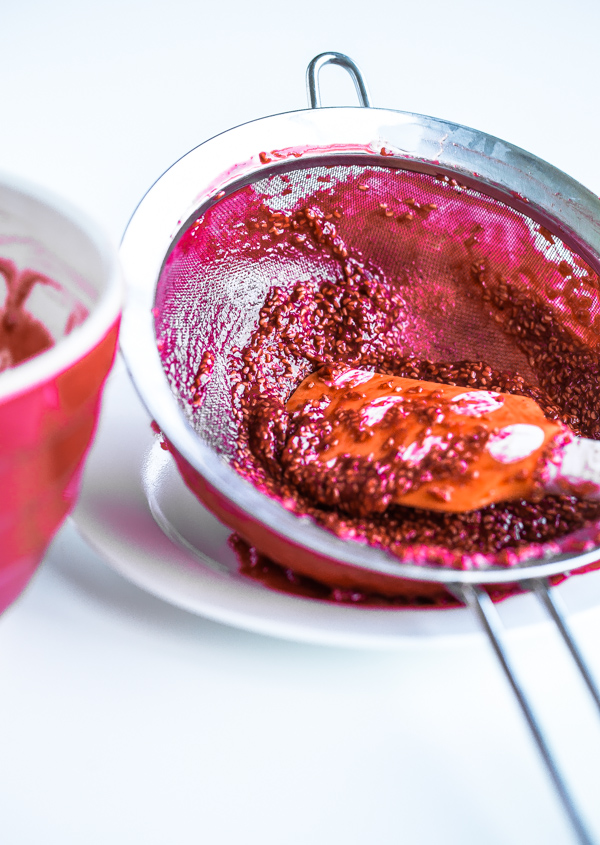 Well, practically all pavlovas, if I'm being completely honest. Or meringue cups, I have a major crush on those things too.
Pavlovas are the dessert epitome of rustic elegance. Rustic elegance is totally my style (or the style I strive to achieve in life and in the kitchen, whether I achieve it or not is an entirely different story). It is a relatively time-intensive (most of the time is inactive) dessert, but they couldn't be easier to make!
Did you know that pavlovas were named after a Russian ballet dancer named Anna Pavlova? But, technically, they are from New Zealand (where the dancer toured in the 1920's). Yep, yep, it's true. Sadly, I traveled to New Zealand for two weeks when I studied abroad in Australia during college, and did not have (or see) one single freaking pavlova during my entire time there.
I've been trying to make up for this travesty ever since.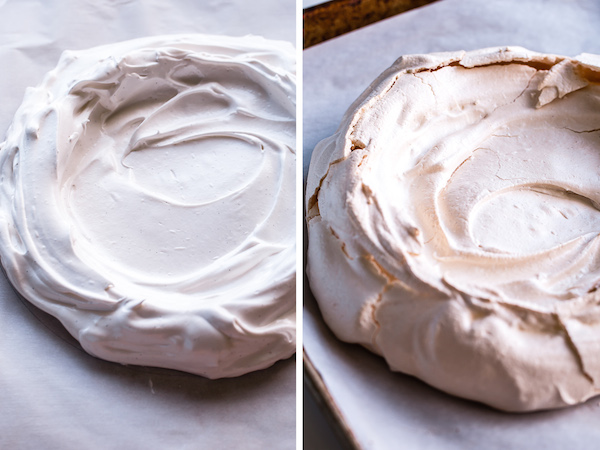 Pavlovas are a meringue-based dessert. Unlike regular meringue, which is crisp and completely solid throughout, pavlovas have a hard outer shell, and are soft and marshmallow-y in the inside. This is due to the addition of vinegar and cornstarch to the meringue base.
They are usually filled with whipped cream and topped with fresh fruit.
In other words, they are really delicious. And they are absolutely gorgeous to look at.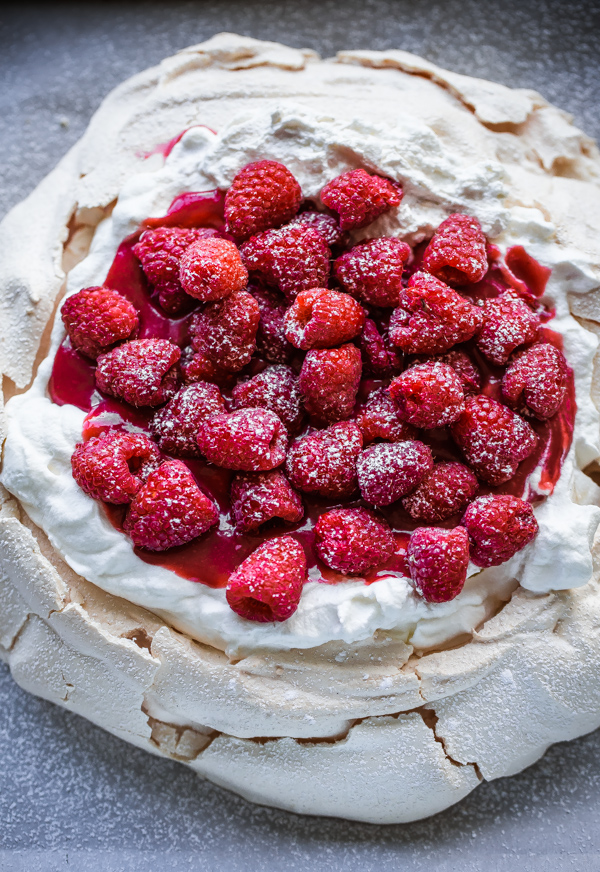 It doesn't hurt that this pavlova is topped with fresh homemade raspberry curd, vanilla whipped cream, and even more fresh raspberries. Two doses of raspberry goodness going on in there.
The raspberry curd could not be easier to make! Seriously, just combine all of the ingredients in a small saucepan, and bring the mixture to a light boil, stirring frequently, for a few minutes. It is then strained and allowed to cool completely.
Unlike lemon and other curds I've made in the past, this raspberry curd is ultra-light in texture and richness. It is sweet, yet still perfectly tart, thin and spreadable, and almost melts into the whipped cream.
It works perfectly for this dessert!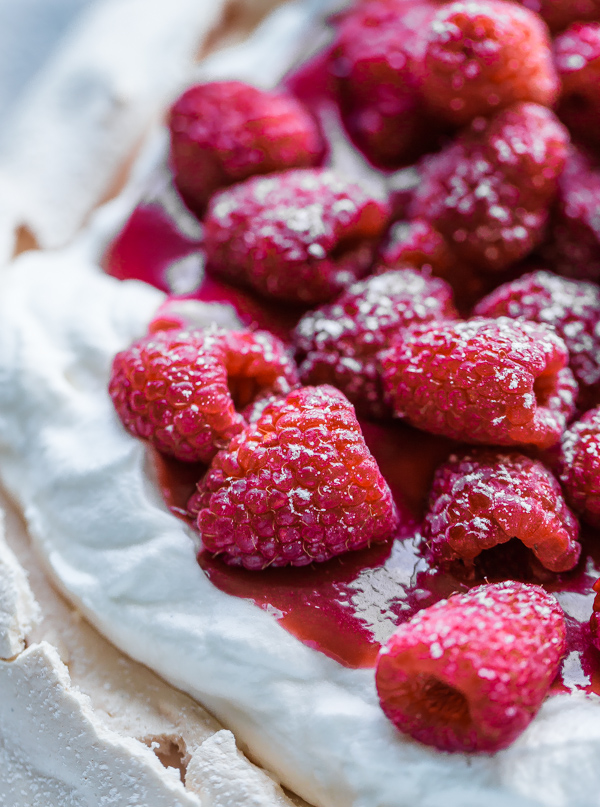 Note: Since pavlovas are relatively delicate, it is important that you allow the base to cool completely in the oven once it has baked through!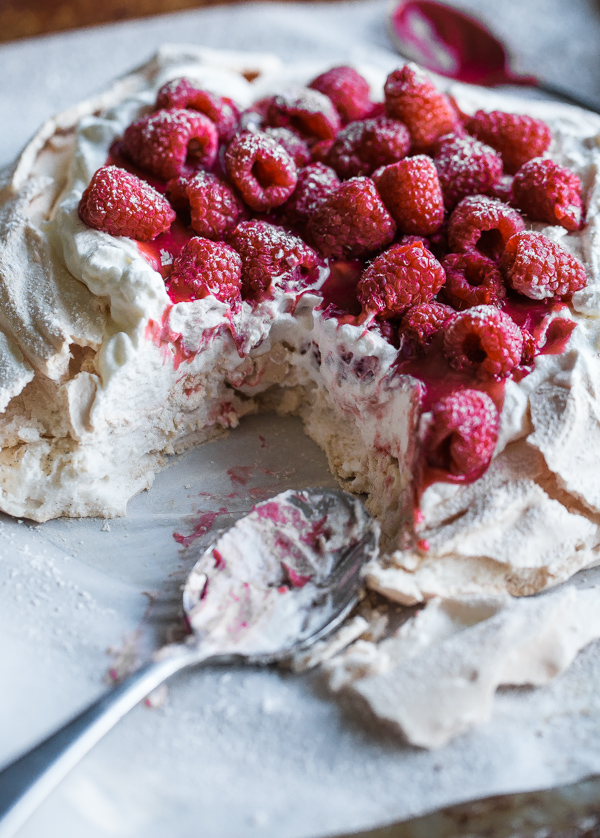 Don't forget to enter the Mina Harissa giveaway! It ends this Friday!