Fresh Raspberry Curd and Vanilla Whipped Cream Pavlova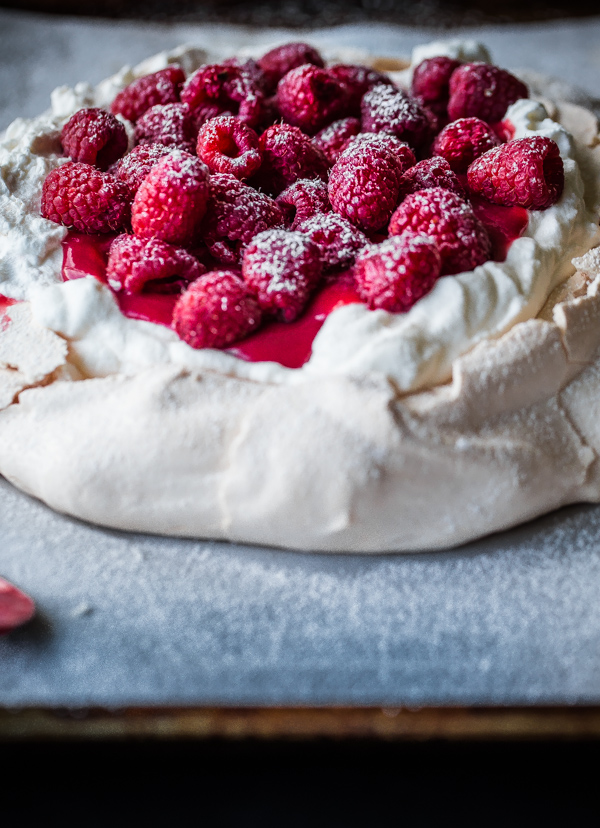 Remember when I went to Butler's Orchard, picked a million raspberries, and promised to share a new recipe? Well, the day has finally arrived! Indian Summer is still in full-force (the farmers' markets were brimming with summer produce on my trip to New York City this past weekend) and raspberries are still ripe for picking. It feels a bit weird–do I buy heirloom tomatoes or pumpkins? But I kinda like it.
Anyway, I froze about 60% of raspberries from that excursion, ate another 10% straight out of the fridge, and used the remaining 20% to make today's fresh raspberry curd and vanilla whipped pavlova.
Oh my. I have a serious crush on this pavlova.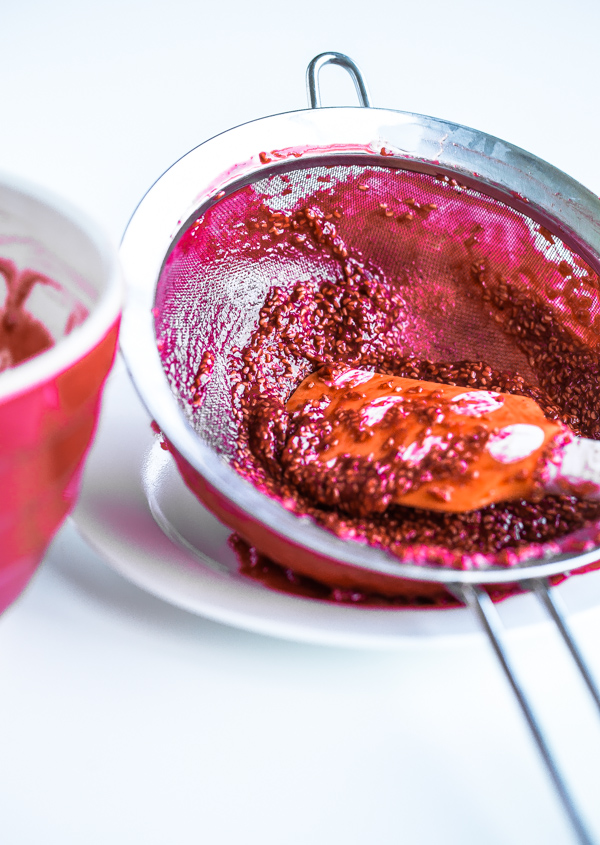 Well, practically all pavlovas, if I'm being completely honest. Or meringue cups, I have a major crush on those things too.
Pavlovas are the dessert epitome of rustic elegance. Rustic elegance is totally my style (or the style I strive to achieve in life and in the kitchen, whether I achieve it or not is an entirely different story). It is a relatively time-intensive (most of the time is inactive) dessert, but they couldn't be easier to make!
Did you know that pavlovas were named after a Russian ballet dancer named Anna Pavlova? But, technically, they are from New Zealand (where the dancer toured in the 1920's). Yep, yep, it's true. Sadly, I traveled to New Zealand for two weeks when I studied abroad in Australia during college, and did not have (or see) one single freaking pavlova during my entire time there.
I've been trying to make up for this travesty ever since.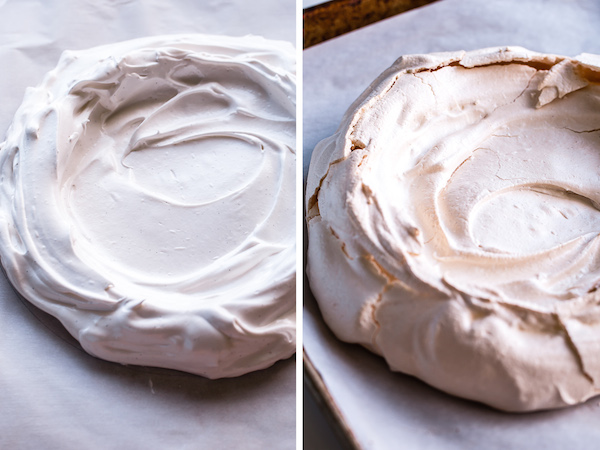 Pavlovas are a meringue-based dessert. Unlike regular meringue, which is crisp and completely solid throughout, pavlovas have a hard outer shell, and are soft and marshmallow-y in the inside. This is due to the addition of vinegar and cornstarch to the meringue base.
They are usually filled with whipped cream and topped with fresh fruit.
In other words, they are really delicious. And they are absolutely gorgeous to look at.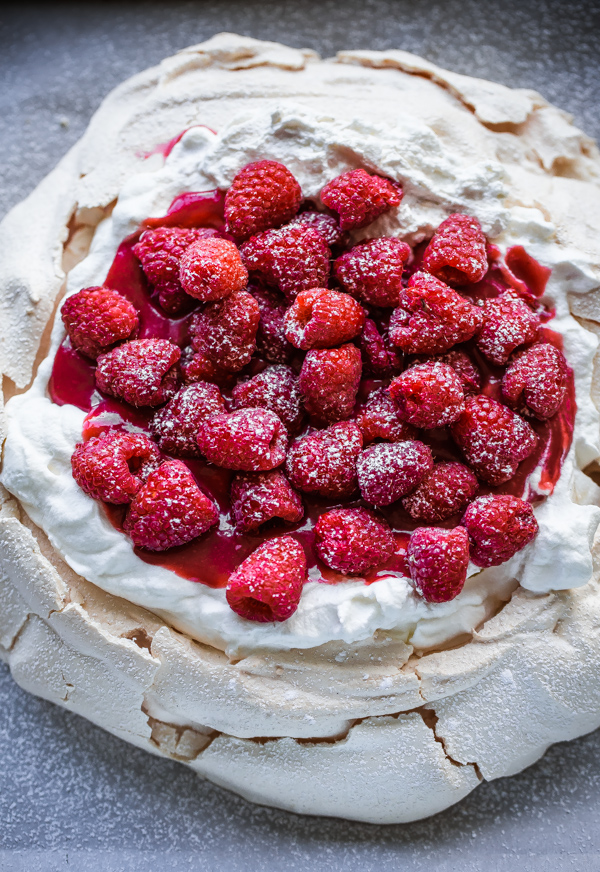 It doesn't hurt that this pavlova is topped with fresh homemade raspberry curd, vanilla whipped cream, and even more fresh raspberries. Two doses of raspberry goodness going on in there.
The raspberry curd could not be easier to make! Seriously, just combine all of the ingredients in a small saucepan, and bring the mixture to a light boil, stirring frequently, for a few minutes. It is then strained and allowed to cool completely.
Unlike lemon and other curds I've made in the past, this raspberry curd is ultra-light in texture and richness. It is sweet, yet still perfectly tart, thin and spreadable, and almost melts into the whipped cream.
It works perfectly for this dessert!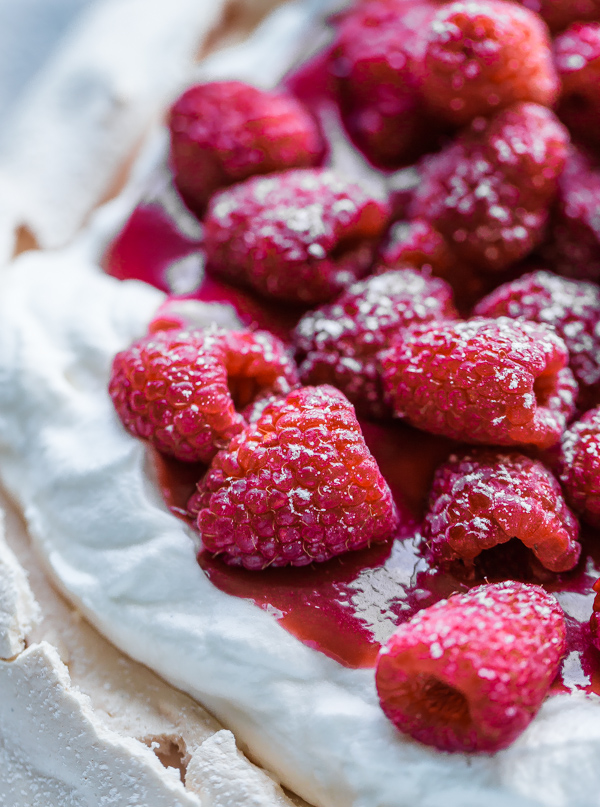 Note: Since pavlovas are relatively delicate, it is important that you allow the base to cool completely in the oven once it has baked through!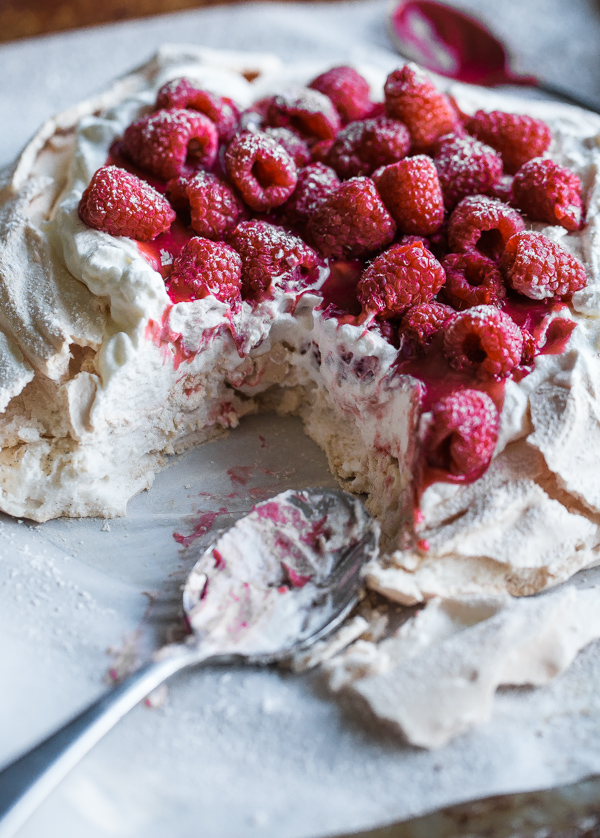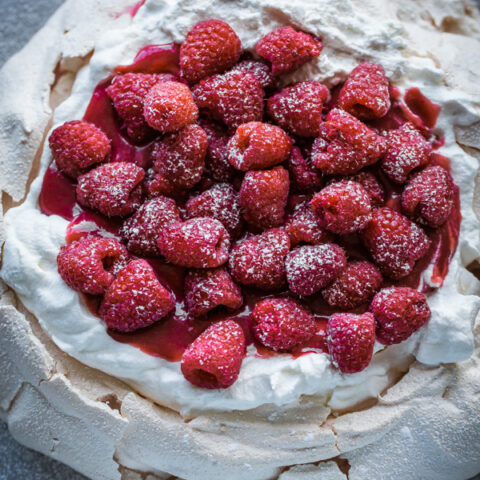 Fresh Raspberry Curd and Vanilla Whipped Cream Pavlova
Yield: 8 Servings
Prep Time: 30 minutes
Cook Time: 2 hours 15 minutes
Additional Time: 15 minutes
Total Time: 3 hours
Ingredients
Fresh Raspberry Curd:
6 ounces fresh raspberries
2 large egg yolks
1/2 cup granulated sugar
1/2 stick (4 ounces) unsalted butter
3 tablespoons fresh lemon juice
2 teaspoons cornstarch
1/8 teaspoon kosher salt
Meringue:
4 large egg whites, room temperature
pinch of salt
1 cup granulated sugar
1 teaspoon vanilla bean paste (or 3/4 teaspoon pure vanilla extract)
2 teaspoons cornstarch
1 teaspoon distilled white vinegar
Vanilla Whipped Cream:
1 cup heavy whipped cream, cold
1 teaspoon vanilla bean paste (or 3/4 teaspoon pure vanilla extract)
1 and 1/2 cups fresh raspberries, for garnish
Instructions
Preheat the oven to 275 degrees Fahrenheit. Draw a 9-inch circle on parchment paper (using a large plate or the bottom of a tart pan). Place parchment paper on a large baking sheet–pencil side facing down.
Prepare Raspberry Curd: Combine the raspberries, egg yolks, sugar, unsalted butter, lemon juice, cornstarch, and salt in a medium saucepan and mix together. Place saucepan over medium heat until the mixture begins to bubble. Boil, stirring frequently, for 2-3 minutes, or until the curd has reduced, thickened, and the cornstarch has cooked completely (the curd will still be relatively thin). Remove from the heat, strain curd through a fine-meshed sieve into a heatproof bowl. Cover and allow curd to cool completely (it will thicken slightly) in the refrigerator.
Prepare and Bake Meringue: Place the egg whites in the bowl (clean and free of any grease) of stand mixer, fitted with a whisk attachment. Whisk over low speed for 1-2 minutes, or until egg whites are foamy. Increase speed to high and continue to whisk for an additional 1-2 minutes. Slowly start sprinkling in the granulated sugar, one tablespoon at a time, while continue to whisk until meringue reaches a stiff peak.
Add the vanilla bean paste, cornstarch, and vinegar, and whisk at high speed to combine. Scrape the bottom of a bowl with a spatula to ensure that all the ingredients are incorporated. Transfer the meringue to the center of the circle on the parchment paper. Using a small offset spatula, smooth it into a disk using the edges of the circle as a guide. Go back to the disk with an offset spatula and build up the sides of the meringue slightly–this will help contain the whipped cream, curd, and fresh raspberries when you assemble the dessert.
Bake the meringue at 275 degrees Fahrenheit for roughly 1 hour. Turn off the heat, use a wooden spoon to prop open the oven door slightly, and allow the meringue to completely cool in the oven (roughly 1 hour). It will be crisp and slightly cracked on the outside, but slightly soft on the inside.
Whip Cream: Combine the cold cream and vanilla bean paste in the clean bowl of a stand mixer, fitted with a whisk attachment (or alternatively, use a hand-held mixer). Beat the cream until it reaches soft peaks (don't over beat!).
Assemble: Spread the top of the meringue with the whipped cream. Top the cream with the chilled raspberry curd, and garnish with fresh raspberries. Sift confectioners' sugar on top of the fresh raspberries. Serve in large scoops.
Notes
Leftover pavlova can be wrapped well and stored overnight in the refrigerator; however, the meringue will gain moisture and lose crispness with time.
Meringue recipe adapted from Ina Garten.
Nutrition Information:
Yield: 8
Serving Size: 1
Amount Per Serving:
Calories: 228
Total Fat: 4g
Saturated Fat: 2g
Trans Fat: 0g
Unsaturated Fat: 2g
Cholesterol: 77mg
Sodium: 102mg
Carbohydrates: 44g
Fiber: 2g
Sugar: 40g
Protein: 4g
A Beautiful Plate provides nutritional information, but these figures should be considered estimates, as they are not calculated by a registered dietician.