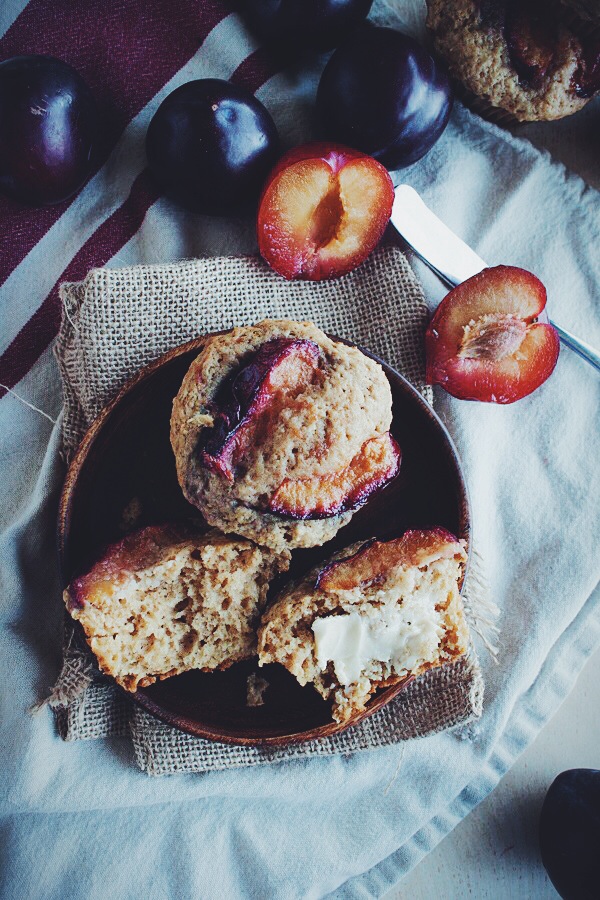 Remember that time when I shared this really decadent french toast recipe and yelled at you to roast your apricots? [Sorry about that.] Well, I'm having a similar feeling when it comes to these plum and ginger muffins. Baked, roasted, or even pan-roasted plums are the way to go.
If you're like me, you've probably had mixed experiences with plums. Sometimes they are delicious and full of flavor and other times, they are watery and bland.
It is a hit-or-miss type of thing, and every summer seem to be a little bit different.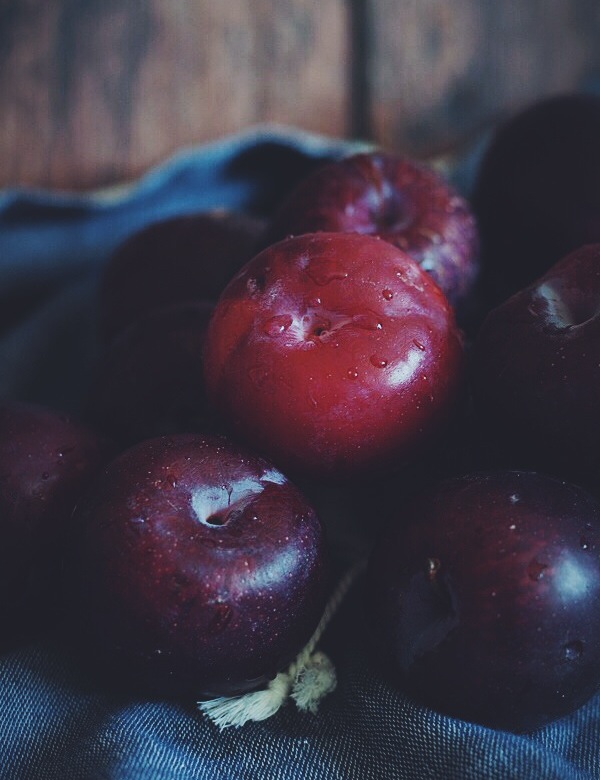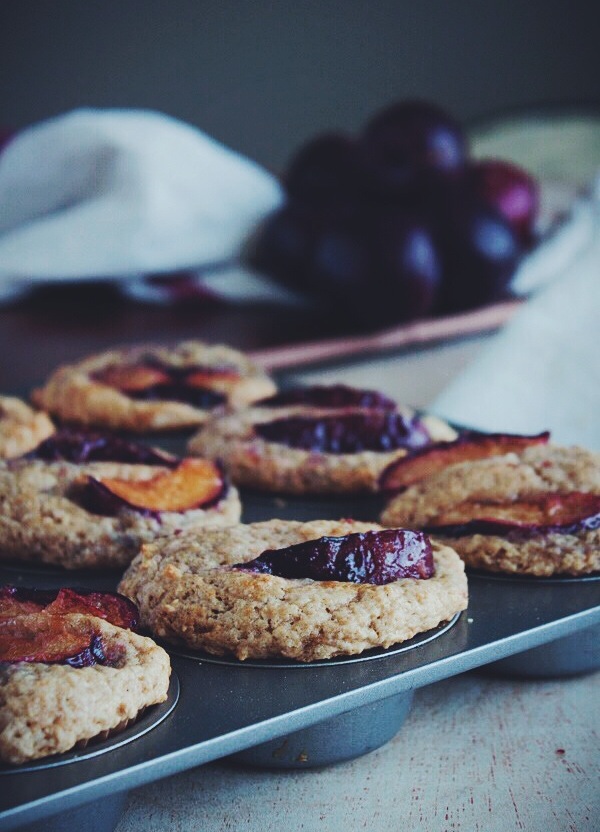 Luckily, there seem to be so many types of plums available (seriously, so many varieties!) that I've generally been able to find some good ones. On that note, if you're looking for a consistently good plum, apriums–an apricot and plum hybrid–is always a favorite.
Either way, when you sauté even the worst plums in the world in a butter, honey, ginger mixture on the stove, and place them on top of light and fluffy muffin batter and proceed to bake them–you will have some pretty delicious plums.
I swear, roasting, or baking fruit is one of the world's best kept secrets. It gets all wrinkly and concentrated in flavor, and the texture almost always improves.
Seriously works every time.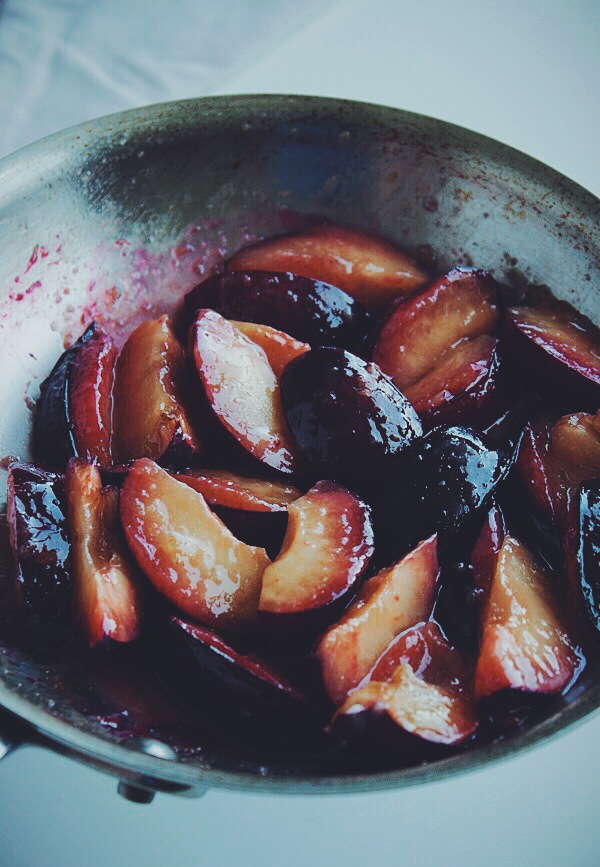 One of the best accompaniments to plums that I've discovered recently is fresh ginger. In fact, I discovered it with these very muffins.
I've been on sort of a ginger kick lately (ginger lemonade to ginger ice cream to these spicy peanut ginger drumsticks–just to name a few!), but I loved it. On that note, I really hope you love ginger too.
It adds something special to these muffins–a freshness and hint of spiciness that can't be beat. To up the ante, both fresh finely grated ginger root (both in the muffin batter, as well as added to the lightly sautéed plums) and ground ginger are included in the recipe.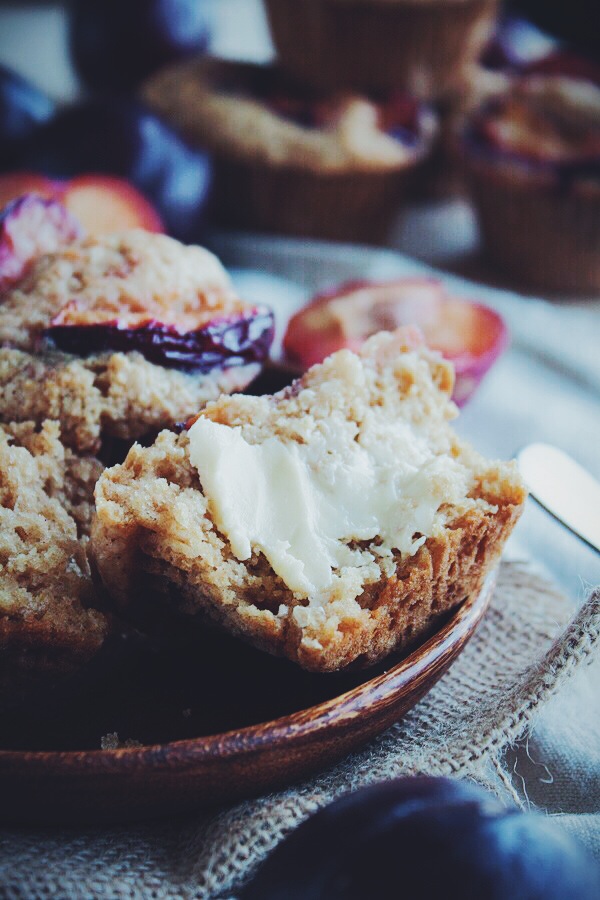 The actual muffin batter is a mixture of all-purpose and whole wheat flour, granulated and brown sugar, the typical leavenings, ground ginger, as well as a touch of cinnamon–and combined with melted butter, buttermilk, egg, and sour cream (a mere half cup!) produces a very light crumb, cake-y muffin that is ridiculously easy to snack on.
As you can imagine, these muffins taste best right out of the oven, when you can take a bite of the still warm and fragrant plum topping–but they can be stored at room temperature (well wrapped) for an additional 2 to 3 days.
Now if you don't mind, I'm going to go back in the kitchen and roast all.the.fruit.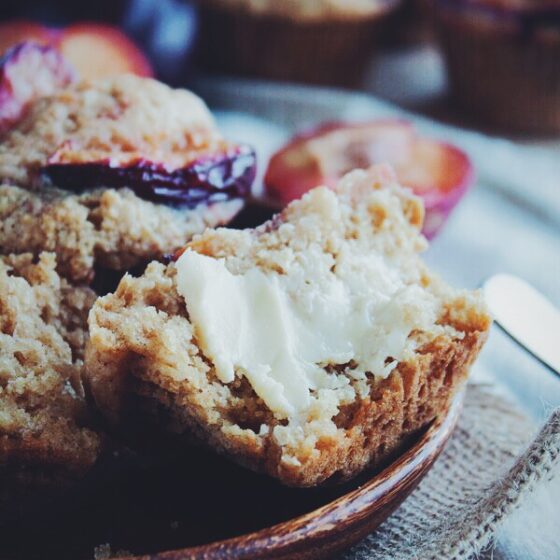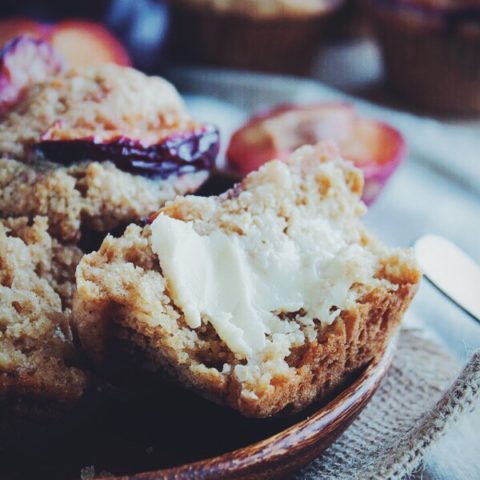 Plum and Ginger Muffins
Yield: 11 Muffins

Prep Time: 20 minutes

Cook Time: 25 minutes

Total Time: 45 minutes
Ingredients
4 red plums, firm but ripe
1 tablespoon unsalted butter
1 teaspoon finely grated fresh ginger
1 tablespoon honey
1 and 3/4 cup all-purpose flour
1/2 cup white (or regular) whole wheat flour
1/4 cup granulated sugar
1/4 cup dark brown sugar, lightly packed
1 teaspoon baking soda
1 teaspoon baking powder
3/4 teaspoon kosher salt
2 teaspoons finely grated fresh ginger
1/2 teaspoon ground cinnamon
1//4 teaspoon ground ginger
3/4 stick (6 tablespoons or 3 ounces) unsalted butter, melted and cooled
3/4 cup buttermilk
1/2 cup sour cream
1 whole egg
Instructions
Preheat the oven to 350 degrees Fahrenheit. Line a standard muffin pan with baking cup liners. Set aside.
Cut the plums in half, remove the pit, and slice each half into three equal segments. Place the one tablespoon of butter, one teaspoon of finely grated fresh ginger, and honey in a small skillet and heat over medium heat, stirring frequently, until bubbly and fragrant. Add the plum slices and stir gently over the heat for another 20-30 seconds. Remove from the heat and set aside to cool.
In a large bowl, whisk together the all-purpose flour, whole wheat flour, granulated sugar, brown sugar, baking soda, baking powder, salt, two teaspoons of grated ginger, ground cinnamon, and ground ginger.
In a separate small bowl, combine the melted (and cooled) butter, buttermilk, sour cream, and egg, and whisk together well.
Pour the liquid ingredients into the dry ingredients, and fold together gently with a spatula. The batter will be relatively thick. Distribute the batter evenly in the muffin pan (this recipe will yield 11 muffins) with a scoop. Top each muffin with two to three pieces of plum segments, pressing them just slightly into the batter.
Bake the muffins at 350 degrees for 24-28 minutes, or until tops are golden brown and a toothpick inserted in center comes out clean. Allow to cool in pan on a rack of 5 minutes, and then remove from pan. Muffins are best served warm right after baking, but can hold in an airtight container at room temperature for up to 2 to 3 days.