Lemon Basil Shortbread Cookies
Classic shortbread cookies infused with homemade lemon basil sugar for a summer twist!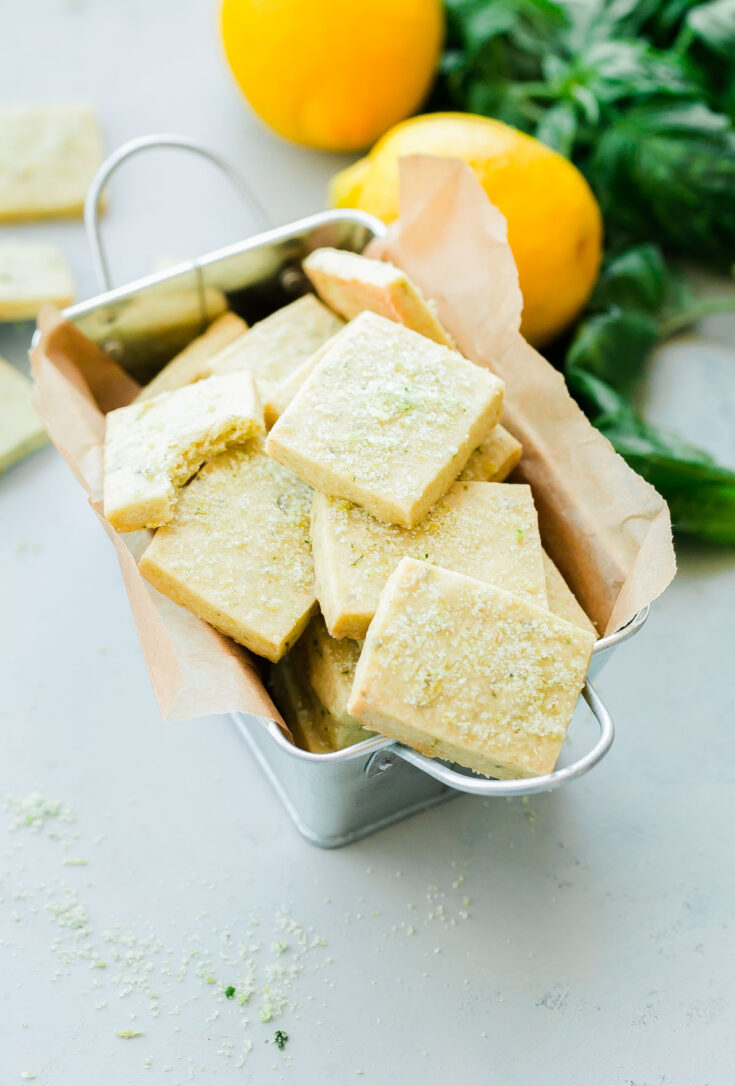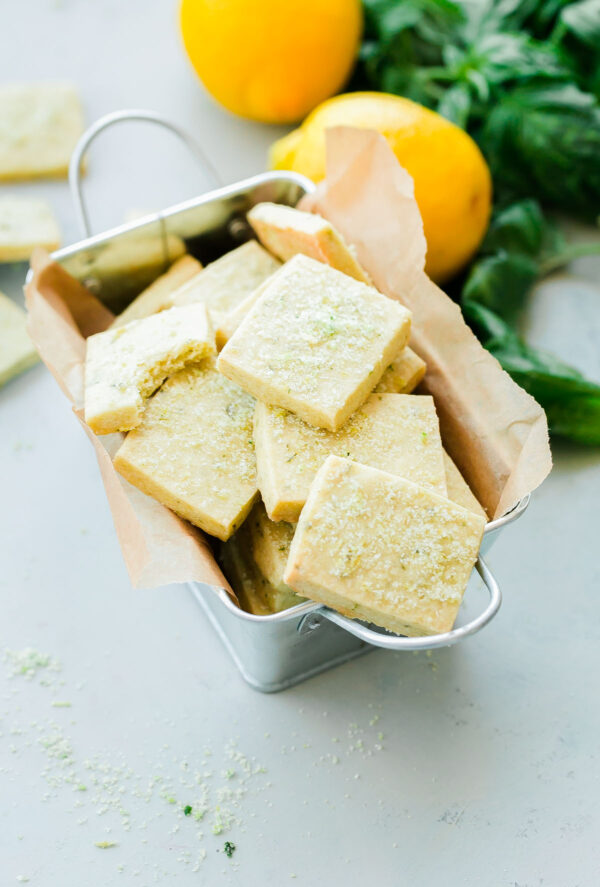 Classic shortbread cookies and I go way back. Growing up, my grandfather, Nonno, used to bring us massive boxes of Walker's classic shortbread, most likely purchased in bulk, whenever he came to visit us.
Not only was this tradition amusing considering my grandfather was 100% Italian (born and raised), but because, in his mind, shortbread cookies had a infinite shelf life. Who doesn't need ten boxes of Walker's shortbread in their pantry? Two year old shortbread cookies for an afternoon snack? Sure. Perfectly acceptable.
He would lump these boxes of shortbread with huge chunks of fresh parmigiano-reggiano cheese brought back (most likely without customs knowledge) from Italy, along with tins of olive oil and homemade pesto. It was eccentric, yet totally normal for us. As a result, shortbread quickly lost all of its' novelty, but still holds nostalgia to me for obvious reasons.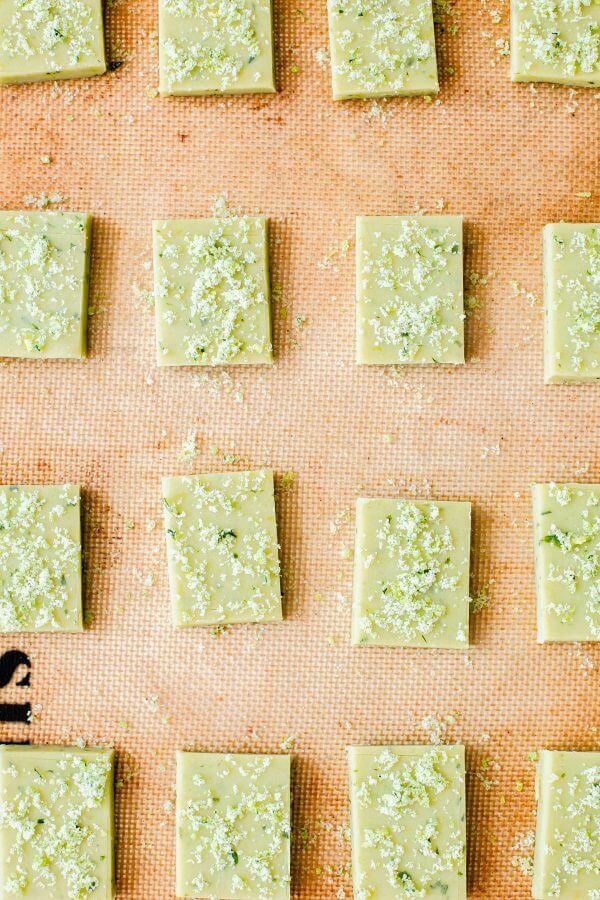 Classic shortbread might be old news, but I love a recipe makeover and that is exactly what today's shortbread cookie recipe is to me. A summer makeover and twist on a classic buttery cookie!
To achieve this, I took my favorite shortbread recipe (from Thomas Keller's Bouchon Bakery cookbook) and infused it with homemade lemon basil sugar. While I love adding basil to savory dishes, I might love basil in sweet and dessert applications even more. As evidenced by this basil ice cream recipe, this strawberry buttermilk panna cotta, and this pineapple cocktail.
Homemade infused sugar is one of my favorite tricks for elevating a classic dessert, and it could not be easier.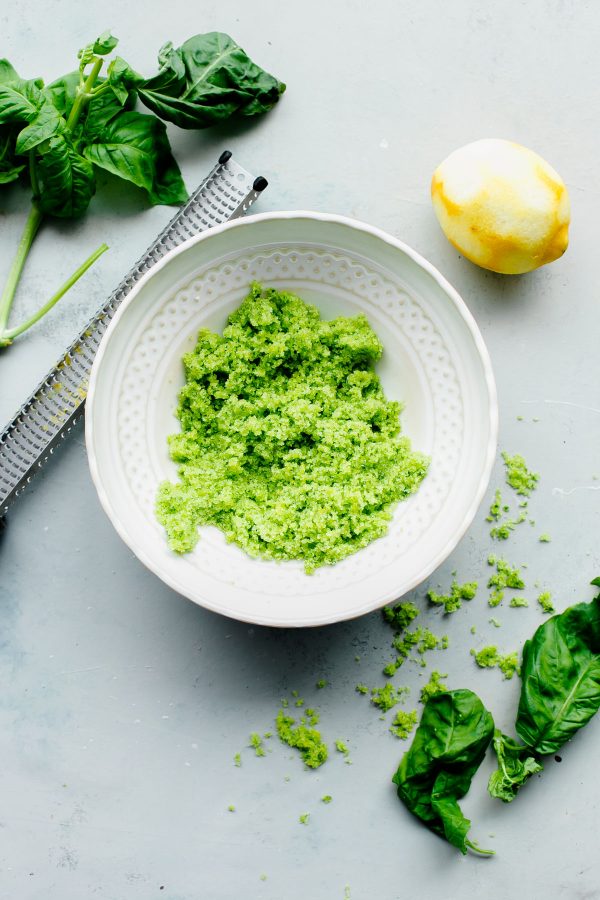 If you've ever rubbed granulated sugar together with the zest of a lemon, you've made one version of infused, flavored sugar. In this case, regular granulated sugar is combined with fresh basil leaves and lemon zest, and processed together until fragrant.
Lemon basil sugar. Voila! In this case, the sugar is used for a cookie recipe, but this sugar could be just as delicious in your favorite cake recipe or used for rimming a cocktail.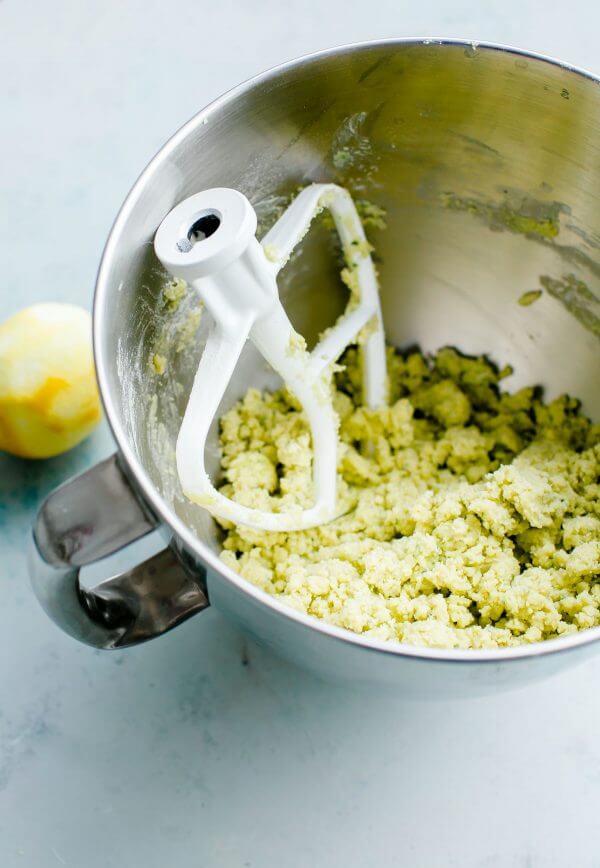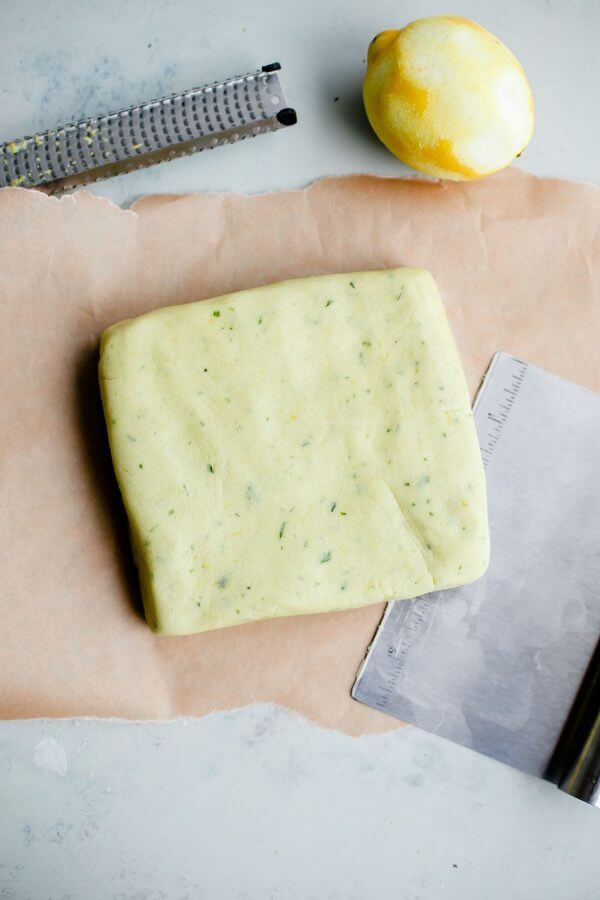 The lemon basil sugar adds a noticeable twist on these cookies. The lemon zest brightens them up, and the basil flavor adds a subtle flavor that makes you pause and want to take another bite. The final dusting of lemon basil sugar just before baking, as suggested by Sebastien Rouxel, adds great texture and crunch!
While this shortbread dough comes together extremely quickly, it is important to allow enough time for the dough to refrigerate and firm up in the fridge, about 2 hours or longer.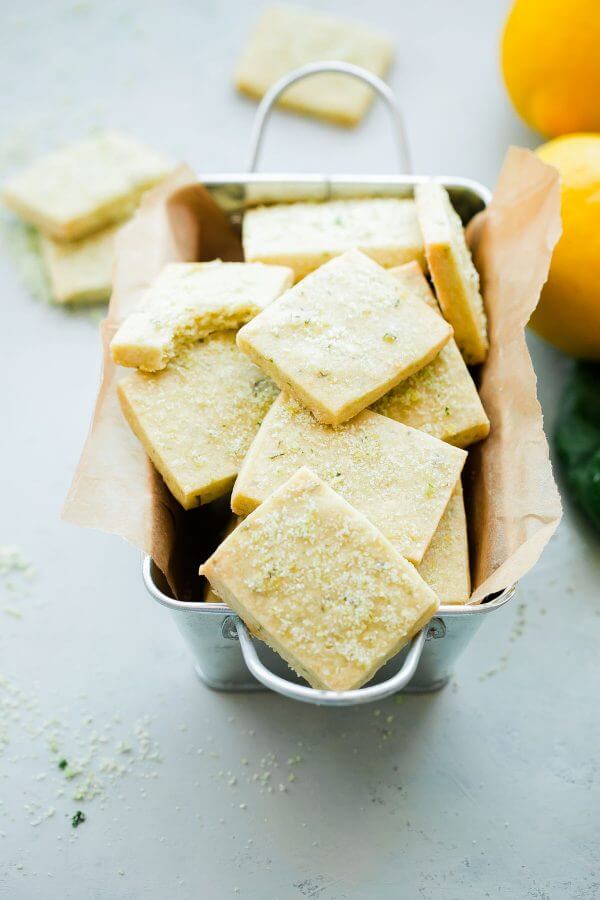 These cookies would make a great dessert to bring to any summer get-together, or as a pairing with a lemon sorbet or this basil ice cream.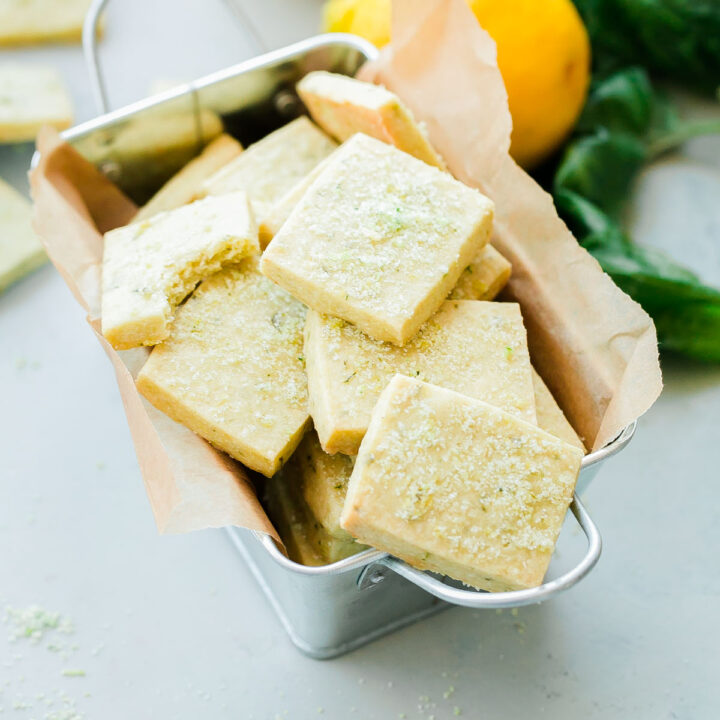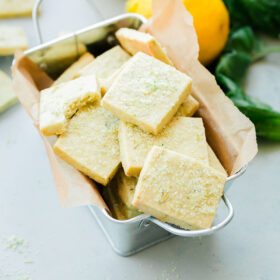 Lemon Basil Shortbread Cookies
Classic shortbread cookies infused with homemade lemon basil sugar for a summer twist!
Ingredients
½ cup + 2 tablespoons (125 g) granulated sugar
zest of 1 lemon
4-5 large fresh basil leaves
1½ sticks (6 oz; 175 g) unsalted butter room temperature
¾ teaspoon kosher salt
1¾ cups + 3 tablespoons (270 g) unbleached all-purpose flour
Instructions
In a small food processor, combine the granulated sugar, lemon zest, and basil leaves. Pulse and process until the sugar is very fragrant and resembles wet sand, and the basil pieces are very, very small. The sugar will be lime green in color. Resereve 2 tablespoons of the lemon basil sugar in a small bowl for dusting the cookies during baking – cover with plastic wrap to prevent the sugar from clumping. 

In the bowl of a stand mixer, fitted with paddle attachment, cream the butter and salt over medium speed for until smooth and creamy. Add the remaining lemon basil sugar to the bowl with the butter, and beat over medium-low speed for 2 minutes, or until fluffy. Scrape down the bowl once or twice with a spatula to ensure that all of the ingredients are evenly incorporated.

On low speed, add the flour in two additions, mixing over low speed until the flour is just absorbed, scraping down the bowl once or twice. The dough will be shaggy and loose.

Scrape the dough onto a clean work surface. Using the "fraisage" technique, use the heel of your hand to press down and 'smear' the dough onto the countertop. Push back together and repeat until smooth and the dough comes together. Using a bench scraper (preferably one with a ruler for measuring), press the block of dough into a 5-inch square block. Wrap tightly in plastic wrap and refrigerate for 2 hours, or until firm.

Preheat the oven to 325°F (160°C), with one rack in the lower third and one rack in the upper third position in your oven. Line two sheet pans with parchment paper or silicone mats. Remove the dough from the refrigerator, remove the plastic wrap, and place the block between two sheets of parchment paper. Using a rolling pin, hit the dough evenly with a rolling pin, until it begins to flatten. Turn and repeat. By hitting the dough, you are warming and flattening it slowly, and preventing the dough from cracking. Roll the dough into a 9-inch square. If the dough gets too soft during this process, slide the parchment onto the back of a sheet pan and refrigerate until firm.

Using a large, sharp knife and ruler, score the dough along both edges of the dough to form 2¼-inch-long x 1½-inch-wide rectangles. Cut along the scores and transfer 12 rectangles to each sheet pan, setting the dough apart by at least one inch.

Sprinkle the tops of the dough lightly with the set aside lemon basil sugar. If the remaining sugar has started to clump, loosen it with your fingertips or re-process it in the food processor. Bake for 15 to 18 minutes, rotating and turning the pans halfway through, or until the edges of the shortbread are a pale golden brown. Allow the cookies to rest on the sheet pans for 5 minutes, than transfer to a wire rack to cool completely. Cookies can be stored in a covered container for up to 3 days.
Dough can be refrigerated for up to 2 days, or frozen for up to 1 month.
Serving: 1serving, Calories: 46kcal, Carbohydrates: 3g, Fat: 4g, Saturated Fat: 2g, Polyunsaturated Fat: 1g, Cholesterol: 10mg, Sodium: 22mg, Sugar: 2g
This post contains affiliate links, which means that I make a small commission off items you purchase at no additional cost to you. Please read my
privacy policy
for more information.