Lemon Truffle Arugula Pizza
Cheese pizza prepared with grated fontina and mozzarella cheese, and topped with fresh arugula tossed with a homemade lemon truffle oil vinaigrette!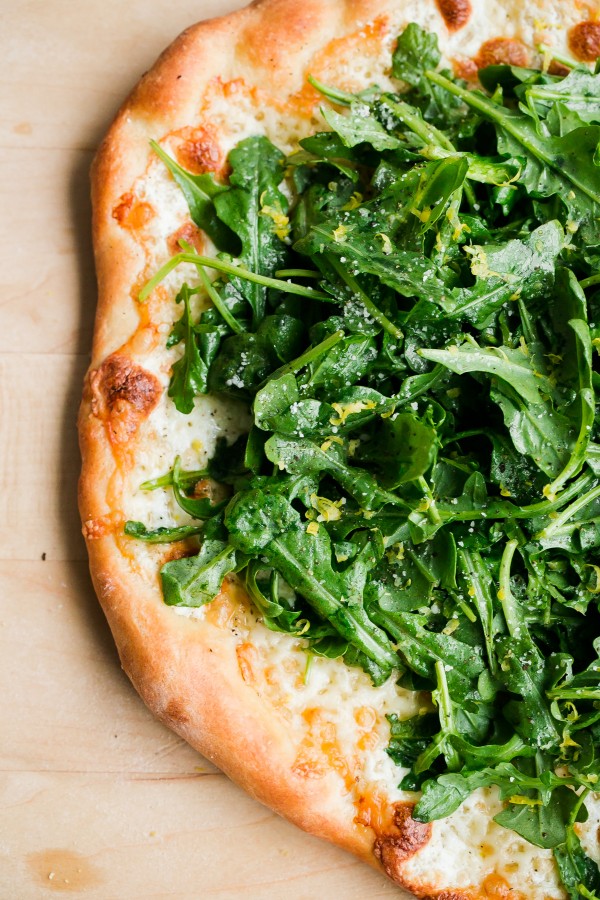 Just over one year ago, Connor and I were eating a version of today's lemon truffle arugula pizza and celebrating our successful apartment search in Chicago. I thought it was only right to honor the occasion with a new pizza recipe!
It happens to be one of my favorites. I'm a self-proclaimed red sauce pizza person. This homemade margherita pizza will forever be a favorite. I love cheese (obviously), but often times white pizzas are a bit too heavy for me.
I generally need some acid, in the form of tomato sauce, to help balance everything out. But today's pizza is different!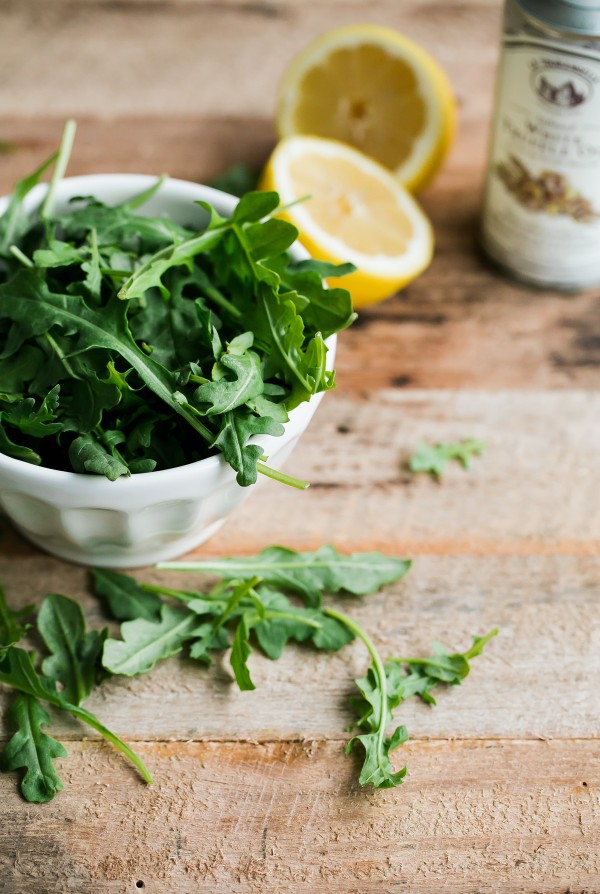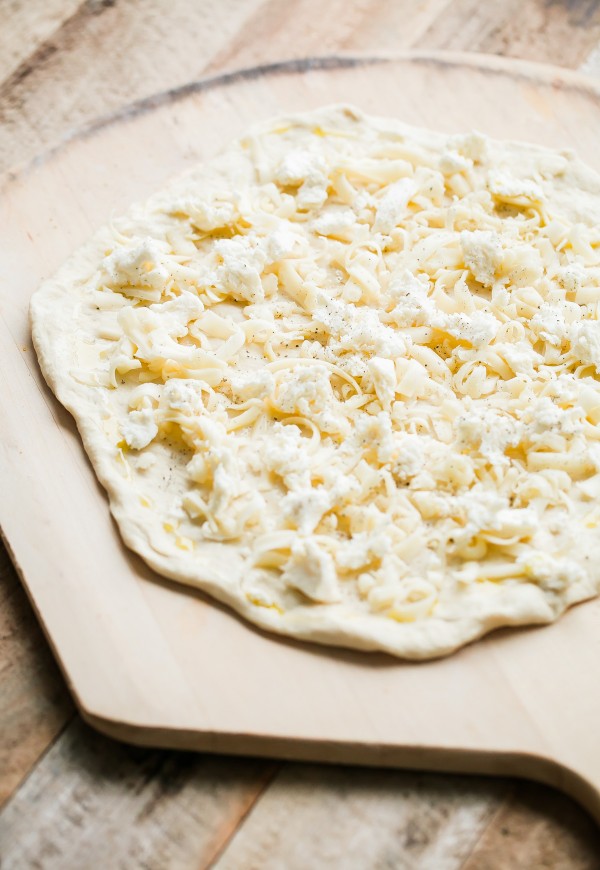 The base pizza is actually crazy simple. Like, ridiculously (almost embarrassingly?) simple.
You take my favorite pizza dough recipe (this one is ready in just one hour!) and top it with freshly grated fontina and mozzarella cheese. It goes into the oven until the cheese is golden, melted, and caramelized. Simple, simple, simple.
The finishing touch is what brings this entire pizza together! Fresh arugula leaves tossed with lemon truffle oil vinaigrette. The vinaigrette is a simple combination of freshly squeezed lemon juice and my favorite white truffle oil.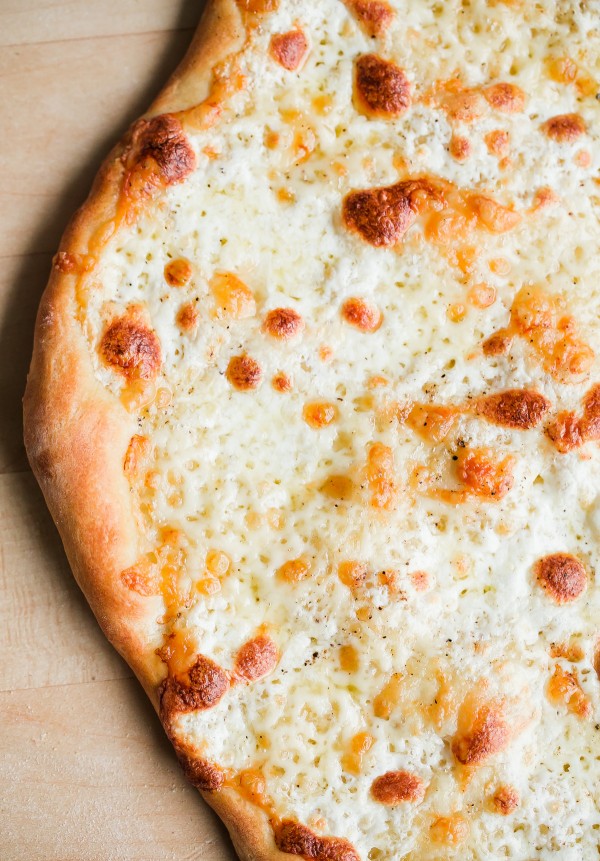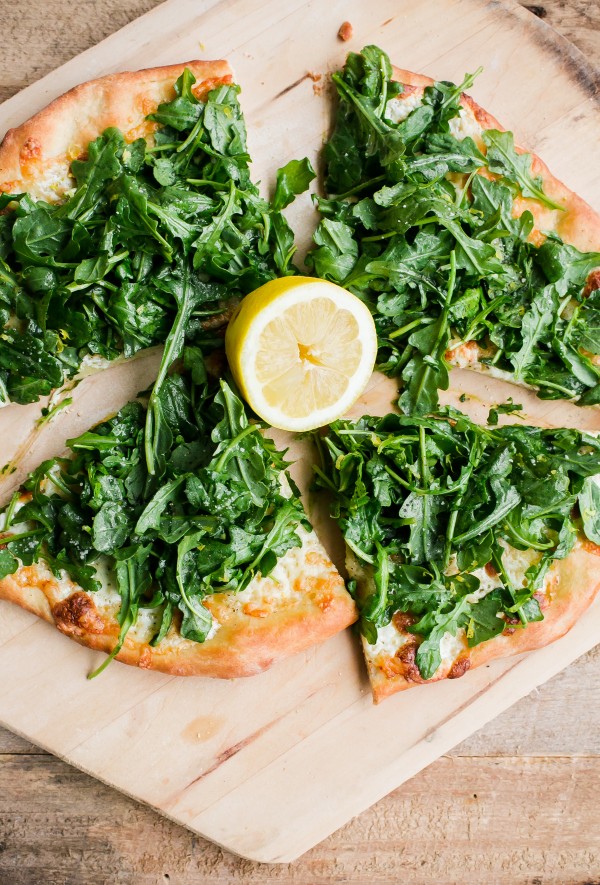 The arugula begins to wilt on top of the heat of the freshly baked pizza. The lemon juice cuts the richness of the cheese pizza perfectly, and the truffle oil gives the pizza that earthy, umami flavor.
All of the elements of this pizza come together and make it special.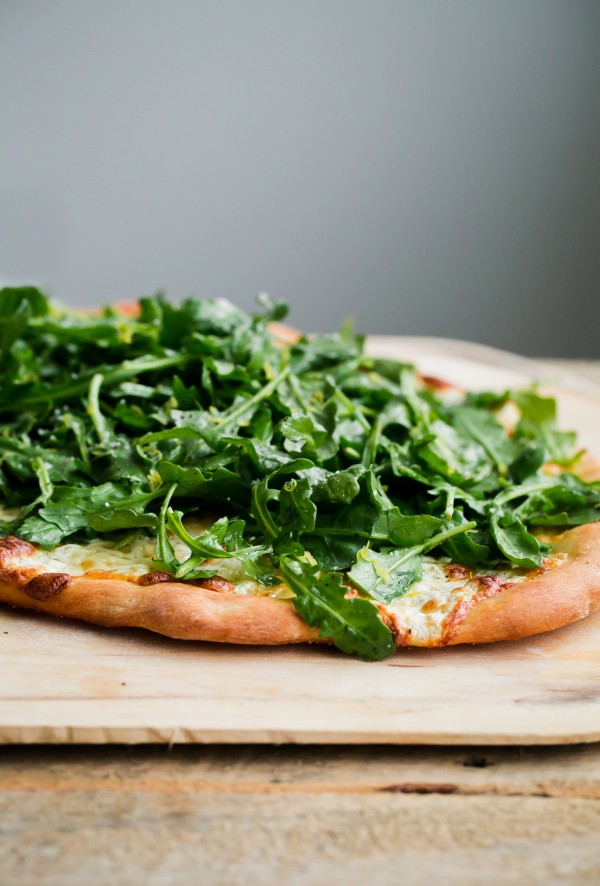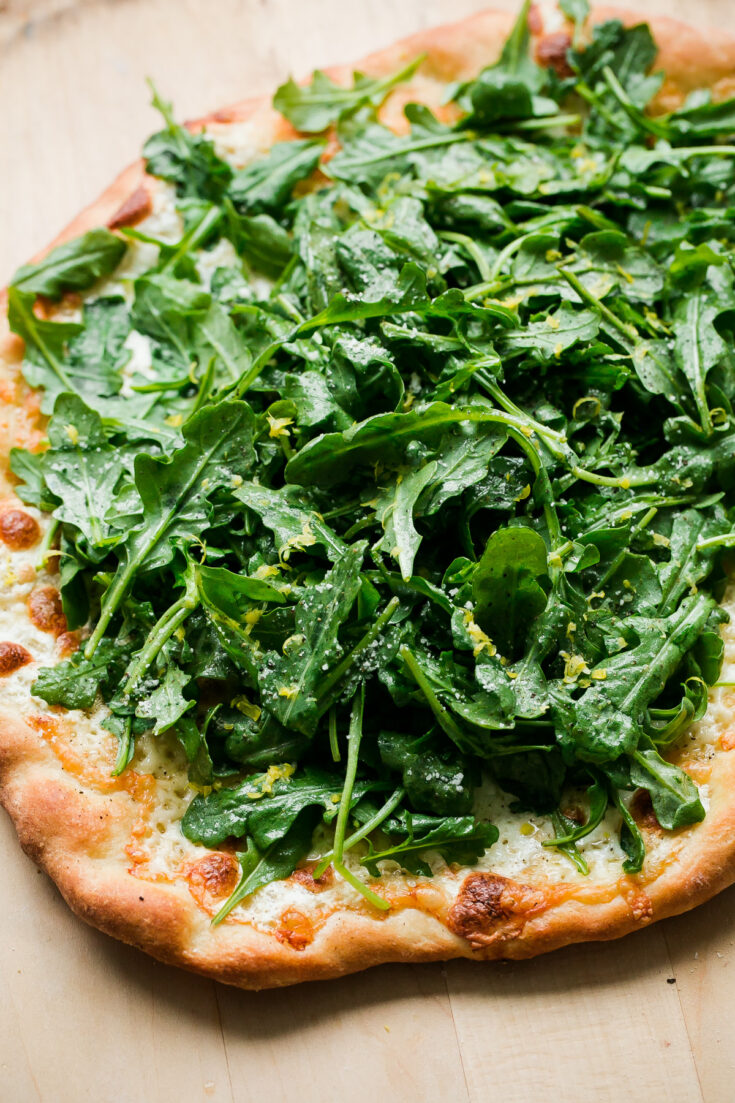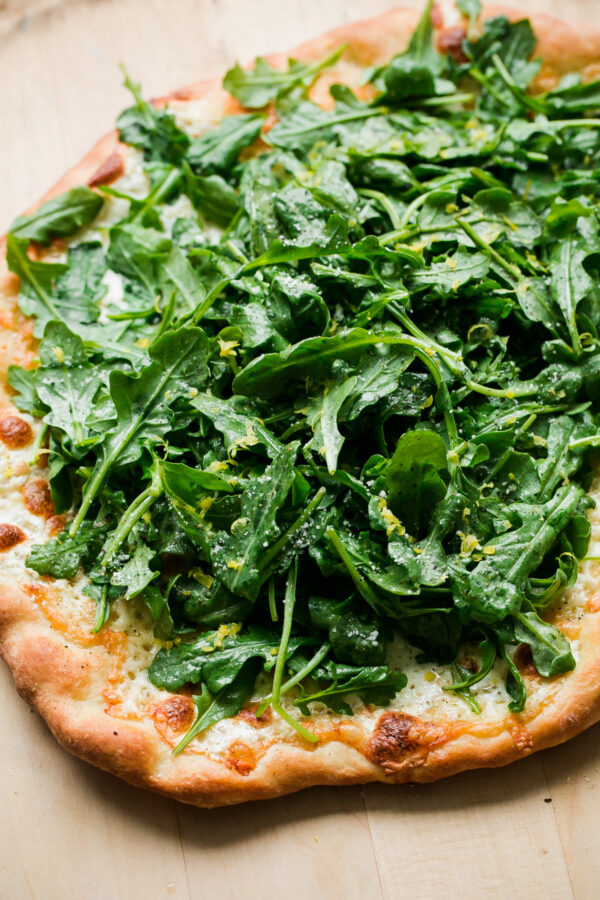 If you don't make this pizza, please, oh please, make the arugula salad (with the lemon truffle vinaigrette) on its own.
It would be so great paired with fresh burrata cheese (and grilled vegetables or asparagus), or served with a decked out charcuterie platter – such an easy, yet elegant summer meal!
But first…pizza.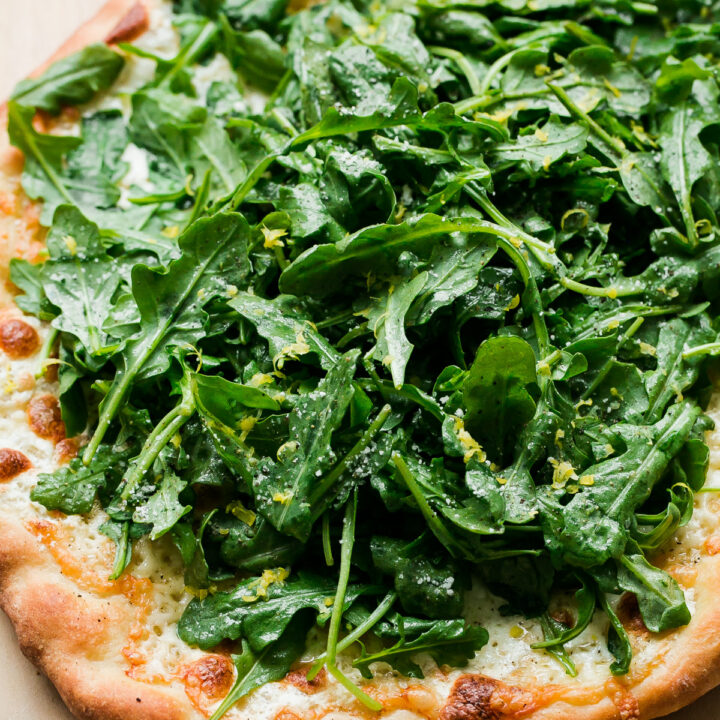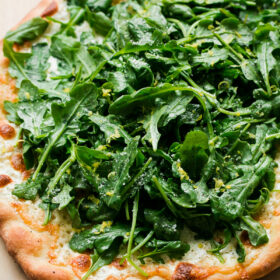 Lemon Truffle Arugula Pizza
Cheese pizza prepared with grated fontina and mozzarella cheese. The finishing touch is what brings this entire pizza together and takes it over the top: fresh arugula leaves tossed with a homemade lemon truffle oil vinaigrette!
Ingredients
Toppings:
extra virgin olive oil for drizzling
6 ounces grated fontina cheese
4 ounces low-moisture mozzarella cheese shredded
freshly ground black pepper
2 tablespoons fresh lemon juice
2 tablespoons white truffle oil
kosher salt
3½ packed cups (4 oz) baby arugula leaves
fresh lemon zest for finishing
Instructions
Note: Prepare a batch of one-hour pizza dough (or use good-quality storebought pizza dough) before proceeding with the recipe instructions below.

Place the pizza steel (or stone) on top third rack of your oven and preheat to 550°F (290°C) for one hour. If your oven does not go up to 550°F, preheat it to the maximum temperature possible.

Separate the pizza dough into two equal-sized portions. They will deflate slightly, but that is OK. Place the dough on a large plate or floured counter top, cover gently with plastic wrap, and allow the dough to rest for 5 to 10 minutes.

Assemble the Pizza: Sprinkle the pizza peel with semolina flour. Gently stretch one ball of pizza dough into roughly a 11-to 12-inch circle (don't worry if its not perfectly uniform). If the dough springs back or is too elastic, allow it to rest for an additional 5 to 10 minutes. The edges of the dough can be slightly thicker, but make sure the center of the dough is very thin. Gently transfer the dough onto the dusted pizza peel.

Drizzle or brush the dough, concentrating on the edges of the crust, lightly with olive oil. Sprinkle and distribute half of the fontina cheese over the pizza, leaving a ¾-inch border on all sides. Top with half of the mozzarella cheese. Finish with several generous grinds of black pepper. Gently slide the pizza from the peel onto the heated baking steel or stone. Bake for 6 to 9 minutes, or until the cheese has caramelized and the edges of the pizza are golden brown. If you wish, you can also briefly finish the pizza under your oven broiler - but watch carefully.

Prepare the Arugula Topping: As the pizza is cooking, whisk together one tablespoon lemon juice and one tablespoon white truffle oil in a large mixing bowl. Season with kosher salt and pepper to taste. Just before removing the pizza from the oven, add half the arugula leaves (reserving the rest for the second pizza) and toss gently to coat in the dressing.

Remove the pizza from the oven with the pizza peel, transfer to a wooden cutting board, and top with dressed arugula. Sprinkle the pizza with salt and garnish with freshly grated lemon zest. Serve immediately. Repeat with the remaining pizza dough and topping ingredients.
Serving: 1serving, Calories: 431kcal, Carbohydrates: 15g, Protein: 21g, Fat: 33g, Saturated Fat: 15g, Polyunsaturated Fat: 16g, Cholesterol: 76mg, Sodium: 830mg, Fiber: 1g, Sugar: 2g
This post contains affiliate links, which means that I make a small commission off items you purchase at no additional cost to you. Please read my
privacy policy
for more information.