Spicy Red Pepper, Goat Cheese, Olive, and Arugula Pizza
Spicy Red Pepper, Goat Cheese, Olive, and Arugula Pizza. This homemade pizza comes together in less than 90 minutes and is packed with flavor!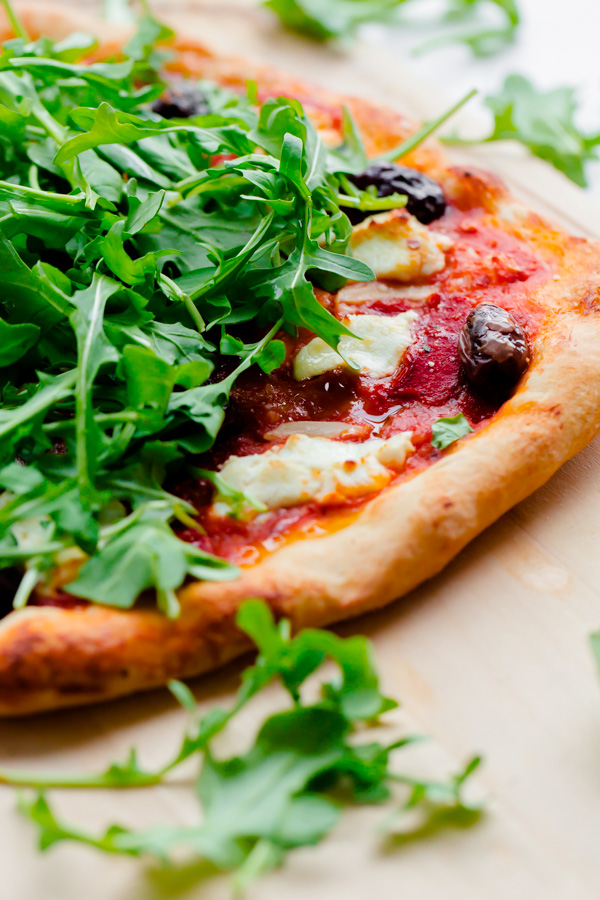 If you knew just how many pizzas Connor and I have consumed in the last six months, you'd be alarmed. Homemade pizza has become one of our favorite dinners.
Thankfully, everyone seems to love pizza as much as we do, because this best margherita pizza is one of my most requested blog recipes to date! I can't even describe how amazing it is to finally be able to create a delicious pizza at home with everyday ingredients at the drop of a hat.
I mean, it's a bit dangerous (no dinner ideas? let's make pizza again!), but amazing nonetheless. So, I say skip all the fancy Valentine's Day recipes and make homemade pizzas for your loved one instead. Grab a bottle of wine, light some candles, and pretend you're in Italy for the night.
Even better? I made a few tweaks to my favorite pizza dough, so that it is a bit more time-friendly. Today's dough can rise and be ready to use in one hour. The dough itself is made by hand – no stand mixer required – and takes only a few minutes of kneading. Don't be intimidated! It couldn't be easier.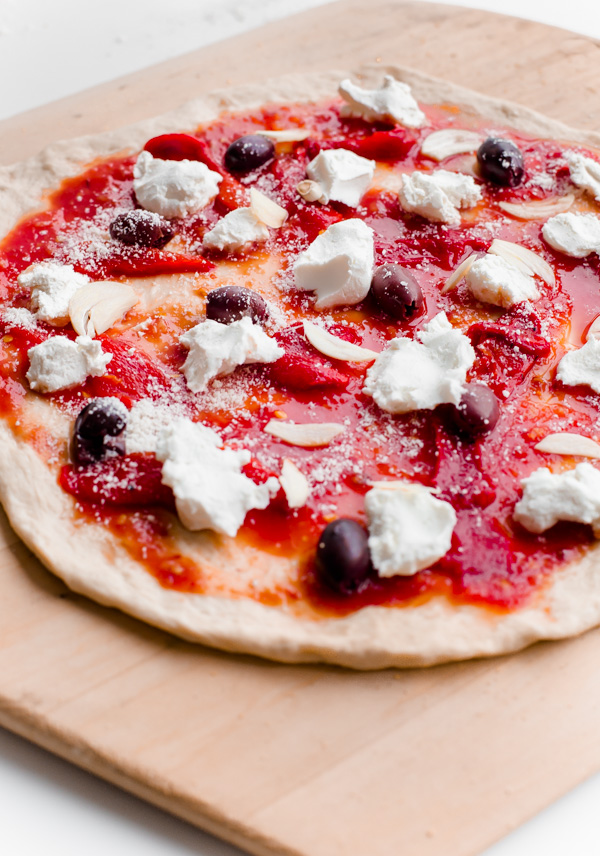 This recipe makes two (roughly 11 to 12-inch pizzas) and you can totally customize your own pizza to your own taste. No one gets left out. No topping arguments and no compromises.
When the idea of Valentine's Day-themed pizza came to me, I asked Connor to describe to me his favorite or ideal pizza. His answer? Spicy tomato sauce, creamy goat cheese, roasted red peppers, kalamata olives, and finished with a large handful of arugula.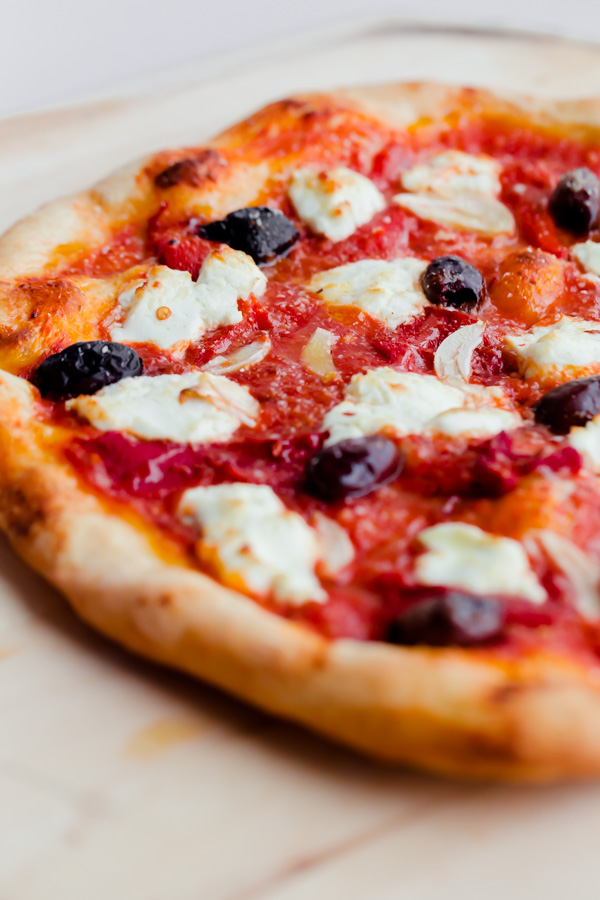 I have to say, it sounded pretty damn good to me. So here it is! As with my favorite margherita pizza, this pizza uses a raw tomato sauce made with pureed, canned San Marzano tomatoes, pressed garlic, lots of red pepper flakes, and grated parmigiano-reggiano cheese.
The one downside to using fresh goat cheese on pizza, as opposed to mozzarella or other cheeses, is that it melts minimally, so I like to infuse the sauce with a bit of cheese as well to make every bite delicious.
To make it extra easy, I also used drained, canned roasted red peppers. Just remember to pat them dry before adding them to the pizza!
In all honesty, Connor's favorite pizza changes on the regular, but that's what so fun about homemade pizza! You can mix it up whenever you want and totally make it your own. If you're a meat lover, I highly recommend adding a few slices of good-quality soppressata (Italian dry salami) to this.
I finished ours with a small drizzle of white truffle oil to make it extra special, but the pizza stands on its own without it.
Don't forget to serve these homemade chocolate heart meringue cups for dessert. Perfection.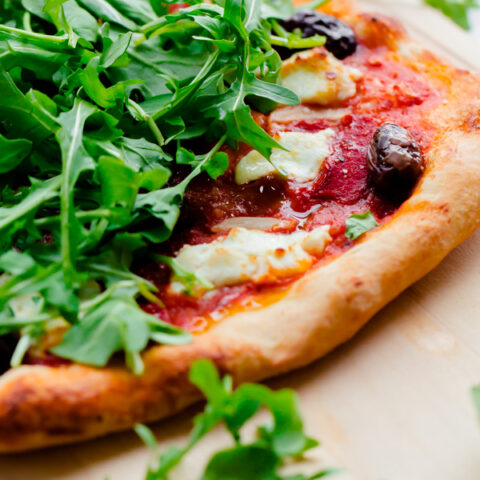 Spicy Red Pepper, Goat Cheese, Olive and Arugula Pizza
Yield: 2 (12-Inch) Pizzas
Spicy Red Pepper, Goat Cheese, Olive, and Arugula Pizza. This homemade pizza comes together in less than 90 minutes and is packed with flavor!
Prep Time: 1 hour 20 minutes
Cook Time: 20 minutes
Total Time: 1 hour 40 minutes
Ingredients
Homemade Pizza Dough:
2.5 cups (300 grams) unbleached all-purpose flour, plus more for dusting
2 and 1/4 teaspoons instant yeast (I use this brand; you can also use rapid-rise or quick-rise)
1 teaspoon granulated sugar
1 teaspoon kosher salt
7 ounces warm water (110 degrees F – 115 degrees F)
1 tablespoon extra virgin olive oil
2 tablespoons cornmeal, for the pizza peel (divided)
Pizza Toppings:
1 cup pureed, canned San Marzano tomatoes (or crushed canned Italian plum tomatoes)
2 fresh garlic cloves, pressed or finely minced
3 tablespoons grated parmigiano-reggiano cheese, plus more for serving
1 teaspoon extra virgin olive oil, plus more for drizzling
1/2 – 3/4 teaspoon dried red pepper flakes
1/4 teaspoon kosher salt
3 ounces drained roasted red peppers from jar, thinly sliced
1/4 drained, pitted kalamata olives
6 ounces soft fresh goat cheese, broken into small clumps
1 large garlic clove, sliced into thin shavings
4 ounces (roughly 3 cups) fresh baby arugula
white truffle oil, for drizzling (optional)
Instructions
Prepare Pizza Dough: In a medium bowl, whisk together the all-purpose flour, yeast, sugar, and salt. Add the warm water and olive oil, and stir the mixture with a wooden spoon until the dough just begins to come together. It will seem shaggy and dry, don't worry.
Scrape the dough onto a well-floured counter top and knead the dough for three minutes. It should come together quickly. Dust the dough with flour as needed (sometimes I will have to do this 2 to 3 times, depending on humidity levels) – it should be slightly tacky, but should not be sticking to your counter top. After three minutes, the dough should be smooth, elastic, and tacky. Lightly grease a large mixing bowl with olive oil, and place the dough into the bowl.
Cover the bowl tightly with a plastic wrap and allow the dough to rise in a warm, dry area of your kitchen for 1 hour, or until the dough has doubled in size. If your kitchen is very cold, one great tip that I do all the time is to heat a large heatproof measuring cup of water in the microwave for 2-3 minutes. This creates a nice warm environment and I'll immediately remove the cup and place the bowl with the dough in the microwave until it has risen.
Preheat Oven and Pizza Stone: Place the pizza stone on the center (or bottom third) rack of your oven, and preheat the oven and pizza stone to 550 degrees Fahrenheit (for at least 30-45 minutes). If your oven does not go up to 550 degrees, heat it to the absolute maximum temperature that it can go. If it can heat to higher than 550 degrees Fahrenheit, even better!
As the oven is preheating, assemble the ingredients. In a small bowl, stir together the pureed tomatoes, pressed garlic, Parmesan cheese, red pepper flakes, olive oil, and salt.
Separate the dough into two equal-sized portions. It will deflate slightly, but that is OK. Place the dough on a large plate or floured counter top, cover gently with plastic wrap, and allow the dough to rest for 5 to 10 minutes.
Assemble the Pizza: Sprinkle the pizza peel with a tablespoon of cornmeal. Gently stretch one ball of pizza dough into roughly a 11-to 12-inch circle (don't worry if its not perfectly uniform). If the dough springs back or is too elastic, allow it to rest for an additional five minutes. The edges of the dough can be slightly thicker, but make sure the center of the dough is thin (you should be able to see some light through it if you held it up). Gently transfer the dough onto the cornmeal-dusted pizza peel.
Using a large spoon, add roughly 1/2 cup of the tomato sauce onto the pizza dough, leaving a 1/2-inch or 3/4-inch border on all sides. Use the back of the spoon to spread it evenly and thinly. Distribute half of the roasted red peppers and kalamata olives on top of pizza, and top with half of the goat cheese, distributing it in small clumps across the surface of the pizza. Distribute the garlic shavings across the sauce.
At this point, I'll occasionally stretch the sides of the dough out a bit to make it even thinner. Gently slide the pizza from the peel onto the heated baking stone. Bake for 8 to 10 minutes, or until the cheese has caramelized slightly and the edges of the pizza are golden brown. Remove the pizza carefully from the oven with the pizza peel, transfer to a wooden cutting board or foil, and top with half of the fresh arugula leaves. Drizzle lightly with truffle oil (or extra virgin olive oil), if using. Slice and serve immediately.
Notes
If you are serving two pizzas at once, do not add the arugula to the pizza and instead, place the pizza on a separate baking sheet while you prepare the second pizza. In the last few minutes of cooking, place the prepared pizza into the oven (on a rack below the pizza stone) so that it is extra hot for serving. Top both pizzas with arugula and truffle oil if using, just before serving.
If you are not serving the two pizzas at once, I recommend serving one pizza fresh out of the oven, keeping the oven hot, and preparing the second pizza after you have gone through the first one! It requires a bit more work this way and the pizza will taste great either way, but it is at its prime within minutes out of the oven!
Nutrition Information:
Yield: 4
Serving Size: 1
Amount Per Serving:
Calories: 434
Total Fat: 22g
Saturated Fat: 9g
Trans Fat: 0g
Unsaturated Fat: 11g
Cholesterol: 28mg
Sodium: 1101mg
Carbohydrates: 43g
Fiber: 3g
Sugar: 6g
Protein: 17g