Spicy Red Pepper, Goat Cheese, Olive, and Arugula Pizza
Spicy Red Pepper, Goat Cheese, Olive, and Arugula Pizza. This homemade pizza comes together in less than 90 minutes and is packed with flavor!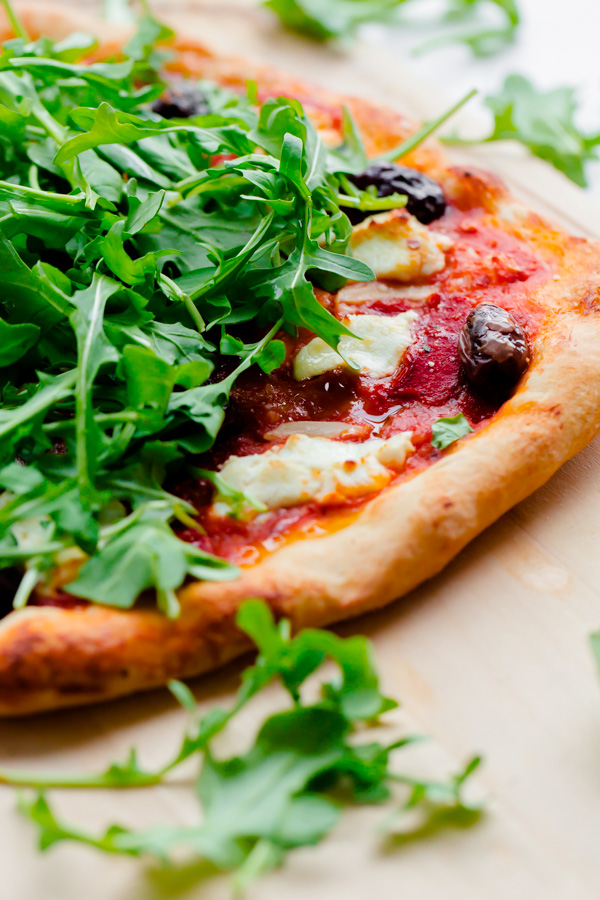 If you knew just how many pizzas Connor and I have consumed in the last six months, you'd be alarmed. Homemade pizza has become one of our favorite dinners.
Thankfully, everyone seems to love pizza as much as we do, because this best margherita pizza is one of my most requested blog recipes to date! I can't even describe how amazing it is to finally be able to create a delicious pizza at home with everyday ingredients at the drop of a hat.
I mean, it's a bit dangerous (no dinner ideas? let's make pizza again!), but amazing nonetheless. So, I say skip all the fancy Valentine's Day recipes and make homemade pizzas for your loved one instead. Grab a bottle of wine, light some candles, and pretend you're in Italy for the night.
Even better? I made a few tweaks to my favorite pizza dough, so that it is a bit more time-friendly. Today's dough can rise and be ready to use in one hour. The dough itself is made by hand – no stand mixer required – and takes only a few minutes of kneading. Don't be intimidated! It couldn't be easier.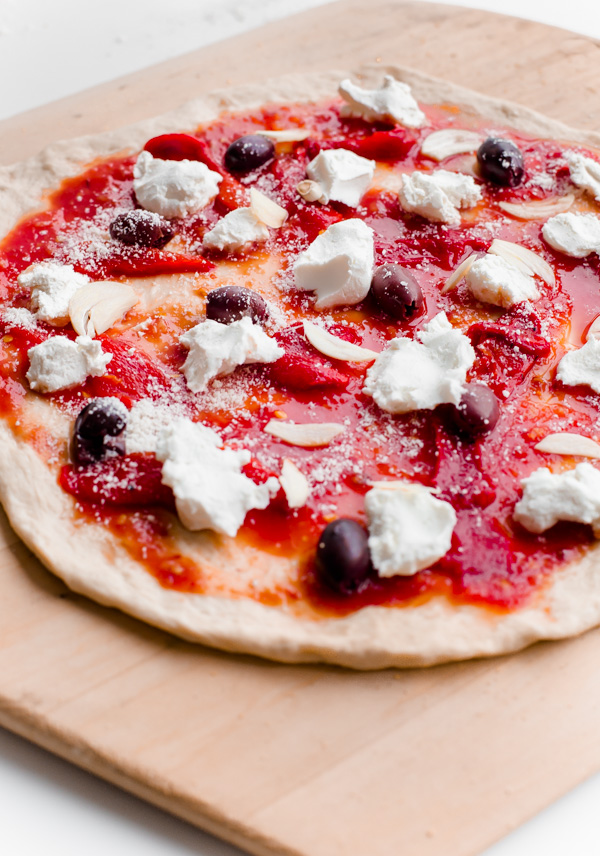 This recipe makes two (roughly 11 to 12-inch pizzas) and you can totally customize your own pizza to your own taste. No one gets left out. No topping arguments and no compromises.
When the idea of Valentine's Day-themed pizza came to me, I asked Connor to describe to me his favorite or ideal pizza. His answer? Spicy tomato sauce, creamy goat cheese, roasted red peppers, kalamata olives, and finished with a large handful of arugula.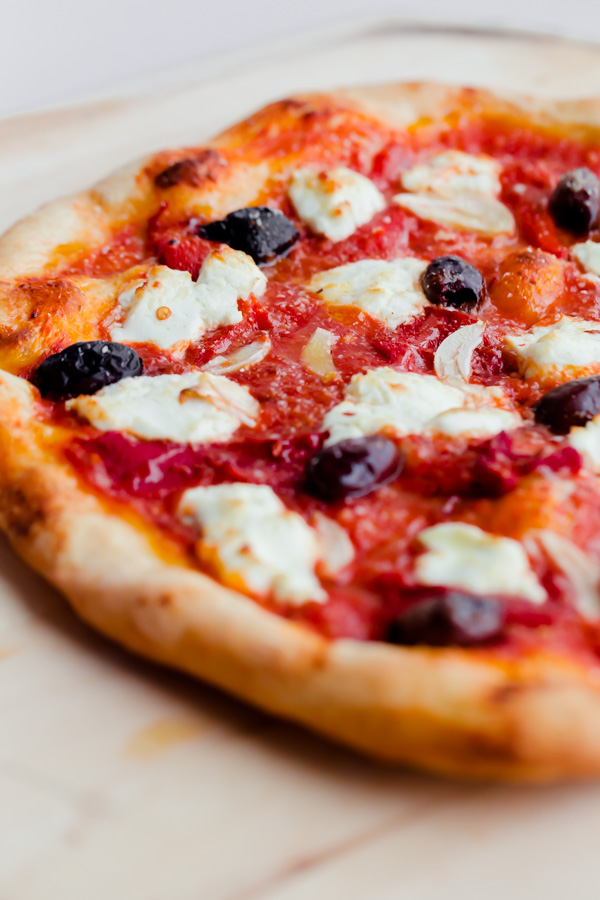 I have to say, it sounded pretty damn good to me. So here it is! As with my favorite margherita pizza, this pizza uses a raw tomato sauce made with pureed, canned San Marzano tomatoes, pressed garlic, lots of red pepper flakes, and grated parmigiano-reggiano cheese.
The one downside to using fresh goat cheese on pizza, as opposed to mozzarella or other cheeses, is that it melts minimally, so I like to infuse the sauce with a bit of cheese as well to make every bite delicious.
To make it extra easy, I also used drained, canned roasted red peppers. Just remember to pat them dry before adding them to the pizza!
In all honesty, Connor's favorite pizza changes on the regular, but that's what so fun about homemade pizza! You can mix it up whenever you want and totally make it your own. If you're a meat lover, I highly recommend adding a few slices of good-quality soppressata (Italian dry salami) to this.
I finished ours with a small drizzle of white truffle oil to make it extra special, but the pizza stands on its own without it.
Don't forget to serve these homemade chocolate heart meringue cups for dessert. Perfection.