Spicy Hummus Avocado Toast with Feta
Hummus Avocado Toast with Feta – spicy hummus, thinly sliced avocado, crumbled feta cheese, and micro greens! Avocado toast just got better.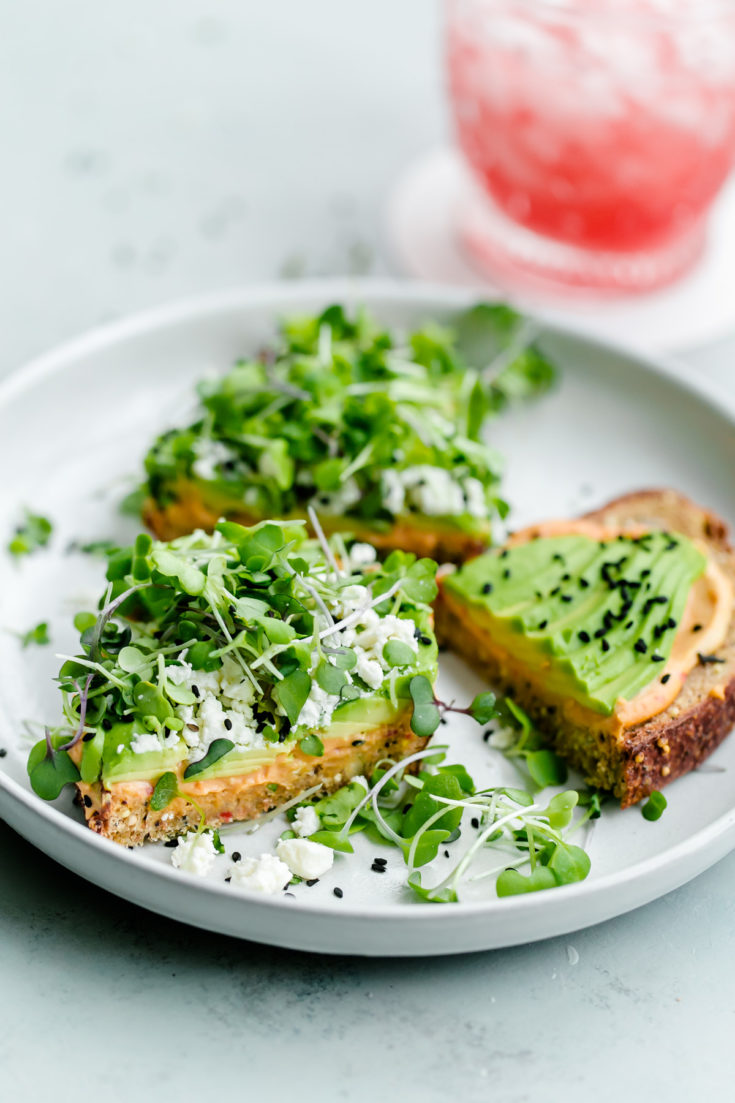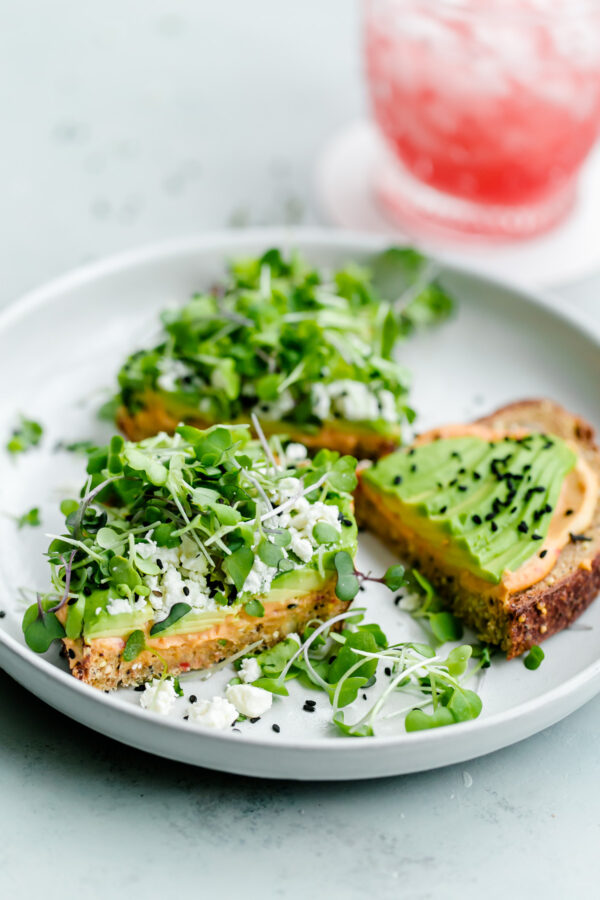 This post is brought to you in collaboration with Sabra.
You guys know my feelings on food holidays. I have a serious love-hate relationship with them. On the one hand, I love the excuse to celebrate any food (with the exception of National Lemon Juice Day, which does exist and is just absurd).
But if there is one food holiday that I can wholeheartedly stand behind and support, it is National Hummus Day! My friends at Sabra are celebrating #NationalHummusDay (and the #UnofficialMeal) today and I couldn't wait to get in on the fun.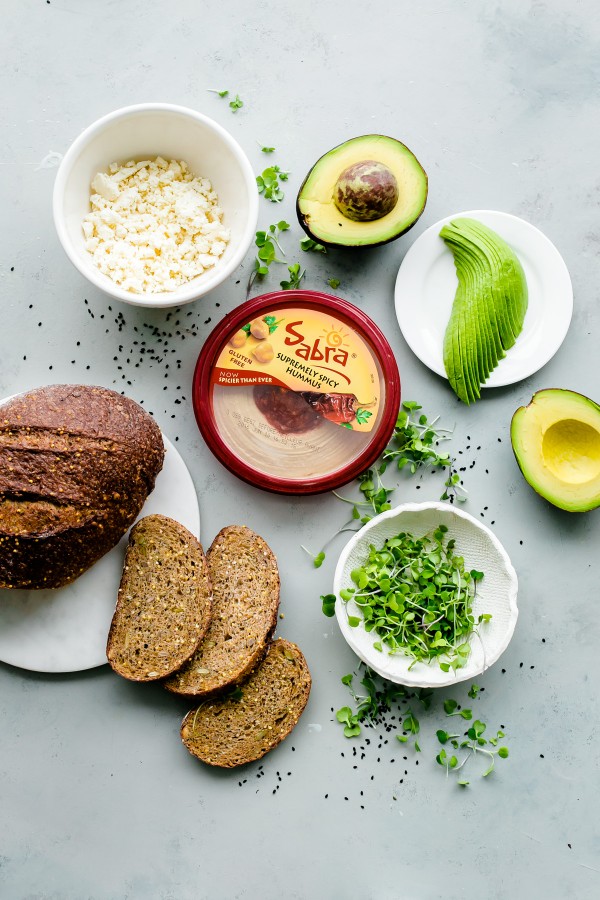 Truthfully, I don't need a day to celebrate hummus, because we eat it on the regular around here. Hummus is celebrated year round in our household!
Up to this point, I've paired hummus with all sorts of things: seared scallops (YES!), bite-sized falafel, and these Greek-style potato skins. I've even thinned hummus down and used it as a sauce/salad dressing! If you're only eating hummus with crackers or baby carrots, you're missing out on all of its possibilities.
When I'm not dreaming up new ways to use hummus, one of my favorite ways to use it is in avocado toast. Yes! That avocado toast. The phenomenon that took over the internet (Instagram, mostly) a few years ago. Today's avocado toast was inspired by my trip to Park City in October.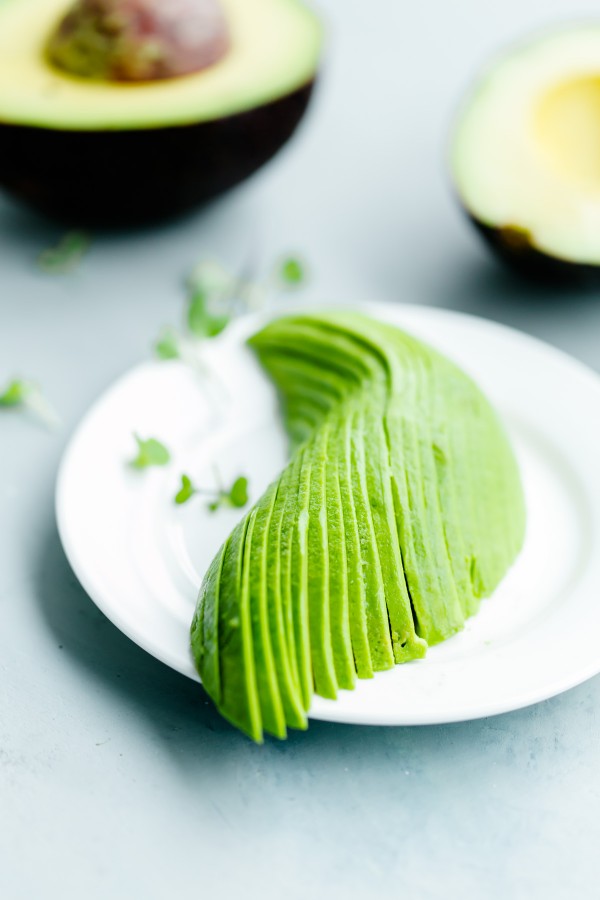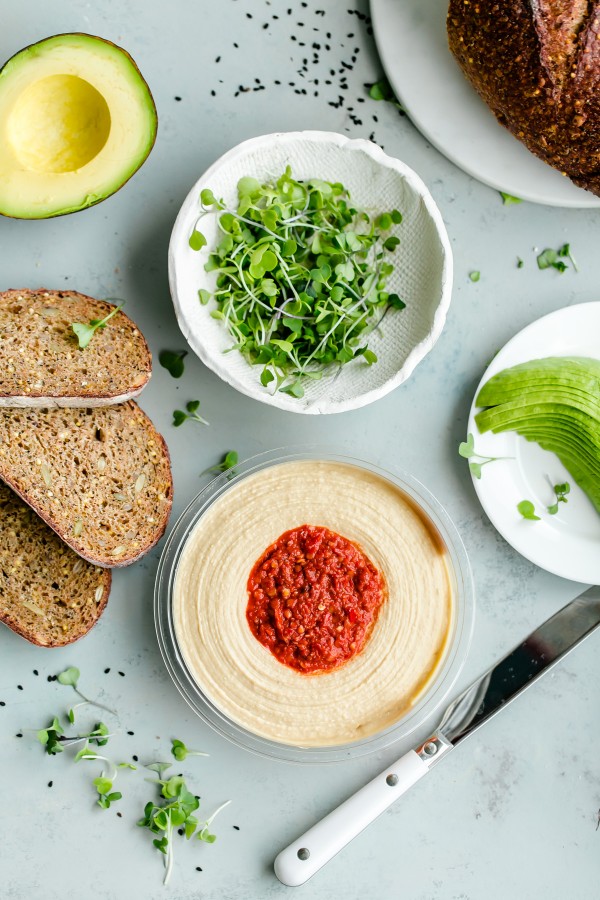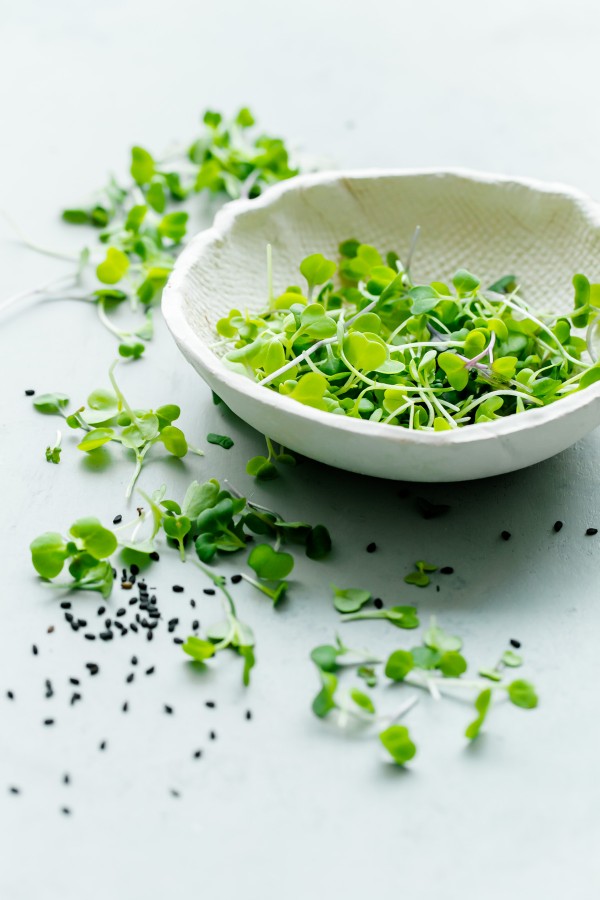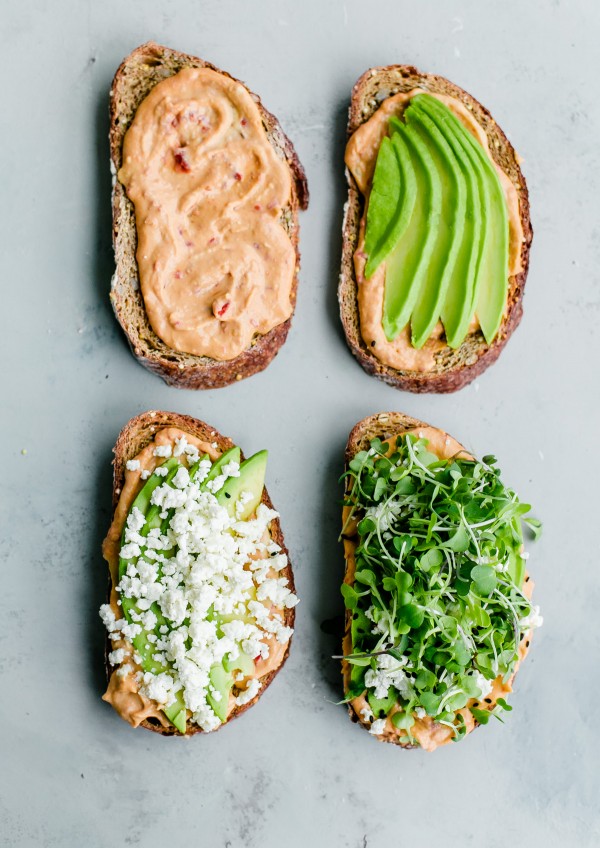 I love adding hummus (any flavor – but Sabra's Supremely Spicy hummus is my go-to for this!) as a base to avocado toast, because it makes it a bit more substantial, adds healthy protein and fiber, and contributes tons of flavor.
One of my favorite things about Sabra hummus are the various flavors and toppings. I use them as creative starting points for all sorts of dishes. The Sabra Supremely Spicy hummus reminds me of spicy harissa.
What goes well with harissa? Well, lots of things, but feta cheese is a personal favorite.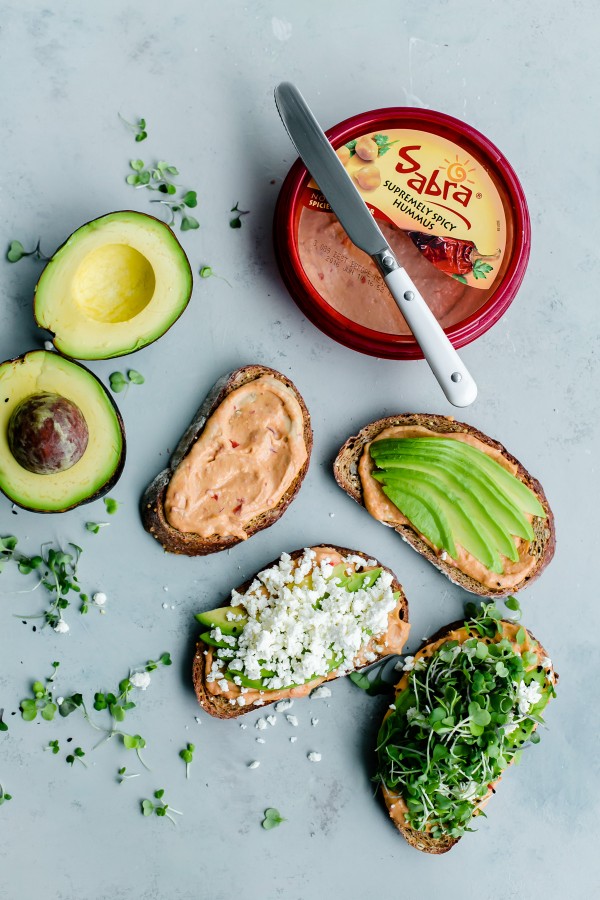 You could toast up baguette rounds and turn these spicy hummus avocado toasts into cute bite-sized appetizers, or just serve a larger piece of toast as a quick snack or meal any time of the day! It comes together so quickly and easily – to the extent that writing a recipe almost felt silly:
Step 1: Spread any flavor Sabra hummus of choice.
Step 2: Top with super thin layers of sliced avocado.
Step 3: Add a generous spoonful of crumbled feta cheese (I buy feta cheese in brine and crumble it myself – so much better than the pre-crumbled stuff!)
Step 4: All the micro greens. Obsessed.
Step 5: Sprinkle with black (or white) sesame seeds! Because it's aesthetic, gives a visual clue to the tahini in the hummus, and adds a nice crunch.
Step 6: Devour.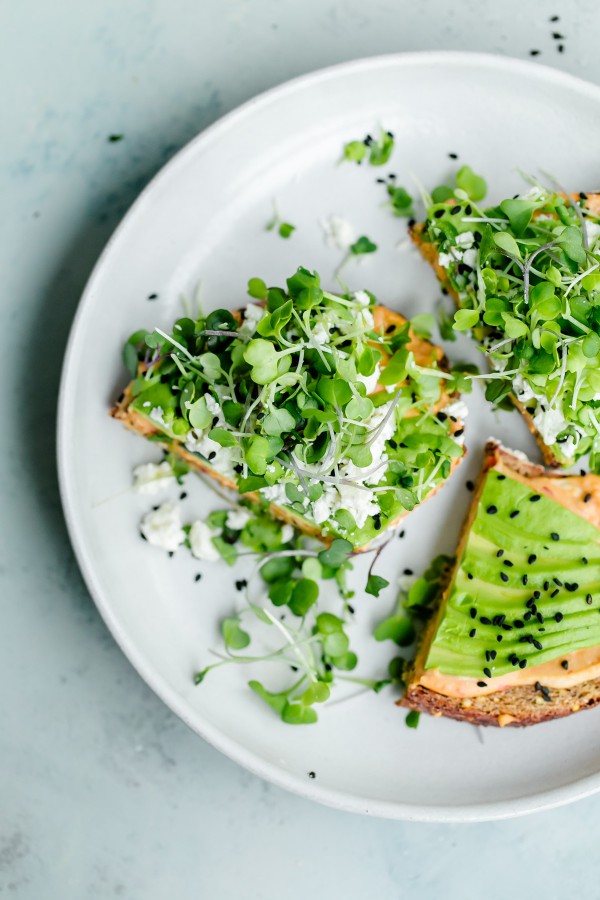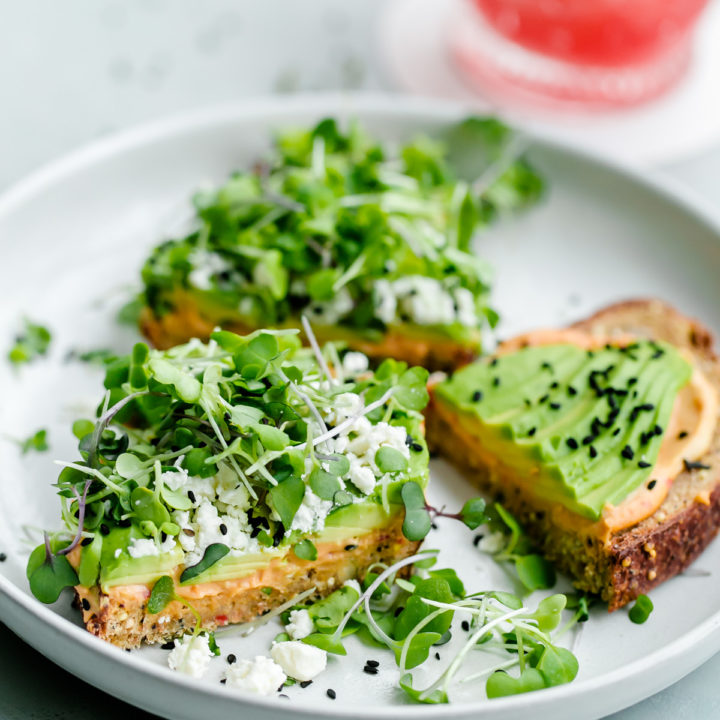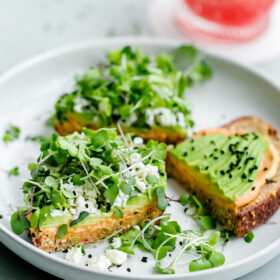 Spicy Hummus Avocado Toast with Feta
This twist on classic avocado toast is topped with spicy store-bought or homemade hummus, thinly sliced avocado, crumbled feta cheese, and micro greens!
Ingredients
4 slices whole-grain seedy bread toasted
½ cup Sabra Supremely Spicy Hummus (or homemade spicy hummus) roughly 2 tablespoons per toast
1 ripe avocado halved, pitted, peeled and thinly sliced
½ cup crumbled feta cheese
1-2 ounces fresh microgreens
black or white sesame seeds, for garnishing optional
Instructions
Spread a thick layer of hummus on each piece of toast. Top with several slices of fresh avocado. Finish with a generous handful of crumbled feta cheese, micro greens, and garnish with black (or white) sesame seeds as desired. Serve.
Tips for Success:
Feel free to mix it up with your favorite flavor of hummus! I love the combination of the spicy hummus with the briny, salty feta and creamy avocado, but any combination will work.
Serving: 1serving, Calories: 372kcal, Carbohydrates: 20g, Protein: 11g, Fat: 30g, Saturated Fat: 9g, Polyunsaturated Fat: 20g, Cholesterol: 33mg, Sodium: 412mg, Fiber: 9g, Sugar: 3g
I am thrilled to be part of the Sabra Tastemaker program! This recipe post is sponsored by Sabra. Thank you for supporting brands that allow me to get in the kitchen, be creative, and share my passion for great food!
This post contains affiliate links, which means that I make a small commission off items you purchase at no additional cost to you. Please read my
privacy policy
for more information.